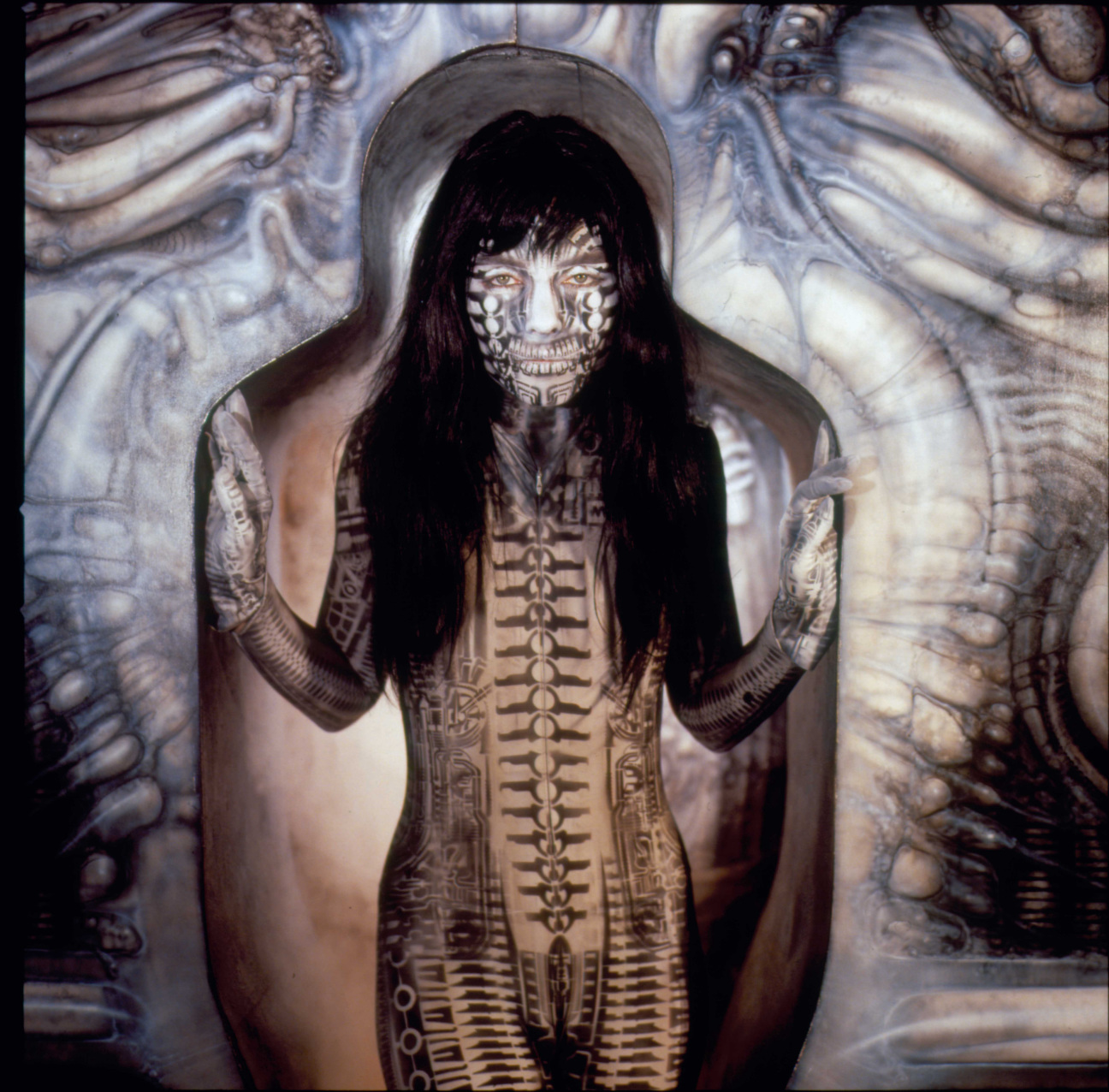 I had the pleasure of working with Debbie Harry and Chris Stein in the mid-1970s on two fumetti-style features in Punk magazine—"The Legend of Nick Detroit" in 1976, and "Mutant Monster Beach Party" in 1978. They were two full-length photo-cartoon issues of the magazine, written by me and starring Harry. She was one of the funniest and most professional stars I ever worked with. Stein, Harry's songwriting partner and Blondie bandmate (as well as her boyfriend for 15 years or so), contributed his fantastic photos to the projects.
Harry and Stein were always open to wacky and original ideas, so I can only imagine the fun they had when they met H.R. Giger, the cult artist who created the mechanical lizard-monster in Ridley Scott's 1979 sci-fi classic Alien. The release of H.R. Giger: Debbie Harry Metamorphosis: Creating the Visual Concept for KooKoo, Stein's recently published coffee table tome that chronicles Harry's collaboration with the late Swiss artist, reveals the world that the trio created around the singer's 1981 solo album, KooKoo.
But it was Giger's Alien monster that first captured the cultural imagination. I mean, what kind of mind could dream up huge, abandoned spaceships equipped with pulsating alien eggs, and creatures that pop out and wrap their tentacles around your neck, feeding off you, before exploding out of your chest? "That movie was a cultural phenomenon," Stein tells me. "Alien was just what it fucking was, and everybody was crazy about it."
"I knew about Giger from the '60s," recalls Stein. "Some of his artwork was in head shops then, and it was so cool and weird." Giger's was a burgeoning name in late '60s counterculture, but he exploded onto the music scene when Keith Emerson—of the English progressive-rock supergroup Emerson, Lake & Palmer—dropped by Giger's Zurich, Switzerland, home in the early '70s.
"I remember it was a fairly modest bungalow from the outside, until you went in," Emerson told Prog magazine in 2020. "The interior décor was overpowering, gothic to the extreme. From floor to ceiling his unique airbrush technique had transformed a simple room into a cathedral. Giger had gone three-dimensional—his toilet had arms coming out [of it], almost engulfing the sitter."
Emerson was so impressed with Giger that he hired the artist to design the album cover for ELP's 1973 album Brain Salad Surgery, an eerie extravaganza featuring a sarcophagus-like skull that morphs into a sexy woman's mouth. "I was familiar with the album cover Giger designed for Emerson, Lake & Palmer's Brain Salad Surgery, and another record cover he did for a heavy metal band," Debbie Harry tells me. "Chris and I were both fans of monster movies, especially science fiction monsters. They've always been part of the Blondie catalog, not only in our music but in our personal lives."
The punk scene that revolved around CBGB, the Bowery bar from which Blondie emerged in the '70s, was home to a ragtag amalgamation of musicians influenced by '60s garage rock, like the Electric Prunes and the Strangeloves, as well as comic books, TV reruns, and, of course, monster movies. Harry and Stein, along with the rest of their cohort, were diehard Giger fans.
"Shortly after Giger received his Oscar for Alien," continues Harry, "Chris and I read that he was going to show his paintings and sculptures from the movie at the Hansen gallery at 41 East 57th Street, which was right around the corner from our apartment. So we decided to go. At the time, Giger wasn't as well-known, so it was no big deal to anybody but us. Nowadays, it would've been heralded as one of the most important art shows of the decade, with lines around the block!"
By 1980, Blondie was one of the biggest acts in the business, having found multi-platinum success with their album Parallel Lines. It also didn't hurt that the Giorgio Moroder-scored soundtrack for the 1980 film American Gigolo featured Blondie's "Call Me" as its theme song. The song topped the charts for six consecutive weeks—the band's biggest single and their second number-one hit in the United States.
Despite their own celebrity, the pair were starstruck at the chance to meet Giger. "I saw him as sort of grandfatherly, even though he was a ladies' man," recalls Harry. "It was hard to reconcile this sweet, charming man with the guy who created one of the most terrifying monsters of the 20th century." Stein remembers it this way: "[Giger] was there [at the gallery] with his Oscar. He and his wife [Mia] knew who we were because by that time we were the number-one band in the world.
"So we invited them back to our apartment on 57th Street," continues Harry. "We talked and had drinks and became friends." Imagine Harry and Stein chatting for hours with Giger about things that slither in the unseen galactic night. It's no wonder that a creative partnership was born. "It was Chris's idea to get him to do the cover for my first solo album, KooKoo," says Harry. Giger agreed and invited the pair to spend two weeks at his home in Zurich for the project.
When Harry and Stein holed up in the artist's Swiss bungalow, the rumors they'd heard about him proved true. "I watched him work on a couple of his books—he would send the pictures back many times for color corrections if a shot was a little too brown, or a little too blue. He was a perfectionist and his own biggest critic," recalls Stein. "He also had a fucking life-size Alien [in the studio]. He told us that he would come down to the bathroom in the middle of the night, and it would scare the shit out of him. He considered that a great success, to make something that he was actually afraid of!" For Harry, it was business as usual. "I think we went right to work the next day," she writes in Stein's book, "learning to live with the monster in the corner."
The result of their collaboration was an album cover with an intergalactic-meets-ancient-Egyptian feel to it. Harry's signature blonde hair was dyed black, and four needles pierced her face. KooKoo attained only moderate commercial success, reaching number 25 on the U.S. Billboard 200, and was not the breakout hit that its producers Nile Rodgers and Bernard Edwards of Chic hoped it would be. Still, it was a gas for Harry and Stein to dive deep into the world of one of their creative idols.
I asked Harry if it was difficult to make the transition from blonde bombshell to black-haired Wicked Witch of the West during her KooKoo era. "Debbie let the blonde thing go for a while when we were working on her solo stuff," interjects Stein, "and it made the front page of the New York fucking Post. There was a picture of Debbie with dark hair, and the headline was, 'Oh My God, What Did She Do to Her Head?'" Harry, for her part, agrees. "Oh Legs," she sighs. "You know how the record companies are, and how the media wants you to stay exactly the same. They just wanted to hold onto the blonde thing."