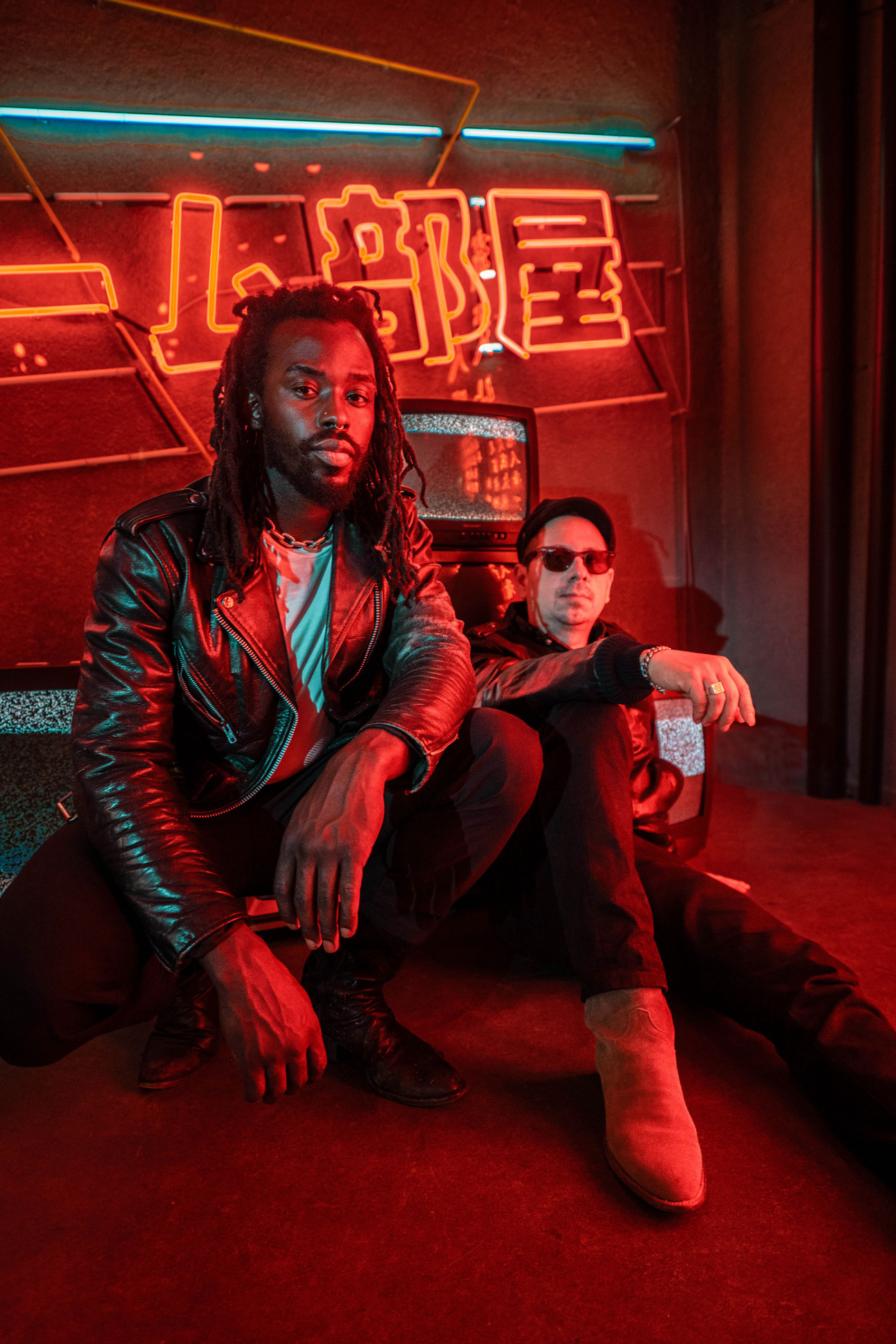 The title track of Black Pumas's sophomore album, Chronicles of a Diamond, gives voice to the rear window of a '77 Cadillac, cruising down the street as "seagulls fly" and "pretty girls walk by." It's a moody number perched at the top half of an album that serves to prove the hype of the band's 2019 debut was in no way overzealous.
Four years have passed since their eponymous first album dropped and landed the duo—composed of Austin-based Eric Burton, 34, and Adrian Quesada, 46—in the running for the Grammys Best New Artist, Record of the Year, and, most remarkably, Album of the Year. In 2020, the soul group was an outsider choice alongside nominees like Lil Nas X, Maggie Rogers, and winner Billie Eilish, but their debut single, "Colors," was certified gold and hard to ignore.
Around this time, Black Pumas were sitting, dejected, in San Francisco's Tiny Telephone studio recording a cover of "Magic Carpet Ride" for a tire commercial. "Everyone was just ready to be done with the session because we weren't really interested, at face value, outside of wanting to record our own ideas," remembers Burton. He sat down at the piano and started playing what would become a rough cut of "Chronicles of a Diamond," a track he likens to "abstract art."
The homage to hip hop and soul culture stemmed from Burton's central songwriting question: "How can I borrow affection from the audience to also paint something that is very personal to myself?" As the pair were wrapping up the second album, their manager wondered aloud what ever happened to the song. It was plucked from a pile of unfinished demos and ended up fitting right in on a project laced with the sonic and production touches of an R&B record. "I wanted it to sound like it could come on after a Kendrick Lamar album," says Quesada, "the same as it could come on after an Aretha Franklin record."
Part of what gives the songs that chopped up sound is the diligent sampling Quesada weaved in, though all the snippets are from Black Pumas's own performances. "I used to work with a sampler, and that's where I first had my first experience producing," explains the musician, who prior to Black Pumas, was known as part of Grammy-winning Latin Funk band Grupo Fantasma. "I love the accidental artifacts that happen from sampling, that you just can't recreate, the happy accidents that happen when you loop something."
The self-sampling and writing from the road add a live energy to the sophomore outing that couldn't have been captured in the first album, when the pair had never set foot on stage together. The new track "Gemini Sun," for example, originates from a voice memo Burton captured of his back-up singers in a green room in Germany.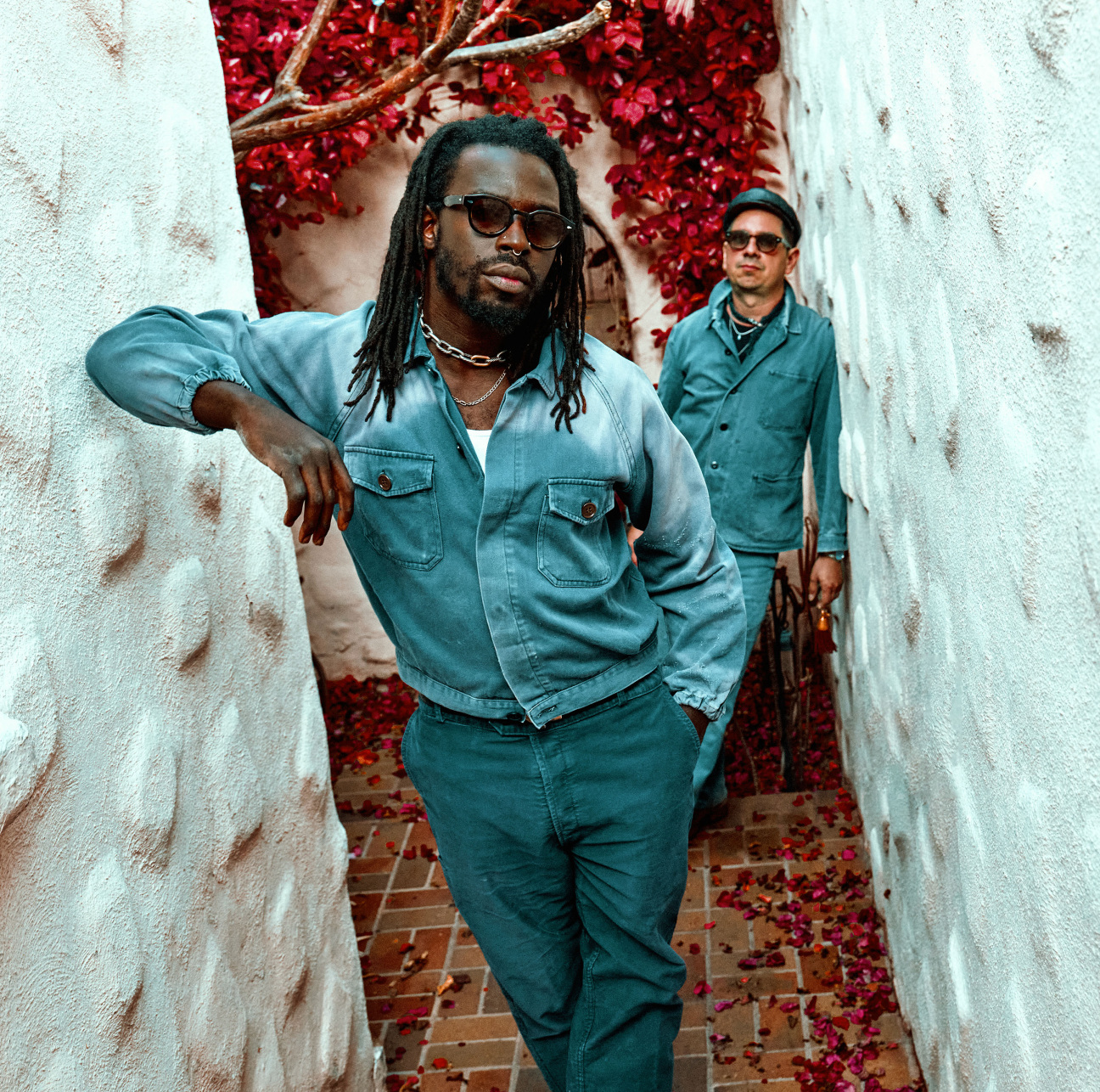 The entire first tour and album were an exercise in getting to know each other as musicians. When they started work on Black Pumas, they had only just met. Quesada had left Grupo Fantasma, looking to discover his own sound. He had tracks lined up, but needed a singer and lyricist to complete the lineup. A friend recommended Burton, who had just landed in Austin from Los Angeles and was busking on the pier. Unlike Quesada, he had little experience in the industry, but as the veteran saw it, Burton had a voice and that was what mattered.
The blend of, as Burton puts it, "two unlikely individuals coming together from different walks of life" struck listeners like a jolt of electricity. Sticking to that tested formula seems tempting, but Quesada instead characterizes his and Burton's philosophy creating the second record as "Make whatever sounds dope and don't repeat the first one." It's a sentiment Burton wholly endorses, remarking, "We were in line to create something that felt and looked a bit more like the first album until I just accepted the role of producing to the degree that I did this time around, [with] a more unorthodox disposition towards making the music."
The tracks Burton made from scratch in the studio have all the trademarks of a first-timer flexing their muscles, just trying to see how much of a lift they can manage. Unexpected twists and vocal turns abound, finished off with Quesada's singular guitar and production. It's a welcome role reversal for the pair. "On this album, I would catch myself, stop and try to come up with something else," says Quesada. "I did not want that muscle memory to repeat what I did on the first album."
Burton's influence can be heard on more experimental tracks like "Ice Cream," a trippy, falsetto-laden number, or the lead single, "More Than a Love Song," which pulls heavily from his experience growing up in California. The song's central message, that "life is more than a love song," is a line his Uncle Steve, a musician himself and security guard at Burton's high school, told the budding songwriter when he would get a bit too wrapped up in the craft. Remembering playing his uncle the track, Burton smiles, "I'm not sure that he remembered telling me that. I was like, 'You totally told me that!'"
The duo's breezy confidence in speaking about the record is impressive ahead of their sophomore drop, often the hardest release to master. Burton categorizes it as a healthy level of self-assuredness. "I definitely was really nervous about what people might think of the music, especially as it pertains to how unorthodox some of it feels, how different it feels from the record that was successful to the degree that it was," he admits. "I was probably losing a little bit of sleep trying to just balance other aspects of my existence as a son, as a brother, as a friend, with being like a new rock star." Here, he pauses to laugh to himself. "That still feels so awkward to say."