We don't often think of furniture traveling, making its way around the world in a plane or ocean liner. Indeed, luxury furniture and design objects are often thought of as immovable artifacts, destined to accumulate glances and dust in a museum or home. With its Objets Nomades collection, founded in 2012, Louis Vuitton seeks to overthrow the cryogenic sentence imposed on prestige design.
Each year, the French house commissions the most ingenious creative minds to conceive playful pieces that traipse between practicality and extravagance. The 11 new Objets Nomades presented at Milan Design Week this spring reflect Vuitton's legendary savoir faire, material sensibilities, and dedication to technological innovation. Five of the participating studios offered CULTURED a glimpse into their processes and inspirations—from road trips to local landscapes.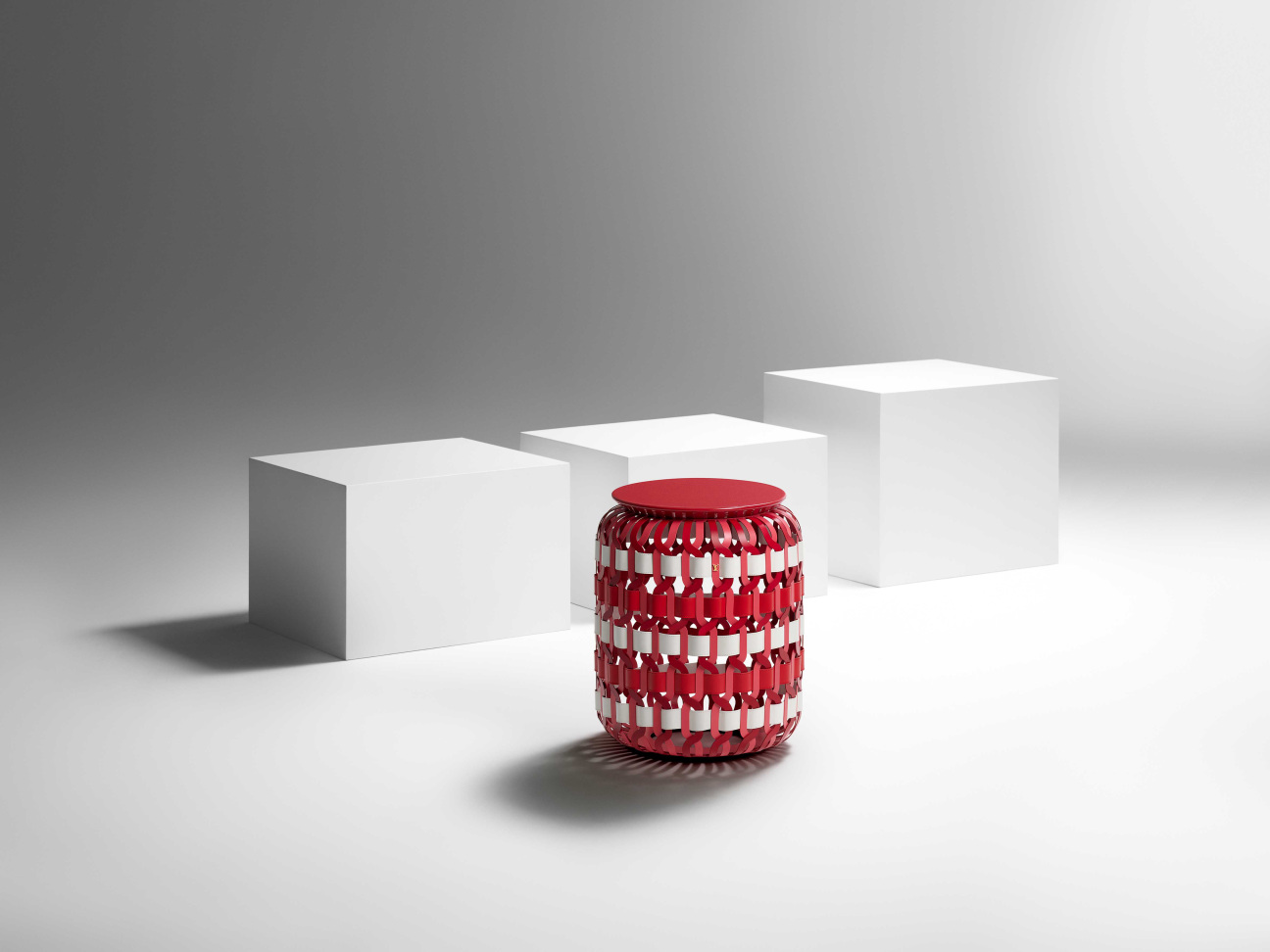 Giorgia Zanellato and Danielle Bortotto founded their eponymous studio in Treviso, Italy, 10 years ago. Since then, the pair has dabbled in product design, art direction, and interior design, and collaborated with storied brands, including Tod's and Pierre Frey. For their third Objets Nomades partnership with Louis Vuitton, the studio created Basket Table, drawing on the French house's research on woven materials.
CULTURED: Where do you find inspiration?
Zanellato / Bortotto: Venice is very dear to us, and, because of its thousand years of history, it has so many stories to tell. It is our pleasure to express them through our projects.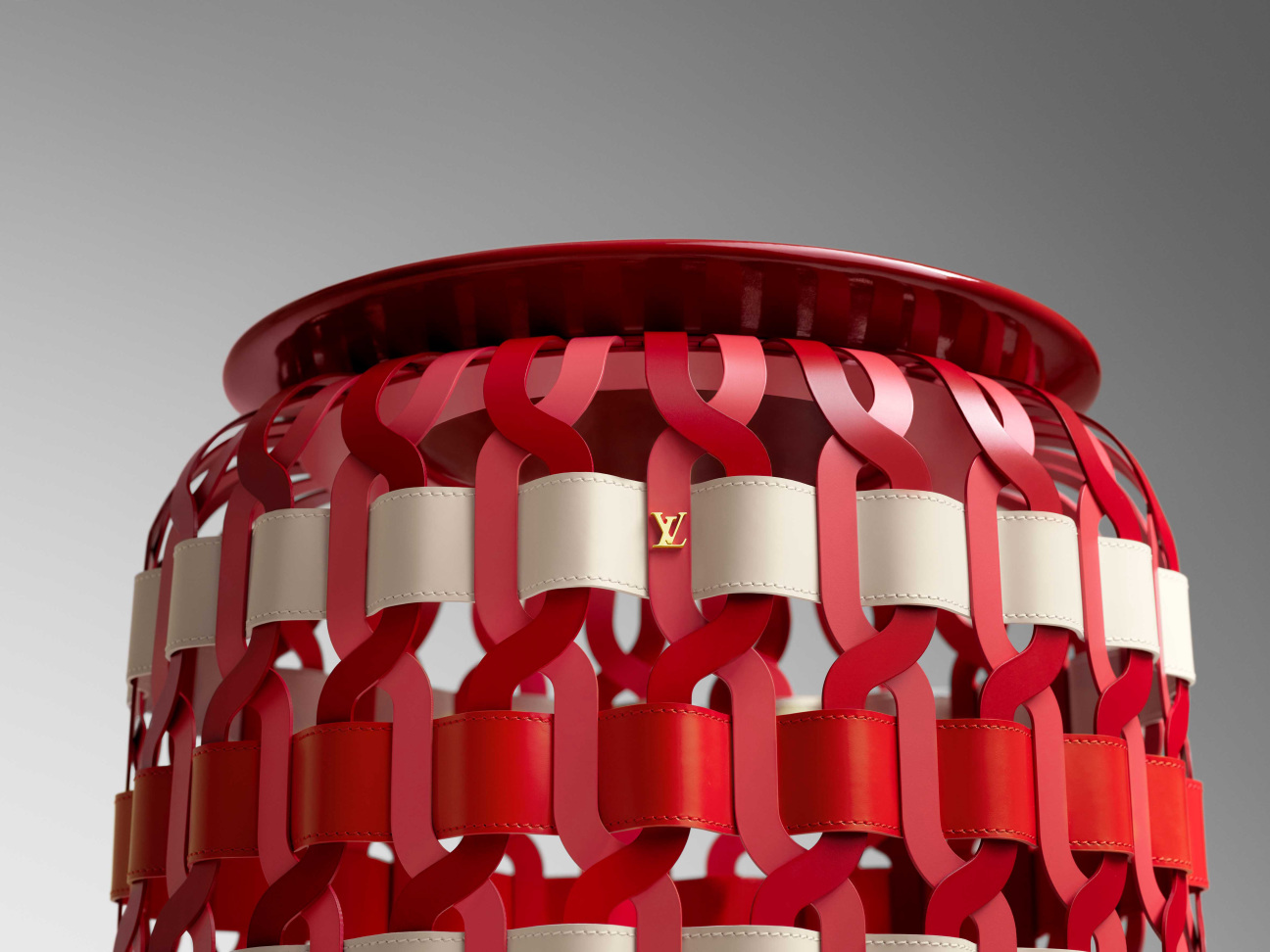 CULTURED: How is Zanellato/Bortotto's ethos reflected in these new Objets Nomades?
Zanellato / Bortotto: Collaboration, dialogue, and exchange are fundamental principles for good design. During the development of our new Objets Nomades, we collaborated with Louis Vuitton's design team to obtain the best possible result. In our studio, the exchange of ideas is key—it leads to all of our choices.
CULTURED: What's a design frontier that you're excited to explore?
Zanellato / Bortotto: We would like to experiment with interior design. It is interesting to contextualize our design objects in spaces and mix them together with what we like.
Atelier Oï was founded in 1991 by Aurel Aebi, Armand Louis, and Patrick Reymond, and has been an Objets Nomades partner since the collection's inaugural edition 11 years ago. This year, the Swiss studio—whose offices overlook the serene Lac de Bienne in La Neuveville—presented four new objects, including Quetzal, a bird-like mobile, and Chandelier, a 1.2-meter high leather- and light-filled sculpture.
CULTURED: Where do you find inspiration?
Atelier Oï: In the Moïtel [our headquarters], there are spaces dedicated to projects that are either in progress or already completed. Our designers draw on the "living archive" of previous projects to inform and inspire new creations in the context of each new challenge. It is like the yeast in bread-making: Something taken from one project is used to enrich and elevate the next.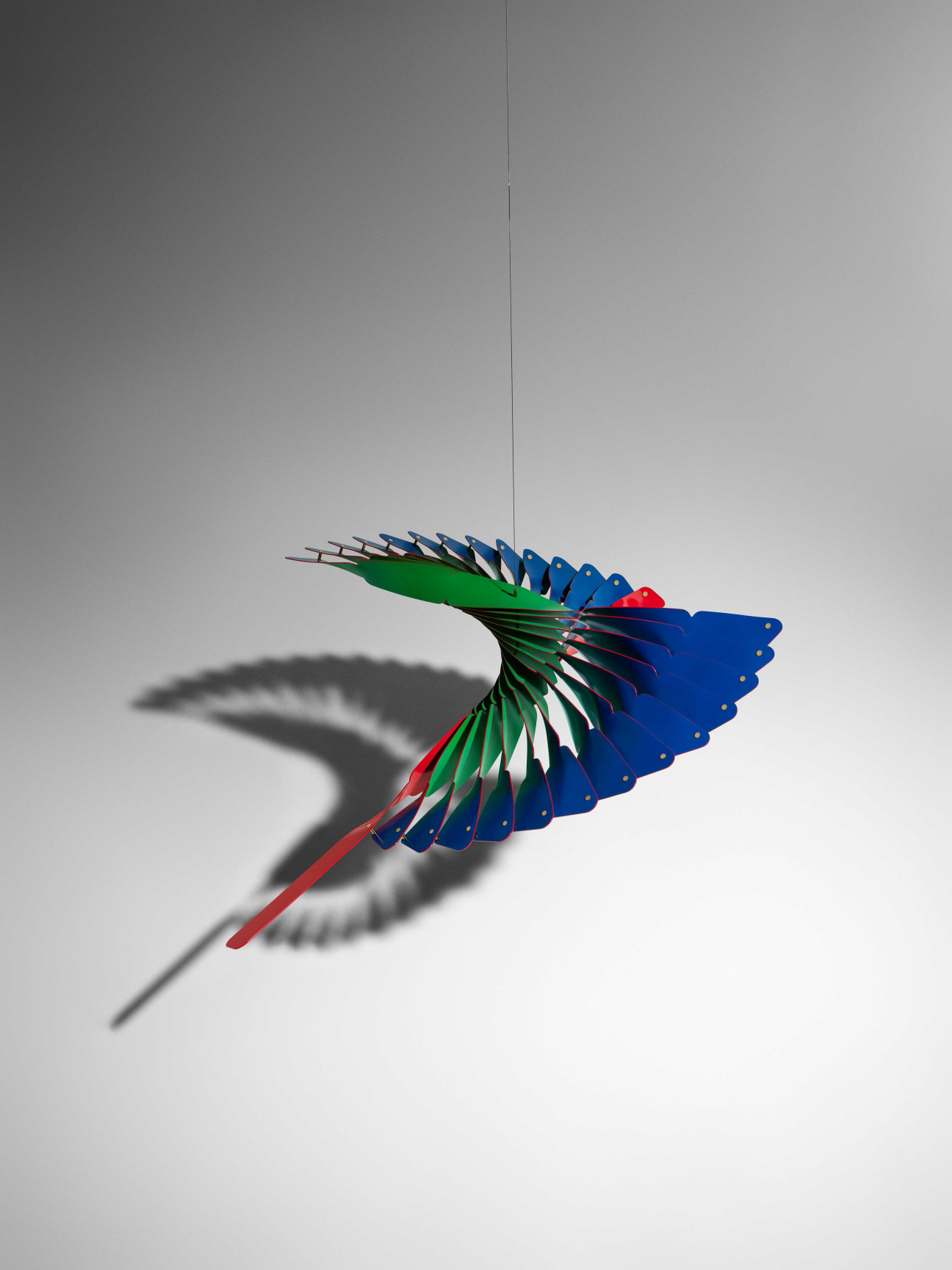 CULTURED: How is Atelier Oï's ethos reflected in these new Objets Nomades?
Atelier Oï: "It is said that some think, others act! But the true condition of human beings is to think with their hands." –Denis de Rougemont, [Penser avec les mains, 1972]. Our creative process begins by interacting with the material. We become familiar with it, and identify its characteristics, limits, possibilities, and phenomena. It is through our hands that we come into contact with it and that is why we express ourselves mainly through them—thinking with our hands.
CULTURED: What's a design frontier that you're excited to explore?
Atelier Oï: We are fortunate to be able to tackle projects of all sizes, from pens to residences. It's exciting to see how our projects transform and scale—an object can be transformed into an installation that fills an entire space—or how our own techniques can inspire new creations.
Yael Mer and Shay Alkalay founded Raw Edges 16 years ago. In 2009, they were named Designers of the Future by Design Miami/Basel, and their star has steadily ascended ever since. With collaborators like Stella McCartney and Airbnb, and works in the permanent collections of the Museum of Modern Art, the Art Institute of Chicago, and the Vitra Design Museum, the London-based duo balance a beginner's mind with an expert's skills. This equipoise was instrumental in the development of their new Objets Nomades, Binda Armchair and Sofa.
CULTURED: Where do you find inspiration?
Raw Edges: It's not very romantic, but, as our ideas often come as a result of trial and error, "the place" of inspiration for us would simply be our studio. At the same time, when we are in the middle of a project and there are problems to be solved, it's very important to leave the studio and go for a walk or a cycle. Solutions to problems come when you least expect them to.
CULTURED: How is Raw Edges's ethos reflected in these new Objets Nomades?
Raw Edges: Our work is about introducing playful new inventions. In our Objets Nomades "Concertina" collection, for example, we worked on a collapsible armchair that is folded in a beautiful and surprising way. It is very much related to the time when Louis Vuitton was founded, during the Industrial Revolution, when so many new inventions were presented.
CULTURED: What's one material that always transcends your expectations?
Raw Edges: Paper! Not that it doesn't get enough credit, but it is still amazing what can be done with such basic material. The ease, directness, and beauty in creating paper models is magical, and sometimes it leads to even bigger surprises like Binda, our latest addition to the Objets Nomades, which started as a paper model of a tennis ball.
Campana celebrated its 35th anniversary in 2019, and in the years since, its design legacy has become even more essential. Founded by Brazilian brothers Fernando and Humberto Campana, the studio is a true design Swiss Army knife, jumping from landscaping and furniture-making to scenography and fashion. For this year's Objets Nomades, the brothers revisited their classic Cocoon hanging chair, which has been updated with a disco flair, and adapted their Bomboca sofa into a metallic sculpture.
CULTURED: Where do you find inspiration?
Campana: In the most ordinary and banal things—on a city walk, amidst a forest, or in a foreign country. We capture a specific moment with our eyes and derive a story from it, which we then translate into an object. This process infuses our work with a sense of purpose and resilience. It is a constant endeavor to leave the world better than how we found it.
CULTURED: How is Campana's ethos reflected in these new Objets Nomades?
Campana: The latest Objets Nomades pieces—Disco Cocoon and Bomboca Mirror—are about joy and celebration. They are beacons of light; they bring positivity and good vibes. They connect art and design, craft and technology, blurring the boundaries among disciplines.
CULTURED: What's one material that always transcends your expectations?
Campana: Styrofoam, also known as expanded polystyrene. Our goal was to give this material a second life and reduce waste. During the prototyping phase, we discovered that Styrofoam is an excellent medium for exploring various crafting techniques. This realization led to "Meteoro," a collection of armchairs, sofas, and shelves sculpted from upcycled polystyrene, covered with hand-stitched metallic leather. These pieces exhibit strength, durability, and lightness, proving that even Styrofoam, which is not well regarded in terms of sustainability, can have positive qualities.
Designer Alberto Biagetti and artist Laura Baldassari, the husband-and-wife team behind Atelier Biagetti, made design-world waves in Milan with their 2016 Salone del Mobile presentation, "NO SEX," a meditation on physical connection in a digitized world. This year, the studio's Objets Nomades contribution is Flower Tower, a glistening and translucent lamp composed of 15 flower-shaped glass bubbles.
CULTURED: Where do you find inspiration?
Atelier Biagetti: There are certain "optimal conditions." One is proximity to the sea, since we were born by the seaside. Another is long drives. Our best projects were born in our car, during moments when there are no deadlines or interferences.
CULTURED: How is Atelier Biagetti's ethos reflected in these new Objets Nomades?
Atelier Biagetti: The title itself gives us a sense of fresh, unprejudiced equilibrium with the natural environment around us. Flower Tower is an infinite column of light, a metaphor for our inner light. When we started this piece, we were thinking about a luminous landmark, a celestial totem that acts as a point of reference for a contemporary, domestic landscape.
CULTURED: What's one material that always transcends your expectations?
Atelier Biagetti: Materials are related to our psychology; they're part of the visible and legible DNA of each work. Flower Tower is made of crystalline blown glass that's pure at the core, a fragile and translucent starting point.