The Hamptons is a destination for inventive art and design pairings. Below, we spotlight three projects you should seek out.
What: "Imaginary Landscapes"
Featured Artists: Japanese Painter Yuka Kashihara and Korean Ceramic Artist Lee Hun-Chung
Where: Jeff Lincoln Art + Design
Lee Hun-Chung sees his large-scale ceramics as landscapes—or maybe more accurately, seascapes—of the mind. "I have very powerful memories [from childhood] of being with my father on boats and the vastness of the ocean," says Lee, 56. "In Korean this is known as bada, and all my work is based on my memories and the landscapes they conjure in my imagination."
Over the last three decades, Lee, who splits his time between studios in Los Angeles and Seoul, has become known for his monumental, genre-defying glazed ceramics that include surreal-looking chairs, desks, tables, and stools, all fired in a hand-built kiln. A selection of his work, alongside dreamy vistas by the Japanese artist Yuka Kashihara, is on view in the exhibition "Imaginary Landscapes" at Jeff Lincoln Art + Design in Southampton through July.
In addition, "Geotex, Abstract Geometry in Textile Art," on view through Sept. 15, is an exhibition of textile-based works featuring geometry in abstraction by artists including Tanya Aguiñiga, Samantha Bittman, Toni Ross, Laurel Sparks, Brent Wadden, Sarah Wertzberger, and Kristine Woods. And in the gallery's outdoor space, a series of sculptural works form "Nadia Yaron: Ghosts of a Flower, Works in Stone," which runs through Oct. 15. —Margaret Carrigan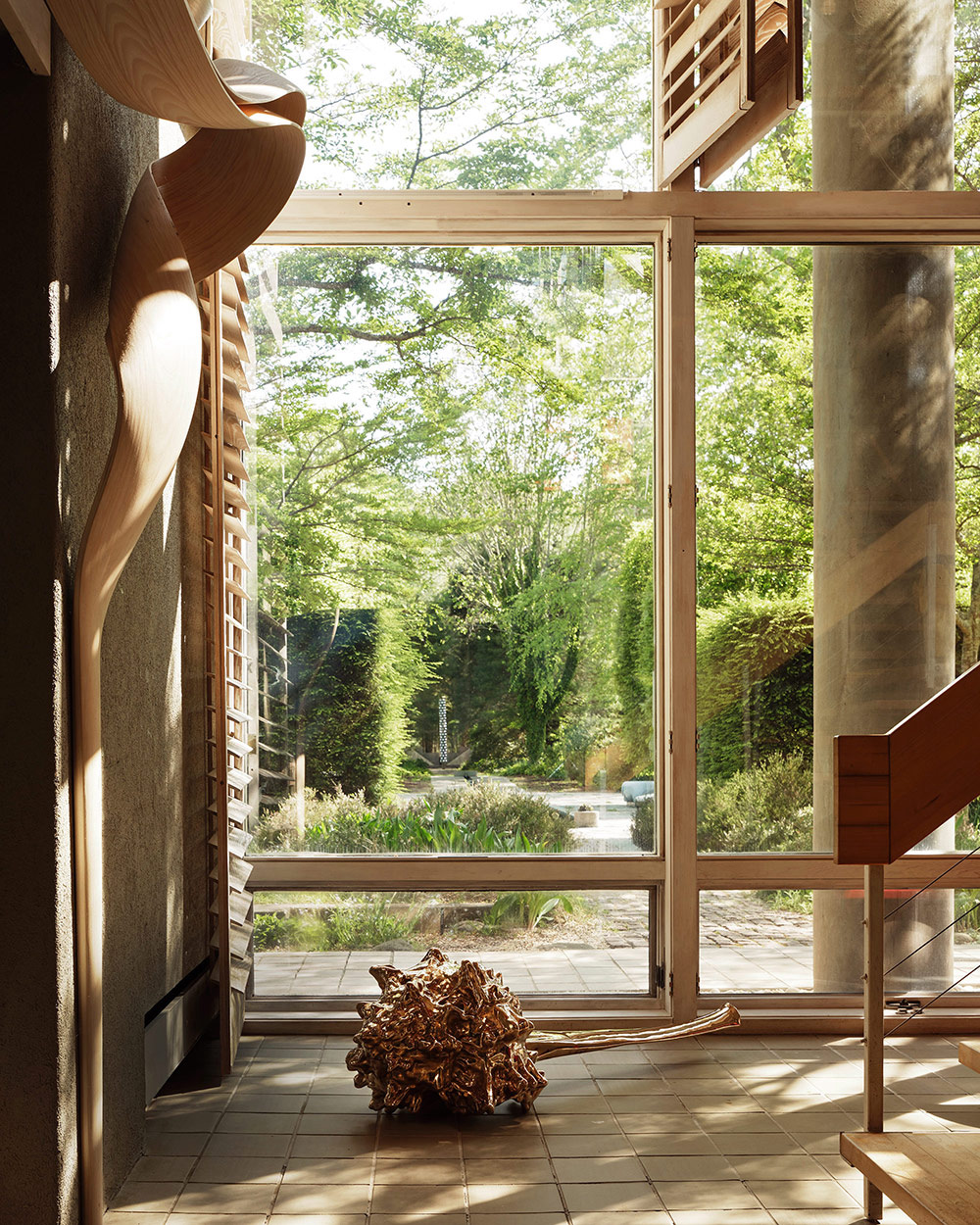 What: "A Summer Arrangement"
Organizers: Object & Thing Design Fair and LongHouse Reserve
Where: LongHouse Reserve
The late textile designer Jack Lenor Larsen believed that the highest form of art appreciation was not to stick an object in a museum but to live with it, and his East Hampton case study home served as his proof of concept. This summer, Larsen's ethos will be further exemplified in an exhibition of around 100 works by 34 artists installed at LongHouse—his former house and sculpture garden—and curated in collaboration with the art and design fair Object & Thing.
"Larsen was a master of the subtle art of arrangement," says Glenn Adamson, LongHouse curator-at-large, who co-curated the exhibition with Object & Thing Founder Abby Bangser. "This project simply continues that practice, while also giving an impression of what Larsen might be looking at and collecting if he were still with us today."
"A Summer Arrangement," which runs through Sept. 3, brings together contemporary works and site-specific commissions by artists and designers including Alma Allen, Megumi Shauna Arai, Sonia Gomes, Rashid Johnson, Wyatt Kahn, Jennifer Lee, Sam Moyer, and Frances Palmer, alongside works from Larsen's collection. Colin King, author of the recently released book Arranging Things, designed the installation. Spanning the living room and gallery of the four-floor house, the exhibition will also extend to the guest level of LongHouse, which will be open to visitors for the first time. —M.C.
What: A Sag Harbor Hotbed for Vintage and Contemporary Design
Organizers: Analisse Taft-Gersten and Kristin Fine
Where: 1818 Collective
"We wanted to tell the story of this very special building," says 1818 Collective Co-Founder Analisse Taft-Gersten who, along with Kristin Fine, opened the Sag Harbor retail concept last May. The circa 1800 house is a place that encourages discovery—custom lighting, globally sourced textiles, vintage furniture and contemporary designs mingle throughout.