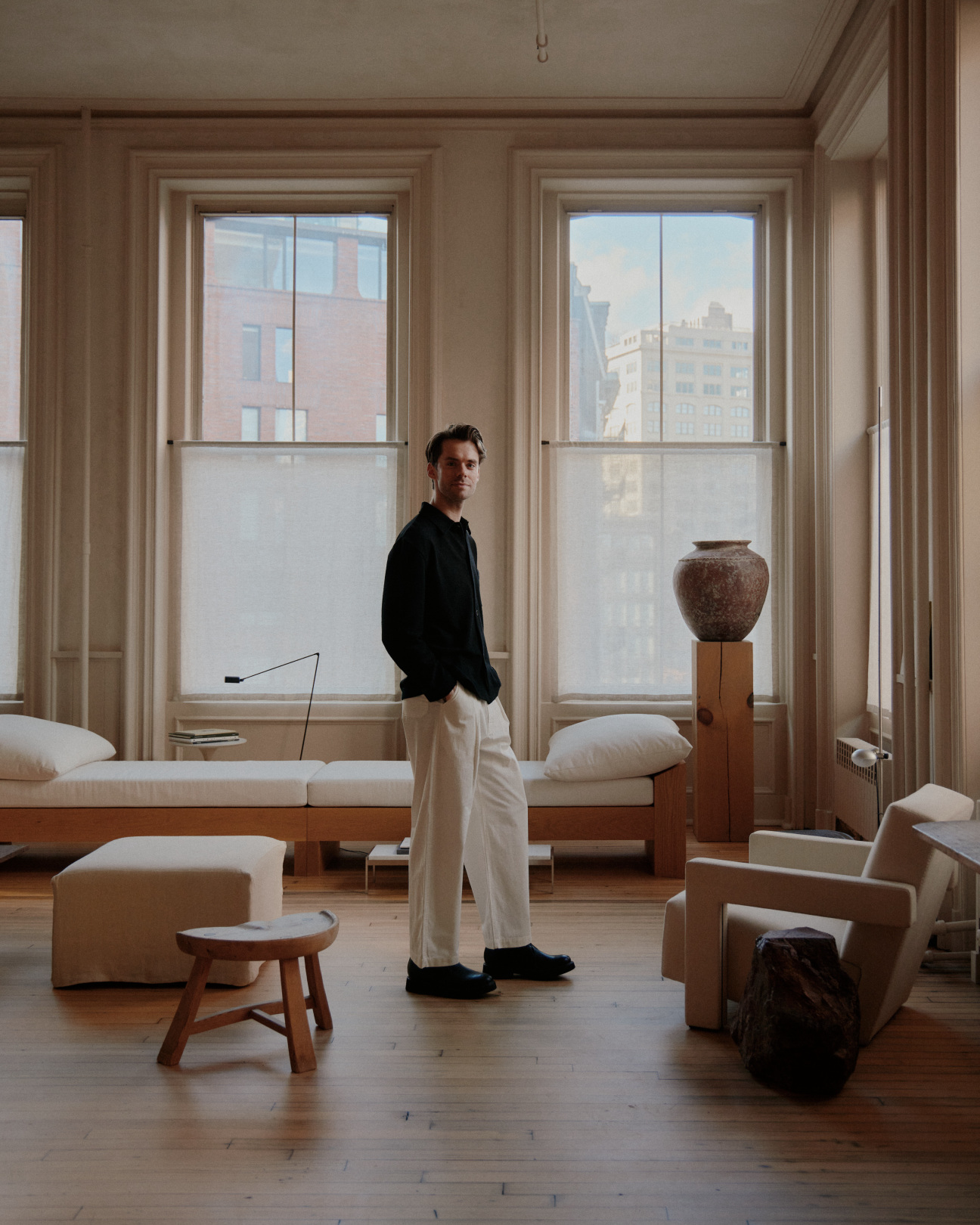 When Colin King takes an interest in a piece, he needs to know why it stands out. "I take time to research its provenance as well as other artists and makers from the same design movement and place of origin," explains the noted designer, collaborator, and arbiter of beautifully simple taste. King, who sources findings for both himself and his clients from international artisans all the way to Instagram boutiques, trained as a classical ballet dancer before transitioning his practice to interiors and founding his eponymous studio. King's designs—both his own and those he created with Beni Rugs and Menu—are warm yet minimal, elegant and clean. The mantra that any object can be a thing of beauty guides his practice and fills the pages of Arranging Things, King's just-released book with Rizzoli in which he weaves his design philosophies in with anecdotes from his personal life. To commemorate the moment, the designer turns his gaze to his own TriBeCa, New York space for CULTURED, revealing the antique designs that have stolen his heart and the artists that keep him inspired.
CULTURED: How would you characterize your collection? What do you tend to look for in new acquisitions?

Colin King: A non-hierarchical arrangement of objects. Arrangements are ultimately about relationships: placing or juxtaposing objects to tell a story or evoke an emotion. This intimate connection has always been a meaningful part of my life, both at home and in my practice. My frequent collaborator, Robin Standefer, refers to this love affair as "object lust." It's a shared philosophy among people who cannot rest unless they are collecting things—whether beach stones or priceless antiques—and finding harmony in their arrangement. I look for things I love rather than things that fit perfectly together.
CULTURED: Do you remember the first piece you purchased?

King: I've moved around a lot, and I tended to start over each time I move somewhere new. The first piece that traveled with me to multiple apartments was my round travertine table. I discovered it from Chairish right before the pandemic, and it's a miracle that it managed to arrive before lockdown. I'm so glad it did as it served as the perfect stage for my "Stay Some Still Life" series.
CULTURED: How often do you come across an item for one of your clients that you have to have for yourself?

King: My work poses temptations like this often, and I'm generally very diligent ... But for a recent project I sourced a bronze Just Andersen vase from Freeforms that I ended up acquiring.
CULTURED: Who—or what—is inspiring you right now?
King: Lately, I have been loving the washi paper and bamboo floor lamps from nendo and Kojima Shouten [in "nendo sees Kyoto"] at Friedman Benda, Max Lamb Echo's show at Salon 94, Jinyeong Yeon's padded furniture at The Future Perfect, the beautiful Maggie Wells's ["On the Nature of Things"] show at Guild Gallery, and the artwork of Otis Jones.
CULTURED: Your new book, Arranging Things, spans froom your work practice to your personal style. How did you approach curating art for it?
King: There is a non-hierarchical approach to art in this book; it is a meditation on the power of arrangement. The practice of arranging has deep artistic roots—from the composition of musical notes in a symphony to the grouping of everyday items in a Dutch still life. Arrangements are ultimately about relationships. There is a peaceful reverence for the objects and spaces. Moving a book one centimeter, adjusting the petals of a flower, adding a vase to a tabletop—these micro changes can transform the temperature of an image.
CULTURED: Do you think the interiors should inform the art in a room or the opposite? How do you find a balance?
King: In my work, architecture and interiors serve as the framework for building a relationship between art and space. I'll experiment with different arrangements with varying materials and silhouettes until a narrative forms or an alchemy is found; to me that's balance.
CULTURED: What was your last acquisition for your own collection, and what do you have your eyes on next?
King: A project in Los Angeles brought me antiquing in Pasadena, where I found a bronze trumpet vase and colonial cabinet—both by no maker. More recently, a perfectly-proportioned shearling Lilla Svampen stool from my friend Dobrinka Salzman. I'd really love to have a Milton Resnick painting.