It might very well be cliché, but it's true: There's no place like the Hamptons during the summer, particularly if you're an art lover. As a relatively fresh Hamptonite—who purchased a countrified escape and fell for the East End's art scene in 2020—I can vouch for the potent year-round cultural backdrop here, anchored by institutions like Guild Hall and The Church, long after the crowds migrate home. To jump-start CULTURED's first Hamptons issue of 2023, out this month, Duly Noted brings you the guide to the must-see artists on the South Fork.
THE ONE-STOP OPTION
If you only have time for one art stop on your Hamptons getaway this summer, make it Renee Cox's exhibition at the newly renovated Guild Hall in East Hampton. Organized by curator Monique Long, "Renee Cox: A Proof of Being" is a survey of the Jamaican-born, New York-based artist's magnificent oeuvre, from 1993 to the present, that affords a rare, compact opportunity to sample the singular vision that Cox has brought to the representation of Black bodies, using self-portraiture to upend Western narrative and embody Afrocentric superheroes.
"I have a long history of what I call flipping the script," says Cox of her work. "I studied art history in Italy as an undergraduate. 'Wait a minute. All of this that's being shown to me is supposed to be great art, but I don't see any people of color here.' So I decided to insert myself into these historical paintings."
The artist's glorious 12-foot-long photograph The Signing, 2017, supplants Howard Chandler Christy's signing of the Constitution of the United States, replacing the Founding Fathers with stylishly subversive, present-day subjects of color. "I decided that I needed to create The Signing to show Black people taking their own initiative and writing their own path with their own Declaration," she explains. Also, do not let the opportunity pass to experience Cox's three-dimensional sculptural collage Ajak Infinite Spirit (Black Girl Magic), 2016, part of her larger fractals-and-sacred-geometry-focused series "Soul Culture."
"Renee Cox: A Proof of Being" is on view from July 2 through September 4, 2023 at Guild Hall.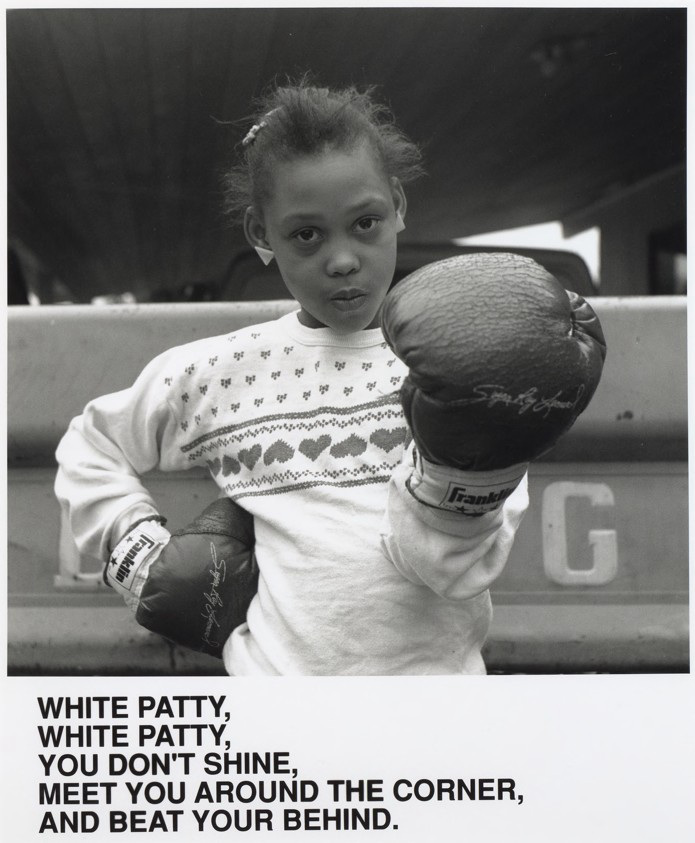 ROLL WITH THE PUNCHES
This tandem show is for you whether you venture out East or relish the city as artscape this summer. Unfurling over two uniquely suited architectural spaces, The Church in Sag Harbor and the FLAG Art Foundation in Chelsea, "Strike Fast, Dance Lightly: Artists on Boxing" gathers a deep roster of contemporary heavyweights across mediums, including Robert Mapplethorpe, Carroll Dunham, Lonnie Holley, Rashid Johnson, Andrea Bowers, and Carrie Mae Weems. Over a hundred works are on view, with newly commissioned pieces for each location. The sweeping exhibition sparks an intense visual dialogue about boxing as a metaphor for interpersonal battle, perseverance, and cultural identity—with some brilliant curatorial surprises. For instance, Muhammad Ali's cultlike status is embodied in Vincent Valdez's series of large-scale oil portraits "Dream Baby Dream," 2017–18, which captures Ali through the eyes of others and the cacophony of television coverage after his death.
"The sport can be a metaphor for a number of struggles that we have," says FLAG Director and CULTURED Young Curator alum Jonathan Rider. "The show is an interesting navigation of classic imagery that underlines so much of the physicality and brutality of the sport. But then there are a lot of pieces that throw off those ideas in beautiful ways."
"Strike Fast, Dance Lightly: Artists on Boxing" is on view from June 24 through September 4, 2023 at The Church and from June 16 through August 11, 2023 at the FLAG Art Foundation.
NO PASSPORT REQUIRED
Austrian sculptor extraordinaire Erwin Wurm is having a major global moment, with parallel shows at the Tel Aviv Museum of Art and the Yorkshire Sculpture Park in West Bretton, U.K. But Hamptons visitors are in luck: Wurm's genius is on full display at the Peter Marino Art Foundation in Southampton, which serves as a peek inside Marino's esprit créatif. On view are 14 works by Wurm, including examples from his legendary "Melting Houses" series, as well new paintings, which the artist—in a perfect encapsulation of his aesthetic—calls "Flat Sculptures."
"At first I wanted to be a painter, but the university rejected my application and sent me to sculpture class instead," says Wurm. "I guess this is one of the reasons I always questioned the limits of sculpture so strongly." Not to fear though, if you miss Wurm on your travels East, the Peter Marino Art Foundation has a blockbuster exhibit of Israeli video artist Michal Rovner on tap. Her work is nothing short of mesmerizing: What appear to be abstract forms or swarms of tiny people reveal themselves upon closer inspection, expressing the soulfulness of the human condition.
"Erwin Wurm" is on view through July 8, 2023 and "Michal Rovner" is on view from July 15 through September 30, 2023 at the Peter Marino Art Foundation.
THE COOLEST PLACE IN TOWN
The ocean, light, and farmland of Long Island notoriously influenced some of the greatest Abstract Expressionists, including Elaine and Willem de Kooning, Jackson Pollock, and Lee Krasner, who were captivated by the East End. Carrying that legacy forward with a 21st-century take is RJ Messineo, whose exhibition "Me in Meadow" recently opened at Canada gallery in East Hampton. Painted on plywood and wood panel, Messineo's textured, washy canvases feel particularly apt for warm, languid afternoons, while the punchier grids are pure Color Field.
An added bonus: Canada is the most eclectic, disarming space I've seen yet in the Hamptons. With creaky floorboards and genuine charm, the gallery is an East Coast version of some of my favorite spots in Marfa or the hotel room–cum–booths of the Felix Art Fair at the Hollywood Roosevelt Hotel.
"Me in Meadow" is on view from June 24 through July 23, 2023 at Canada, East Hampton.
MOMENT IN THE SUN
Hauser & Wirth is on a strata of its own. With the recent announcement of the fall opening of its third space in New York, on Wooster Street in Soho, and its spectacular West Hollywood addition, the powerhouse is the place to see significant artists of our time. Fortunately, even as full-time city living resumes, Hauser & Wirth's Southampton programming remains stellar, albeit in a homier, more relaxed version of the gallery's pilgrimage-worthy Downtown Los Angeles and Menorca settings.
This month you'll find me returning several times to contemplate the 12 new watercolors by conceptual maestro Charles Gaines, whose "Numbers and Trees" paintings break images into individually numbered, graph-like squares of color and challenge our minds to imbue meaning synchronously from abstracted and figurative pattern.
"Charles Gaines—Numbers and Trees: The Arizona Watercolors" is on view from July 1 through July 30, 2023 at Hauser & Wirth Southampton.