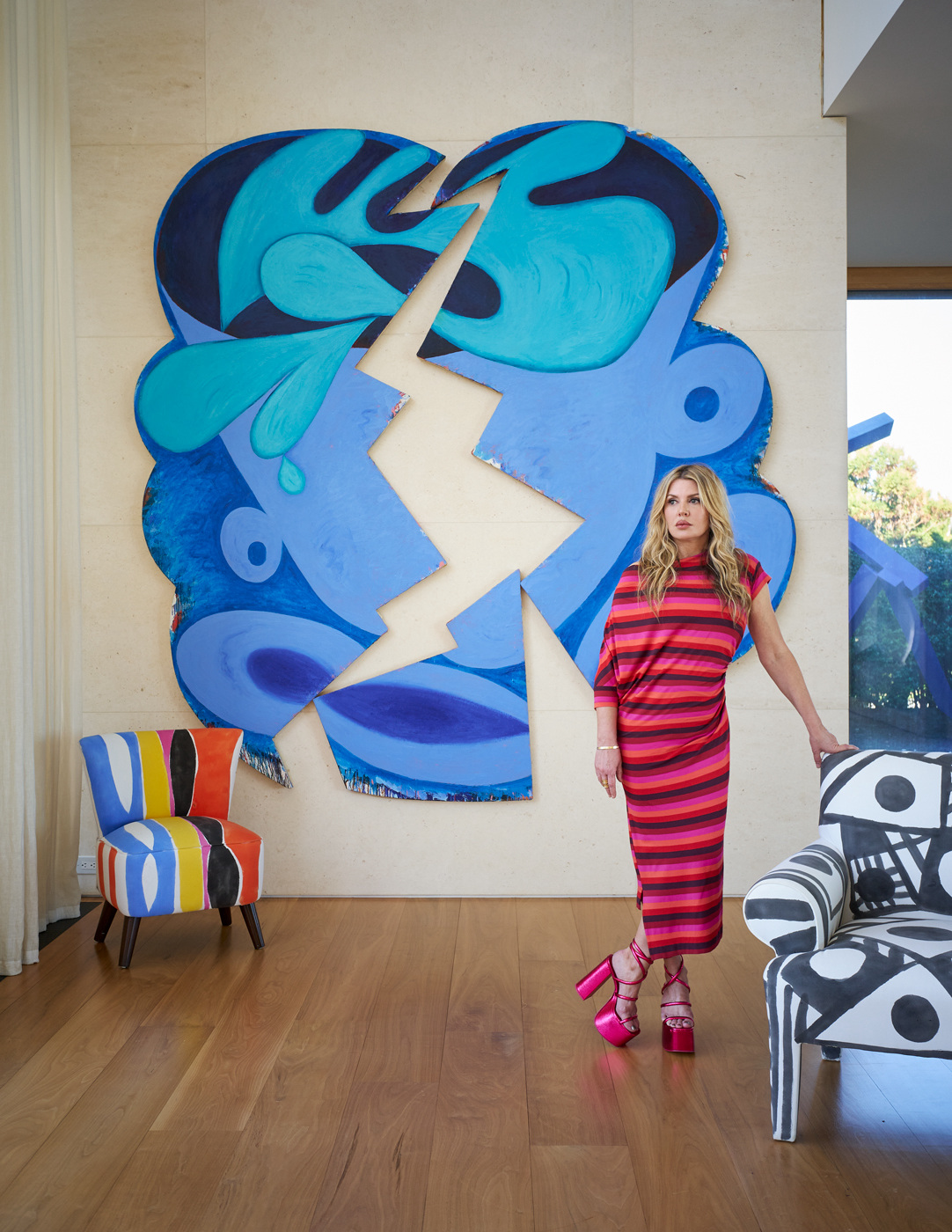 With projects ranging from Alicia Keys and Swizz Beatz's sprawling La Jolla oasis to the interiors of Robert A.M. Stern Architects's luxury Manhattan condominium building at 1228 Madison Avenue, Kelly Behun is a major player in contemporary American design. Celebrities and architects alike call on the celebrated decorator for her ability to masterfully transform homes so that they fully embody each client's unique personality and idiosyncrasies. Through her practice, Behun not only responds to what her clients say they need, but also helps them figure out what they actually want. Mixing high and low and bringing together items that might otherwise seem out of place, she creates cohesive environments on a case-by-case basis. Nowhere is the designer's holistic vision better demonstrated than in her own Southampton house, which serves as a kind of test kitchen for new ideas.
"So much of my work is spontaneous and emotional," Behun explains. "My approach to design is to get to know each client as much as possible because it's a relationship that is so intimate. To be invited into someone's world to create a home for and with them is such an honor."
Set labels and traditionally defined styles are beside the point of Behun's practice. It's possible to mistake her ability to seamlessly pair disparate elements as minimalism, but her aesthetic proclivities are far more transcendent and conducive to each brief. "An igloo meets a yurt but with a Bugatti chair, it's all good to me," she adds. "I love the variety. It's all about figuring out what excites the client. It's also important to have a bit of irreverence and not take things too seriously. I learned this from working with Philippe Starck."
Though she didn't receive formal training (Behun studied economics at Wharton), she credits her on-the-job training under the tutelage of powerhouse hotelier Ian Schrager with allowing her the freedom to approach design from a different perspective. "I came to my career in interior design from a more tangential path, but I wouldn't change a thing because it got me to the place of doing what I love," says Behun. "It felt life-affirming. Sometimes, it takes going down another path to get to where you need to be." With the hotelier's in-house team and its principal, Anda Andrei, she worked on blockbuster projects such as Miami Beach's Delano and the Mondrian in Los Angeles. "It was a great foundation, but I prefer developing residential projects," the designer admits. "The relationships you develop with your clients are very different. My passion is working directly with individuals and families." Establishing Kelly Behun Studio about two decades ago, she's been able to do just that while, along the way, developing product lines with the likes of The Rug Company, Hudson Valley Lighting, L'Objet, and The Invisible Collection.
Integrating art and one-of-a-kind designs is integral to her hands-on, personalized process. Many of the apartments and houses Behun has decorated incorporate an eclectic array of striking paintings and sculptures, and also distinctive furnishings. A longtime fan of the late New York gallerist Holly Solomon and her pioneering advocacy for elevating mediums such as ceramics and textiles, which had historically been considered merely "craft" or "women's work," Behun's homes are a testament to this approach to collecting. The spaces include handpainted chairs by the California artist Kim MacConnel, contemporary works by textile artists Mitsuko Asakura, and Sagarika Sundaram, as well as an ever-expanding ceramics collection with pieces by MyungJin Kim, Makoto Kagoshima, Takuro Kuwata, Roger Herman, Jeremy Anderson, Shizue Imai, Adrienne Fierman, and Monty J. "We try to be thoughtful about how we bring these elements into the home," Behun reflects. "I don't profess to be an art advisor, but I like to be a connector and point clients in the right direction when it comes to galleries in New York and elsewhere. I like to highlight the talents I'm excited about and that are worth following."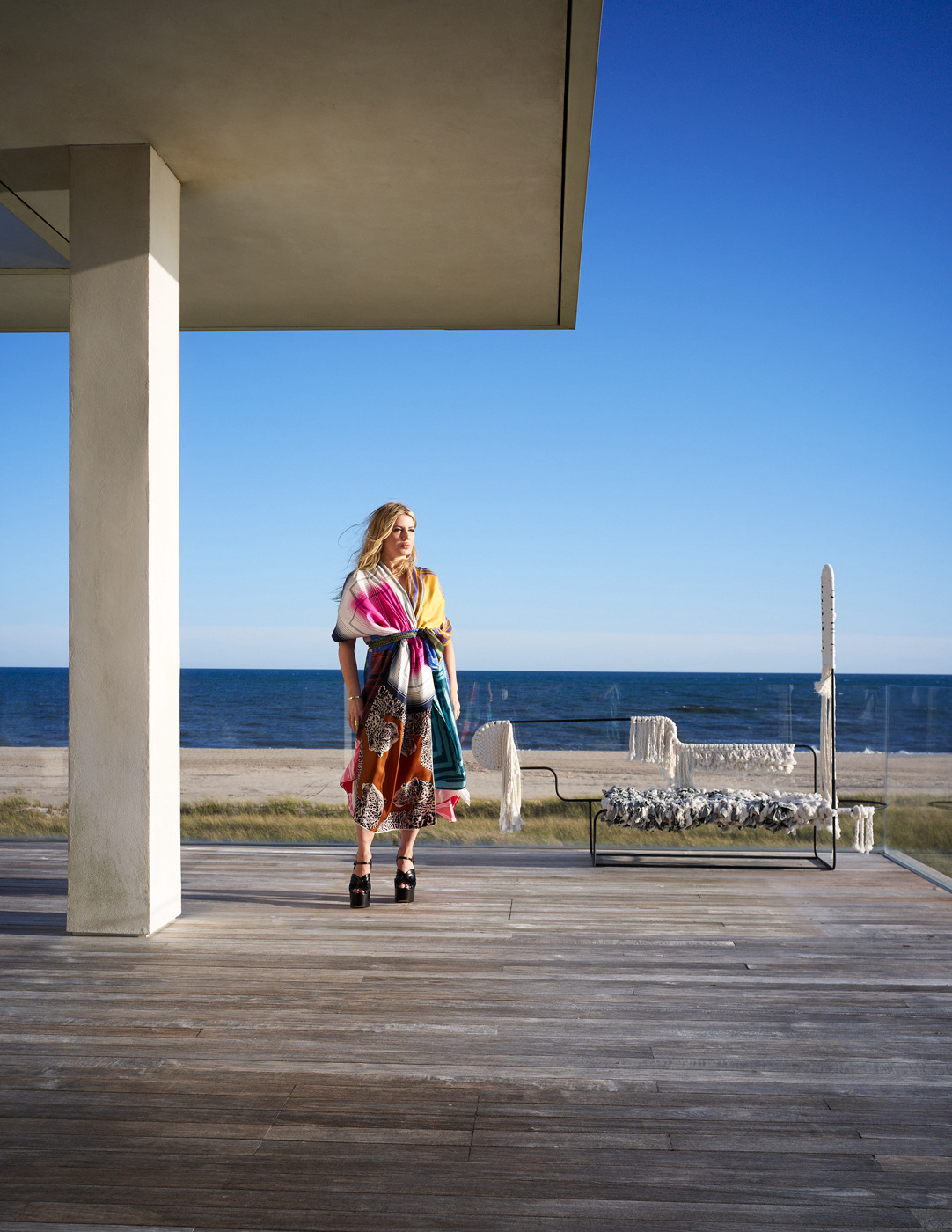 For Behun, the worlds of contemporary art and collectible design are blurring as people are simply looking for quality pieces that have intention behind them. As is evident in her own Hamptons home, these items don't always have to be pricey. "I still have these pieces that I got at Ikea on Long Island 15 years ago," she notes. "They're still there and bring me as much joy as something I could have paid many times more for—I put them next to a beautiful painting." In fact, the designer often focuses on establishing object stagings that play off each other and the environments they occupy. "It's important to have negative space in your home so that your eyes can pause and recalibrate," she adds. "Each room is another opportunity to create a different interior landscape, a beautiful composition."
Also discernible is Behun's increased focus on craft and unique works conceived by female artists and designers. "There's probably no better way to distill a designer's aesthetic worldview than to see their own home," she concludes.