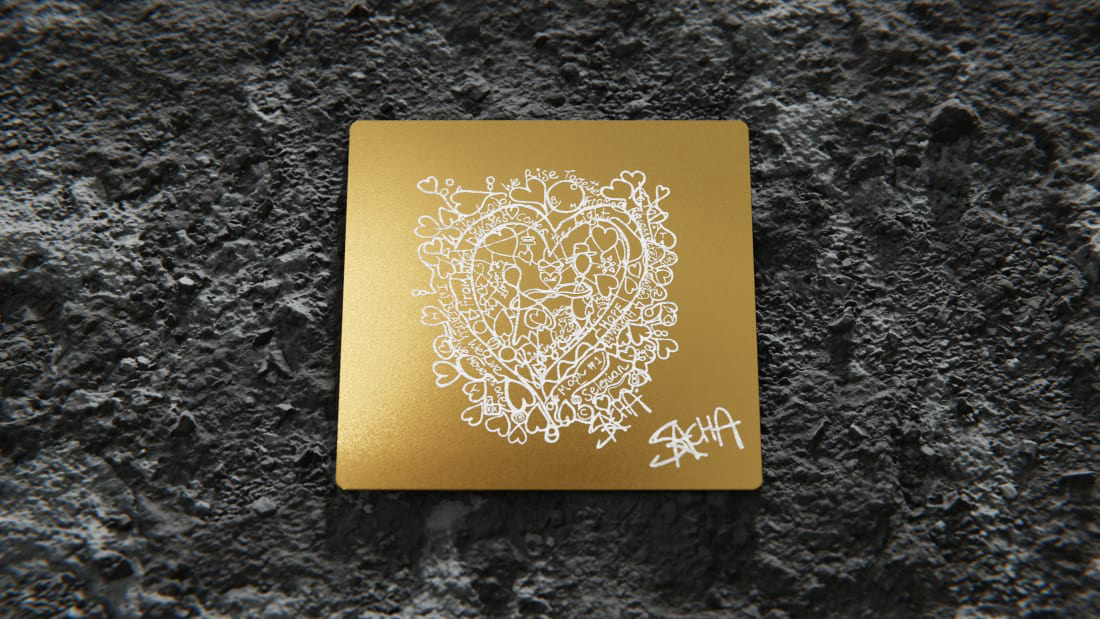 When aliens land on the Moon today, they can find the following things: 100 packets of human waste, 70 spacecraft, six American flags, two golf balls, two medals, one 3.5-inch sculpture, and one family photo. Soon, when stopping in the Lacus Mortis, or Lake of Death, extraterrestrials will also find a small gold-covered sheet engraved with two human figures surrounded by 88 hearts.
The artwork, titled We Rise Together – By the Light of the Moon, was created by Dubai-based Sacha Jafri. The British artist and philanthropist previously made headlines when his painting The Journey of Humanity, the largest canvas painting in the world, raised $62 million at an auction in Dubai. We Rise Together is set to start its journey in the first week of March and arrive no more than two weeks later.
The piece is dubbed "the first official artwork on the Moon" in its press release, which conveniently forgets Paul van Hoyndoncks's Fallen Astronaut that was placed on the Moon in 1971. While not technically the first, the project is a pioneer in its own right. This will be the first lunar mission under NASA's Commercial Lunar Payload Services (CLPS), an initiative that funds commercial companies building spacecraft. The piece is also paving a path for the future interstellar art galleries and their curators; the project is facilitated by Selenian, a company specializing in the niche field of art curation in space.
The artwork's canvas is a step forward as well. The aerospace-grade aluminum covered in gold was developed over two years specifically for the project with the hope that it will withstand the extreme conditions of outer space. We Rise Together is predicted to remain on Earth's natural satellite "eternally," or until an alien art collector picks it up.
Naturally, there are also NFTs in the mix. At each of the five stages of the space mission, a beep in the control room will release an accompanying NFT for sale back on Earth. In addition, 88 NFTs of Jafri's artwork will be for sale. All proceeds will be donated to unspecified charities. "I'm hoping to raise a huge amount of money for the four main charitable concerns of our world—health, education, sustainability, and equality," Jafri told CNN.