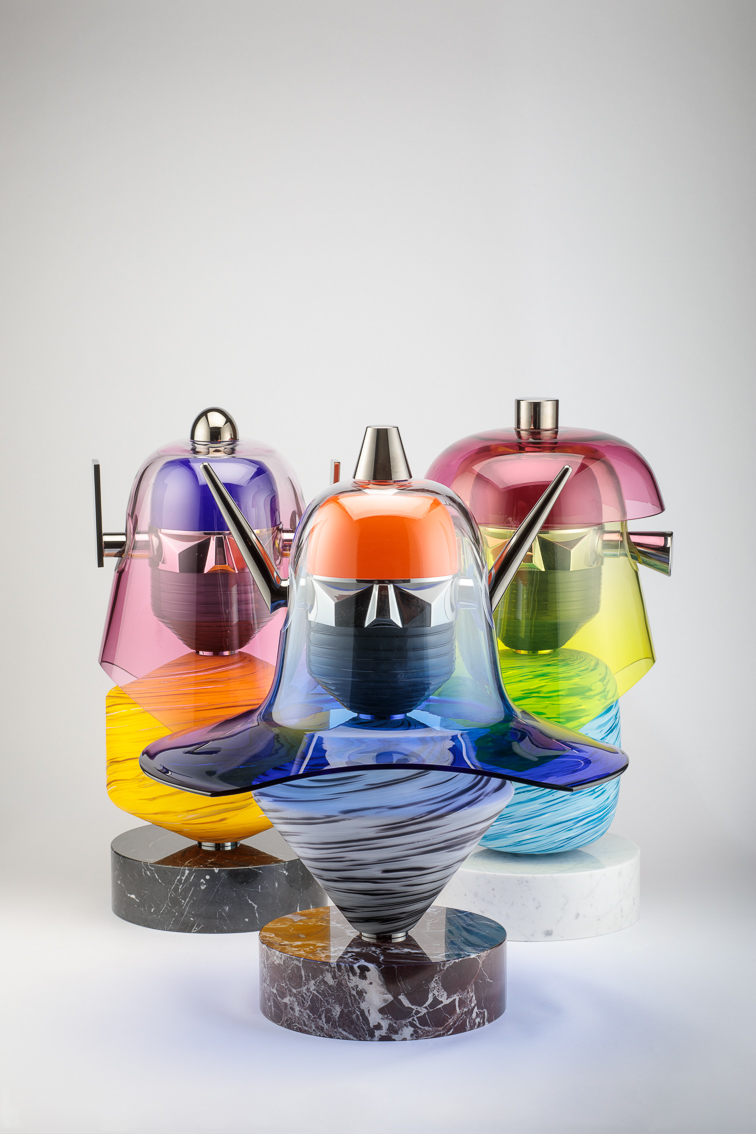 The exhibition was the result of a chain of invitations: ​​Alessandro Vecchiato, creative director of Punta Conterie on the Venetian island of Murano, asked multidisciplinary designer Luca Nichetto to curate an exhibition at its art gallery. Nichetto—a Venice native whose lineage's vocational legacy has its roots in Murano's centuries-old glass-making industry—in turn invited a cadre of eight global designers operating in vastly diverse projects to create a limited-edition piece or series with the medium of glass as their only guidepost.
"Empathic. Discovering a Glass Legacy," which opened this month at InGalleria, is prismatic. It plays host to innovative manipulations of glass in differing forms, opacities, hues and uses in the gallery hall, light streaming through the windows punctuating its corridors and refracting from the objects throughout the space; and, less tangibly but no less emphatic, the show communes global design within the iconic footprint of Murano and its heritage expertise. At the same time, it reveals new understandings of glassmaking capabilities within the specific vernaculars of each exhibited designer, reflective of new intimacies with the material itself.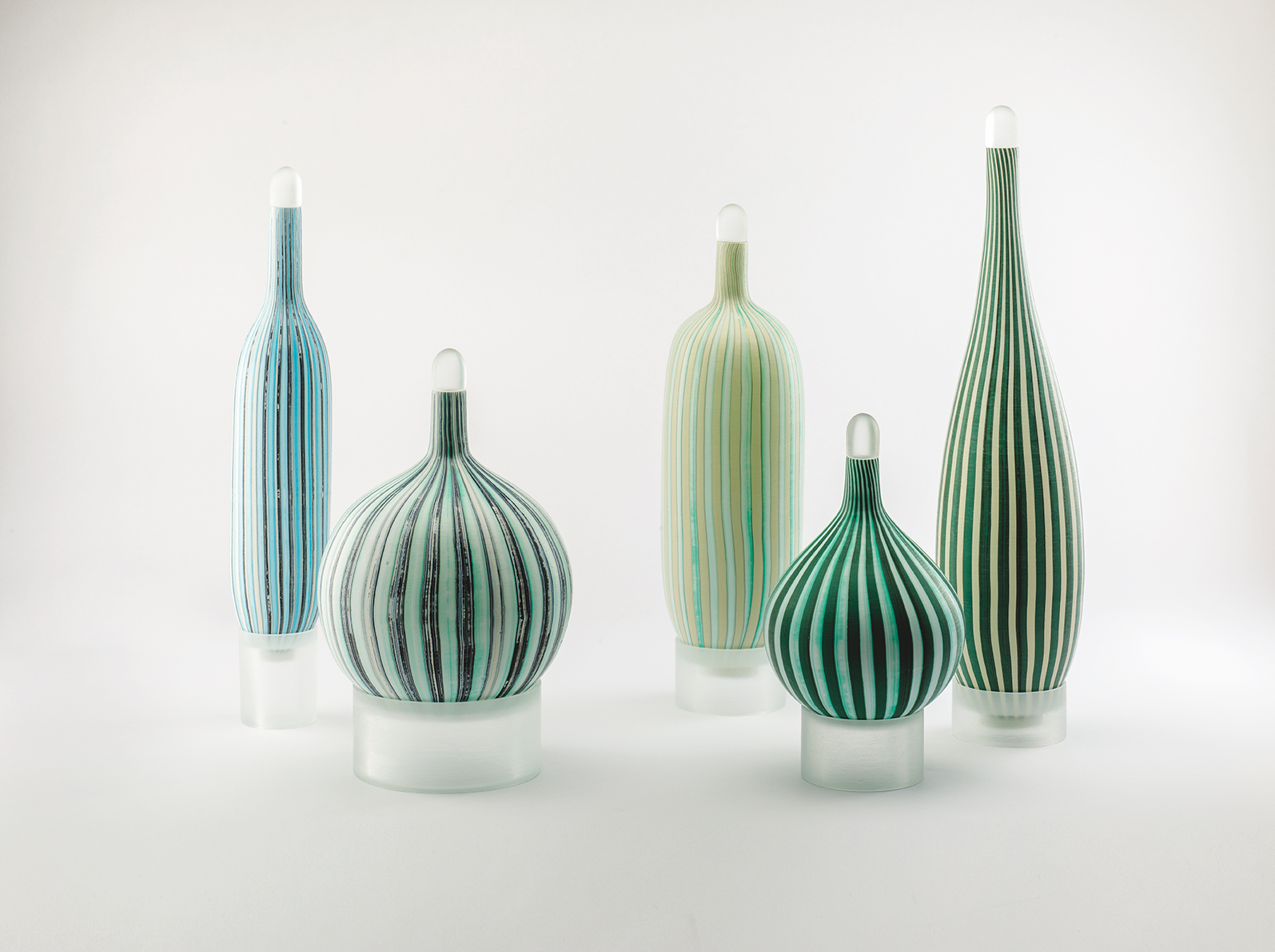 American designer Marc Thorpe spoke of the humility of working on his series of vessels for the show, which eschew the traditional flat base for a round-bottomed, radial design that sits in its own unique pedestal. "You feel like you're among giants," he said of working with the Murano artisans; their mastery of the material of glass is astounding, for in its manipulation, "you're always up against the edge of the unknown."
Switzerland-based American designer Ini Archibong was spending time in the glass factories alongside Luchetta when one day he was shown images of African chiefs wearing Murano-produced glass beads. "I wanted to do a project," he described, "that tied together the craft of Murano and the connection to African spirituality and design history in a mythological way." His object for "Empathic" participates in the overarching ethos of his oeuvre, which, as he tells it, are artifacts for fellow children of the diaspora. With a design informed by traditional Murano patterns and techniques, each mask extending from its vase-like base represents one of four archetypal protective spirits: The Strategic Warrior, The Clairvoyant, The Beast and The Sage.
Taking on a fully different form, Milanese designer Elena Salmistraro retranslated traditional Murano mirror-making into an exuberant, sinuous explosion of color inspired by Medusa's savagely ravishing, serpentine tendrils. Similarly kinetic, Noé Duchaufour-Lawrance's column-like side tables were conceived during the lockdown in Paris. Their blown-glass tops capture the vibration of the waves in the Venetian Lagoon, moving through the bases in a rippling pattern.
Enrico Fratesi of Copenhagen-based studio GamFratesi applauded how, within the show, "every designer really managed to express [glass] in a personal way" that contributed to their own empathetic relationships with the city of Venice, and with the material itself. His studio's series of bowl-shaped objet merged a muted color scheme and juxtaposition-forward design concept with inspiration from bricole, the characteristic bundles of oak posts projecting from the Venetian Lagoon that signal navigation boundaries to boaters.
In contrast to Fratesi's bowls, London-based Benjamin Hubert's trio of exuberant vessels resemble an embalmed rainbow. Their high-color constructions were an experiment with multiple techniques in manipulating the glass, also engaging amber and crystal. Dutch designer Richard Hutten's totemic sculpture also radiates with the rainbow's expressive striations. A highly complicated process of construction, the layered-glass piece emits joy through its luminous presentation of color.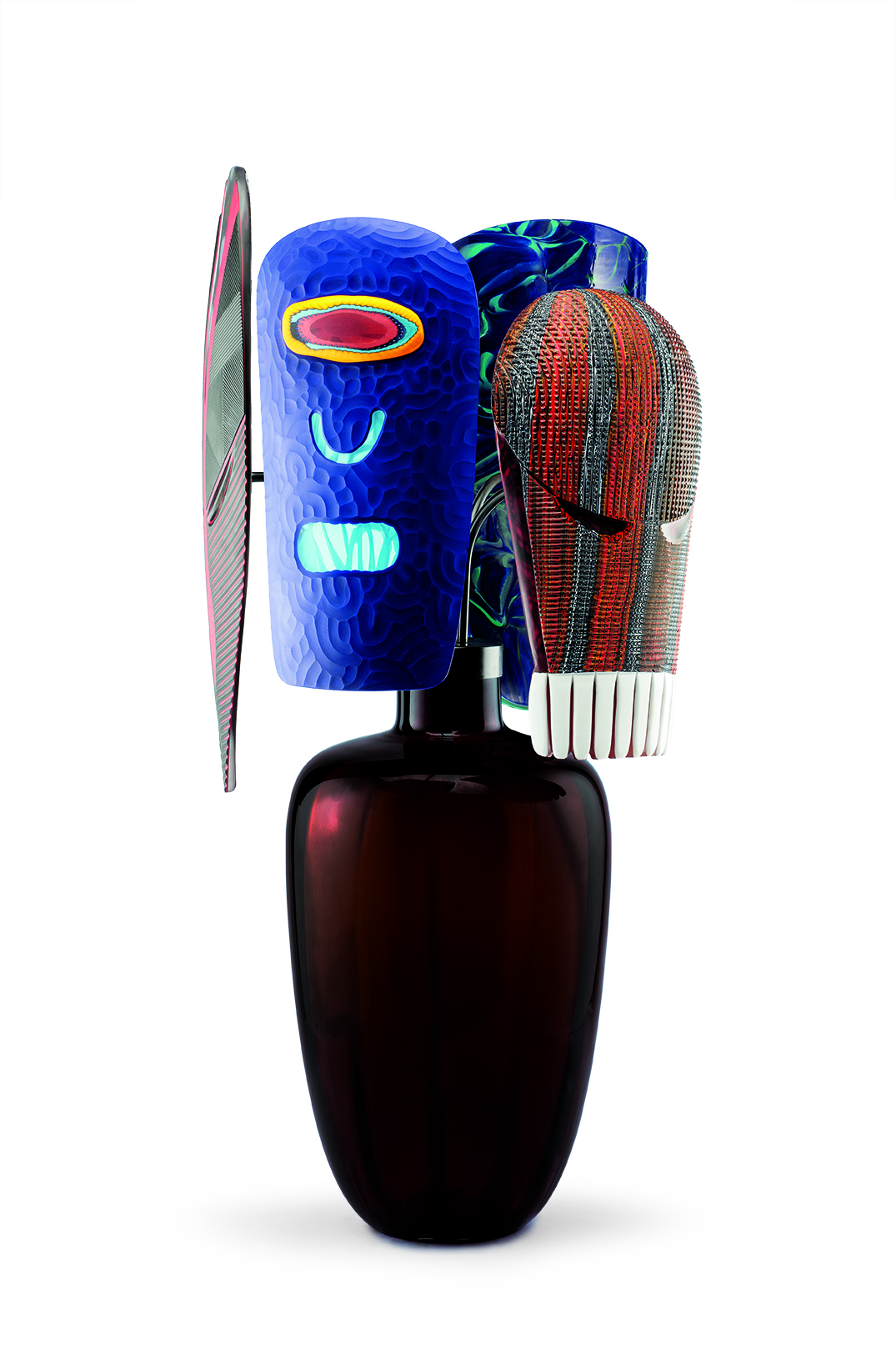 Nichetto's own contribution to "Empathic" shared in the collective exhibition's provenance, drawing inspiration from, as he calls it, "the great little reality of Murano." His series of "little animals in glass" were envisioned as pieces of art that, alongside their ornament, were "a kind of hero," he says—akin to a symbol "that can protect the island."
His own family history and upbringing being entwined with Murano, its industry and the power and beauty of its expertise made the show a personal one. Not only in the filial sense, but also in its marking of a broadening responsibility to the design industry. From product, to artworks, to curation, Nichetto's career represents an expansion of what it means to be a designer today. "20 years of doing what I'm doing, and I've never designed a gallery piece," he says. With "Empathic," Nichetto admits, "I took on the challenge."
"Empathic" brings designers into new mediums and legacy artisans into new relationships for cocreation, bridging gaps between the personal and universal, tradition and limits-pushing modernity, and, most important, between industry and community in their mutual, global contexts: a chain of invitations at once fully connected and vastly open for future links.
Craving more culture? Sign up to receive the Cultured newsletter, a biweekly guide to what's new and what's next in art, architecture, design and more.