The next frontier, the final frontier, our big answer, our big question. Maybe it's me but stars feel further away than ever, even as the billionaires and celebrities plot their courses off this planet to pastures where they might not have to confront climate catastrophe head on. This privatization of the beyond is not what got the folks at Felix & Paul Studios and their collaborator, PHI Studio, revved up enough to push the limits of VR filmmaking to create "The Infinite," an immersive exhibition dedicated to helping earthlings experience the International Space Station, but it didn't hurt. Nor did COVID. "We began thinking about how we have more and more a virtual citizenship as well as a physical one," PHI Studio founder and director Phoebe Greenberg says. "It's an extraordinary opportunity to have these cameras in space and really bring that to Earth in a more democratic way than the thinking around space tourism, which has become quite fashionable."
This respect for virtual citizenship demanded that both the footage itself and the final output of the project be accessible, a goal that drives both studios. In the past, Felix & Paul Studios have worked on documentaries that reveal the humanity of the intimidatingly extraordinary; LeBron James and the Obamas are collaborators. The technicalities of working with NASA on "The Infinite" only took things up a notch. Not only did they need to build VR cameras capable of rotating around the whole station for show-stopping hero shots of the exterior but also to befriend and coach a group of astronauts until they were comfortable enough to candidly share moments from their day, all while excelling in filming, blocking and lighting those shots.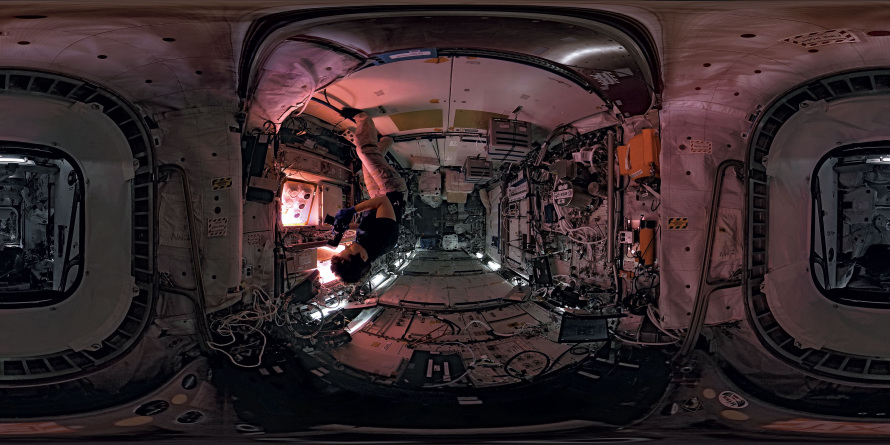 "You've probably seen a lot of videos where astronauts talk with a microphone while looking at a camera. We didn't want any of the formality of that," Felix & Paul Studios Co-Founder and Creative Director Felix Lajeunesse says. "We wanted to completely get rid of that and feel like the camera is a person that you place in the scene."
Filmed over the course of more than a year, the raw footage (over 200 hours) acted as a jumping off point for the Felix & Paul Studios team to pursue two simultaneous ends: "The Infinite" as well as Space Explorers: The ISS Experience, an Emmy Award-winning VR video series produced in collaboration with TIME (free on META) meant for one player-tailored exploration. Both turn personal testimonials into bite-size chapters that can be explored at will. This loose narrative structure enables one's movements around the station to feel organic rather than cinematic. "The Infinite" brings this to new heights by allowing this free-range education to be a social experience as well.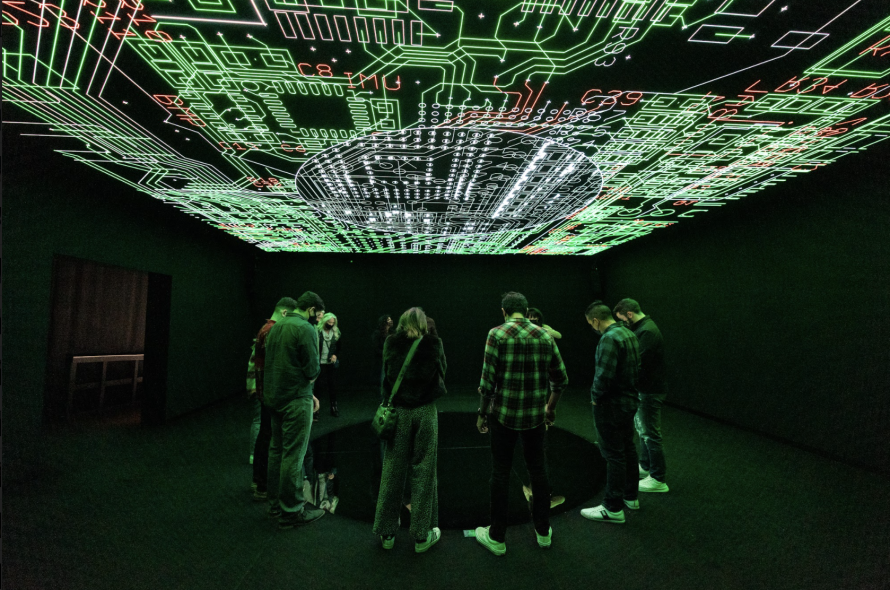 "The mystery of the universe is something that I think unites us all, so it was very important we maintained that universality rather than alienating it," Greenberg says. "'The Infinite' represents a fundamental shift in perception of the experience of the VR headset. We think of [VR] as an intimate experience in solitude. We really wanted to break down that perception and figure out a way to develop a navigating and tracking device to allow a roaming experience and engage the human body and the group as a learning device."
Part of breaking down these perceptions was melding VR experiences fluidly with real-life ones. Visitors to "The Infinite," which is currently on view in Houston, move through several stages with their chosen pod whether that's their classmates or their girlfriend. You start in the real world and quickly transition—after a mood boosting installation—into a headset where the International Space Station becomes a walkable environment. When you get out, the work of Japanese artist Ryoji Ikeda will be waiting. PHI Studio tapped their longtime collaborator Ikeda because of his talent for understanding the micro and macro details of experience.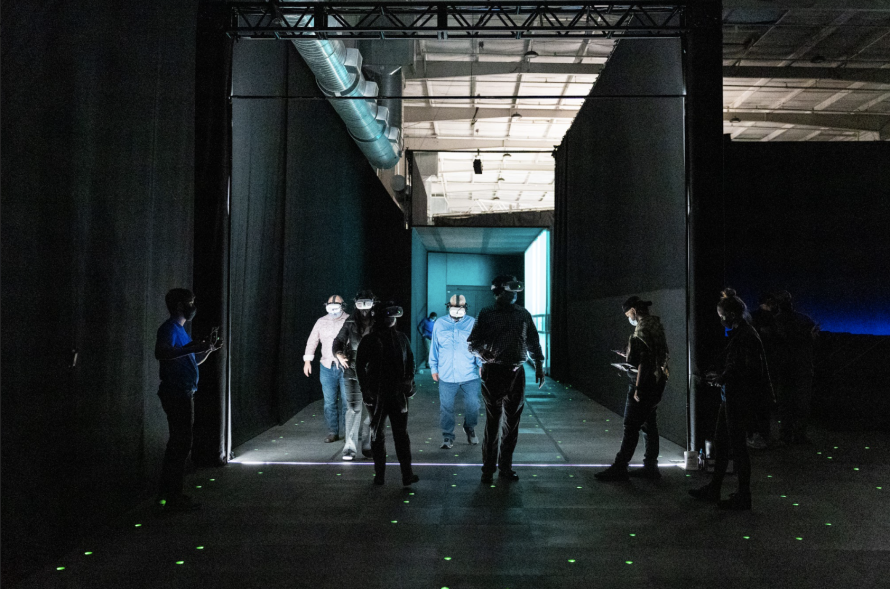 "Ryoji's language lends itself to the subject matter but also to that transition, just the physical transition of moving from one immersive experience to another," Greenberg says of their selection. "We really wanted that fluidity and to think through, again, the question and mystery in the poetry around our objectives to open up space to all."
The creators of "The Infinite" promise that the next iterations of the experience (it's already booked in several cities) will incorporate new content and refinements. Feedback is already coming in. This process of joint evolution makes the whole thing feel not only experimental but also highlights how communally-driven the project is on a molecular level—it's a mirror of its muse.