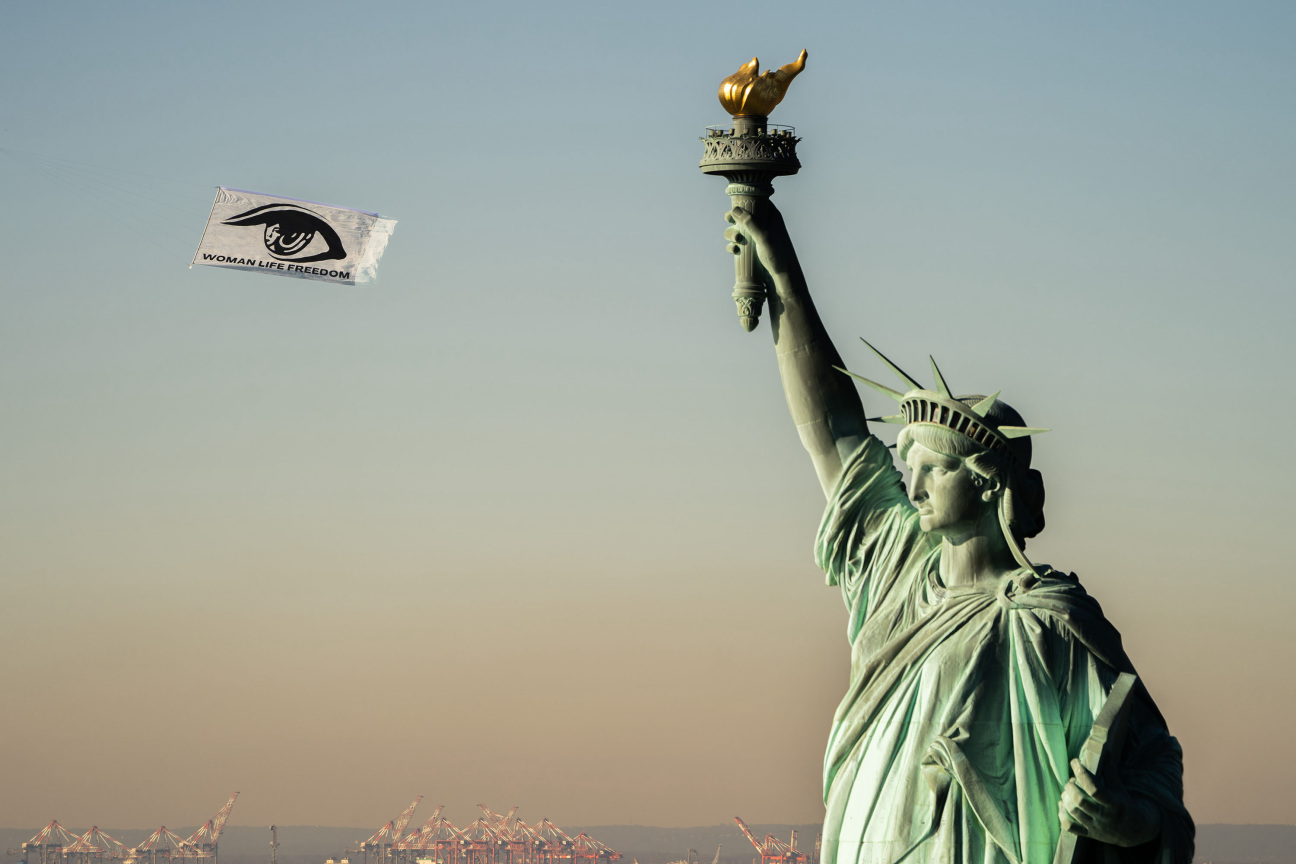 It feels so personal, as if a member of your own family is about to be killed," Shirin Neshat says after hearing the news that another young protester is set to be executed in Iran. The artist, who left her hometown of Qazvin at the age of 17—five years before the 1979 Iranian revolution—is known for photography and film that reflect her lived experience, oftentimes with Iranian figures as the canvases of religious text. But these days she isn't touting her work, she's trying to reconcile the gravity of revolution in her home country once again. Pained, Neshat discusses the Iranian regime's methods to paralyze international action by imposing a sense of defeat. The cadence of her voice changes as she describes an image of an Iranian woman unveiling in front of a revolutionary guard. "Standing eye-to-eye," she continues. "It speaks volumes about how brave these women are." Neshat insists we all have a responsibility to counter that with instances of hope. It's why she joined a team of artist-activists including, Sheida Soleimani, Aphrodite Désirée Navab, Mahvash Mostala, Shirin Towfiq, Hank Willis Thomas, and JR for a campaign entitled Eyes on Iran. Echoing the calls from the women on the ground, the series of art installations signify the support of a free and democratic Iran.
It all began on Oct. 7, when the team of the artist-run non-profit For Freedoms received an anonymous phone call from someone—for reasons of security—known as Z. It was an Iranian artist-activist who was hoping to organize something, as they described, "evocative and very public facing" that would call on international allies to speak out against the atrocities in their country. Within minutes, the organization founded in 2016 by Thomas, Eric Gottesman, Michelle Woo, and Wyatt Gallery began to workshop a plan. "What is more exemplary of civic engagement than someone fighting for a democracy that doesn't even exist yet?" shares Executive Director Claudia Peña of For Freedom's urgency to get involved.
A mere 23 days later, the team led by Iranian activists and artists in collaboration with For Freedoms and DC-based nonprofit Vital Voices, wrote an open letter for The New York Times supporting the mission of Woman, Life, Freedom, a solidarity campaign calling on the UN to remove Iran from the Commission on the Status of Women with signatories spanning the likes of Former U.S. Secretary of State Hillary Rodham Clinton, Malala Yousafzai, and Gloria Steinem. The removal—the vote for which happens today—would "symbolically demonstrate that the regime is illegitimate, that it doesn't represent the people of Iran," notes human rights activist Nazanin Afshin-Jam. The 45-member commission is a functional committee of the United Nations Economic and Social Council that promotes gender equality and the empowerment of women and is responsible for, according to the UN, "documenting the reality of women's lives throughout the world and shaping global standards'' by identifying gender gaps in education, politics, the economy, and elsewhere. To further their message, the conglomerate of artists, activists, and lawyers launched Eyes on Iran on Nov. 28, a series of installations physically facing the UN building at New York's Franklin D. Roosevelt Four Freedoms State Park.
"For Freedoms did what we do well, which is to create constellations," explains Thomas, who collaborated with Mostala to send airplane banners around the Statue of Liberty that read "Woman. Life. Freedom" for the project. Within the week, the "constellation" grew even bigger as the French artist JR launched a public art performance in which he positioned 300 volunteers to pose as strands of hair for a live aerial portrait of 16-year-old activist Nika Shakarami, who was killed this past September in Iran while protesting. At the center of the community-organizing exhibition effort is Offered Eyes, a repurposed art piece by Neshat that features an eye overlaid with emancipation text by the Iranian poet Forough Farrokhzad. "The job of those of us on the outside is to continue finding different outlets for bringing attention to this issue," the artist says of the body of work, which is meant to keep the audience's eyes—and minds—on Iran.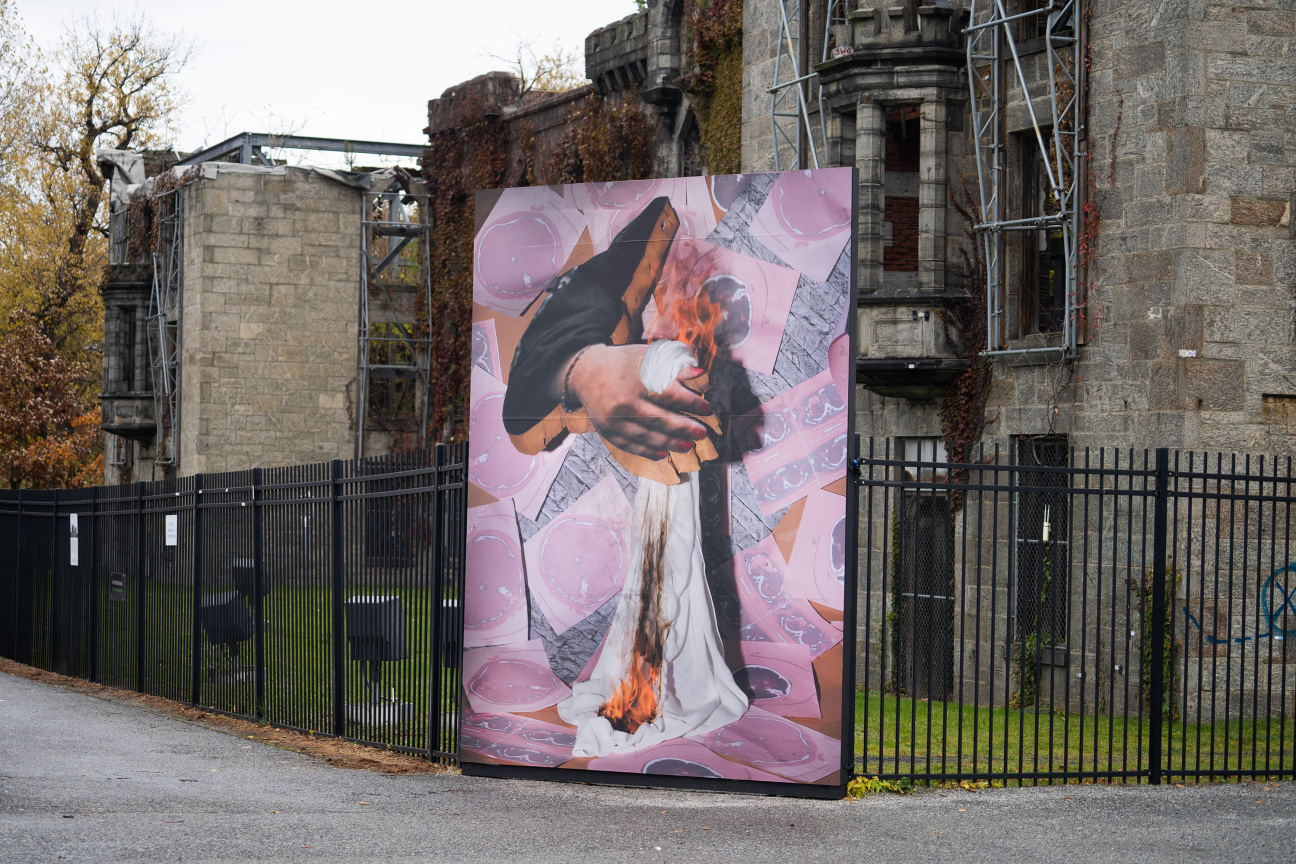 Other Iranian artists and activists are of course actively participating in Eyes on Iran, too. Soleimani's entire extended family is still in Iran, and her father and mother only escaped as political refugees, having been targeted and tortured by the regime with multiple arrests and solitary confinement. "I grew up with people that had never known what freedom was," the artist shares, "and the dinner table was a place where we would talk about the happenings of the world." For Eyes on Iran, Soleimani paid homage to Mahsa Amini, the 22-year-old Iranian woman who was killed in police custody following a detainment due to her "inappropriate" donning of her hijab. Entitled Mahsa, the photograph centers a hand holding a hijab on fire, its backdrop inverted images of Amini's brain scans. "We don't want intervention," says Soleimani when asked about the broader goals of Eyes on Iran. "This is about spreading awareness and elevating voices." The artist contends that the removal of Iran from the Commission on the Status of Women would be an unprecedented action as no other country has been removed in the past. And the next step? "Remove Iran from the United Nations Charter itself," Soleimani emphasizes. "Because there's no place for a government that tortures and brutalizes people to have voting shares or rights at a table of countries that provide democracy."