Every four years, I catch myself staring at the TV in horror and fear caused by the level of absurdity in the conversations around the political theater," says Hank Willis Thomas. "It's so rarely about the issues and with all that's at stake, it's really dangerous." Moved by the prescient political gestures of artists like will.i.am and Shepard Fairey in previous election cycles, Thomas decided—after discussing some ideas with his old photographer friend Eric Gottesman—to face his fears head-on by forming the For Freedoms Super PAC in January. It's a hat tip to Franklin Delano Roosevelt's famed 1941 State of the Union address, which laid out the "four essential human freedoms" of speech, to worship, from want, and from fear—and also led to the titular oil paintings (and later posters) by Norman Rockwell.
"For me, art is living and the idea came up as I started realizing you could raise money to say basically whatever the hell it is you want under the guise of political speech—it just seemed so absurd," says Thomas, pointing to Stephen Colbert's short-lived Americans for a Better Tomorrow, Tomorrow Super PAC as an inspiration. "I thought that was an interesting way to motivate people through humor. The reason people feel so disassociated with art is because the ideas are out of context and ahead of their time, and I realized a lot of the conversations we were having in the '70s, '80s and '90s—gender inequality, multiculturalism and immigration, or LGBTQ issues—are just hitting the mainstream today."
In the past year alone, Thomas tackled the "ideal feminine type that has been marketed to individuals across gender, racial and socio-economic lines" in his fifth solo show, "Unbranded: A Century of White Women, 1915–2015," at Jack Shainman Gallery. He also launched his Truth Booth (where visitors complete the sentence, "The truth is…" for an aggregating video project) on a 50-state tour, and curated the acclaimed "March Madness" survey at Fort Gansevoort where he installed works by David Hammons, Robin Rhode, Paul Pfeiffer and many others to tease out the corruption, violence and racism behind big sports. During that time, he also managed to plot the rollout of For Freedoms with Gottesman, whom Thomas met while he was studying at the California College of the Arts.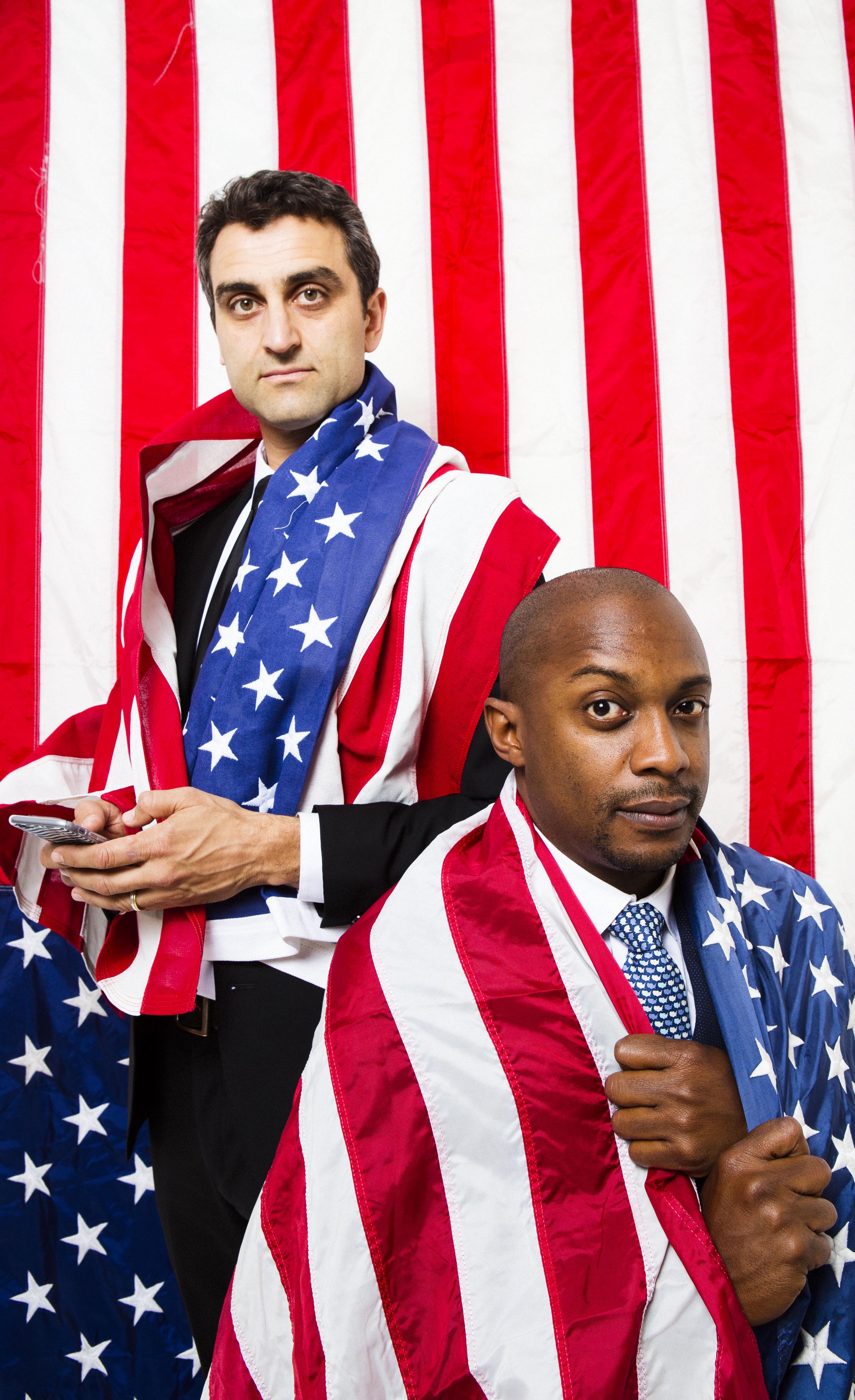 "At the beginning of our friendship, right after 9/11, we actually had this salon where we'd meet every month or two at my house to share work and have all these conversations about politics in art. It was something that stuck with me even as Hank and I went different ways," says Gottesman, whose photography projects have taken him to the East Coast, Africa and the Middle East. "We talked for a while about doing something like this, and we had one idea about running an artist for office and using the campaign as a medium for a project." "He thought I should run for Senate," Thomas interjects. "I believe Hank said, 'I probably couldn't keep my mouth shut,'" says Gottesman with a laugh. "We eventually got more interested in the intersection of art and politics."
The two reconvened last year at the Black Portraiture[s] conference in Florence, Italy, and got to talking about the election, which led to researching nonprofit organizations, political parties and Super PACs. They decided on forming the latter because, as Gottesman notes, "It's the height of insanity within the current structure of the electoral system."
After meeting with a Washington, D.C., lawyer in January, the artists established For Freedoms, whose debut group show at Jack Shainman Gallery's 24th Street location runs through July 29. The show includes multimedia works from artists like Marilyn Minter, Matthew Day Jackson, Carrie Mae Weems, Alec Soth, Bayeté Ross Smith and Fred Tomaselli. "We don't see this show as the end, we see it as the beginning," says Thomas, noting the works may later take the form of print, billboard, online, video and television advertisements.
"To go out and tackle the subject of white women and now this Super PAC, Hank just goes outside of his comfort zone all of the time, and he's an amazing collaborator," argues Shainman, who is giving the artists carte blanche to use his space in whatever capacity they want, though he hopes it will be an immersive environment that takes the shape of a political headquarters/installation/salon for artists, curators and visitors off the street. "It's so important that Hank is using the Super PAC to examine itself because most people don't really understand what a PAC is, but it's a way for wealthy people to control elections. All the politicians are so worried about middle-class values, but what about poor people? Who is going to do something for them?"
Worship Fear Want Speech, 2016, is a limited-edition print commissioned by Cultured, and available for purchase at artsy.net/culturedmagazine
In addition to creating print or video campaigns featuring pro/con arguments within the space of a single advertisement, For Freedoms addresses the disenfranchised vote at the gallery—where Thomas and Gottesman are, in turn, giving artists carte blanche (even if they disagree with the politics of a specific work). Most notably, Dread Scott is using the headquarters to produce 30-second political ads and later launch a software program to tabulate votes in real time for individuals who are directly affected by U.S. policy—like prisoners or Afghan civilians—but left without a vote to help influence political outcomes.
"I thought the proposal was strong and immediately had an idea for what I would do," says Minter, who is working from an archive of images from her book "Plush." "It touches on censorship and will raise some money, hopefully."
Matthew Day Jackson was so moved after reading about the PAC that he contacted Thomas directly about participating. "So much of the space they're interested in occupying is often neglected," says Jackson, whose collection of posters traces the arc of reality television to social media as a foundation for thinking, and how the shape of violence follows the same timeline. "Hank and I were talking about how Donald Trump was a reality television star and the things I'm interested in thinking about is how the average person, unremarkable in their every being, can become extraordinarily famous and occupy so much space in our collective media conscience and now in our collective political reality. It's really profound."
At some point, Thomas hopes to remake the Four Freedoms posters in ways that confront Islamophobia, wealth disparity, gay marriage or the concept of one person's freedom conflicting with or subverting another's. Rockwell's estate is even planning to donate a piece to the show. "They're very interested in collaborating, and they do a lot of stuff with different artists and high schools reimagining what the Four Freedoms might look like today," says Gottesman, who is personally trying to work with the Department of Homeland Security to plan a naturalization ceremony inside a museum or gallery.
"Maybe the Super PAC itself is the update," he adds. "Maybe that's more representative of the Four Freedoms in the Rooseveltian sense. It's that multiplicity that might be the revision of Rockwell." Thomas agrees: "The art project is the PAC itself—the fact that we are fundraising, the fact that we are making statements and then trying to take them away and reframing them at the same time, the fact that we're talking to real art collectors and working in the context of an art gallery but also trying to be earnest about change. We have to be constantly flexible and make adjustments. It's really interesting as an art piece." If nothing else, it will prove Thomas' mantra: All art is political.