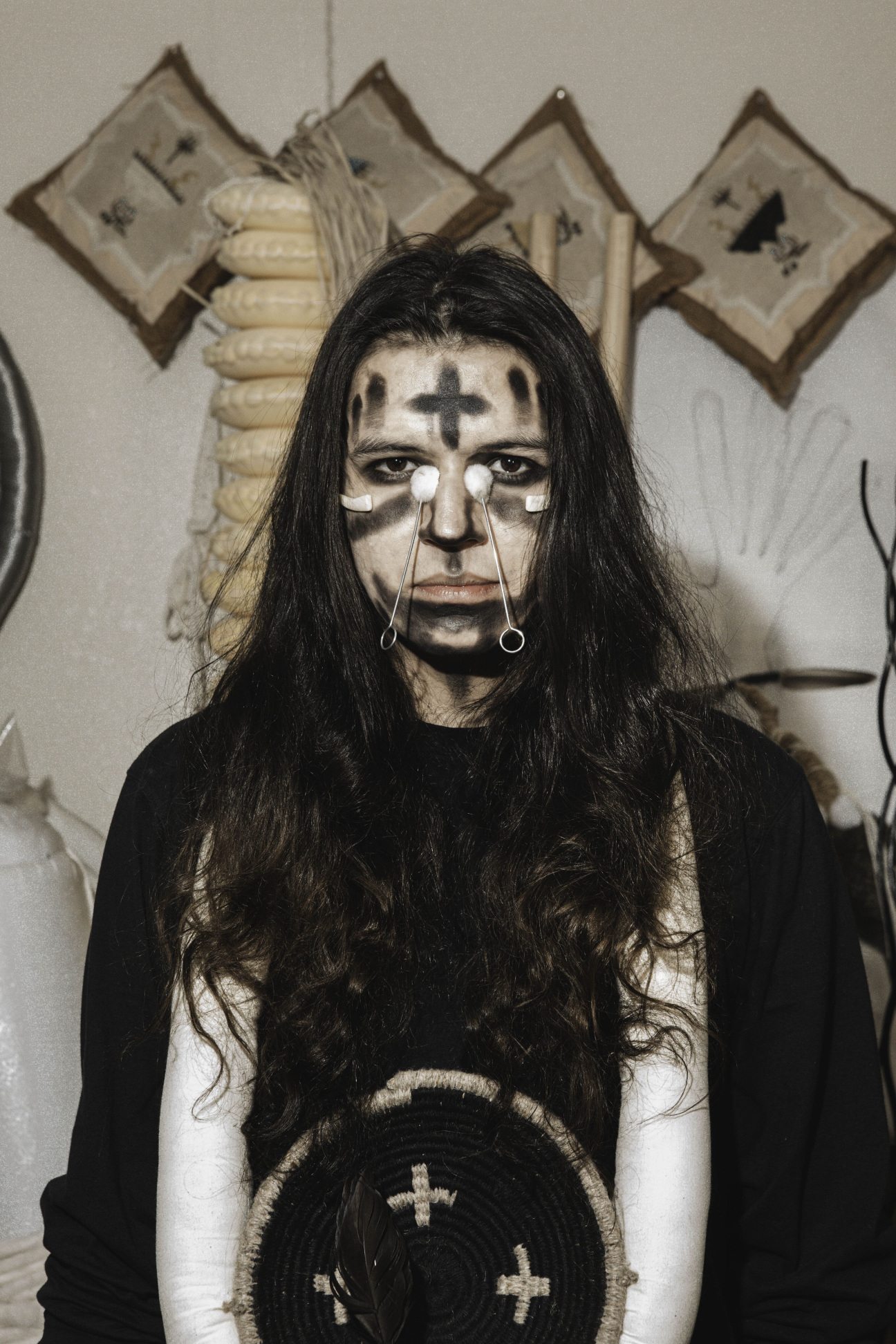 Eric-Paul Riege doesn't mind if you touch his work. The New Mexico–based weaver actually encourages tactile interaction with his three-dimensional tapestries, which often dangle from the rafters like earrings from a lobe. Jewelry is an evergreen touchpoint for Riege because of the symbiotic way the pieces relate to the body, and we to them. "One of my grandmothers told me that as indigenous people, particularly as Diné, we wear jewelry not only so The Holy People will recognize us, but because our jewelry listens," Riege, 28, explains. "Sometimes our ears don't listen as much as you want them to, but then you have this object that's hanging from your ear that's listening just as much as you are. So the next time you wear that earring, it'll remember for you, and help you listen."
At Hammer Projects: Eric-Paul Riege at the Hammer Museum in Los Angeles, the artist emphasizes this intimate alliance between body and object with an entire forest of his idiosyncratic woven sculptures, "Hólǫ́ ̧llUllUHIbI [duet]." These are adorned with chunky handmade beads that rattle with pleasure every time the wind or a stray elbow blows through. "I was thinking of them as instruments," Riege says of this new body of work. "These objects are living, they're made for use." In a video playing in the space, Riege demonstrates how he interacts with these objects—often using the choreography that evokes cleaning and caretaking. He strokes, he brushes, he lays these sculptures down to rest.
During his extended performances, these actions take place in real time. At his show at the ICA Miami in 2019, Riege actually left the museum entirely, strolling out into the Design District while wearing his sculptures as clothing. This break of the museum's fourth wall isn't so much about disrupting the norms of art-viewing, but rather pointing to the ways objects enjoy dynamic lives alongside ours; through our exchange with them, meaning can accrue, as in any relationship. The most personal example of this in Riege's practice is his son, Hólǫ́, a doll birthed from the artist's mind in 2019, who is an ever-changing vessel into which Riege can pour his insights, skills, and wisdom. "Hóló, was born from the womb of my mind because, as someone who doesn't have that organ, I spent a lot of time wondering how I could pass my experiences down. How do I provide that for someone else?" Riege says. "I decided that my mind has the power to gift things, and that's what I'll do."