The whole of Manfred Thierry Mugler's muscular and dynamic oeuvre is packed into "Couturissime," the designer's globe-trotting retrospective. The exhibition, shaped by the fashion writer and curator Thierry-Maxime Loriot, has been traveling the world since 2019, welcoming over a million viewers since its Montreal debut. The show's finale presentation—opening tomorrow, Nov. 18, at New York's Brooklyn Museum—spotlights just over 100 of Mugler's most daring pieces, including many never-before-shown looks, along with the late designer's avant-garde accessories, multimedia displays, and a dedicated fragrance gallery.
With his '70s glamazons and chic "superheroines," Mugler redefined feminine power with a maximalist flair that became a hallmark of '80s design. "This fifth and final version of 'Couturissime' is a decadent, multi-sensory view of Manfred's approach, which is intense, exciting, and dense. His work has so much life to it, as does the culture that it was made in," says Casey Cadwallader, creative director of Mugler. "There is so much energy in the archive. Every time I look, I see something new."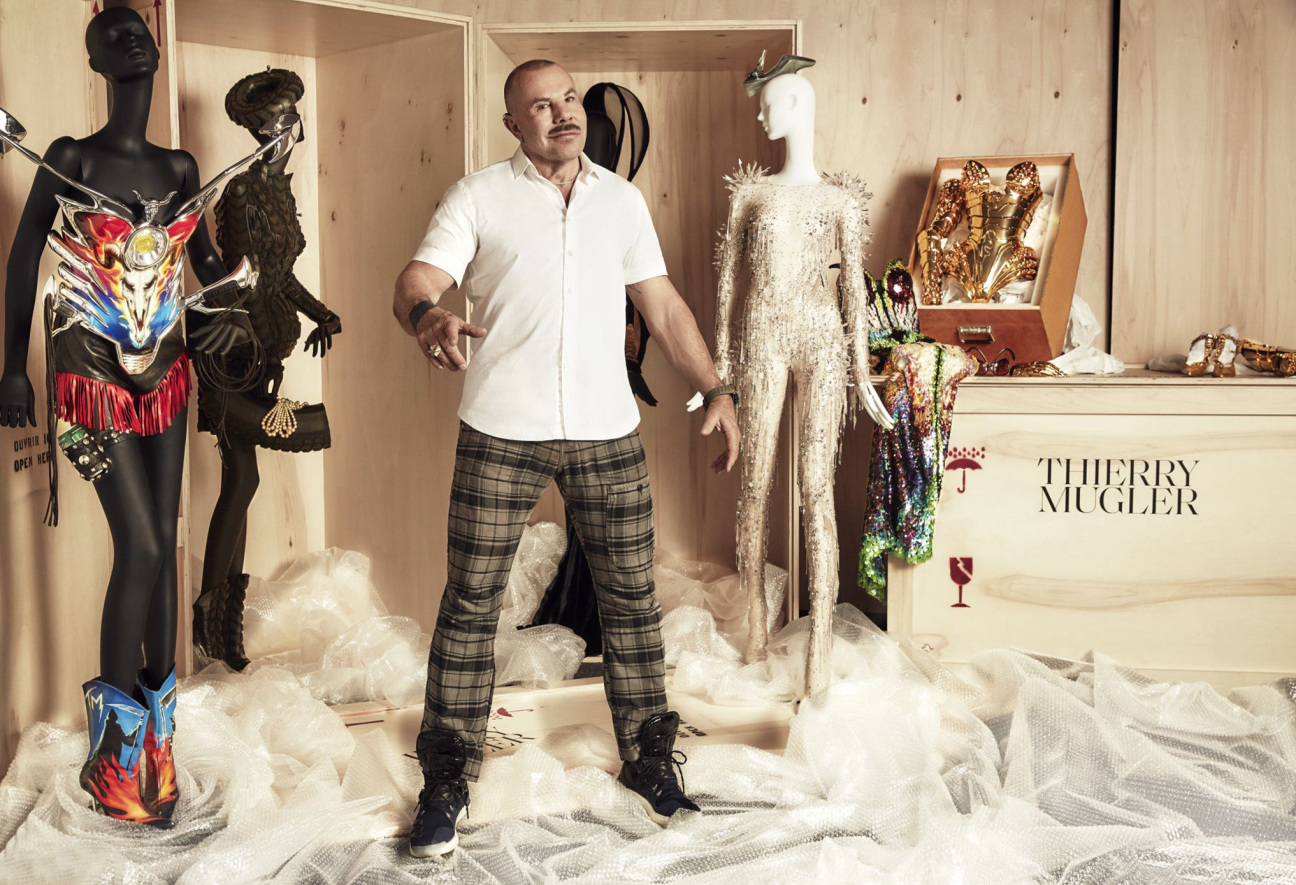 From elaborate, over-the-top runway shows to costume designs for the likes of David Bowie and Lady Gaga, Mugler's creative ambitions were limitless. After moving from his native Strasbourg to Paris, he worked designing womenswear for Parisian boutiques and European ready-to-wear brands. Mugler founded his eponymous fashion house in 1974, and later rounded out his urban-futurist aesthetic by incorporating menswear and couture.
The exhibit opens with Mugler's theatrical looks for Jean-Pierre Vincent's Comédie-Française Macbeth at the 1985 Festival d'Avignon. The costumes, projected as life-sized 3D holograms, are followed by a dive into the designer's couture archive. "We explore the extremes of his oeuvre, from machine and robot-inspired works to those which take their cues from nature: birds, insects, and underwater creatures," explains Matthew Yokobosky, the Brooklyn Museum's senior curator of fashion and material culture. "We also spend time exploring his work as a photographer as well as his engagement with celebrity and theater."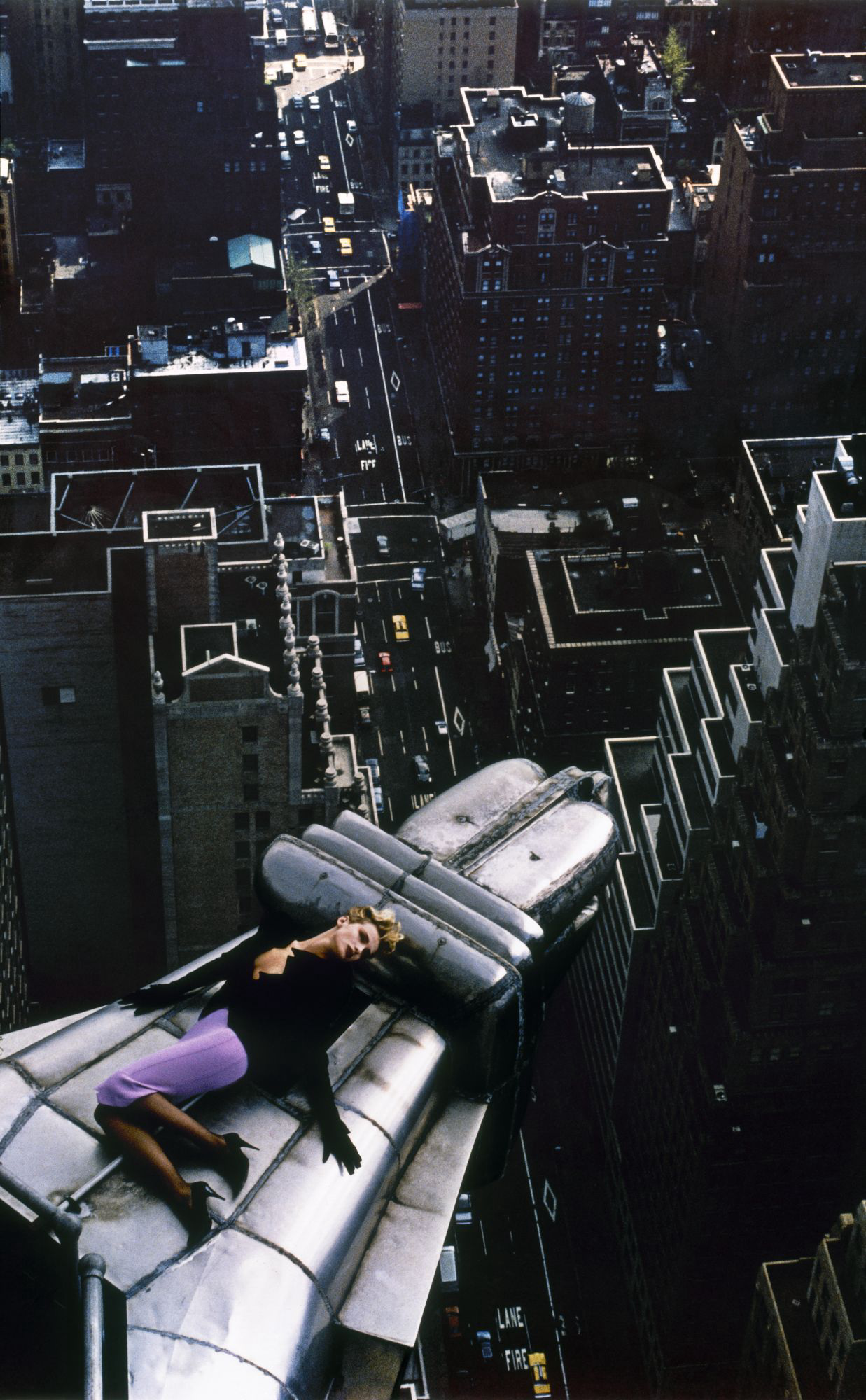 As a fashion photographer Mugler collaborated with the likes of Helmut Newton, Ellen von Unwerth, and Guy Bourdin. He also shot many of his own campaigns, which featured the icons Iman, Jerry Hall, and Carla Bruni, in hallowed urban settings like the Paris Opera and the Chrysler Building, and in far-flung natural ones like the Sahara Desert and the icebergs of Greenland.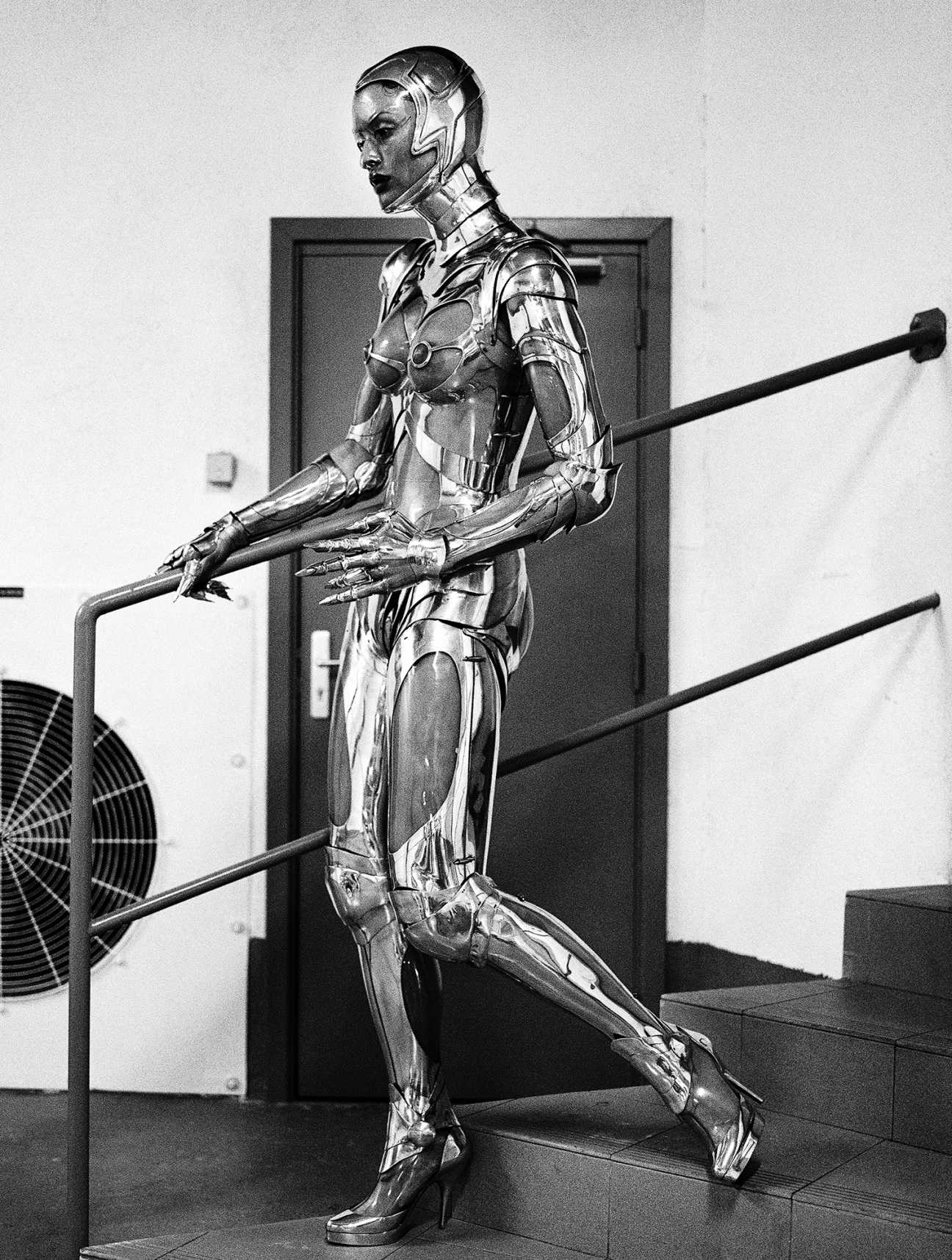 Mugler's designs themselves are presented in immersive groupings. The "Belle de Jour" and "Belle de Nuit" spaces spotlight fetish-inspired vinyl silhouettes and vicious, towering stilettos. The "Futuristic & Fembot Couture" space positions the designer's "fender" and chrome bustiers in conversation with medieval-inspired sheath gowns, with his famous Maschinenmensch at center stage. The fully robotic suit, which debuted at his 25th anniversary show, was inspired by the 1927 film Metropolis and took six months of work to construct. "When you look at the whole of Mugler's career, you can see trajectories of design ideas that begin small and continually evolve and can eventually become something big and extraordinary," says Yokobosky. Indeed, the "Metamorphosis" section, featuring the Les Insectes and La Chimère collections, blends these extremist displays of feminine strength with an appreciation for natural elements. The space's centerpiece is a decadent gown encrusted in scales and pearls, trailing feathers, and cinched with a golden corset.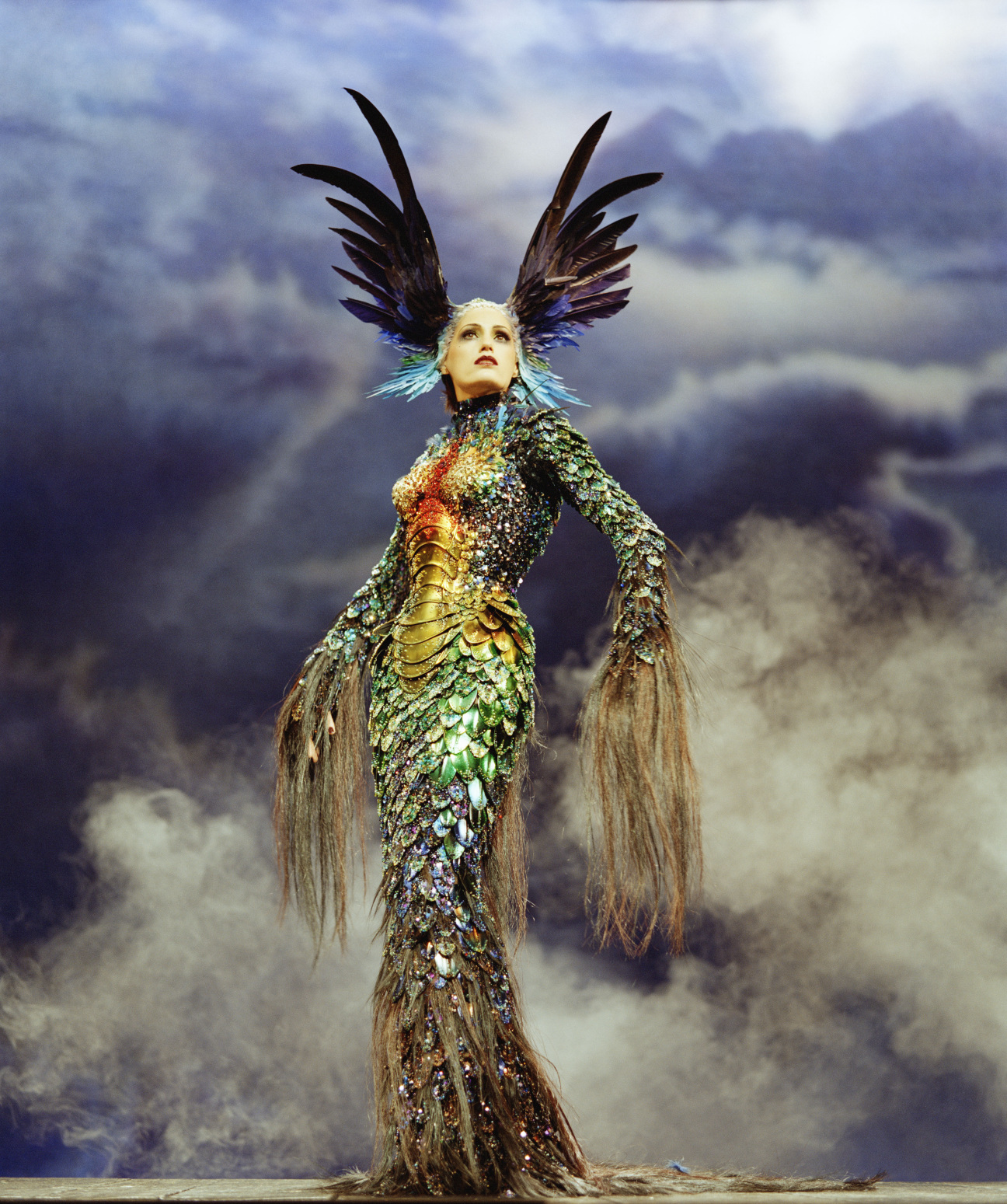 Additional galleries are devoted to Mugler's celebrity work—his famed music video for George Michael's "Too Funky"; his looks for the legendary models Linda Evangelista, Tyra Banks, and Eva Herzigová; and his designs for Beyoncé's I Am… world tour. "He was the spearhead of modern-day inclusivity," says Cadwallader. "He just did what he was feeling and he did what was representative of his culture."
This final presentation of the "Couturissime" retrospective, the first since Mugler's passing in January of this year, feels especially meaningful. "When he passed, something shifted in me and now I carry the brand much more on my shoulders," Cadwallader reflects. "He did what he wanted, and he followed his heart and his dreams, which is what I try to do too."
"Thierry Mugler: Couturissime" is on view through May 7, 2023 at the Brooklyn Museum in New York.