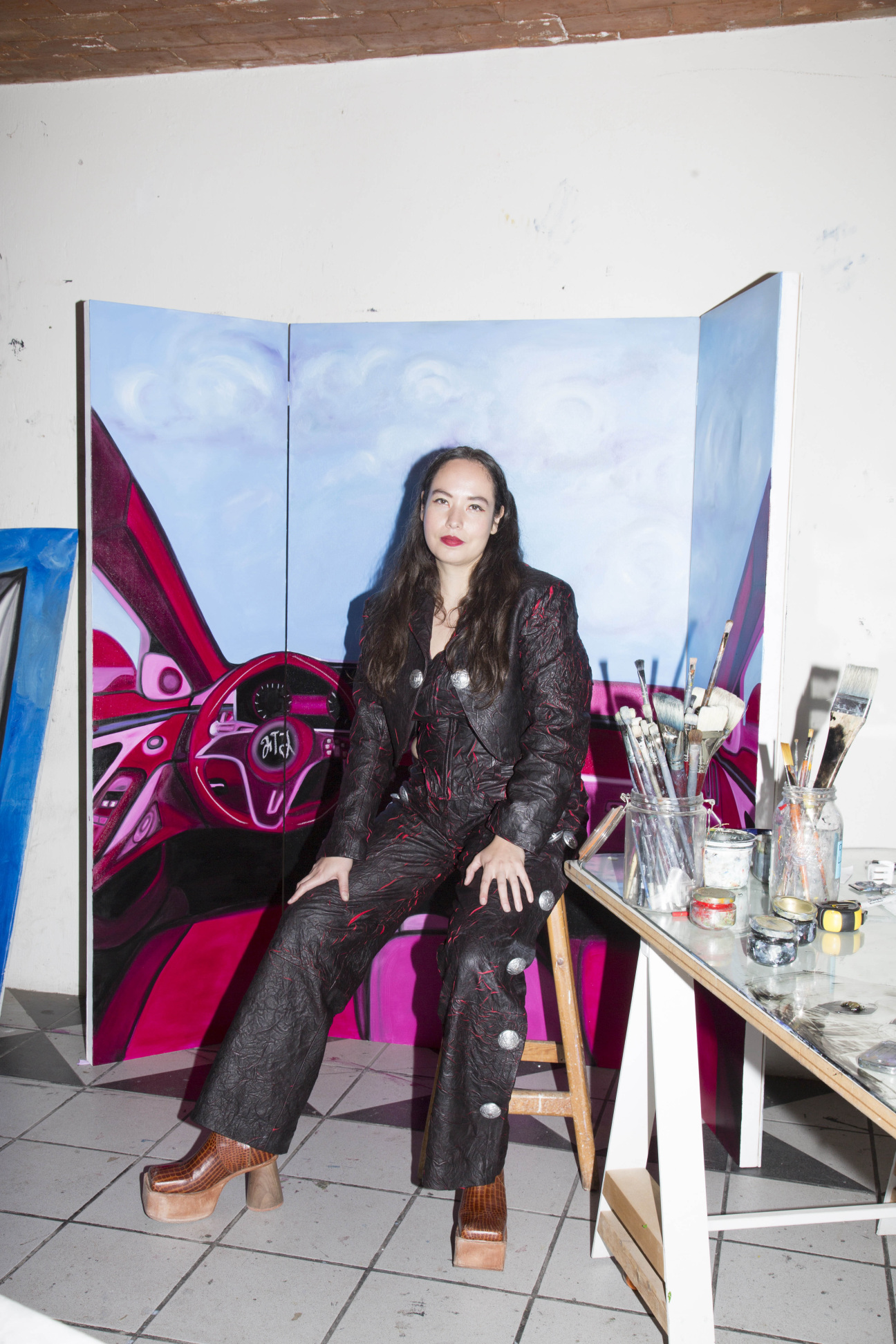 Frieda Toranzo Jaeger is an optimist. She often paints visions of what she imagines the future will be after capitalism self-destructs—queer utopian fantasies and post-colonial futurities. She even believes in the future of figurative painting, which has been declared dead at the frequency of a biennial exhibition. She is currently the subject of a succinct, playful solo show, "Autonomous Drive," at MoMA PS1. The exhibition greets the viewer with an enveloping, free-standing painting of the interior of a car, Hope the Air Conditioning is on While Facing Global Warming (Part I), which was originally exhibited in 2017 at her first solo show at Reena Spaulings Fine Art in New York. She told me the painting cost her $200 to make. She cut the wood herself, attaching the hinges between panels that allow her canvases to open and close, just like luxury car doors.
In her car paintings, Toranzo Jaeger, 34, often uses embroidery to pierce the sleekness of her canvases, which draw on the classic power imagery of auto advertisements. In utilizing the tactile, textural craft, she illustrates images that can be associated with femininity: a garland of flowers, or two nude women engaged in cunnilingus. In Mexico, where Toranzo Jaeger was born in 1988, the practice of embroidery is passed down among women; much of the embroidery in her paintings has been done by women in her family. From her studio in Mexico City, she will ship a canvas with a drawn outline of the painting to family members, who will stitch flowers and bodies in their own style—"I'm not a control freak," she explains—and then send it back for her to paint.
During her childhood, art wasn't a big part of Toranzo Jaeger's family life. In fact, she considers herself a late bloomer, discovering artmaking at age 23 and attending University of Fine Arts Hamburg, where she studied with the painter Jutta Koether. In the tradition of her teacher, Toranzo Jaeger has also staged performances with her free-standing car paintings. For her 2019 performance at the KW Institute for Contemporary Art, ...And yet we are becoming, inspired by José Esteban Muñoz, she and two queer dancers moved inside, out, and around one of her canvases to spoken word and reggaeton. It was intentionally irreverent—to "break the preciousness of painting," she says.
Yet it was also to activate the concept of painting as a part of theater, partly inspired from altarpieces in worship rituals. In her cunning way, she draws from a painting's past to chart unfamiliar visions for its future use. "I love the future," says Toranzo Jaeger. "By imagining the future, you are, in one way, creating it."