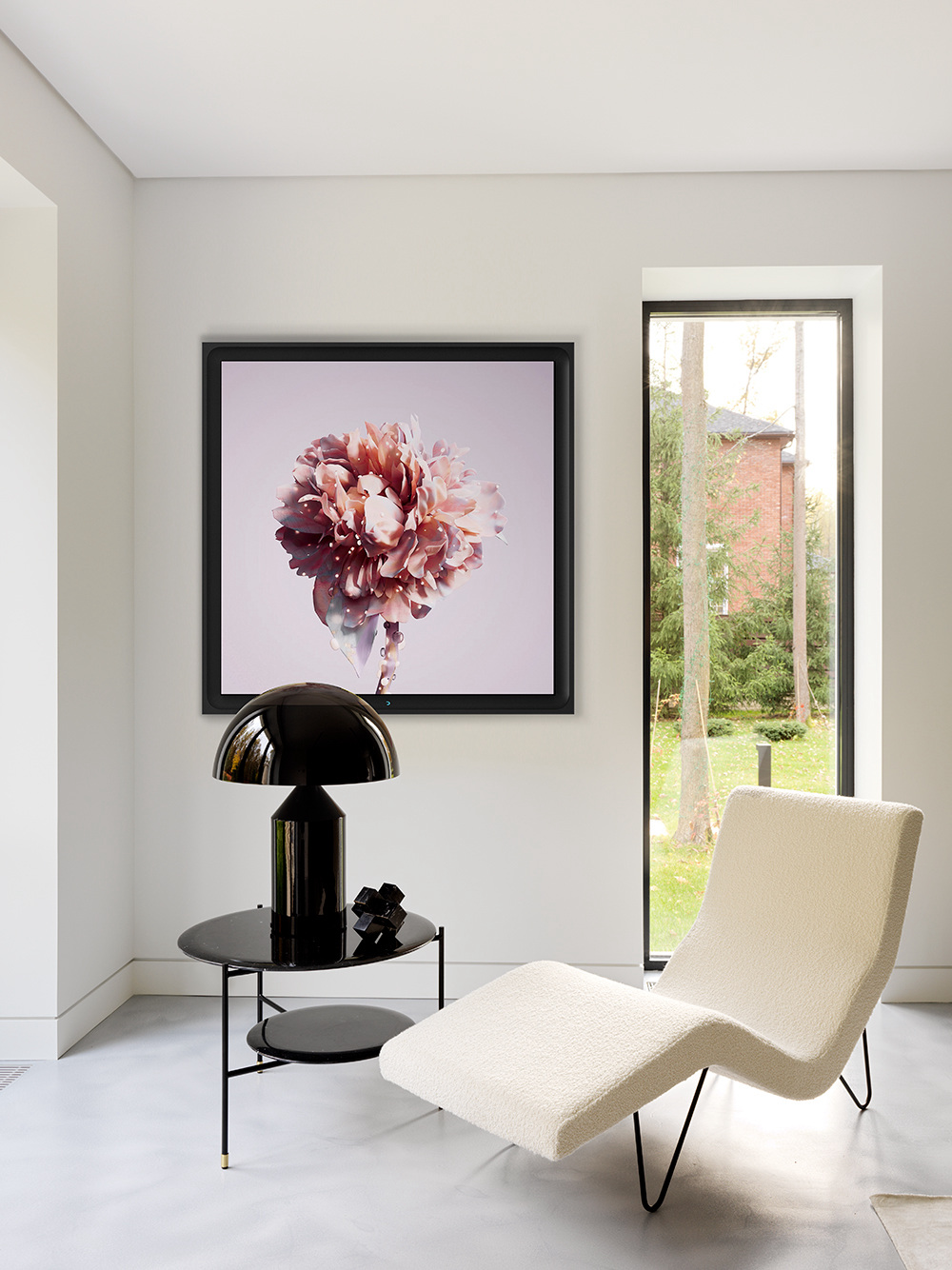 As any seasoned collector knows, the ways in which a collection is exhibited is almost as important as the curation itself. Whether it be aesthetic, contextual, historical, or simply one's own random desire, an artwork's physical placement has a huge effect on how it's perceived. When it comes to Web3, though, the quandary of display has endless possibilities—but, at the same time, limits. Can a living, breathing, non-fudgetable token elicit an emotional reaction from a mobile browser in the way that a framed abstraction can command a room? How do we interact with digital art in the real world when its medium is a world without realities?
"For so long digital artwork has been misunderstood, but the work that today's digital artists are creating is truly innovative and inspiring," Jeanne Anderson tells Cultured​.​​ "They're pushing new limits of technology and creativity. The traditional art world needs to see it to better understand what's happening in the movement." Following her tenure at Saatchi Art, Anderson's new project, Danvas, which she serves as co-founder and CEO of, aims to do just that.
Debuting today at this year's Armory show, the tech company's signature product, a swanky art canvas entitled Danvas Series G, bridges the gap between decentralization and display using micro-LED technology to showcase digital artwork and NFTs in rich display that "allows deeper darks, brighter whites, and billions of vibrant colors in an ultra-wide color gamut" without any kind of glare. Created with industrial design firm Ammunition Group (best known for its work on Beats by Dre) the high-tech canvas is available as either a portrait (4' x 4') or landscape (3' x 4'), and is presented in a floating frame that is finished in white, black, or natural maple wood. Plus, as Ammunition's portfolio might imply, the Series G is outfitted with premium audio features to amplify digital artists who are increasingly using sound in their practice. ​
"These capabilities really drive an exceptional visual presentation and highlight the beauty of an artist's work in a way that's never been seen before. But beyond that, it allows a collector or onlooker to lose themselves in the experience," says Anderson, who explains that despite its museum-quality output the Series G is suited for ​anyone from established galleries to discerning private collectors. Perhaps the most unique feature on the Series G, though, is Danvas' authentication indicator, which, when connected to its owner's NFT wallet, validates the art's authentic ownership with a blue light beneath the display.
In Blockchain and beyond, the ways we create and consume art will forever continue to change. Anderson hopes to expand upon that and draw a connection between Danvas' technology and the work it displays: "One of the most important things we wanted to accomplish with our technology is to facilitate artists who are pushing the boundaries of digital art. There's incredible growth in generative and AI art, for example, and those artists are in need of a display that can render their work properly. That's important to us as a brand, but it also inspires us as members of the digital art community. We want to empower this generation of artists to grow their art practice and gain exposure to a larger audience, and empower collectors to acquire more NFT art." ​
Danvas Series G displays are now available online.