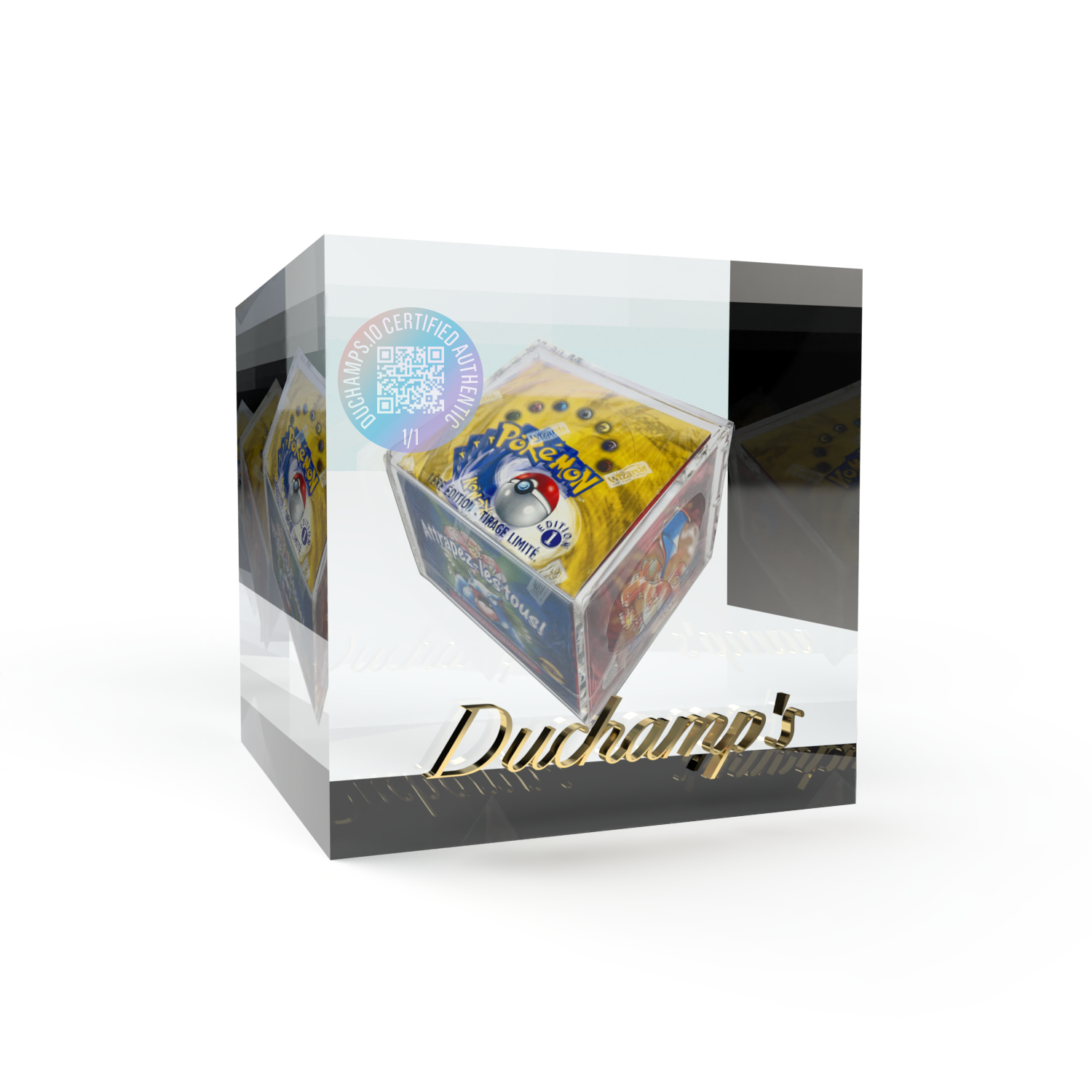 Will Holley and Julien Lafon had known each other for a while before deciding to start a business together. Both twenty-something, art tech world darlings—Holley was early employee of Arthena, an art tech company that received Y Combinator investment, where he analyzed the hammer prices for Sotheby's and Christie's, and Lafon is the founder of Big Apple Collectibles, an online resale platform that is the largest specialty retailer of Funko Pop! figurines and grossed $16 million in two years—they share similar interests in the intersection of technology and the art market. And, they too are collectors themselves: Holley's postwar and contemporary art holdings include works by Richard Prince, Barbara Kruger, Jenny Holzer and emerging artists like Matthew Stone while Julien is passionate about collectibles, watches, cars and trading cards.
This year, amid all the recent art world spectacle surroundblackchaining Non-Fungible Tokens, the duo founded Duchamp's, the first online auction house where you can use Ethereum or Bitcoin currencies as payment, and an NFT serves as a proof of purchase and a title guarantee. Why cryptocurrencies? The key benefit is ease and speed of transactions. Digital artist Beeple's Everydays: The First 5000 Days (2021), the first NFT artwork offered by a major auction house, was sold by Christie's last week for an astounding $69 million. According to Duchamp's cofounders, the instant transaction without a middleman "is going to be the future."
Focusing solely on crypto-holders can bring some challenges. With one Bitcoin closing at just over $40,000, cryptocurrencies are currently used to store wealth long-term, similar to stocks. Duchamp's vision is simple: they are not asking to use "cryptocurrency to buy milk, but the rare, valuable and exclusive," says Holley. So, while holding Bitcoins can bring long-term investment growth, collecting cultural assets does, too.
Duchamp's looks to auction assets with "emotional resonance and story," explains Holley; the auction house goes through the authentication and provenance process similar to their more traditional peers before a piece goes under the hammer. For its inaugural auction on March 20 and other auctions in the foreseeable future, Duchamp's has partnered with Open Sea, the largest NFT marketplace online. This partnership will see physical assets on Open Sea's platform for the first time. The auction will feature a Pokémon First Edition French Sealed Base Set Booster Box—a collector's item preserved for twenty-one years (in January, a similar set sold for $408,000 at Heritage Auctions).
NFTs have now become actual works of art. After the success of the Christie's Beeple sale, Sotheby's partnered with contemporary artist, Pak, to sell an NFT work of art in an upcoming auction. Damien Hirst has joined the NFT fever, as well. Many artists have started to sell their pieces as digitally-encrypted files. Though, as with any digitally-held file, there are risks. According to recent reports, there are a growing number of hackers who steal NFTs and subsequently resell them. Since transactions cannot be reversed on blockchain, further security is needed to ensure complete ownership protection.
However, Duchamp's sees the benefit of NFTs as instant, legally-binding, digital proof of ownership. Once the piece is sold at auction, the highest bidder will automatically receive an NFT linked to the purchased asset. The NFT can be subsequently sold by the owner, if desired. Duchamp's offer two types of services for successful bidders: the auction house can either store an insured physical asset in a secured location, allowing its new owner the flexibility to trade the NFT, or ship the piece directly to them. Ultimately, Holley and Lafon say their ambition is for this systems to be a ''trusted and mainstream way of purchasing.''
This year, Duchamp's upcoming lots range from a vintage Porsche car to an artwork by Barbara Kruger. As an avid racing fan, Lafon dreams of the day a classic Ferrari 250 GTO comes up for bid while Holley is hoping for a piece by the late Jean-Michel Basquiat, now considered one of the most expensive artists in the market. This blended auction model of collectibles and fine art excites the young entrepreneurs, but Holley believes that offering one of Basquiat's works at Duchamp's would be a great way to bring a more traditional piece to this revolutionary art startup. With the accelerated growth of digital experiences, cryptocurrencies and NFTs, the art market could face one of the most exciting periods in its history to date.
Craving more culture? Sign up to receive the Cultured newsletter, a biweekly guide to what's new and what's next in art, architecture, design and more.