In their Los Angeles home, award winning TV writer and showrunner Janine Sherman Barrois and her husband Lyndon Barrois—an artist, animation director, and filmmaker—have cultivated an art collection rich with emerging artists and established icons.
The couple recently opened their home to celebrate the opening of the remarkable "Black American Portraits" exhibition at Los Angeles County Museum of Art to which they provided major support, a testament to their deep commitment to artists. For Cultured, they open up about their passions and process for building their collection.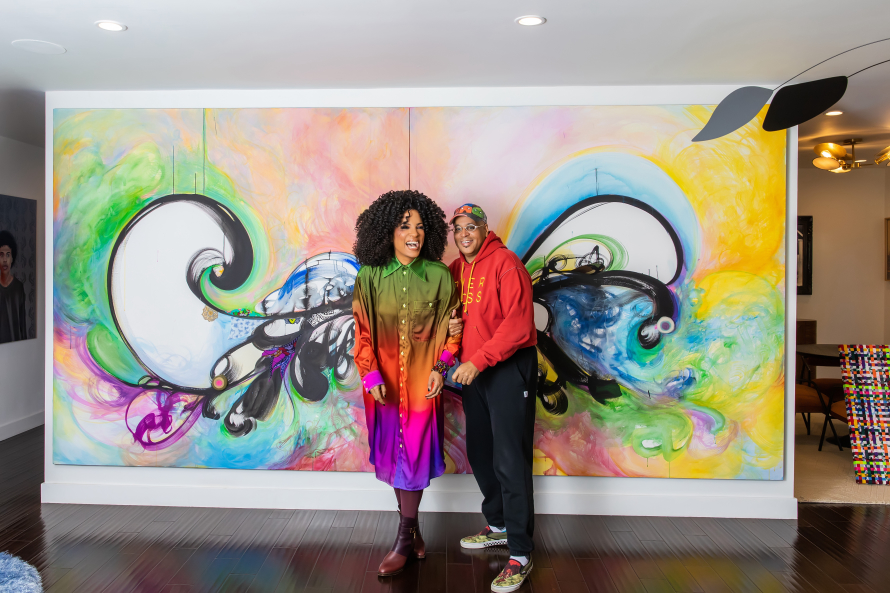 Dominique Clayton: How did you begin to build your own collection?
Janine Sherman Barrois: Over 20-plus years, but we didn't go one specific route. Lyndon is also an artist and received outstanding training from his mentor, the late sculptor John T. Scott, at Xavier University. When we got together, we started small and had additional terrific mentoring by Dr. Joy Simmons and C.C.H. Pounder who introduced us to Kehinde Wiley early in his career. We then met gallerists and other collectors like Eileen Harris Norton who were stunning inspirations and offered invaluable advice.
DC: What was the first piece you purchased?
JSB: A photo of Grace Jones by Ming Smith was my first purchase before Lyndon and I got married. It blew me away. There was so much that drew me to it: its contrast, its strength. I had that piece and a mattress on the floor in an apartment and then bought another piece soon after that. For Lyndon, his first significant piece was a Piet Mondrian silkscreen from Pace Gallery that was gifted to him after he got his first poster published for the Boston Marathon.
DC: Do you have a defining theme to your collection?
Lyndon Barrois: Yes, contemporary art, mostly by African American artists. It's vital we support not only the emerging artists but some of the very well-established icons that have been overlooked for far too long like Fred Eversley, Barkley Hendricks and Samella Lewis. We collect with passion. Every wall in our home is an opportunity to show art. And it's that love that makes our home feel so alive and eclectic. We will have a Kehinde Wiley in the same room with artists we found selling their work on the streets of downtown Los Angeles or New York. We don't rank or have any stratification. As long as the work says something about the world, our culture, or makes you think in some way, we are bound to have it. We buy what we absolutely love.
DC: What designers/artists are inspiring you right now?
JSB: Shinique Smith, Ronald Jackson, Robert Pruitt, Reginald Sylvester, Khari Turner, Ayobola Kekere-Ekun, Genevieve Gaignard, Otis Kwame Kye Quaicoe, Kimani Beckford, Chelle Barbour, Alicia Piller, vanessa german—Have you seen her latest show at Transformative Arts? Shut the front door. Its genius will blow your mind. Many of these artists were gracious enough to let me use their work in my new show on OWN, The Kings of Napa, an epic family drama about a Black-owned vineyard and family whose love for art and great lifestyle permeates their lives.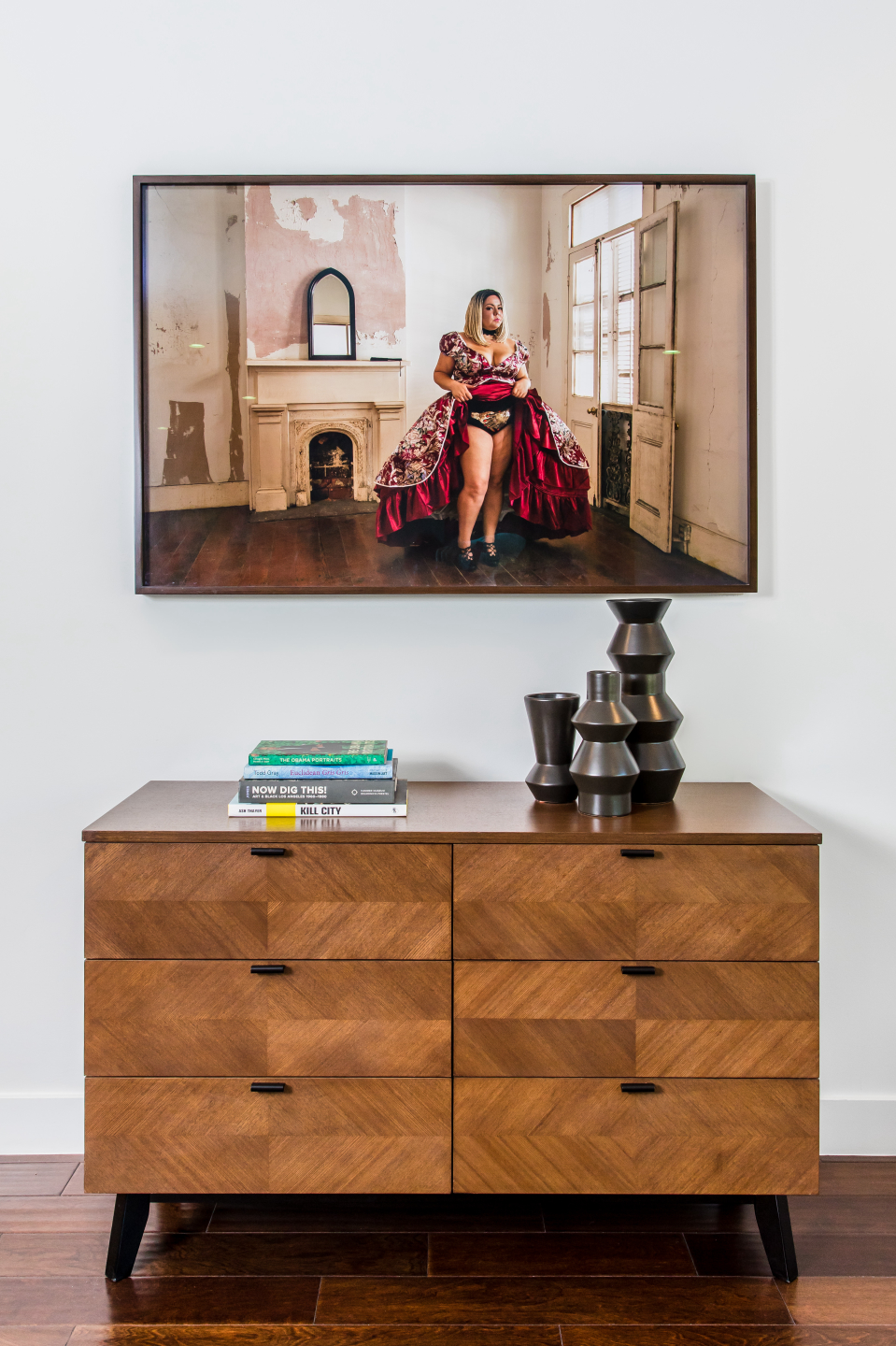 DC: What current collecting trends are on your radar, if any?
JSB: Oh, we don't follow trends. We deal with gallerists that love us and will sell to us, and we ignore the ones who won't. One day someone should do an investigative story on the art game, and all the collectors should spill the tea.
DC: In terms of discovering new artists/designers, what are your trusted methods?
JSB: We read a lot, meet a lot and follow artists on Instagram. We love studio visits. We have a fierce group of collecting friends who may let you know who they are tracking if you get them drinking. The other thing we do is really talk to gallerists. A handful of people in New York, LA and Chicago are aware of our collection and keep us abreast of who's on the scene and who to follow.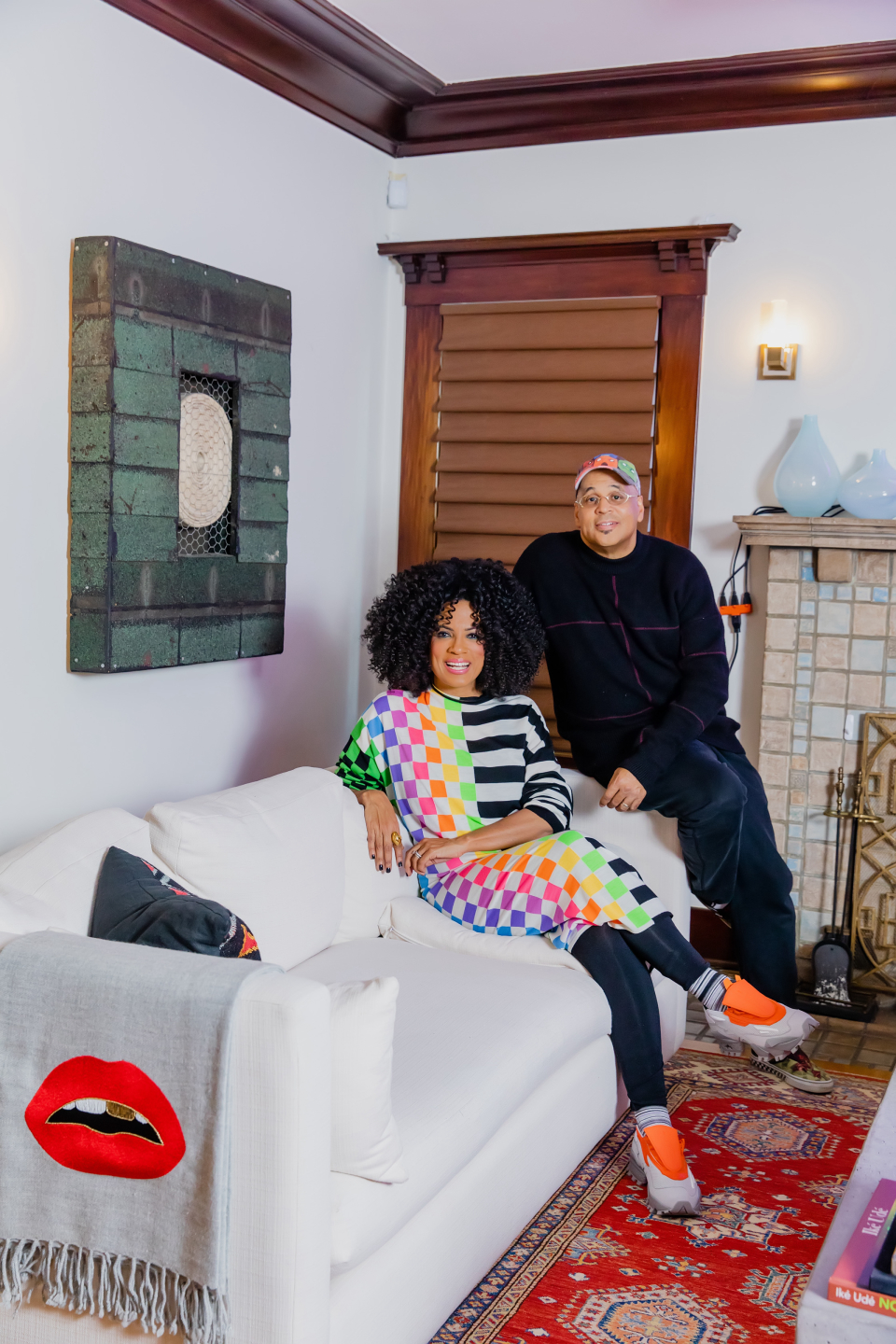 DC: What is the next piece on your radar?
LB: We love Yoan Capote, Jadé Fadojutimi, Mr. StarCity, Shannon Lewis and Karl Haendel.
DC: What is the last piece you purchased?
LB: An incredibly striking piece from Russell Craig called Real Fake, in which he's taken discarded Louis Vuitton bags, deconstructed them and dropped an encased self-portrait in the center. A dear friend saw it and immediately thought it was a tribute to Virgil Abloh. A mind-blowing interpretation, indeed.
DC: What is the one piece that got away?
LB: Oh, this is painful. An amazing Hank Willis Thomas called Amandla. Joeonna Bellarado-Samuels, one of the best gallerists in the game, showed it to us at Jack Shainman. We talked about it for months, now it's years and now it's gone. But great art sticks with you regardless of whether you buy it or not. Sometimes just seeing a piece can resonate in your life forever. That piece did that and still does. Another one is a piece called Mawu by Karon Davis. It was one of her first plaster pieces, and to us, it's still the best. This one gives us collector PTSD.