The subjects of rising talent Otis Kwame Kye Quaicoe's portraits are proud. Holding fierce gazes, the artist's figures are rendered with a deep black complexion, which he sometimes embellishes with curving maze-like patterns. He depicts their richly textured skin in sharp contrast with their clothing and accessories, frequently shown in vivid primary colors. Inspired by family and friends, they convey strength and resilience.
Currently based in Portland, Oregon, Quaicoe was born and raised in Accra, where he attended Ghanatta College of Art and Design. Recently, the 33-year-old artist has witnessed a swell of institutional support for his paintings. In 2020, Roberts Projects showed, "Synchronicity," his debut presentation at the Los Angeles gallery after joining their roster. He is featured in "Self-Addressed," a group exhibition curated by Kehinde Wiley at Jeffrey Deitch that centers self-portraiture and explores themes regarding identity, perspective and self-expression; the show will be on view in L.A. until December 23. The artist's chromatic work is also included in the "Black American Portraits" exhibition at the Los Angeles County Museum of Art through April 2022, which was organized in tandem with the presentation of The Obama Portraits on tour from the Smithsonian's National Portrait Gallery.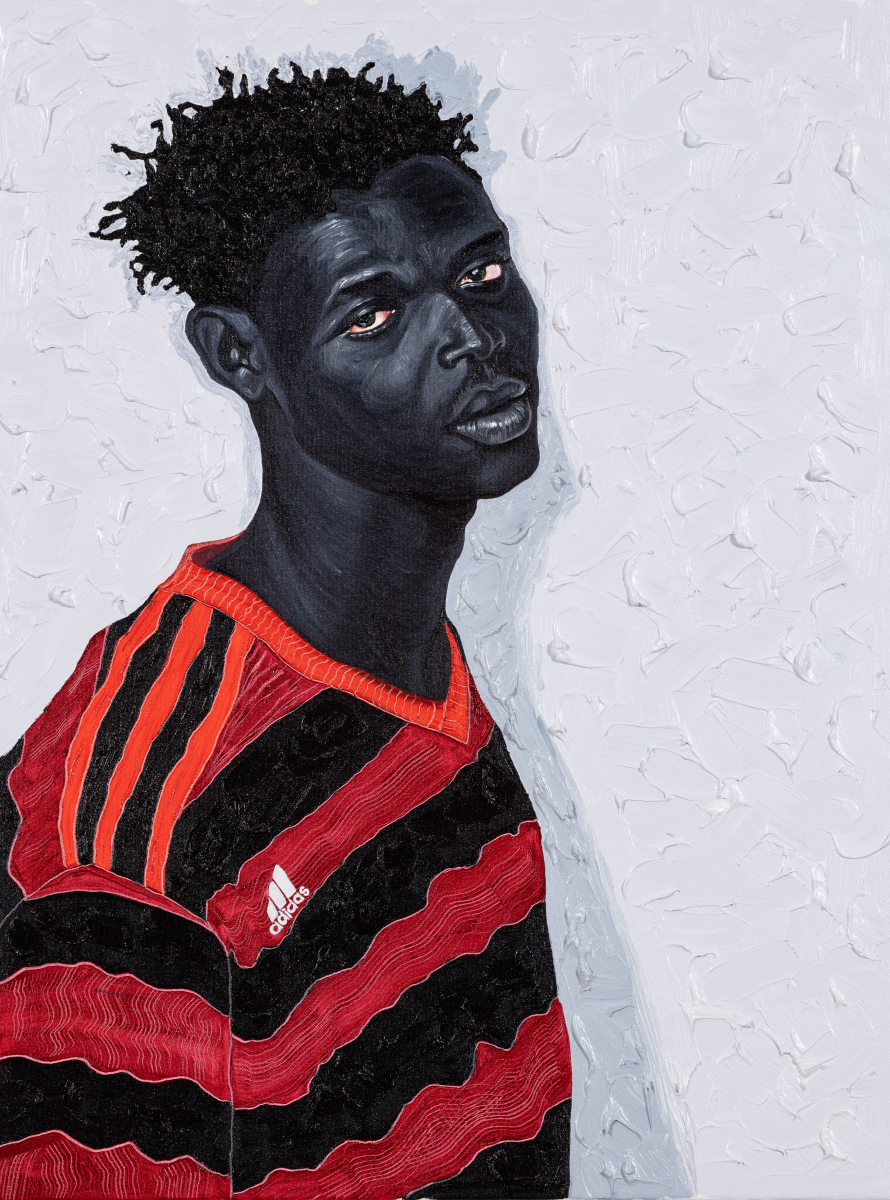 On November 29, the Rubell Museum opens "Otis Kwame Kye Quaicoe: 2021 Artist in Residence," a collection of work the artist created as one of the institution's two 2021 artists in residence, alongside Kennedy Yanko. The work shown throughout the show builds on his exploration of themes relating to his heritage, and notions of representation in relation to the African diaspora. The presentation also marks his first solo museum exhibition.
This exhibition sees Quaicoe continue his investigation of the American cowboy trope, especially the cultural significance of the Black cowboy. Three 2021 artworks, Moses Adomah, David Theodore and Rainyanni (Cowgirl), are hung in the gallery as a monumental triptych of two men and a woman each clad in a unique and stylish cowboy hat. The paintings are Quaicoe's largest scale to date. Looking beyond the recent media sensationalism of the Black cowboy aesthetic, Quaicoe shared that his depictions nod to a range of references, including the Spaghetti Westerns he's loved since he was young.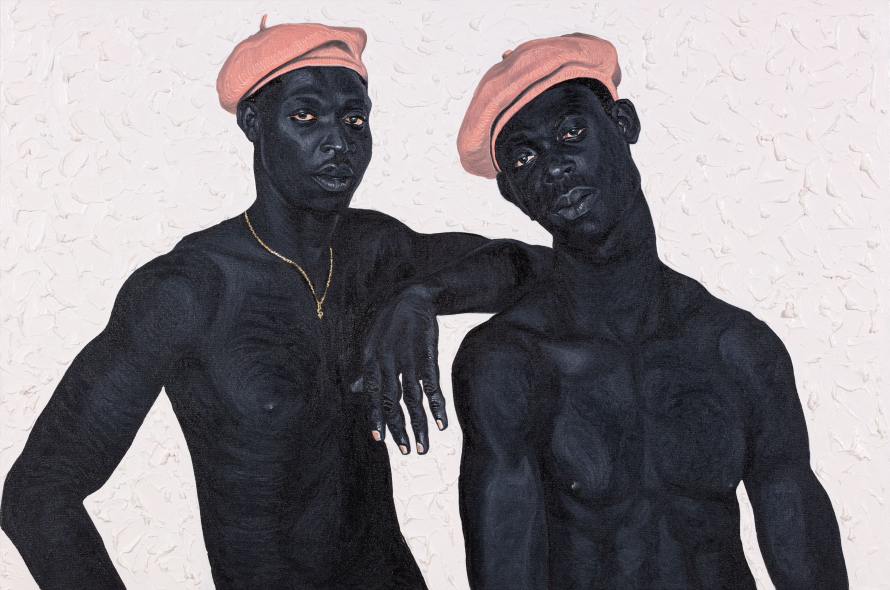 "When I learned that there were real Black cowboys who have always existed, I thought 'Why don't they ever use my people to tell these stories?'" Quaicoe asks, adding, "I realized that there had to be other people like me who didn't know about this history, and I felt that it was an opportunity for me to speak about it."
Several of the works in the Rubell Museum show also examine elements of the Ga culture in Quaicoe's hometown, especially the phenomenon of twin births. Artworks such as Flamboyant Posture (2021) and Oko and Akwete (2021), for instance, show twins positioned next to one another and draw on the popular Ghanian belief that twins are symbolic of good fortune. Quaicoe, who is the son of a twin, says that curiosity led him to seek the perspectives of twins outside of his family.
Though the artist may be known for his striking portraits, his newest show—and the artist residency that preceded it—has allowed Quaicoe to explore new subjects of his highly personal practice, one that is rooted in history, heritage and cultural investigation.