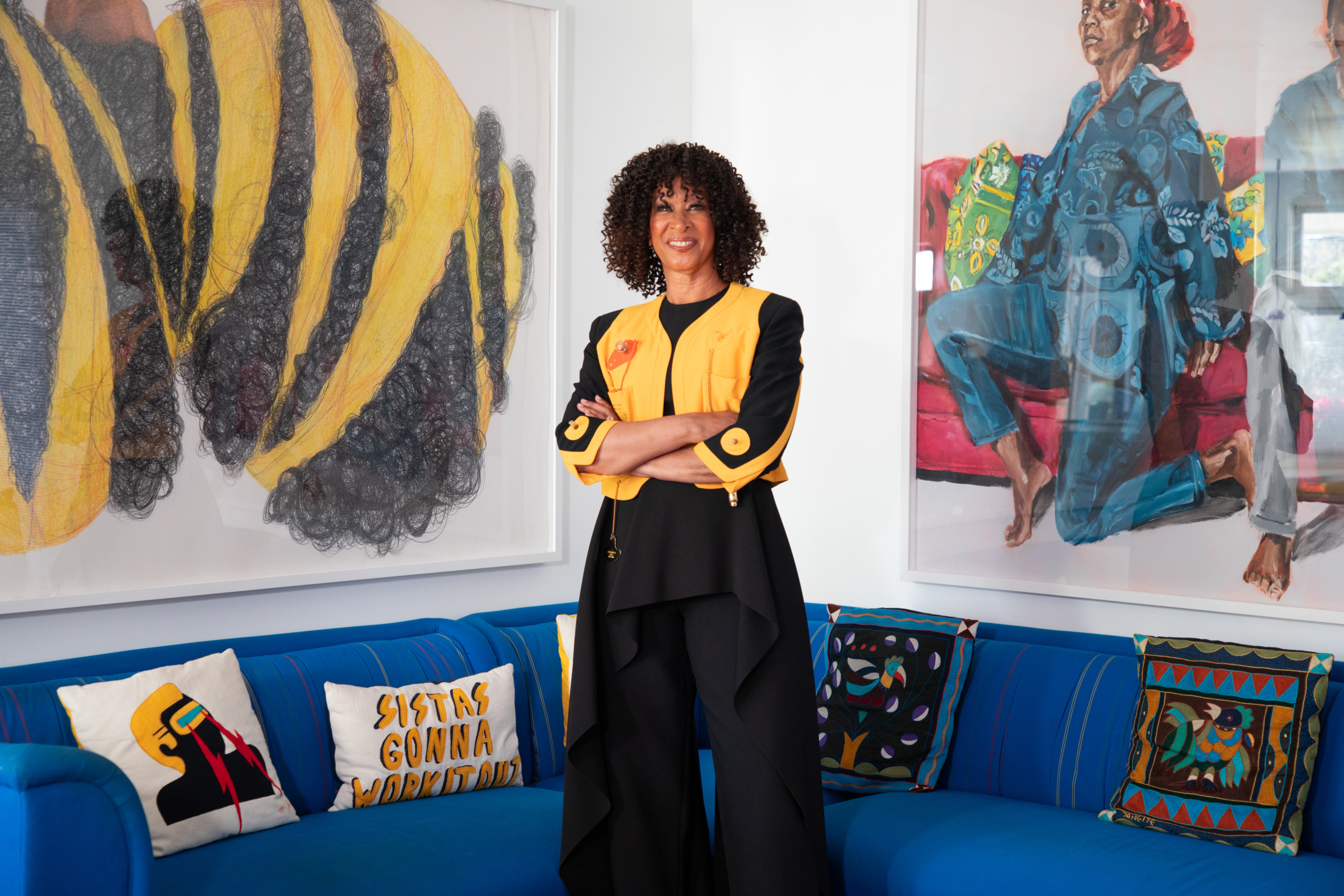 Dominique Clayton: How did you begin to build your own collection?
Joy Simmons: Alonzo Davis was my art teacher at Crenshaw High School. I wasn't very good at art, but he told me that I have a good eye and that perhaps I should be a collector. My father always had these clowns, and I always wondered why he bought them since they looked sad but happy. I never figured out his taste, but I knew mine wasn't that.
When I was at Stanford University and worked in the radiology department as a bio clerk, I used to see women radiologists and went to some of their rounds with cardiac surgeons, and I just loved the images. I remember giving a lecture to another group of radiologists about how we are visual learners. Most of the work involves staring at images all day. So, once I figured out that artists were making images of Black people, it just naturally started.
Around that time I started visiting my aunt in New York and seeing someone who lived with art in their home. It was a no-brainer that I would always have something that I wanted on my walls. My uncle is a jazz musician, Ron Carter, and his wife Janet was a collector, and she was the one who taught me about focusing my collection. You can buy a lot of stuff but you want to figure out what you're trying to say with your collection, and I wanted to speak to this time. At first, we all collected the "masters"—we all had prints from Jacob Lawrence because we were all getting out of medical school and starting to make money at the same time. But, I didn't want my home to look like the other Black doctors' homes, so that's when I started to go out on my own and meet artists. Once I got out of medical school, I got more involved with Brockman Gallery. There was a woman there who would organize studio visits so that's how I met David Hammons, Outterbridge and Lemont Westmoreland.
I told David Driskell this years ago, his show Two Centuries of Black American Art changed my life. I went to that show at LACMA and I was one of those nerdy kids that looked at who owned the work. None of the names sounded Black. That made a very big impression on me and it's why I loan my work out a lot. I've talked to other collectors about getting their work out there: if we all share this work publicly, other Black kids can understand that other Black people own and make this work; these are our images and we appreciate and value that.
DC: What pieces inspired you to continue?
JS: Elizabeth Catlett; Norman Rockwell's The Problem We All Live With—I remember telling my ex-husband, we have to buy this. It was a thousand dollars, which was a lot of money for two young medical residents, but when Rockwell died a week later and everyone was clamoring for those images, I was more convinced than ever that I needed to buy it. David Hammons—right before he left Los Angeles for New York, I went to his studio visit with a bunch of other people and I bought a body print.
DC: What designers/artists are inspiring you right now?
JS: Pyer Moss, Hood By Air (I loved that collaboration for Empire), vintage Patrick Kelly, vintage Moschino, like the outfit I'm wearing now, and interior designers Cheryl Riley and my dear friends Jeanine Hays and Bryan Mason who run the design firm AphroChic.
DC: Does the marketplace help your discovery process? Why or why not?
JS: By the time the marketplace finally takes notice of the art I'm into, it's already too late. Back in the day, every weekend the LA Times used to have listings of all the art shows. I would scan to see if any of them were Black. We also went to some of the Black art spaces like Brockman Gallery and Suzanne Jackson's former spot.
Aside from that, you really have to know the artists and start to get to know them right out of their MFA programs. For example, with Brenna Youngblood, I'm glad I met her when she was an MFA student at UCLA. I went to her studio and she was doing these gigantic pieces with all the business in the cement. It was kind of crazy, but I could see her vision. There was something about her that I said, 'I'm paying attention.'
A lot of the artists I collected were still in grad school. You really need to support them when they are young and then watch them grow. Noah Humes is another recent MFA graduate I collected right out of his thesis show.
New young collectors have a different mindset nowadays than when I first started collecting. I would never have thought when I bought that David Hammons that he would see that level of success. Same with Mark Bradford's jacket piece. It think it was in 1992 and I just had to have that piece. Nobody knew he was gonna be Mark Bradford.
Everyone these days talks about return on investment. People want to predict who's gonna hit it big, but honestly you really never know. You need to get out there, talk to the artists and look for your own excitement in discovery. You really have to start there.
DC: What is the next piece on your radar?
JS: Nafis White and Natalie Ball. There's a piece of hers I already have, but she'll be coming to town to do a residency at Iris Projects so I am looking forward to that. Also, Tiffany Alfonseca: she'll be showing here in her first institutional show at The Mistake Room in the fall.
DC: What is the one that got away?
JS: Well, there are a few: Glenn Ligon's Negro Sunshine and Ming Smith—I remember meeting her years ago when she was just starting out, but I just couldn't seeing myself paying that much money for a photograph. It took me a long time to be able to collect photographs.
Craving more culture? Sign up to receive the Cultured newsletter, a biweekly guide to what's new and what's next in art, architecture, design and more.