For a career adventurer like Erin Leider-Pariser, getting confined to bed on doctor's orders is a surefire cause for restlessness. The entrepreneur started Sports Travel Adventure Therapy in 1995, leading and arranging trips for female travelers around the world. After a skiing accident a few years back and the onset of Covid, she took a break from the journey to condense a lifetime of learning into an easy-to-follow guidebook. It helped turn the abrupt pause into a purposeful endeavor.
Get Lost, Leider-Pariser's seven-step manual for traversing life with grace and curiosity, hit shelves last September. It opened a new chapter in her career, which started in New York. Leider-Pariser was working as a personal trainer when one of her clients, famed collector Beth Rudin DeWoody, managed to infect her with the art bug. Several years later, with works from the likes of Sanford Biggers and Gabriel Kuri hanging on her walls, the author shares her thoughts on travel, art, and the intersection of the two.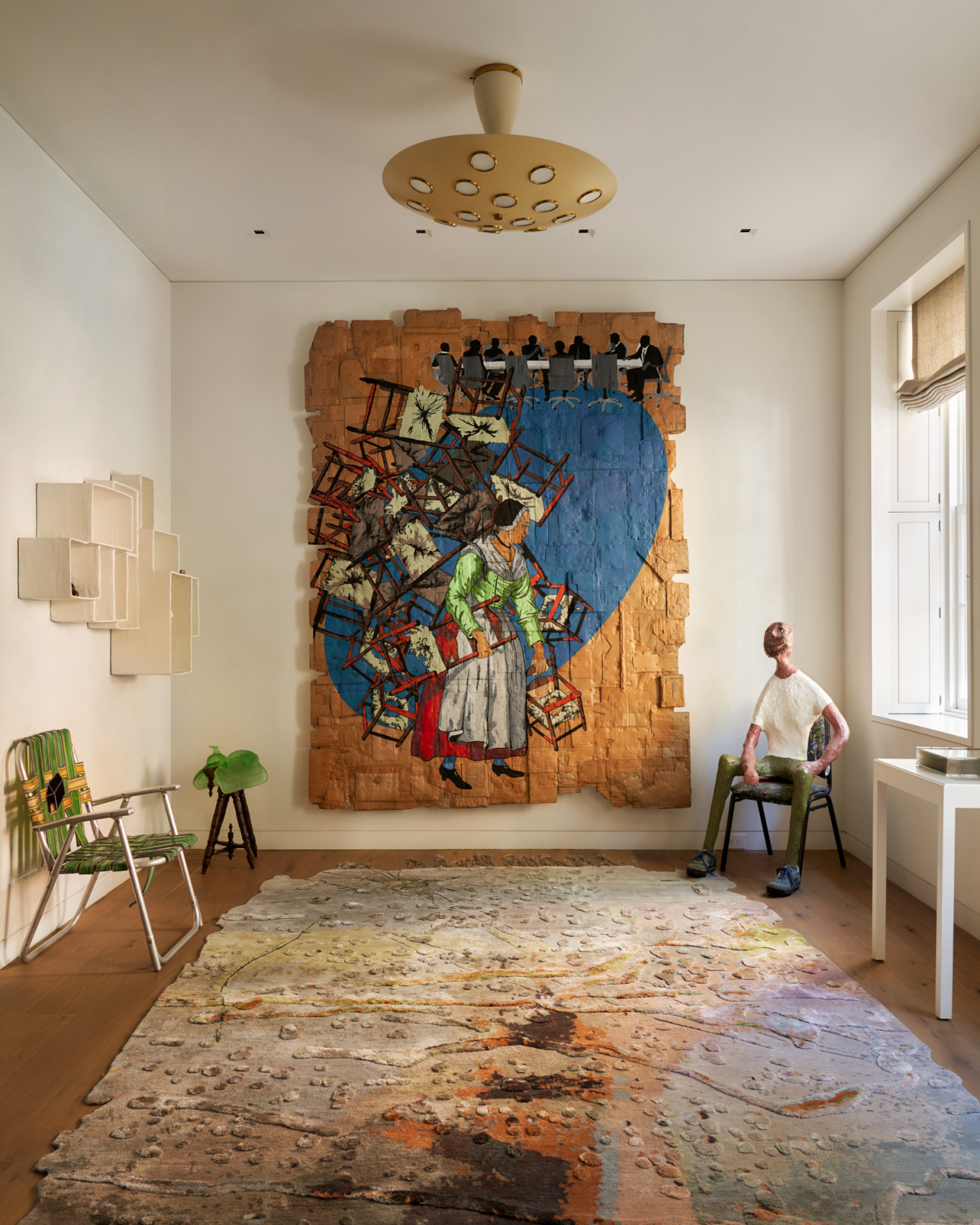 How did the idea for the book first come about, and how are you feeling to finally have it out in the world?
It was January 2020 and I was feeling so purposeful after two incredible pilgrimages in 2019, one in Japan and the other in Puglia, Italy, that I decided to take a break and a deep breath and figure out what was next. But what was next was an unexpected ski accident that fractured my tibial plateau and grounded me for eight weeks. It was a calamity, as I thrive on routine and ritual, and with my entire active and fitness-oriented lifestyle disrupted, I was lost—hence the name of the book Get Lost.
I had to regroup, pivot, and get introspective. And then Covid hit. With all this new-found time in the world to reflect on the past 30 years of life-changing adventures with curious, wise, courageous, wild, and crazy women, my bedridden situation turned into fertile ground for dreaming up this book. [I'm] thrilled to be able to share my journey and the transformational stories of my clients with their permission and to take you on this magic carpet ride of wanderlust as I invite my readers to get lost.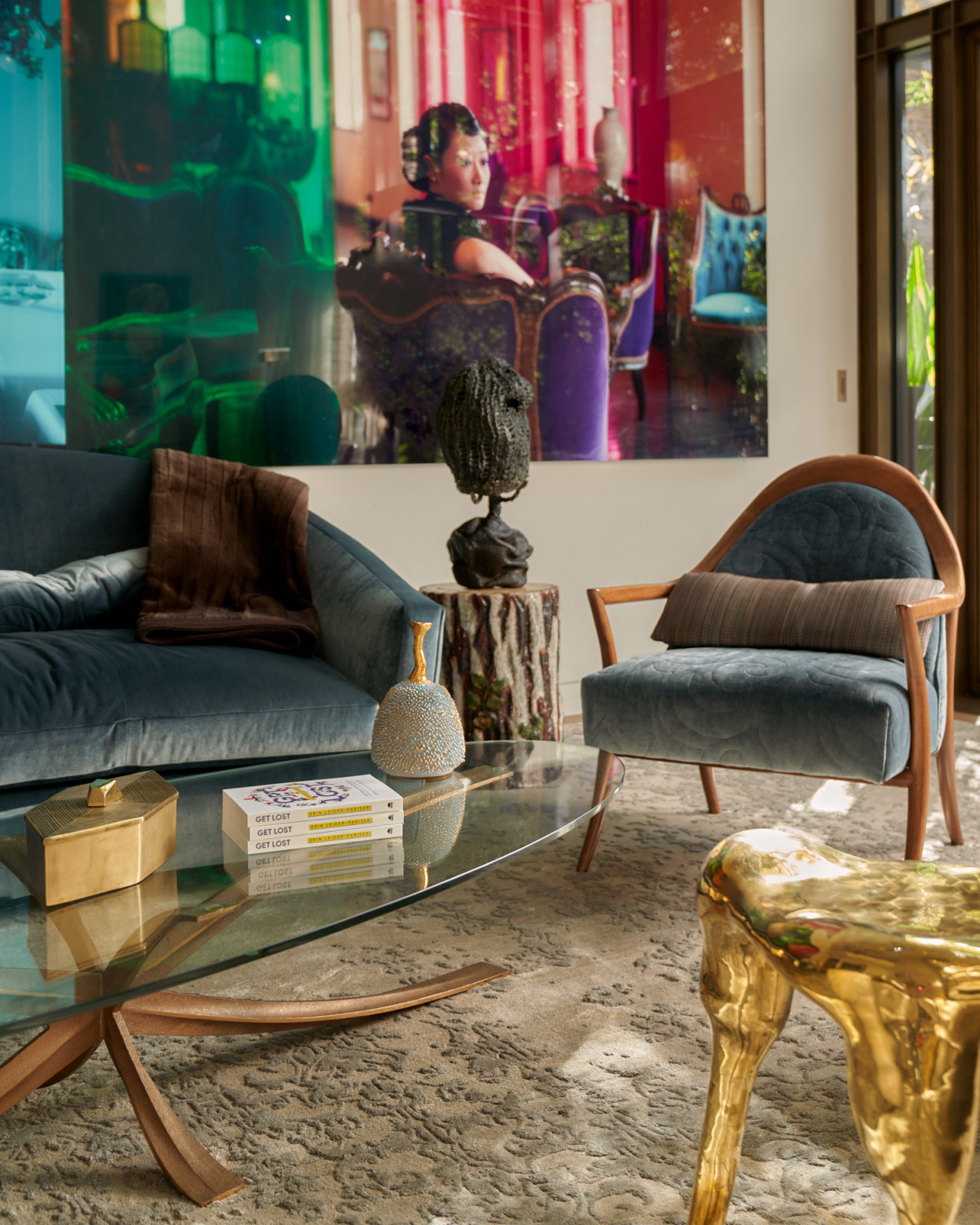 How did you manage to distill your ethos into seven principles?
Trekking life with grace was my intention from the beginning of these journeys and these are the principles that kept resonating with me after each trip, as we all strive to live a meaningful life. Nix the competition, walk with integrity, no judgement, start with effort then finish by grace, mark your words, love honor and obey your intuition, and embrace community.
What feelings would you like to inspire in those who read Get Lost?
Gratitude! This book is a love letter to all who have journeyed with me and everyone exploring life beyond the everyday. My decades of adventure, near and far, convince me that taking part in a travel circle of your own will kindle a new dimension of friendship courtesy of mother nature and your courage to explore the unknown. I can only hope this book will inspire people to ignite that adventurous spirit and take bold new steps towards their dreams.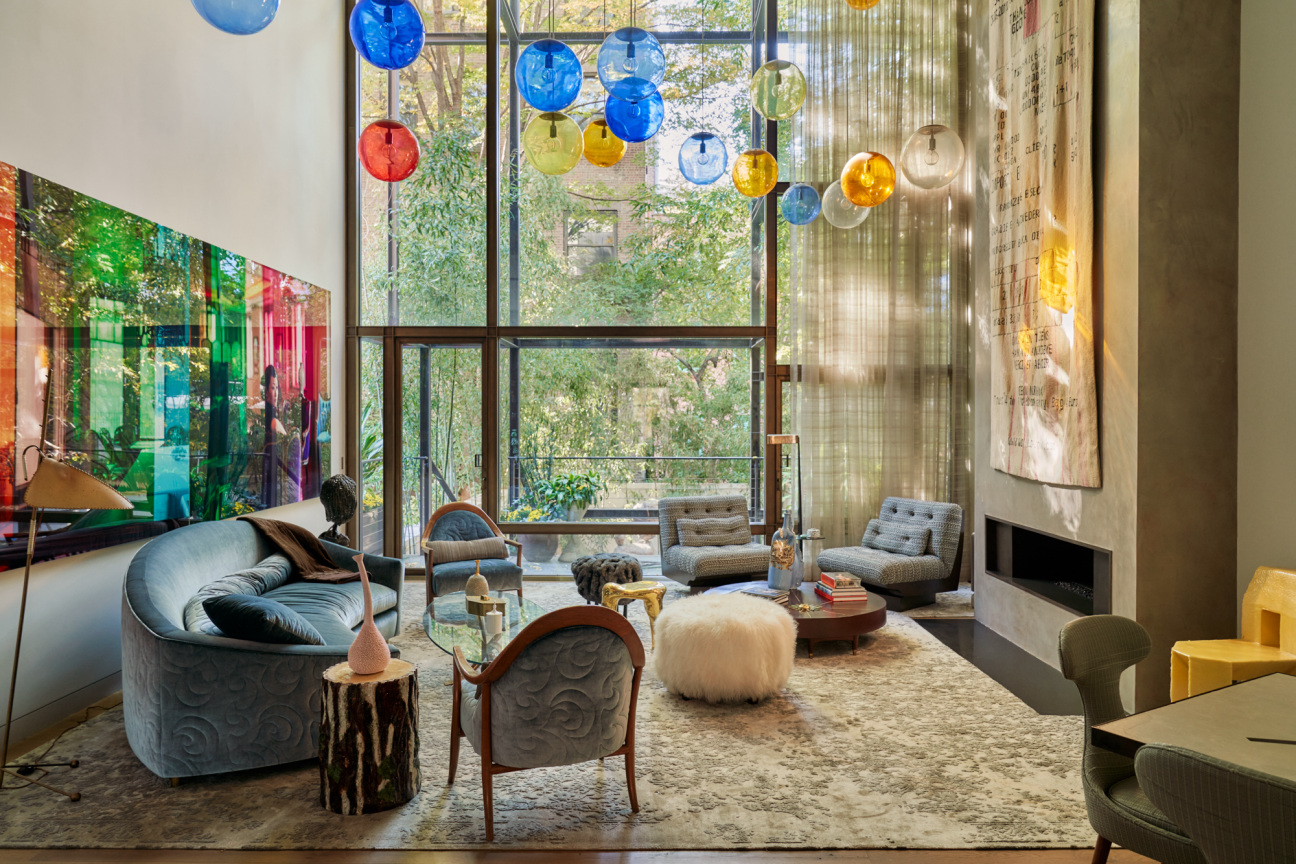 Do you find that your love for travel and the outdoors influences your personal design and collecting tastes?
Most definitely. The world is my canvas, and it's very colorful. Nature is my happy place. It is also organic, and I find that I am attracted to artists that embody that spirit in their process. Diversity defines our collection and is directly related to the places we visit and the people we meet along the way.
Where does the story of your personal collection begin?
With Beth Rudin DeWoody—full stop—the major art collector and philanthropist! I was her personal trainer for years, and she would actually pay me with art. First it was old antique American quilts. Then we transitioned to Rookwood Pottery and McCoy cookie jars, which I became obsessed with. Her husband at the time was the artist Jim DeWoody, and I still have three pieces from his collection. She introduced me to the world of art and collecting.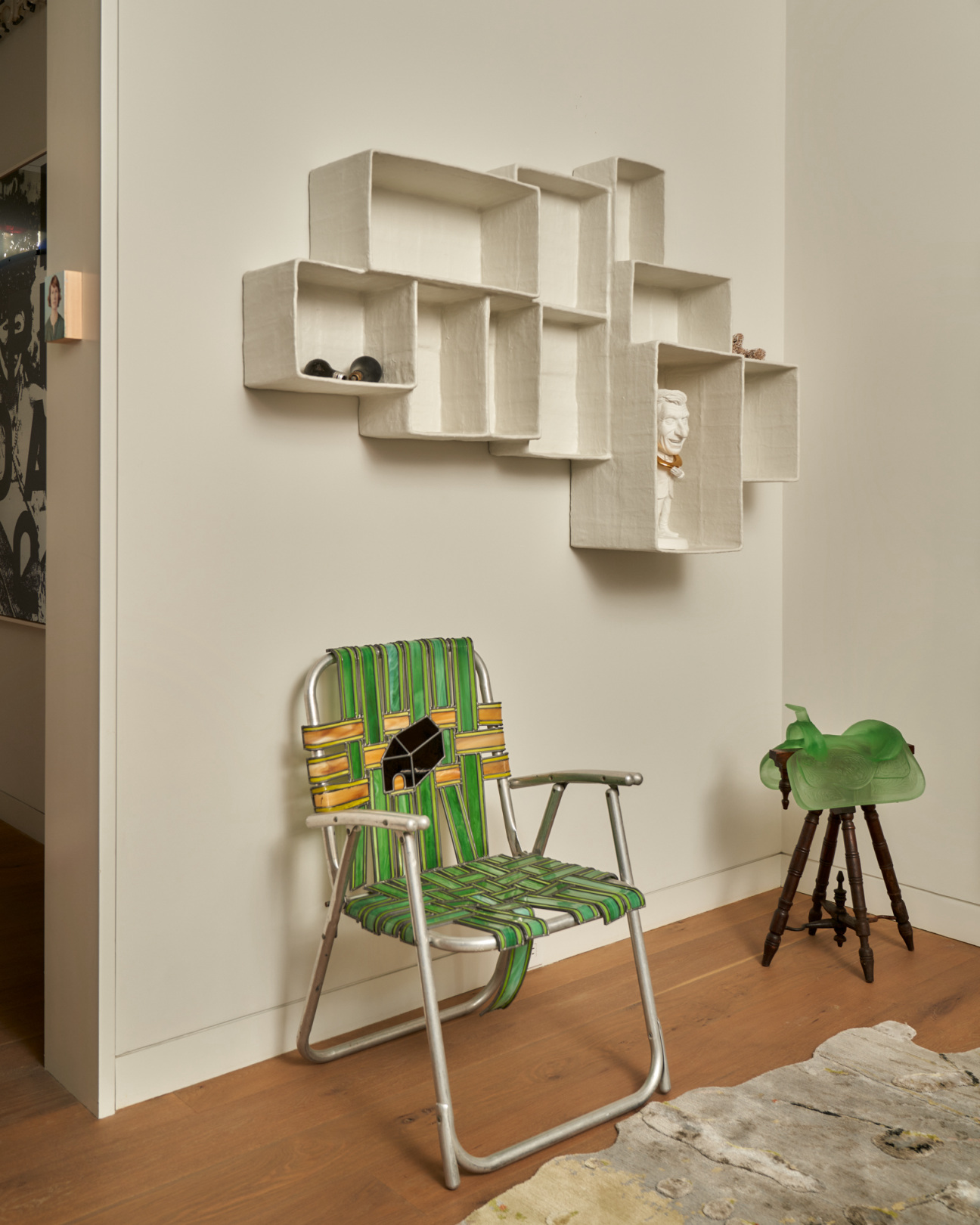 What is the first piece you ever bought?
A portfolio of DeLoss McGraw's whimsical gouache paintings inspired by his own poetry as well as poems by others. We actually just installed the series in our media room in Aspen, and they look as contemporary as ever with our other works.
Which work or works provokes the most conversation from visitors?
I would have to go with our Gabriel Kuri tapestry in the living room, which is a 12-foot-long hanging receipt, which he would say is a critique on the world of commerce. He combines context with the banality of the mass-produced and makes it important.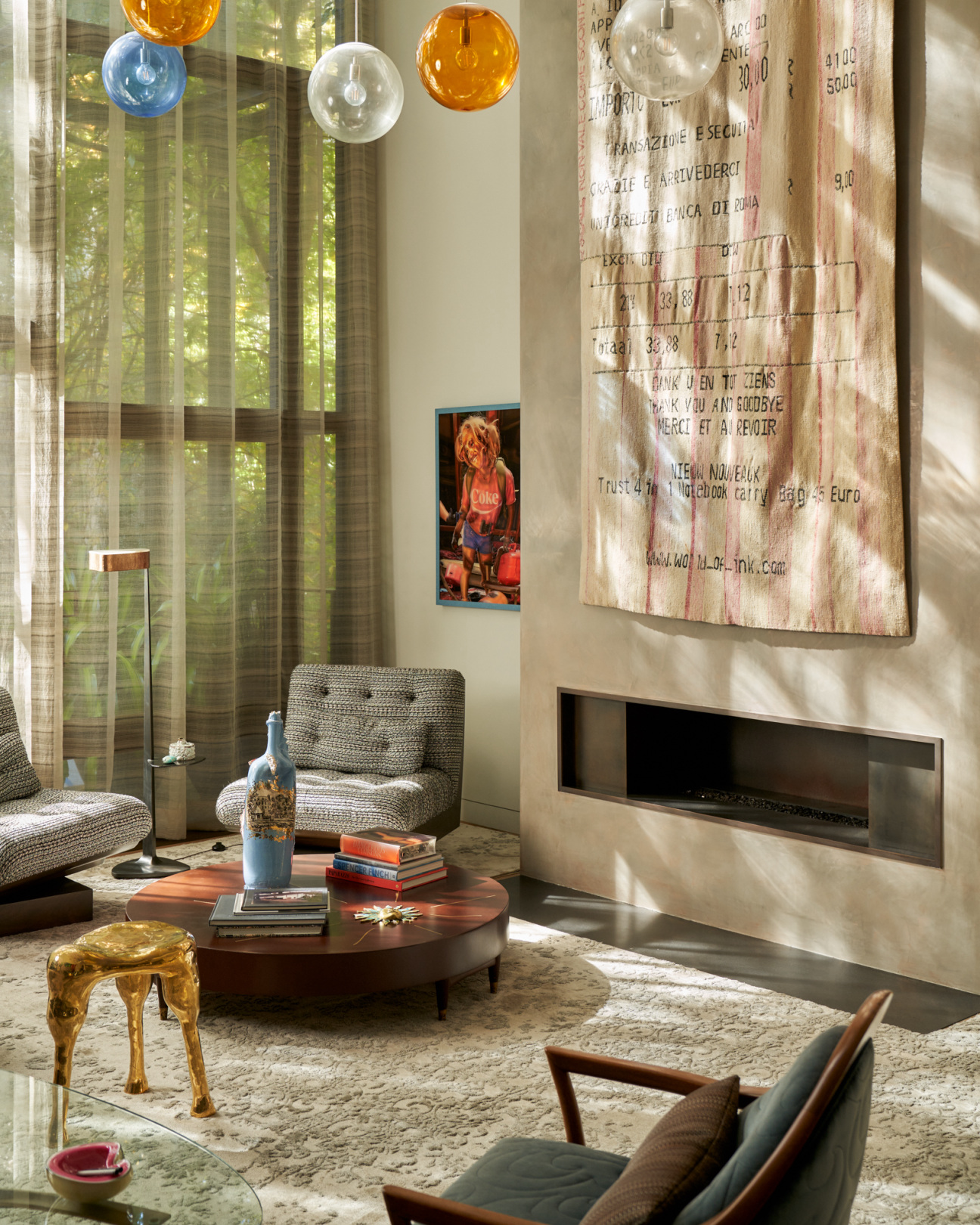 Which artist are you currently most excited about and why?
Marguerite Humeau is someone I'm fascinated with at the moment, especially the new project she did in Colorado that typifies the Land art genre. Her bronze sculptural and sound-based works about "transience and resilience, life and death" with one root system is just what the world needs right now. It's a nod to our local aspen trees with one root system [and] embraces and unites the community.
What was the most challenging piece in your personal collection to acquire?
Our new Sanford Biggers hanging quilt piece, which we commissioned him to do (through his gallery) using one from my quilt collection. It took a lot of time and patience, but he finally took us on. It was worth waiting for.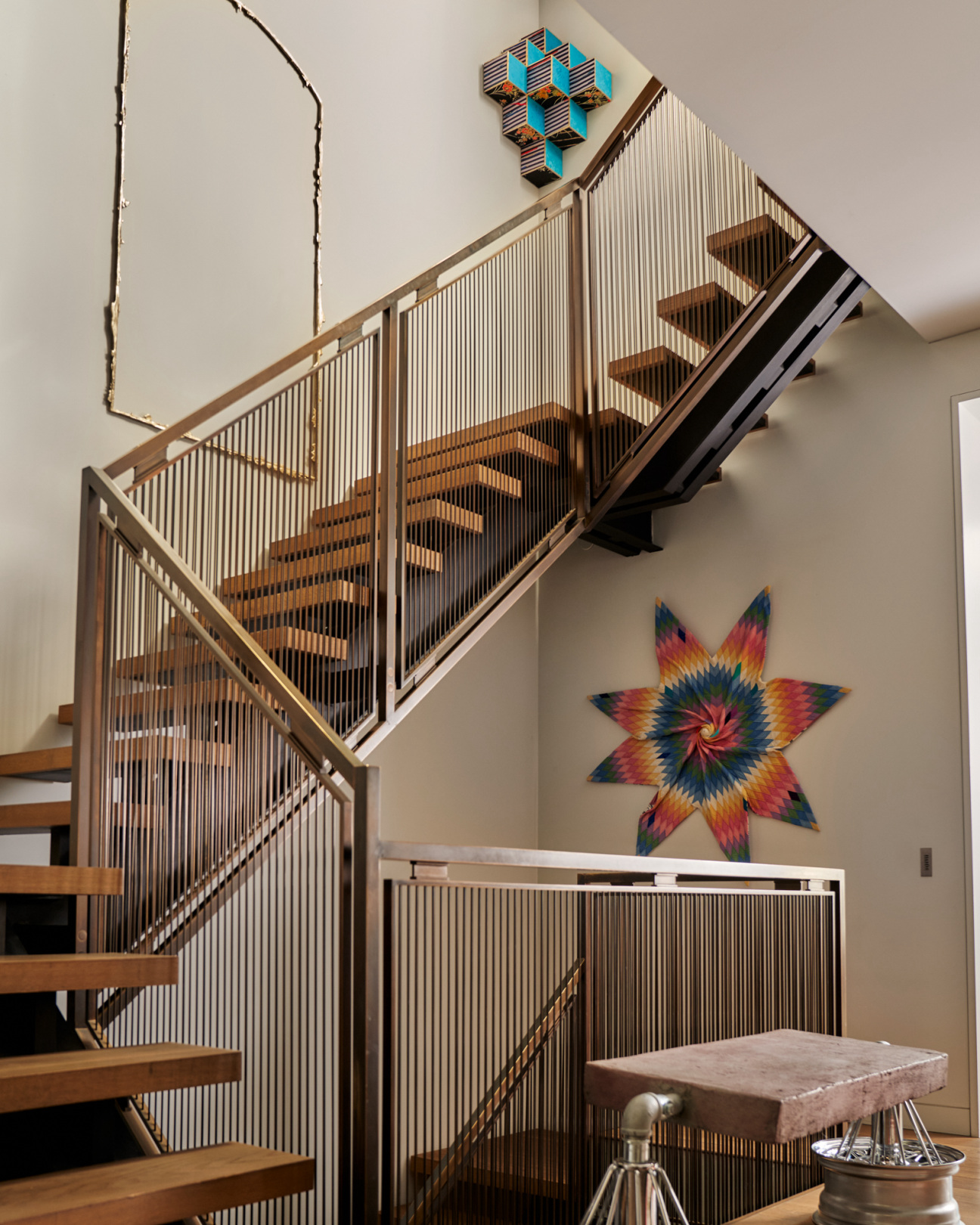 Is there one piece that got away. Or that you still think about?
Yes, the one piece that got away would always be the Mary Weatherford neon painting that we first saw at Frieze London at David Kordansky's booth. There were at least 10 of them in his solo booth and he wouldn't sell us one as they were all committed to institutions, or so he said. And the one piece I still think about that I didn't pull the trigger on is a Kaari Upson from her "Clay Baby" works based on a small porcelain divination object that was gifted to her. Kaari has since passed away, and this would have honored her.
Want to read more from collectors around the world? Read Oleg Guerrand-Hermés on his six-step process for discovering new artists, David Cancel on helping Puerto Rican artists find their way into museums, or Bernard Lumpkin on using his collection as an educational tool.