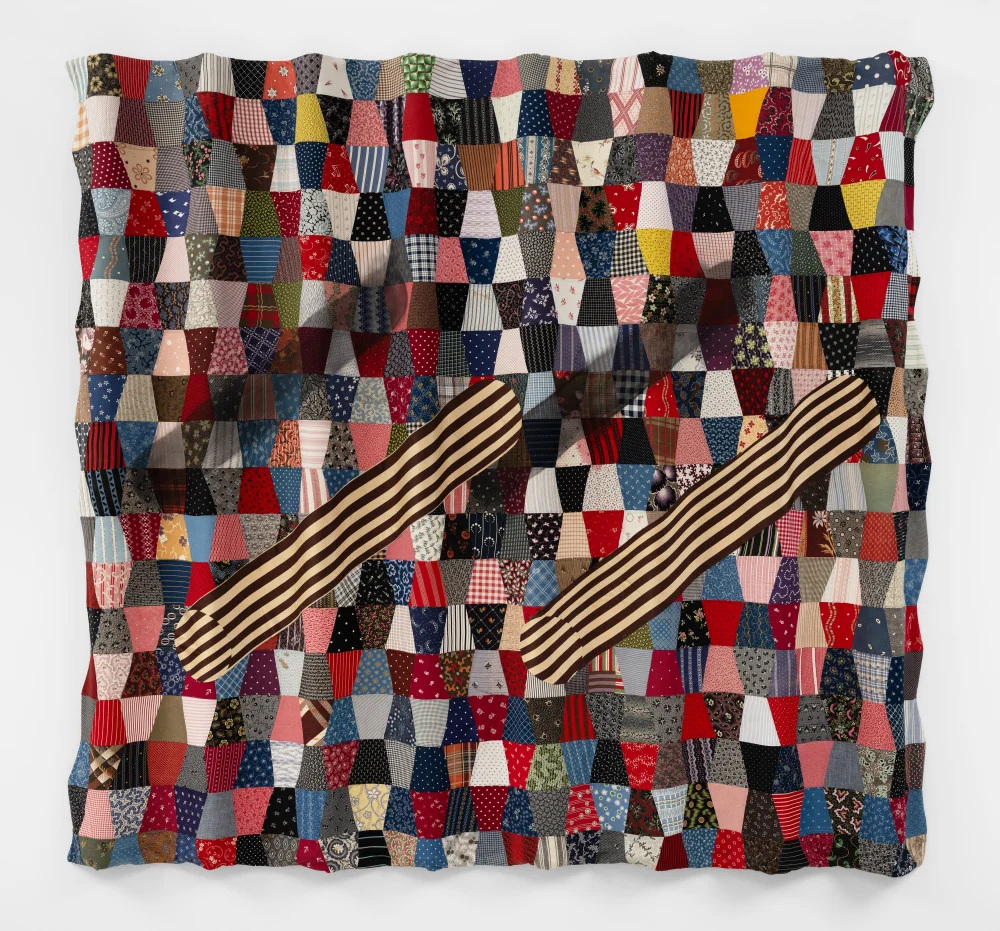 Welcome to This Week in Culture, a weekly agenda of show openings and events in major cities across the globe. From galleries to institutions and one-of-a-kind happenings, our ongoing survey highlights the best of contemporary culture, for those willing to make the journey.
Chicago
"Back To The Stars" by Sanford Biggers
Where: moniquemeloche
When: September 14-October 28, 2023
Why It's Worth a Look: "Back to the Stars" showcases two of Sanford Biggers's ongoing series, "Chimera" and "Codex," which challenge cultural and aesthetic assumptions associated with material objects, primarily quilts and sculptures. The exhibition juxtaposes a geometric, large-scale textile work featuring references to Japanese woodblock prints and Gee's Bend quilts with transformed African and Greco-Roman marble sculptures, busts, and masks.
Know Before You Go: Biggers's quiltwork is largely influenced by the history of quilts being used as coded objects to help slaves in the South escape through the Underground Railroad.
London
"M Street on White" by Sylvia Snowden
Where: Edel Assanti
When: September 14-October 28, 2023
Why It's Worth a Look: Sylvia Snowden's exhibition, her first solo show in the U.K., expresses the psychological state of her subjects through thick, distorted, and turbulent brush strokes amounting to abstract figuration. In her bold colors, a vast range of human experience can be found, from joy and love to the torment of hate and abuse.
Know Before You Go: The works in this exhibition are inspired by DC's inner city Shaw neighborhood, where the artist has lived on M Street since the 1970s. Each piece is named after someone she knew in the area. According to the gallery, "The 40 people of M Street were so excited at being so imaginatively depicted that they lined the sidewalk the day that her paintings were being shipped to a show."
New York
"Filling Station" by Matthew Lutz-Kinoy
Where: The Kitchen at Westbeth, Horatio Street Gas Station, Dia Beacon
When: September 14-November 3, 2023
Why It's Worth a Look: This exhibition showcases three dance performances commissioned by Paris-based, American artist Matthew Lutz-Kinoy alongside a new series of his paintings, archival materials, audiovisual elements, and ephemera. The dance performance revitalizes the original 1938 one-act American ballet, Filling Station—a rebellion against Eurocentric classical ballet—with a new score and choreography, all while adding contemporary flair through a critical examination of race, class, and gender.
Know Before You Go: According to The Kitchen, Filing Station "is credited as the first ballet directed by an American choreographer, danced by an American company, and based on an American theme, with music and designs by American artists."
"Cady Noland"
Where: Gagosian, Park & 75th
When: September 12-October 21, 2023
Why It's Worth a Look: Cady Noland's solo show at Gagosian features a collection of new sculptures, which, like the rest of her work, promise to be an examination of what the Postmodern artist refers to as "the American nightmare." This is, in other words, the false hope and promises tied intimately to the American way of life, what some might call hopeful messaging and others propoganda.
Know Before You Go: Audiences' first look at the show is of an untitled piece comprised of a locked filing cabinet topped off with a hand grenade and Coca Cola can encased in acrylic, perhaps two ends of the American export spectrum.
Berlin
"Them as Was Is" by Paul McCarthy
Where: Galerie Max Hetzler
When: September 13-October 21, 2023
Why It's Worth a Look: Paul McCarthy's first solo exhibition at Galerie Max Hetzler, like much of his work, confronts the expectations of humanity and absurdities of everyday life. The show will include 18 exaggerated and distorted sculptures, as well as drawings and video works from his recent "A&E" film and improvised performance project in collaboration with German actress Lilith Stangenberg.
Know Before You Go: McCarthy's films manifest as existentialist theater. In A&E, Adolf and Eva, Cooking Show, McCarthy acts as a drunk Adolf Hitler with Stangenberg as a Marilyn Monroe-esque Eva Braun in a comical reenactment. In the film, their cooking ritual turns into torment and domestic violence as their identities start to shift, becoming disturbed and muddled.
"Tomorrow, I Will Become an Island" by Coco Fusco
Where: KW Institute for Contemporary Art
When: September 14, 2023-January 7, 2024
Why It's Worth a Look: KW Institute for Contemporary Art is hosting the first stop in Cuban-American artist Coco Fusco's first major restrospective, set to tour internationally. Fusco's oeuvre includes an extensive collection of videos, photography, texts, installations, and live performances influenced by multicultural and postcolonial discourses ranging from sex tourism in the Caribbean to suppressed Indigenous struggles.
Know Before You Go: The institute will present a series of talks in conjunction with the exhibit, in addition to a new KW-commissioned multimedia-performance, Antigone is Not Available Right Now, in early December 2023.
Mexico City
"Honey" by Bayo Alvaro and Lily Alice Baker
Where: Naranjo 141
When: September 14-October 22, 2023
Why It's Worth a Look: This two-person exhibition marks Lily Alice Baker's first show in Mexico and the gallery's first exhibition with both Bayo Alvaro and Baker. The works on display pair the boldly colored, abstract figures in Baker's oil paintings with Alvaro's intricate, hanging sculptures, both exploring gender, contradictory emotions, and the complexities of interpersonal relationships.
Know Before You Go: The show's title, "Honey," was chosen by the artists to represent the contradictory sweet-yet-heavy, thick, and sticky nature of public and private spaces.
Los Angeles
"Jacket and Shadow and Jacket and Shadow and Jacket and Shadow" by Jasper Marsalis
Where: Kristina Kite Gallery
When: September 9-November 4, 2023
Why It's Worth a Look: Los Angeles-based musician and multimedia artist Jasper Marsalis will present new work in this upcoming exhibition that manipulates and distorts leather goods and clothing. This is the third exhibition with Kristina Kite Gallery for the Cooper Union alum.
Know Before You Go: Earlier this year, Marsalis wrote for the Los Angeles Times, "Sight has always been at the center of my art practice, specifically the desire in sight — having an obsession with something, being enamored by or being sucked into something."