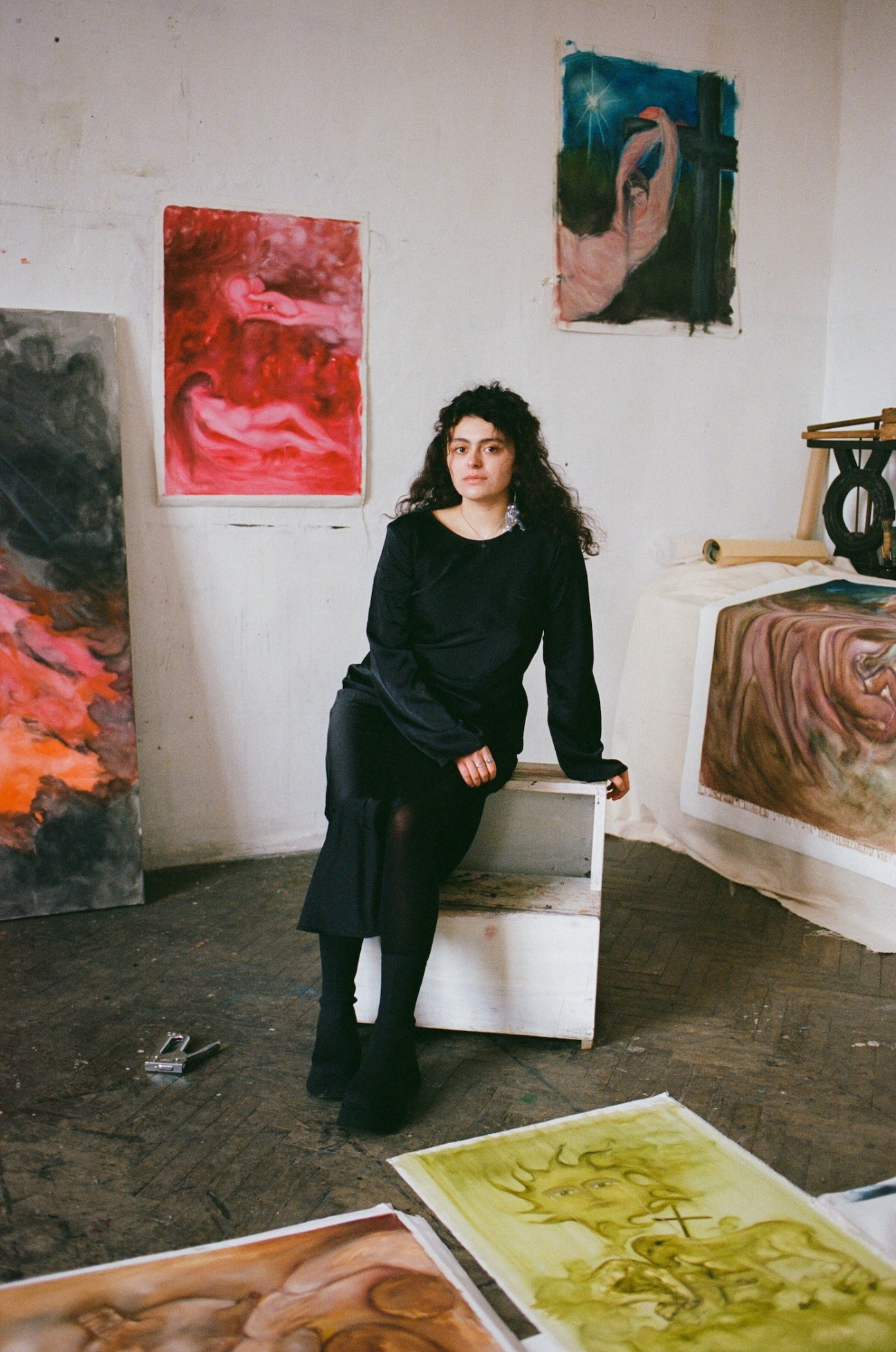 Art may not stop bombings or end suffering. But in Ukraine, it is not powerless. To mark the 27th anniversary of the signing of the Ukrainian Constitution, CULTURED brings together conversations with three Ukrainian artists. Through their expressions of art and resilience, they condemn the war and help us to bear witness to the ways that violence has become ingrained in their everyday lives.
Before immigrating to Canada with her family in 2014, Sana Shamuradova Tanska spent her childhood in the countryside in the Podillia region of Ukraine, surrounded by rivers and forests. Her upbringing had a profound influence on her art, which explores Ukrainian history and mythology, the relationship between humans and nature, and the circularity of time. At 27 years old, Shamuradova will have her first solo exhibition abroad, "Catching circles – then they match again," at the Gunia Nowik Gallery in Poland, on view from July 1 through September 9, 2023. In this conversation, she shares how her intimate memories about leaving her country and returning years later to find it in the midst of war has informed her practice.
Sofia Vinnichenko: Could you describe your work?
Sana Shahmuradova Tanska: I used to work with graphics, but now I mostly work in oils. I use different surfaces, like found objects or pieces of wood. It started after the full-scale invasion of Ukraine, when I went from Kyiv to a village to visit my grandmother. I did not have any materials there, so I started just painting, using everything I had already seen and turning it into a kind of ritual that goes hand in hand with what I do on more standard surfaces. I work with the themes of family histories, collective memory, and the fact that there is a retraumatization in Ukraine now because there is an illusory distance between the present and the past. I paid so much attention to all these family stories. I draw from what is and what was, and mix that with what I imagine could be. To a certain extent, memory is imagination, and very often you can remember only through imagination.
Vinnichenko: At what point did your art-making hobby turn into a profession?
Shahmuradova Tanska: I really don't like the words "hobby" and "profession." If you take something seriously you call it a job. A hobby is the other extreme; it's very dismissive. As a child, I was always drawing, and when I was preparing to go to university, I never perceived that the artistic path could also be a professional path. When my family and I immigrated from Odessa just before the revolution, I think I was depressed. Because of the depression, I turned to drawing. I returned to Ukraine at 20 years old. I always wanted to come back to Ukraine and to Kyiv, and finally, my dream came true. I moved to Kyiv and continued to engage exclusively in my creative practice.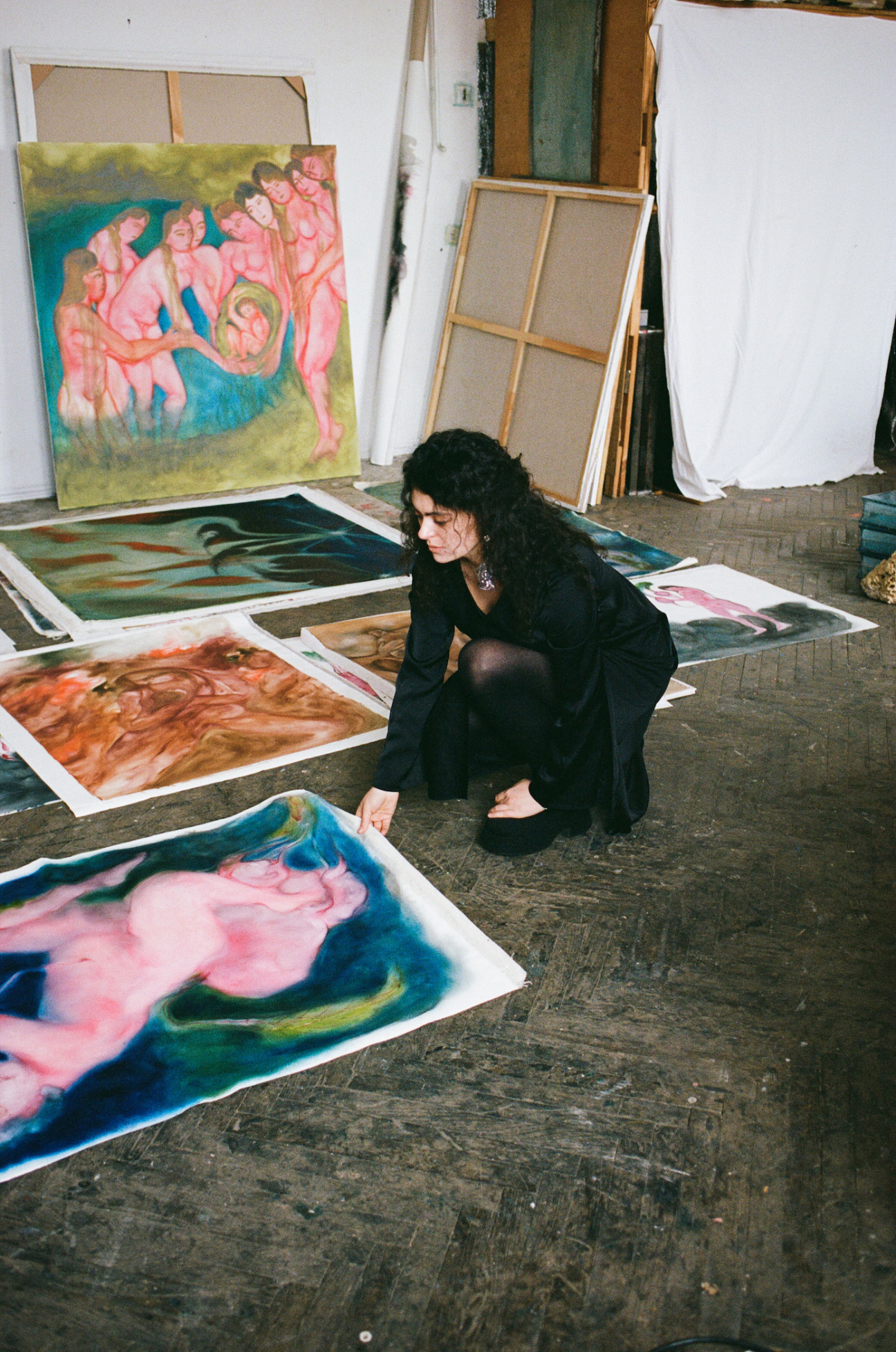 Vinnichenko: What do your days look like? When do you begin to work?
Shahmuradova Tanska: It's hard to explain how it is in Kyiv to people who are not from here. You cannot dismiss the situation and say that things are more or less normal, because the war continues, and the shelling continues, and things are very bad at the front. Lately, I've had very little energy. In the morning, I go to the workshop. If the workshop alarm goes off (there was a period when there was shelling every Monday), I go down to the bomb shelter, which is quite surreal because it was made during the Cold War. There are all these posters about preparations for an atomic attack. That is the process of reducing the distance between the past and the present that I try to convey in my work.
It was very difficult to work in the winter because of the electricity shutdowns and shelling of infrastructure. There is no common heating system at all, so everyone works with some kind of heaters. Because my workshop is quite spacious and it was cold, I was steaming from my mouth. I was painting with gloves on, and I spent two hours doing something and then went home because my hands and feet were frozen.
So, it depends on what kind of day it is. I can be quite productive, I can be not productive at all and very scared. I try to have this routine: donation, coffee, the road to the studio, the studio, meeting with friends. Now a lot of people have returned and it's spring, so maybe Kyiv will become more welcoming again. But there is no sense of time, so it's hard to organize your routine, because you can't really control much. If we're talking about everyday life, it's clear that it has completely changed.
Vinnichenko: What small or large changes have taken place in everyday life?
Shahmuradova Tanska: Probably the perception of family and relationships in general. I'm very close to my grandmother, but we became even closer because of what we went through together. She supported me when I came to help her because she's alone in the village, and it turned out that she was the one who controlled the situation. The same happened with my father, who is very cold and reserved. It's very difficult to focus on individual problems because everything becomes collective.
When I left my apartment to be with my grandmother, I looked at it and thought, I may be too attached to some material things there, like a pebble I found, or a shirt I embroidered, or a photograph. I thought, Sana, you have to realize that the probability that you will never see these things again is high. The reconciliation with this fact took place when I left the apartment. This also influenced my everyday life and the way I started using new surfaces. I worked on them without a primer, and I did not think about how I would archive them. They may be preserved or they may not, and everything has turned into this "here and now" today. We value material things, but there is not such a big stake in them.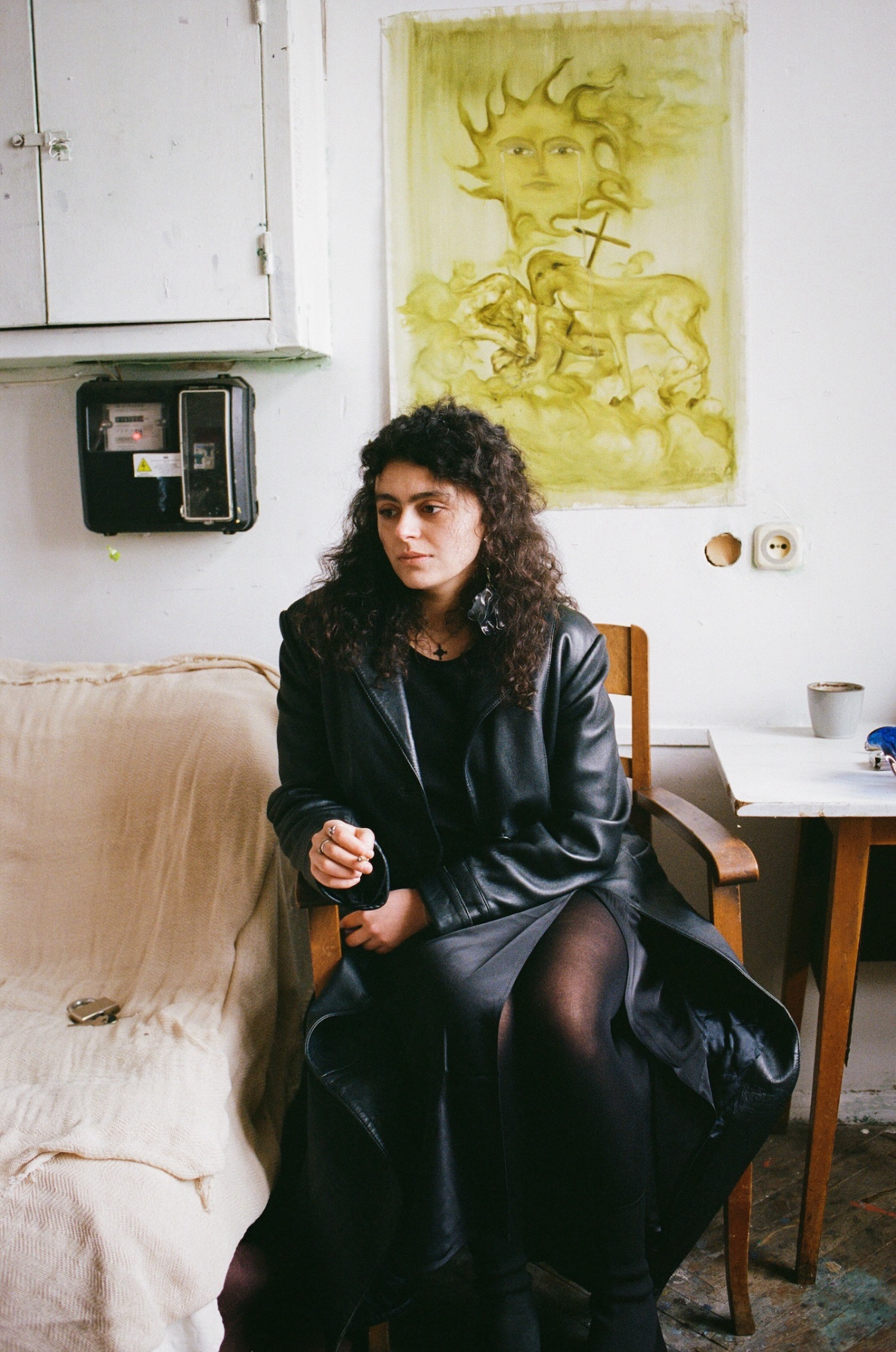 Vinnichenko: How has your work and the way you work changed as a result of the full-scale invasion?
Shahmuradova Tanska: There are events from the history and past family events that have become very relevant. I stopped being afraid of any direct references for my work, because it's clear that they all turn into universal images anyway. I just started to turn to some very clear direct images, such as the photographs of war crimes. I realize that no matter how hard I try to convey these, I still get some very universal images. This explanation only seems to emphasize the horror.
Vinnichenko: What do you have planned for the next year?
Shahmuradova Tanska: I just came back from Dublin. I was invited by a Polish curator to a production residency there. His focus is on agrarian and ecological problems. I worked with the history of the Holodomor famine, where grains, the primary agricultural resource, were destroyed. Attacks on the agricultural sector are a classic method for our enemy, and it continued in the summer with the sowing season. The fields are burning, and grain cannot be shipped because the port of Odessa is being shelled. Farmers who are being bombed continue to do it all—it never ends. These works will be on view during the Irish Biennale, and at a group exhibition at the Art Arsenal.
Vinnichenko: What do you do with your free time?
Shahmuradova Tanska: I'm always in the studio. I see my friends a lot, because I like to take myself to people's houses or workshops. I also walk around a lot because I love Kyiv, of course. I'm always looking for new music—I am very, very inspired by sound. I love going to the countryside to visit my grandmother. I try to go often, and the rivers and forests always recharge me. I also record dialects for my grandmother, and depending on what she is looking for, it leads me to some forgotten folklore of southeastern Podillia, the region where she is from.
Vinnichenko: How do you calm down?
Shahmuradova Tanska: Practice is actually the best tool for calming down.
Vinnichenko: What makes you excited?
Shahmuradova Tanska: Nature and music, because there are moments when I can really forget about what's going on. I'm excited when a sound really takes me in. I've also realized that when I see animals in the wild, I'm flooded with this feeling—I don't need anything else.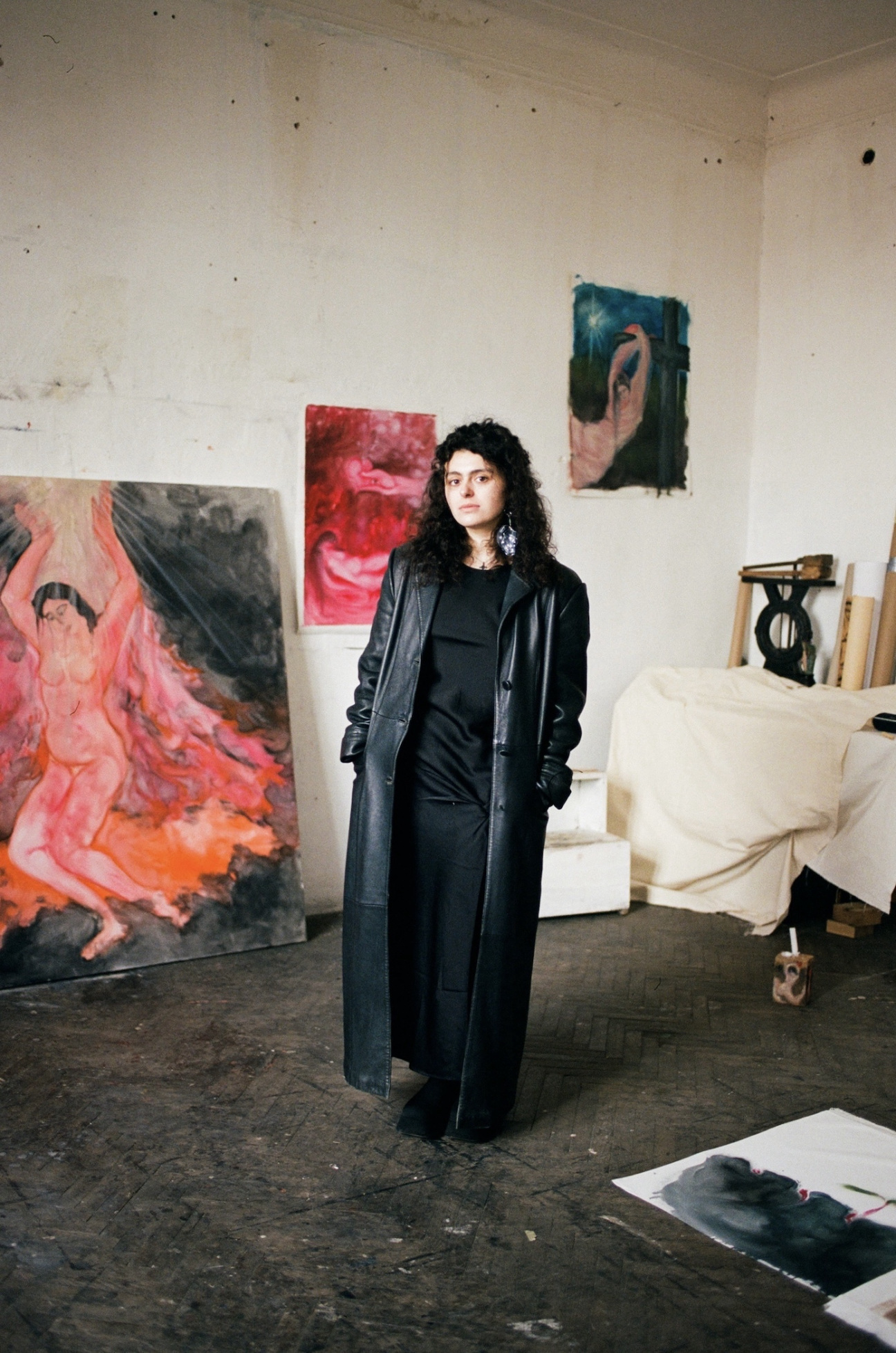 Vinnichenko: What would you like people to know about life in Kyiv now?
Shahmuradova Tanska: That the war is not over and that everything that is happening here now— whether it's some kind of exhibition, a daytime party, a disco, or something else—and everything is dedicated to raising money for the army. There's no distinction between the army and the individual soldiers who are fighting. Our acquaintances, friends, and many representatives of the cultural sphere are at the frontline right now. How many have already died? I just want to shout out how much it hurts. The war is not over, it's still going on here, and we all live in a constant search for what can we do to help.