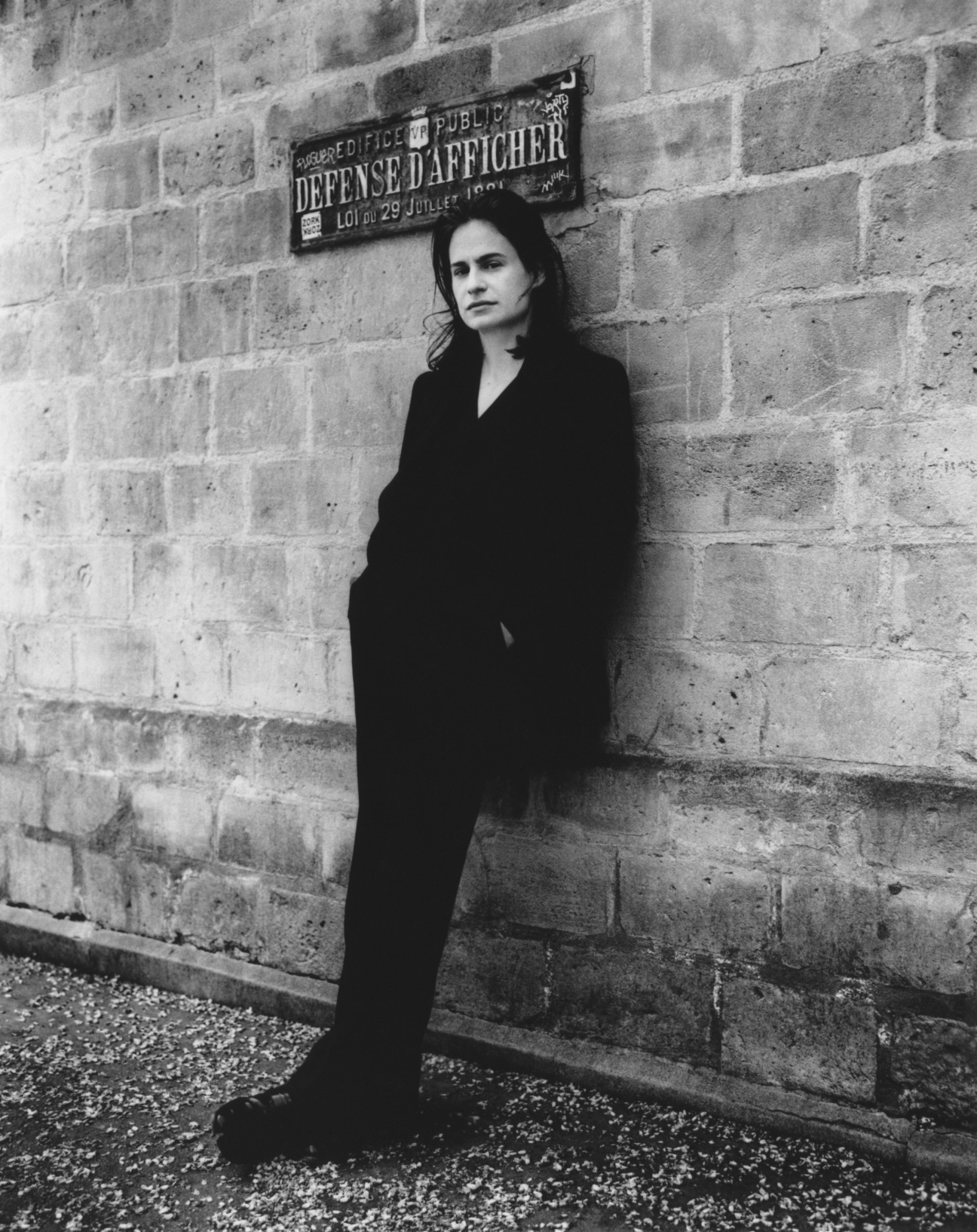 Saints are born from their apparitions, those evanescent moments where they are touched by the grace of a higher being. Redcar, better known under the moniker Christine and the Queens, has had a few such visions in the past year. The 34-year-old French musician is known for critically acclaimed releases like his 2014 debut album, Chaleur Humaine, and cusp-of-the-pandemic EP La vita nuova—sonic lightning bolts that slalom between shades of pop. With each project, Redcar sheds skins and dons new ones with theatrical flair. Last fall, he released Redcar les adorables étoiles, a sonic prologue to this summer's PARANOÏA, ANGELS, TRUE LOVE.
Though Redcar's career has been defined by its dynamism, PARANOÏA, ANGELS, TRUE LOVE may mark his most meaningful departure yet. Recent years have brought significant change in the artist's life. He lost his mother four years ago, and he came out as trans last year. For Redcar, who began work on the album from an eerie perch in the Los Feliz neighborhood of Los Angeles, the album chronicles a dark, desperate dive into loneliness and the sublime. Over about a month, he lived and worked monastically in a trance-like state of consciousness: "Every day was spent quite alone, praying a lot, walking for hours, seeking visions," he remembers.
"Almost like a kid, I put myself in the state of waiting. I realized that I actually like music when it appears to me, or happens to me." Co-produced by the legendary Mike Dean—who shaped the recent work of artists including the Weeknd, Beyoncé, and Lana Del Rey—and featuring vocal contributions from Madonna and 070 Shake, PARANOÏA, ANGELS, TRUE LOVE soars and plunges, bringing listeners on a heady emotional ride. "It was like working in a pure swarm of energy, and it made me feel so alive," says Redcar of his angelic trio of collaborators.
Angels—including the artist's late mother—are at the core of the record, which takes as its inspiration Tony Kushner's 1991 play, Angels in America. The musician was drawn to the idea of otherworldly beings appearing in his life, and "breaking the fabric of space and time." Music, though, remains Redcar's forever teacher. "I love to be a student," he says. "I love when music humbles my ass with cosmic slaps every time. It makes me grow as I go."
To mark the release of Redcar's opus, CULTURED asked a few of his friends and admirers to share their burning questions with the enigmatic artist.
Perfume Genius: How do you balance wilder creative instincts and the spiritual component of art-making with the demands and pressures of being in the business?
Redcar: That's a fucking serious question, dude, but I still love you. Leave your husband for me. I've stopped thinking about business altogether. I'm the classic anti-capitalist teenager of the family—that makes me a living contradiction, but fuck it. Honestly, we are sailing towards everything sounding like fucking advertising music, bro. I turned to rock 'n' roll as a way to protect myself from that. Sure, you can try to sell my songs, but I only want to make music that makes me feel something.
Misty Copeland: "I am done with belonging." I completely relate to that quote because I have been told that I don't belong for most of my career. Do you have a support system you rely on that makes belonging feel less important to you?
Redcar: My life has always been very complicated around this question of belonging. I lost my mom, and the
great lesson of this grief is that I have all this love for someone who is invisible now. I know I sound like a very lonely boy, but that knowledge gives me strength every day. I also started touring again, so I'm starting a relationship with my tour family. I give so much on stage, and they become a strong support system. The only thing that brings me true acceptance and relief is praying to my mother, and praying to Jesus. I'm interested to see what that's going to do to my dancing on this tour.
Lisa Taddeo: You have this grand passion and sensitivity, and you create such powerful art even in the throes of emotional upheaval. Do you feel more peace when you have unity, comfort, and progress in your artistic expression, or when you have unity, comfort, and progress in your romantic life?
Redcar: Thank you for noticing that I open my heart. I think of true love as this all-encompassing empathy, and I'm still searching for that. So far, I've only experienced groundbreaking passion through friction. It's been a great source of pain, but also a source of enlightenment in my music—which became the cathedral, the shelter where I went to make sense of things. This new record is a true heart opener—I love music that feels like the listener and artist are processing together. I see that as my discipline now. But I think that kind of relationship is in my future. I'm looking for the kind of love that illuminates my personal life and my practice—for me the two are so intertwined.
Dâm-Funk: We first met in the sunshine of Los Angeles. If I were not creating music full-time, I'd most likely be a meteorologist. What kind of weather inspires your best writing?
Redcar: I suspect it's sunny weather. I wrote "Tilted," one of my best hits, on a sunny day. That's a big component of why I'm going to move to LA—also to be close to you, so that we can do sessions together.
Amalia Ulman: Did an animal ever change your life?
Redcar: Yes, of course. My first real love was my childhood cat, who would sing along with me. He was my great love, and he died when I was 18. I had another cat with my ex-boyfriend called Scrunchy. He was a Maine Coon, and I lost him in the divorce. He was very chatty, and his giant paws were so fucking cute.
Ocean Vuong: When was the last time you felt truly proud of yourself?
Redcar: This morning, when I was sweating on my gym bike. I was like, Another day, Redcar, another day. You've got to show up for yourself every day. Mood.
Zoe Lister-Jones: What's your love language?
Redcar: I discovered it recently. It's touch! I had no idea! I grew up reading so much literature, and after all that, my love language is touch? I used to be so sure of myself. Being an adult sucks.
Eliza Douglas: What is a question you haven't been asked in an interview, but wish you would be?
Redcar: So many questions are not asked! It's baffling really; I'm always surprised that people are interested in the same things. Often, what I'm lacking are intricate poetic questions that make my mind race to a place I would never have expected. I would love to speak more about my approach to dance and my background in theater. I feel like people acknowledge it and then they move on, but really it's the core of my practice. But I'd also love to explore everything else—sensuality, love, flowers, food.
Wolfgang Tillmans: In your song "Goya Soda" I understand you drew inspiration from the works of Spanish painter Francisco Goya. Do you have a favorite artwork?
Redcar: "Goya Soda" was inspired by the painting Saturn Devouring One of His Sons, 1819-23, which for me is about the connection between revulsion and desire. A favorite work of art? I would have to say Francis Bacon, but I can't pick just one of his paintings. His work is an intersection between abstraction, surrealism, poetry, destruction, truth, pain. Inside the genius of that work, there is tenderness.