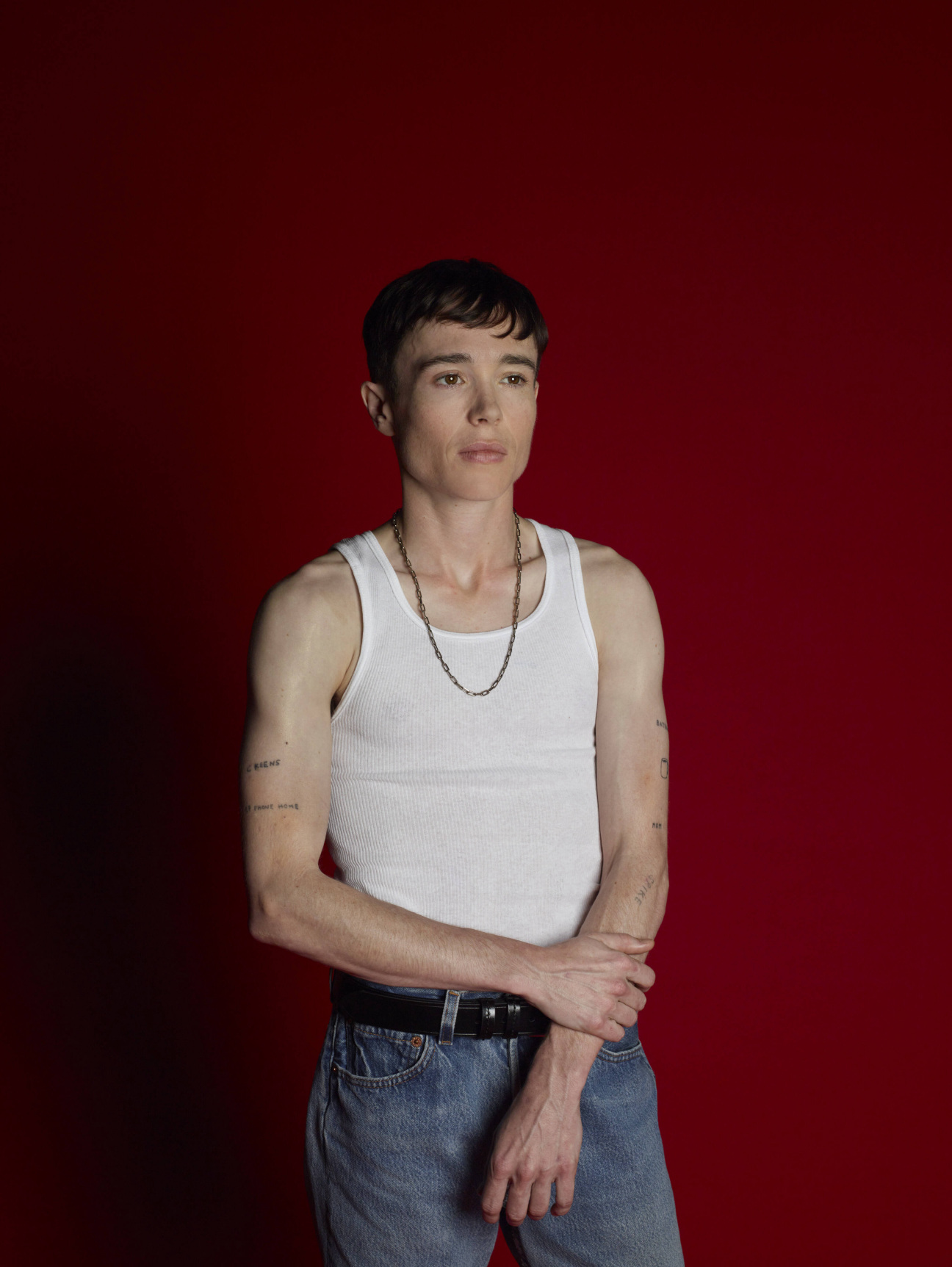 Elliot Page has been acting since the age of 10. With turns in Juno, Whip It, Inception, and The Umbrella Academy, Page was unmissable, a household name. But the actor was also performing in his personal life—the role of the young starlet, eminently talented and touchingly self-effacing. Until the actor came out as transgender three years ago, he was frozen in place by the bifurcated demands of celebrity: an easily marketable varnish and a smiling face, or a parody of suffering worthy of tabloid coverage.
With his new memoir, Pageboy, the actor peels back years' worth of calcified preconceptions, offering a powerful counternarrative to the ones that have swirled around him since childhood. The memoir—a collection of aching, tender, and raw vignettes that draw on the historic violence, Indigenous erasure, and natural beauty of his hometown of Halifax, Nova Scotia—chronicles moments of furtive, youthful love, isolated Hollywood adolescence, and the lurching process of finding queer community. To mark the book's release, Page sits down with CULTURED 's senior editor to reflect on the ritual and relief of putting pen to paper.
Mara Veitch: What was your relationship to writing before taking this on?
Elliot Page: It was minimal. In the brief moments when I did engage with it, I felt some form of a flow. But I could never sit for long periods or stay with something. It would be a spurt, and I'd move on. I love to read—that's a big part
of my life—but writing to this degree, not so much.
Veitch: Did any of the writing from those spurts find its way into Pageboy?
Page: A couple did. There were old notes in my phone that I drew from.
Veitch: The book is full of these tiny, crystal-clear moments. In a life that's full of tiny moments, how did you decide which ones to hold up to the light?
Page: The first time I actually, seriously sat down, I wrote that first Paula chapter, which came out stream-of-consciousness. When the book deal became real, I spent the first couple of weeks feeling, not necessarily overwhelmed, but the acknowledgement of what I'd taken on. At first I focused on whatever came up organically. As I went on, I'd pick an age or a period, and think of a story—or a relationship or a friendship—that covered that period, and build upon it.
Veitch: Did that overwhelmed feeling come from the pressure of sifting through your own experiences, or was it more like, "I owe pages"?
Page: I guess both, and the fear of never having written something to this extent. Every time I read a book I think, How the fuck does somebody do this? That, plus talking about things that, of course, were not easy to talk about. I
really felt that in my body as I wrote. It was fascinating, like, I'd hunch over, I'd start to sweat. I would try to strike a balance for myself: Okay, this week I wrote about a rather traumatic incident, so next week I'll write about getting to wear a Speedo as a kid.
Veitch: How did your work as an actor inform your writing process?
Page: I imagine lots of writers do this, but it felt like I could visualize each memory, and translate it on paper in a way might be be similar to translation from script to screen. It was as if I was watching each moment, which helped me to write it in a more cinematic way.
Veitch: Who were some of the writers who fueled your writing process?
Page: I mean, where do I begin? In terms of memoirs, I love Saeed Jones's How We Fight for Our Lives; Maggie Nelson's Bluets and The Argonauts; Alexander Chee's How to Write an Autobiographical Novel; Carmen Maria Machado's In The Dream House; and Tanya Tagaq's Split Tooth. The way they're strung together, the way they flow, the way they just keep pulling you forward...
Veitch: You return often to the history of Halifax—the Halifax Explosion, Indigenous erasure, resource extraction—and how it seeps into the architecture of your family. Why did you decide to make Halifax one of the book's primary characters?
Page: It's about my fascination with time—all the life that has come and gone, that shapes who we are. Some awful things, some positive things. It's also about my personal interest in things like the Halifax Explosion. Eventually my
editor had to say, "Okay Elliot, that's enough about that."
Veitch: You return often to our insignificance as human beings. Can you elaborate on that?
Page: I think often of my own life in relation to grains of sand, the stars, and the sky. I have some days where that thought is quite scary and sad, and other days where that thought is really exciting and liberating. It makes me feel less precious about myself, the things that have happened to me, or the anxiety and stress that I'm dealing with. Like the book coming out, for example. I say to myself, Elliot, you're a tiny speck. There are a lot of books in the world.
Veitch: Is that a form of resistance to the pressures of celebrity? I don't remember many moments in the book where you fully embrace your relationship to fame.
Page: It does feel awkward and it always has. I'm finding my love for acting again in such a significant way, which is really special. I loved it as a teen—when I discovered film and art and all these things, and then was able to play all these interesting roles. That was thrilling. What a true gift to get to throw yourself into something like that. The attention—or being told that you're special because of it—felt very odd and uncomfortable, and I think just simply not true. It can enhance those feelings of emptiness and loneliness. I mean, look at any story about fame. How does it end? It's strange that these narratives are still so alluring in our society. Literally every celebrity memoir or biopic—they all end the same.
Veitch: Has your relationship to that uncomfortable side of things changed?
Page: Now, everything feels different. Before, when I'd get recognized on the street, I had a difficult time with it. Now, my ability to interact with people when they want to chat, or want a photo, is totally new. I feel present, and I have lovely conversations with people. It's a significant shift.
Veitch: How do you want people to feel when they read this book?
Page: It's weird to think—oh my gosh—people are gonna read this, you know? We're all so pressured to become this narrow version of who we are. We take in all these toxic and unhealthy expectations, and we're not encouraged to be our full selves. A part of me hopes it allows people to feel seen, to explore internally, investigate, and be who they want to be. I hope it helps people to say, you know, "Fuck you," to those pressures and fully step into their authentic selves.