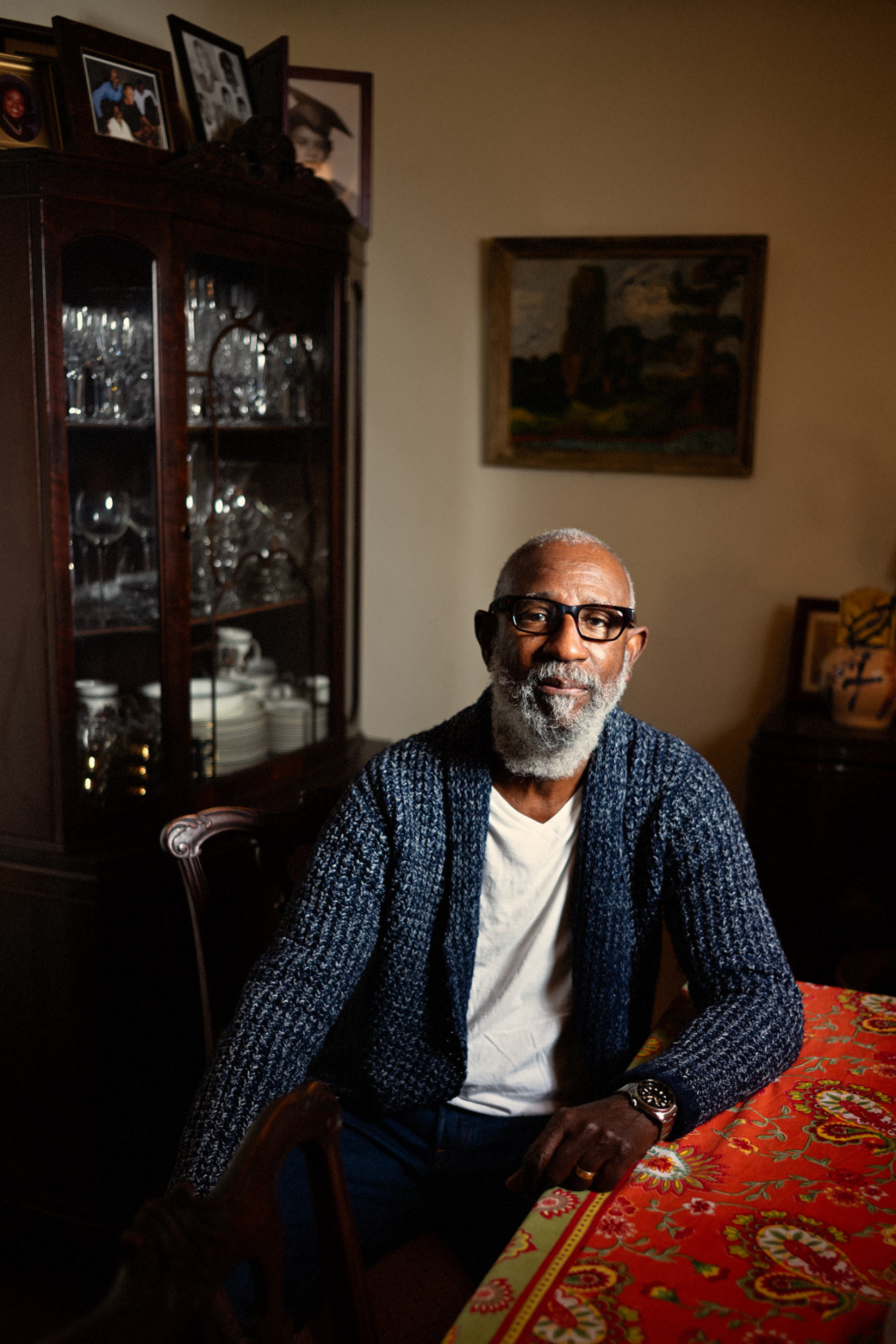 By the time Sun Ra, the trailblazing jazz musician and shamanic poet, declared "Space is the Place" in the title track of his 1973 album, artist Joe Ray was already conjuring his own planets. The inky black heavens felt like the only frontier left for the Vietnam War veteran and cutting-edge artist in roiling 1960s Los Angeles. "The turmoil of the mid-'60s created a period when there was a need to look out as well as in, and the inner space was just as bright and dark and deep as any other space you could imagine," says Ray, 79. "It was a time to visit yourself and think of how you wanted to be in the world, and then about the world in relationship to everything else."
Five decades later, Ray is still exploring the realm of the infinite—zooming both outward but also inward. His first New York show, "Inside Out," now open at Bortolami, spans this odyssey as a mini-retrospective. It includes an early autobiographical photography project, two major sculpture series, and a suite of his bombastic, ongoing "Nebula" paintings. "I don't have a niche. I don't want a niche," says Ray of his multipronged practice. "I want to just wake up and do whatever I feel like doing, as long as I can afford to do it. I create for myself first. I do it because I can't help it. This is just what I've been doing since I was 13."
Growing up in Louisiana, Ray's family recognized and affirmed his talent early, which is perhaps why the artist was emboldened to take big leaps in his youth, like putting down roots in California after a tour of duty in the Vietnam War. (He shipped out two weeks after the Watts Rebellion.) Shortly after landing on the West Coast, destiny took the wheel, guiding Ray to a job at a framing shop across the hall from the famed print studio Gemini G.E.L., where artists like Jasper Johns, Charles W. White, and Ed Ruscha were regular clients. It was then that, according to Ray, things just started happening. "It was a special time in Los Angeles, where if you could think of it and it wasn't being made, you could have it made," he says.
One particularly formative experience was an encounter with artists Larry Bell and Terry O'Shea, who were just beginning to experiment with what was then a brand new material called resin. Ray saw in the cutting-edge casting technology an opportunity to create things no one had ever seen before: objects that were hard to the touch but seemed to softly emit and bend light. Early plastic sculptures, like his smooth pill-like forms encasing swirls of black and white, explored how colors could blend into one another. Soon, Ray found that the futuristic material was demanding other references: stars, planets, churning milky ways. More than many artists more prominently associated with the Light and Space movement in '60s and '70s Los Angeles, Ray embraced the two ingredients—light and space—figuratively and literally. By the 1980s, he was casting Saturn-like rings and planet-like spheres, a set of which have made it to Bortolami in all their rounded perfection.
Alongside his early experiments with resin, Ray began to paint his "Nebula" series, which approximate the infinity of space with layers and layers and layers of paint applied in sprays and dots. "Each step of the process is a complete painting, and I just keep going. Sometimes I have to wonder about when I'm going to stop," says Ray. "I haven't taken it too far yet."
Against Bortolami's spotless white walls, Ray's "Nebula" paintings have an unnerving depth that is only enhanced by the artist's signature two-sided frames, which protect the top and bottom of the canvas but leave the sides exposed to the elements. "You got to make an avenue for the spirits to leak out," says Ray with a smile.
There is something spiritual about Ray's cosmic paintings and sculptures. They have a freshness that seems counterintuitive given their age. While resin and spray paint are not state-of-the-art materials today, they were when the artist first picked them up in the 1960s. And Ray manages to imbue them with their original aurora of possibility, pushing them to the brink while continually checking in with himself to ask: have we gone far enough?
"Joe Ray: Inside Out" is on view through June 17, 2023 at Bortolami in New York.