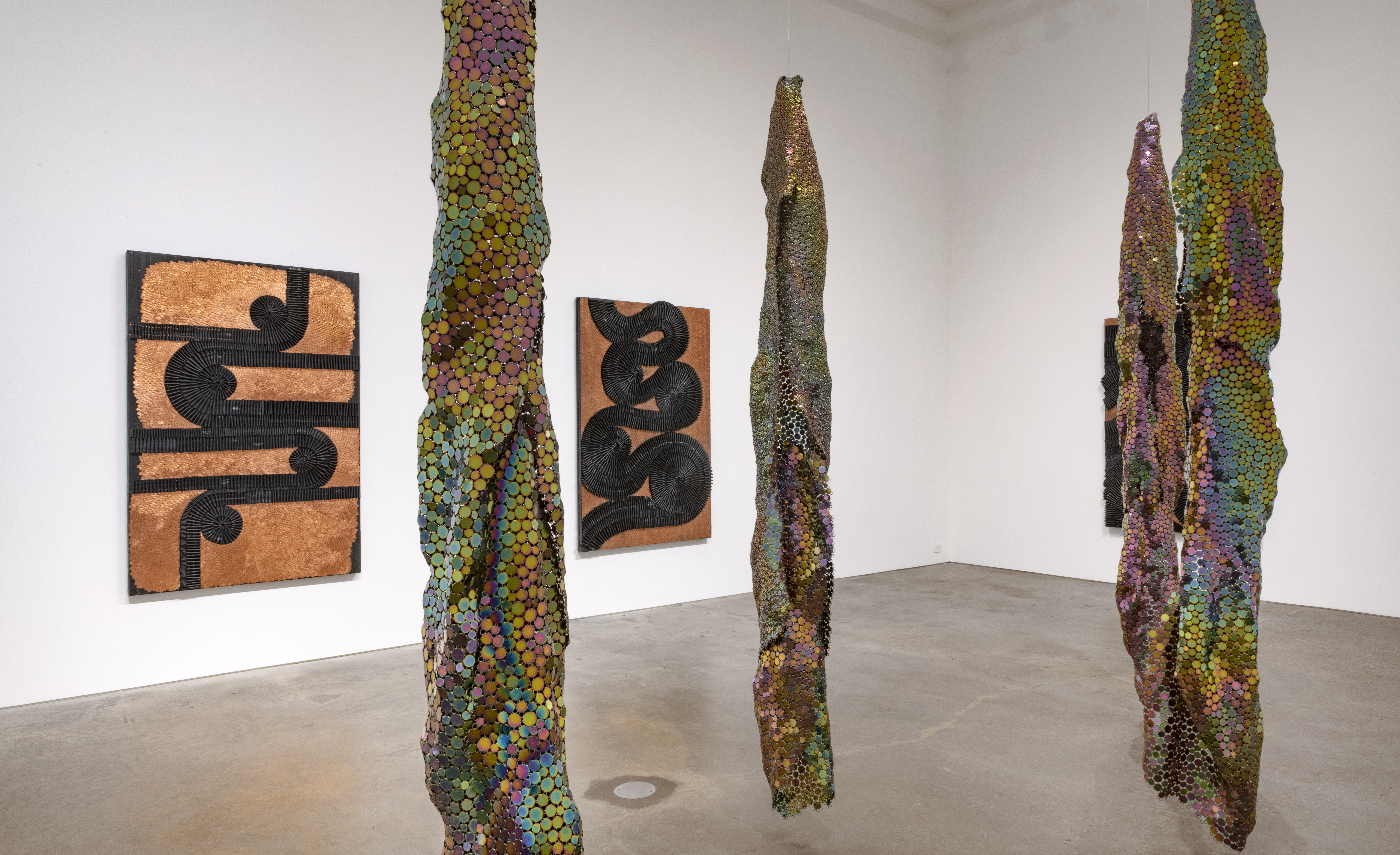 Derek Eller Gallery, Alyson Shotz "The Small Clocks Run Wild" (through October 10)
In New York, Shotz is beloved for the reflective pickets of Mirror Fence, a permanent fixture of the Hudson Valley sculpture park Storm King Art Center, where outdoor art was a true Covid savior. Her current exhibition "The Small Clocks Run Wild" at Derek Eller Gallery showcases an arresting new collection of prismatic sculptures, this time composed of metal disks suspended vertically by wire. Using an electrically charged bath, Shotz produced a chemical transformation that resulted in a series of shimmering mesh artworks, resembling veils of undulating skins that look as cool as they sound.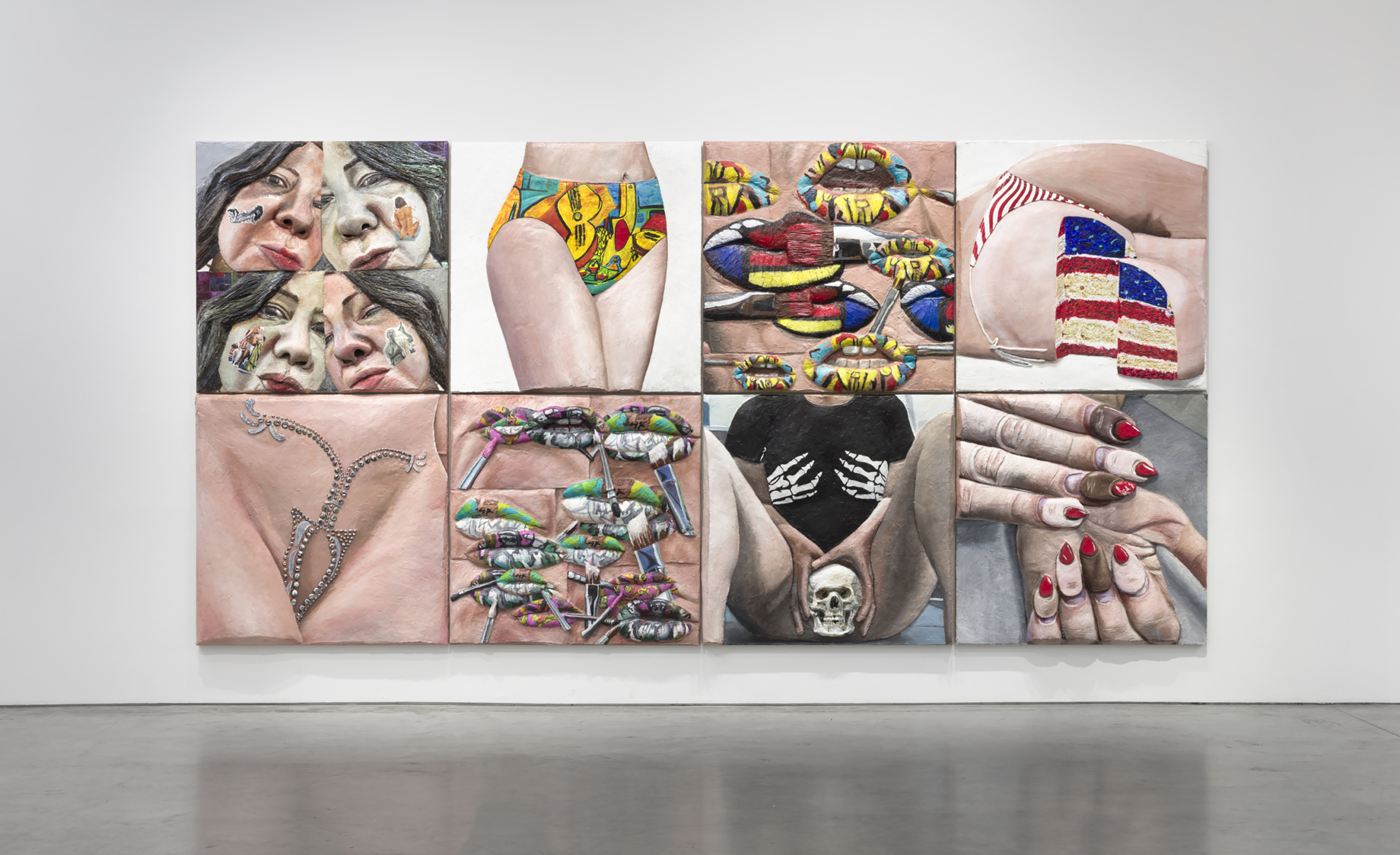 Marianne Boesky, Gina Beavers "World War Me" (through October 17)
Scouring Instagram, blogs and YouTube makeup tutorials, Gina Beavers is famous for translating screen grabs into intensely tactile artworks that push the boundaries of painting to new sculptural heights; breasts, lips, and eyelashes are lush, destructive and vulgar. "World War Me," Beavers' inaugural exhibition with Marianne Boesky, draws its title from a meme satirizing the Carrie Bradshaw voiceovers of Sex and the City. New Yorkers won't want to miss Beavers in top form—these recent works mine our myopic digital self-obsession and the on-going trauma of world events.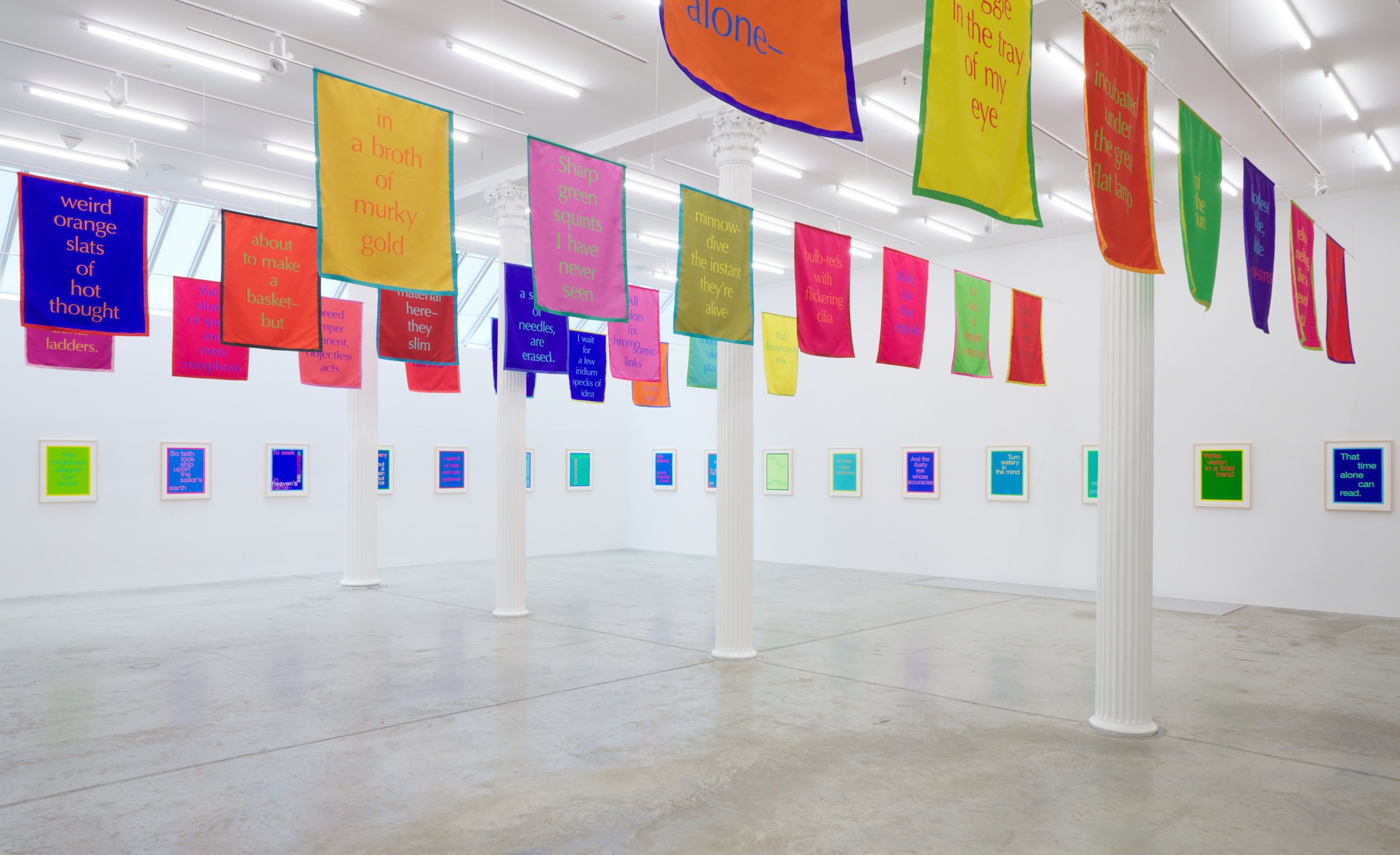 Bortolami, Renée Green "Excerpts" (through October 31)
Tribeca is the fastest-growing art neighborhood in the city. Relatively speaking, Bortolami has been a mainstay with a steady slate of impressive exhibitions by the likes of Tom Burr and Daniel Buren, as well as newcomers such as Rebecca Morris. Included in her first Bortolami show, "Excerpts," is a chance to see Green's recent Space Poems, which have been shown all over the world, and are composed of textile banners strung across the ceiling and silk screens hanging along the gallery's walls. Invoking the words of May Swenson and Laura Riding Jackson, the Space Poems test the bounds of text-based art and the concept of color by creating an experience as much lyrical as it is spatial.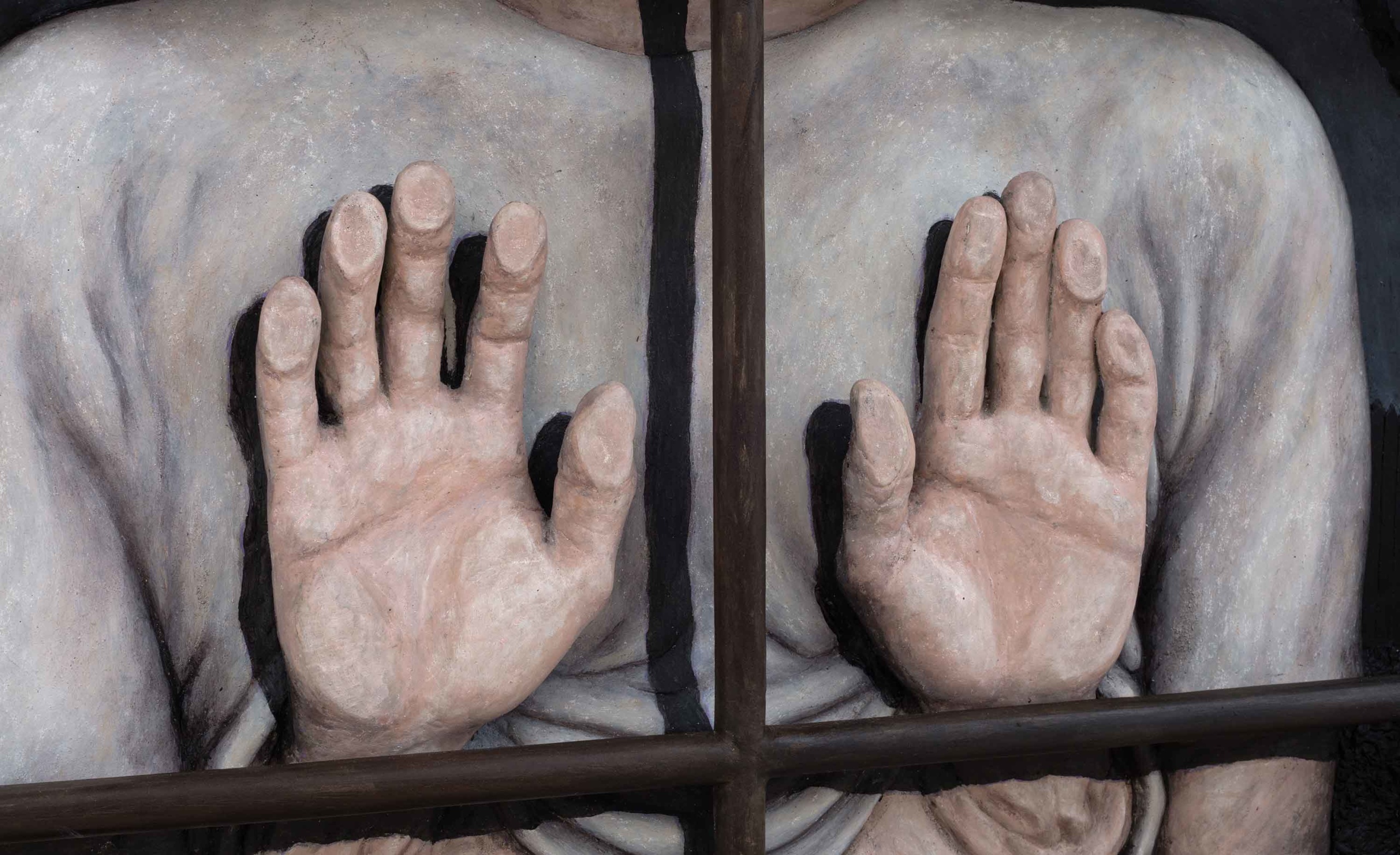 JTT, Dan Herschlein "Dweller" (through October 18)
Dan Herschlein forges sculpture and plaster reliefs that depict unsettling figures, backlit windows and dismembered bodies, based on his own loneliness growing up in Long Island. Reevaluating notions of masculinity, Herschlein describes his work as self-reflection. In "Dweller," anthropomorphic symbols of isolation and menace are drawn from the most quotidian of objects, such as a man's belt lying on the gallery floor or in one of the show's three-dimensional wood pieces. The exhibition illustrates Herschlein's power in fashioning emotional domestic tableaus that evoke his eerie suburban mindscape.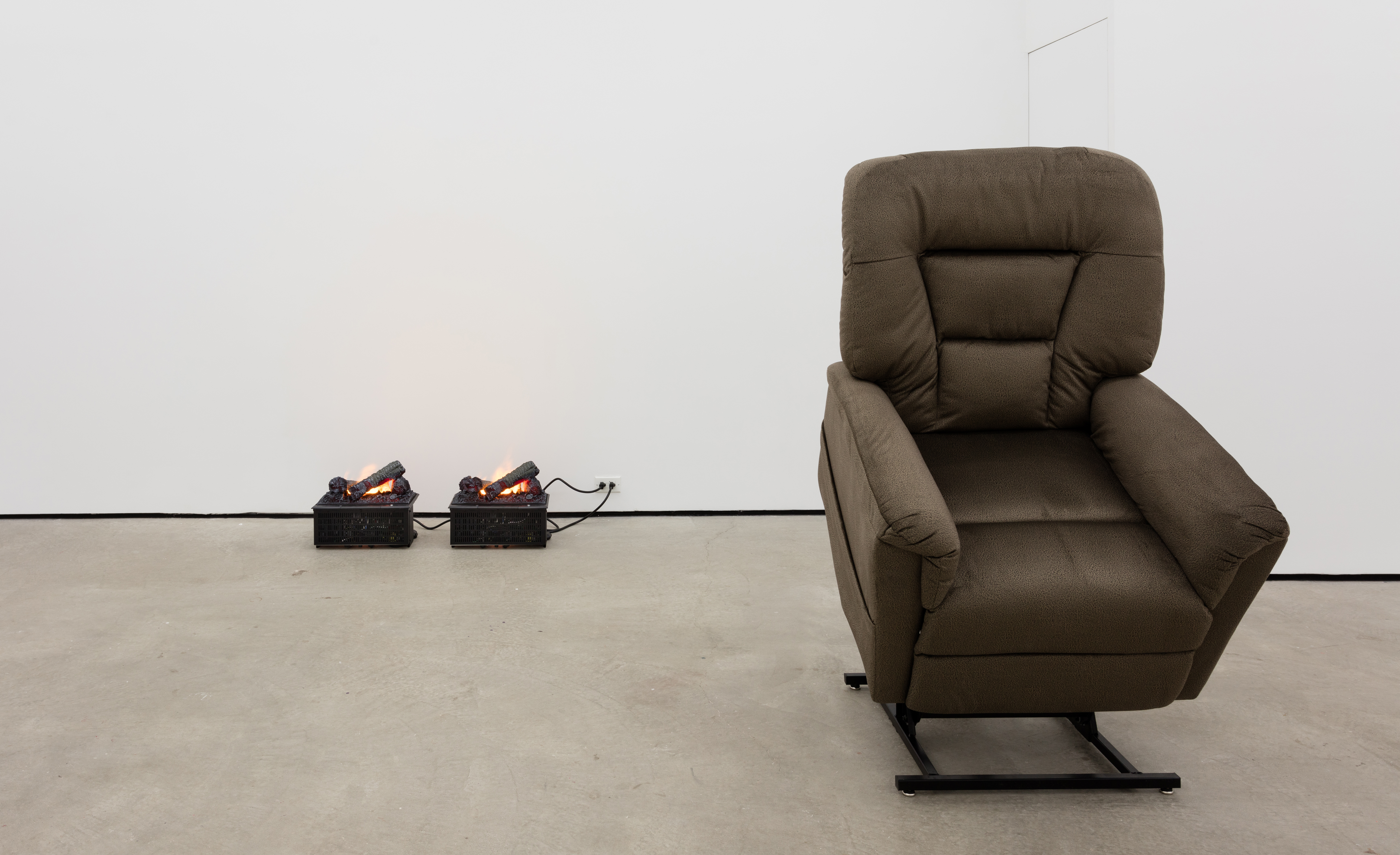 Essex Street, Carolyn Lazard "SYNC" (through October 17) For the 2019 Whitney Biennial, then-MFA student Carolyn Lazard created Extended Stay, a work that employed a hospital-room TV arm-mount and program the artist developed for the sculpture to channel surf throughout the show. Lazard's latest presentation, "SYNC," at Essex Street highlights the link between environmental injustice and chronic illness, a through line for Lazard, whose experience of disability also informs their practice. "SYNC" is a singular opportunity to absorb ten free-standing sculptures from Lazard's important emerging voice.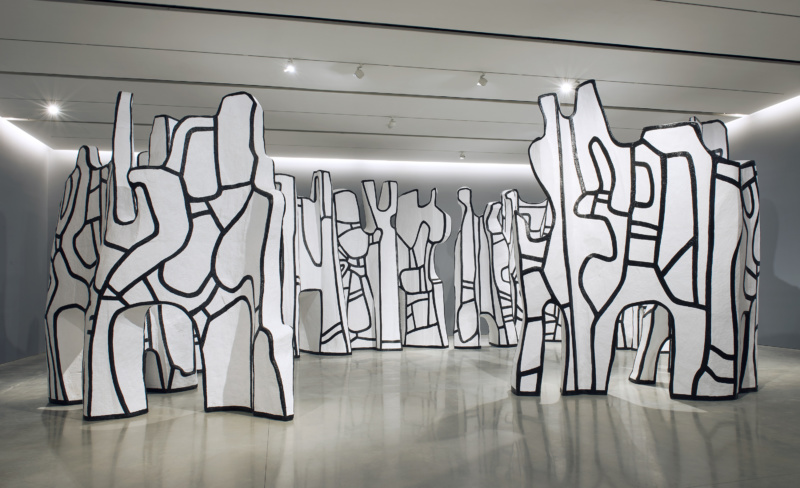 Pace Gallery, Jean Dubuffet "Le cirque" (through October 24) "Le cirque" is everything New York needs right now. The immersive black and white sculpture on the first floor of Pace Gallery will transport you to an Alice-in-Wonderland-esque place by way of a thirteen-foot high urban artscape by French master Jean Dubuffet that feels tailor made for the twenty-first century (pro tip: put your iPhone away and soak it in). "Le cirque" marks a crucial moment in the artist's iconic career—an architectural Shangri-La—and is one of his last remaining works from the late 1960s and early-'70s to be realized at breathtaking scale.