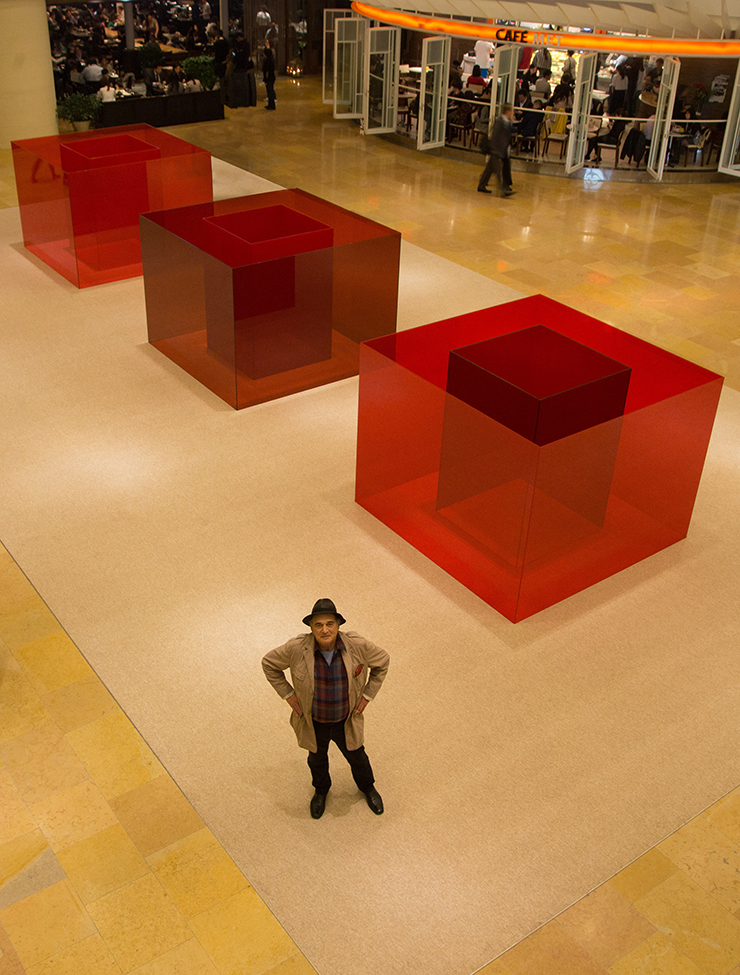 Larry Bell's artistic practice revolves around a very specific migratory pattern. For three weeks at a time, he lives and works at his home studio in Taos, New Mexico—the site of an enormous piece of machinery that he uses to vacuum-coat various materials (these days, primarily Mylar, paper and laminate films) with a metallic, iridescent sheen. From there, he takes a 14-hour drive to a second studio—a neo-baroque former Sunday school room rented from the aging Christian Science congregation next door—in Venice Beach, California.
"I decided that being in different places gives the work a positive thrust," says Bell, wearing his usual cowboy hat in his Venice studio and praising the space's "karma." Venice is where the art takes shape: He assembles the shiny components into sinuous, semi-figurative collages. He'll also sometimes hang them from the high, ornately decorated ceiling as "light knots," luminously curved sculptures that function as mobiles.
For Bell, 76, this itinerant system has run like clockwork for more than a decade—that is until recently, when the resurgent interest in his work disrupted the flow of things. In 2013, Bell started on a series of solo exhibitions with White Cube that brought him to London, São Paulo and Miami. Earlier this year, he'd been traveling back and forth to New York for Hauser & Wirth's "From the '60s," a five-decade survey of his career on the Upper East Side. And in March, he flew to Asia to install Pacific Red—three large-scale, iridescent red glass boxes commissioned by United Talent Agency's fine arts division—for the behemoth Hong Kong shopping center Pacific Place.
The current excitement surrounding Bell's work is reminiscent of his early career. In the 1960s, he was an essential part of the small but potent Los Angeles art scene, on the roster of the storied Ferus Gallery that represented the likes of Robert Irwin, Ed Ruscha and, later, East Coast artists Andy Warhol, Robert Rauschenberg and Roy Lichtenstein. His work has been labeled Minimalism, Perceptualism and Light and Space. ("Does that even exist?" he asks. "Everything is light and space. There's nothing that doesn't qualify.")
Bell's initial dream was to become an animator; in 1957, he enrolled in the Disney-owned Chouinard Art Institute (now CalArts), but quickly lost interest. After less than two years, Bell left school and never returned, opting instead to make art on his own terms at the suggestion of one of his painting instructors, the legendary artist Robert Irwin. As a young artist working a side job in a picture frame shop, he had developed a fascination with glass and began incorporating it into his work. In early pieces, he would insert glass directly into his canvases, which often had their corners cut off to create the outline of a cube viewed at a three-quarter profile. His fixation on glass' ineffable qualities—its simultaneous ability to both reflect and transmit light—led to various improvised forms that played with viewers' perception. He would scratch the silver backing off of mirrors to create checkerboard patterns of transparency and reflection, and these pieces ultimately evolved into his most iconic works to date: the glass box.
Bell quickly skyrocketed to fame, not only at Ferus but also on the East Coast, where his first solo exhibition at Pace Gallery in 1965 sold out completely as soon as it opened. "He was a fucking rock star," says former White Cube senior director Graham Steele, who brought Bell onto the gallery's roster, and later organized the Hauser & Wirth survey of Bell's work when he was appointed senior director of Hauser Wirth & Schimmel last year. Although New York's climate didn't suit Bell, he became close to its artists, counting Frank Stella and John Chamberlain as some of his best friends. By chance, in the Bronx, he met a man who sold him the nine-ton vacuum chamber he still uses today.
Bell's work continued to evolve; he deconstructed the glass box and began building his Standing Walls using corner panels partially coated in a metallic sheen. This experimentation, however, led to the dissolution of his relationship with Pace as his work grew; the gallery deemed his 1974 56-panel adjustable glass structure, The Iceberg and Its Shadow, simply too big to exhibit. "And so he said, 'Fuck off, I'm done,'" according to Steele. The previous year, Bell had acquired a parcel of land in Taos from a collector in exchange for a sculpture. He moved himself and his vacuum machine, again, to make art on his own terms. Despite his break with major gallery representation, Bell continued to experiment in his studio. Using his machine, Bell started to transfer the qualities of glass to other materials, playing with reflections on paper and Mylar, and also dabbling in furniture design and bronze sculpture, all while raising three children.
The Hauser & Wirth show this winter unearthed works of his that had not been shown since the 1970s. "It traces his legacy of geometry and of improvisation, and his interest in space, dimensionality and illusion," according to Steele, who cites Bell's influence in the works of younger artists from Dan Graham and Sam Falls to Dan Colen.