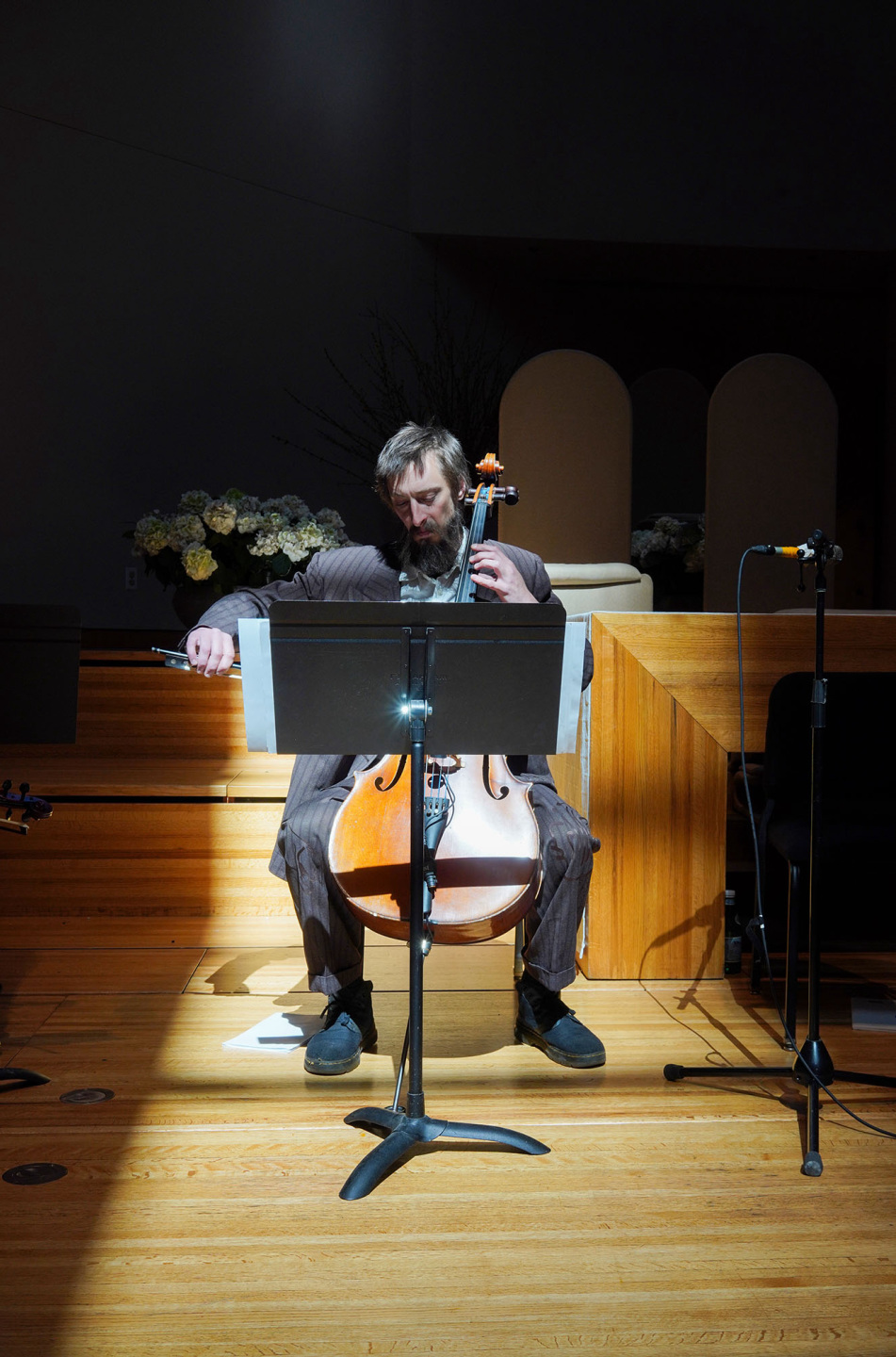 It's been more than a few years since the last Child of the Church production, but finally, a new work by the company has arrived. "Spirit and Soul Become Confused" was helmed by director and vocalist Lucia della Paolera in collaboration with composer and producer Gobby, running for two nights at Saint Peter's Church in Midtown Manhattan last weekend. The new production was supposed to debut back in 2020 as the sequel to their first, "my heart swims in blood," 2019, but some biblically sized obstacles got in the way, including a global pandemic and a foundation-shaking flood.
"I was hell-bent on having it at Saint Peter's no matter what," recounts della Paolera. People familiar with the corporate-office-plaza-meets-church from the 1970s, either because of its distinctive Massimo and Lella Vignelli interiors, its vexing outsides, or its chapel by artist Louise Nevelson, will sympathize with the executive decision to sit on their hands and wait out the storm.
The building becomes a central character in the ensemble cast of "Spirit and Soul Become Confused," which includes the piece's namesake "Geist und Seele wird verwirret," Johann Sebastian Bach's seven-part sacred cantata. It is woven together with a range of music, old and new, including premieres of music by Gobby, cellist Timothy Rusterholz, and saxophonist Jake Dester, as well as costumes styled by Lester Garcia, laser design by Michael Guidetti, choreography by FlucT's Monica Mirabile, and visual design by della Paolera and violist Justine Lugli. While the show is not exactly a traditional opera, it does meet Richard Wagner's qualifications for a Gesamtkunstwerk—both in its consideration of the whole and of the future.
"In this show, there is a lot of doubling with my physical gestures and what my mouth is singing, what is written in the music and on the church wall. The music, choreography, costumes, the architecture, and neighborhood tell a story set somewhere between a trance and a TED Talk. A midtown cult," says della Paolera. The new piece showcases where Child of the Church is headed—more built-out, site-specific performances by a growing company of collaborators working together to deconstruct the canon and put it back together again in their own image.
Here, Child of the Church co-founder della Paolera offers a walk through of their dress rehearsal with images taken by photographer Gillian Steiner.