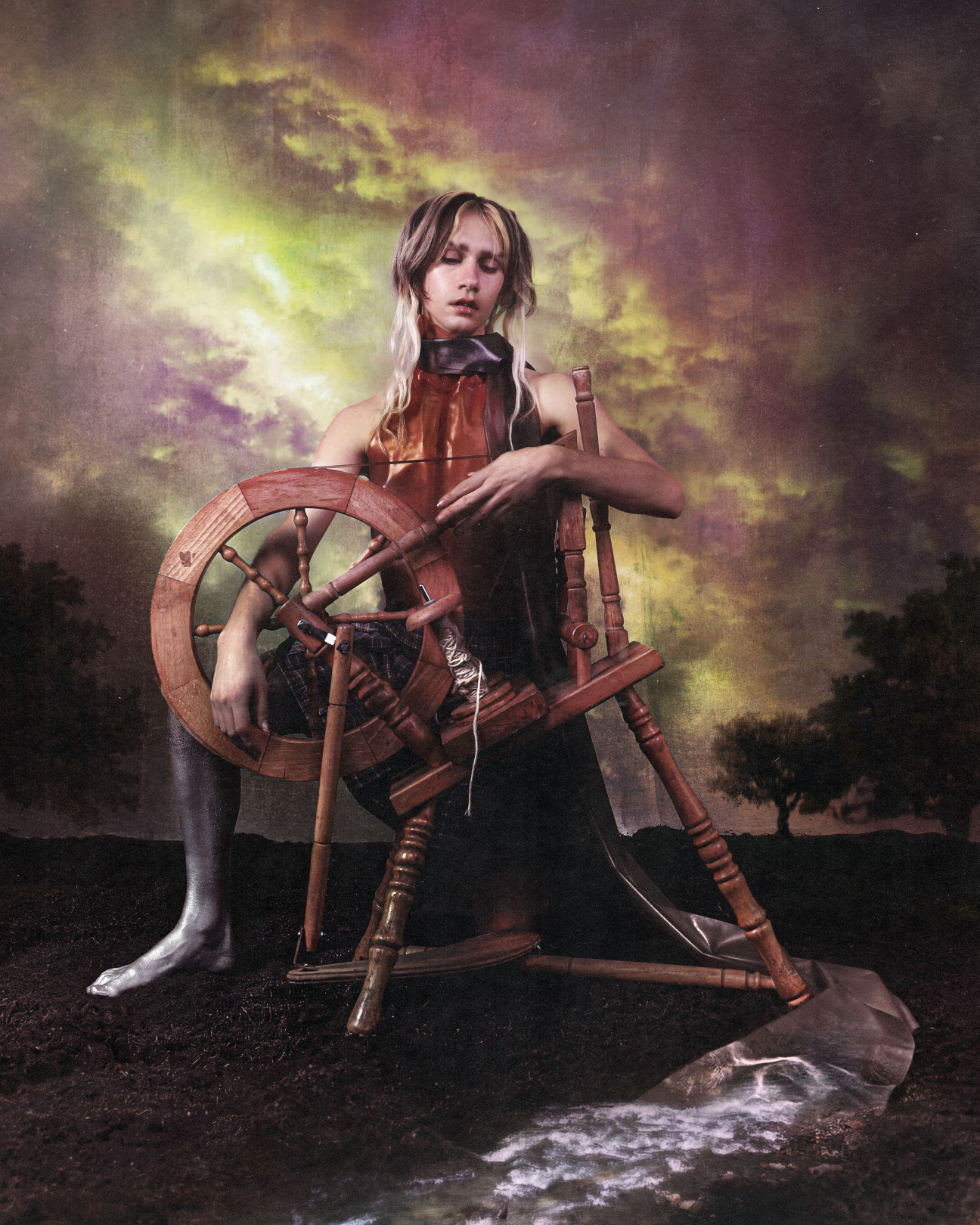 PC Music phenomenon felicita first met Caroline Polachek in the spring of 2017. Polachek had come to London to work with cult producer Danny L Harle on what became Pang, the album that catapulted her into pop consciousness. That summer, felicita and Polachek collaborated on "Marzipan," a single from felicita's first album hej! More recently, the two musical renegades reunited in London, where they shared a studio and made their newest work—Desire, I Want To Turn Into You, which Polachek released this February, and Spalarkle, felicita's sophomore album, out today.
Polachek, who felicita calls a "sparring partner," made a lush, orgiastic album, a billet-doux to all things saccharine. felicita's Spalarkle is, in their words, "against nostalgia." A paean to embracing entropy, it's a brash sonic gesture that features Kero Kero Bonito, OhEm, YoungQueenz, and Polachek. To honor the album's release, the close friends and studio mates let CULTURED sit in on a conversation about the making of their new work.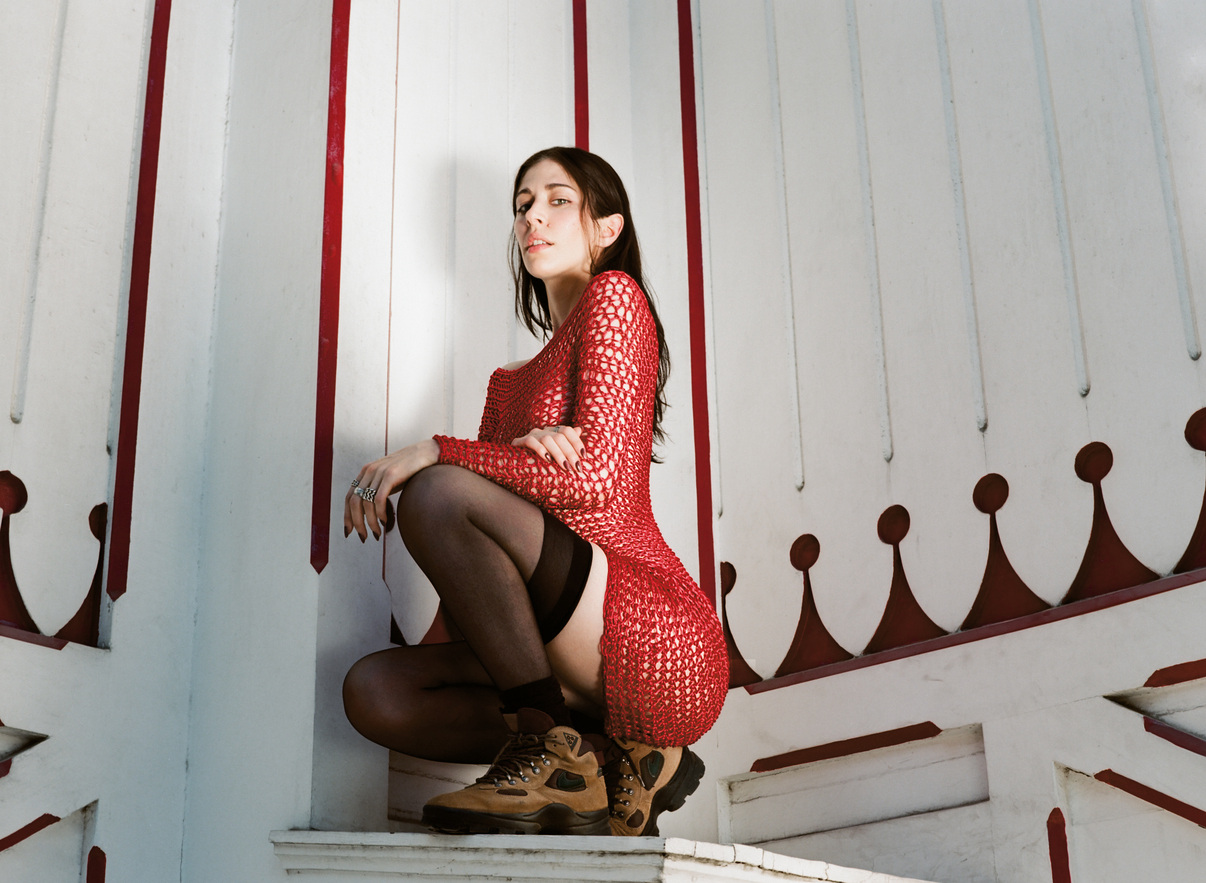 Caroline Polachek: Your music is so confrontational, like an unblinking stare. But as an artist you are very tricksy and mysterious. Is that on purpose?
felicita: A journalist literally asked me this last week, and I was really at a loss of what to say. You and I know each other really well. Do you feel like it's intense? I don't feel like my so-called elusiveness is constructed. I just don't think about the outside perception of me very much. That's why I might disappear for weeks on end…
Polachek: It makes sense to me because I watch how precise you are with sound, like how many months or years you'll prod very carefully at a series of synths until they're exactly how you like before a song is finished. It's like you're making little presents all the time, and the present has to be wrapped up with a little bow on it before you give the present. It's not that you're hiding, it's just that you're wrapping.
felicita: A place where we connect is attention to detail. You've been doing these stories where you relay a list of corrections about a mix or a lighting set-up…
Polachek: The felicita reveal of my Close Friends stories! That's a side of me that I don't really let people see. Comedically, for my friends, I post revision notes all the time, usually just making fun of the fact that I'm a complete nightmare in terms of how detail oriented I am. I say nightmare with a wink because ultimately I do believe in integrity and seeing something through to the very end.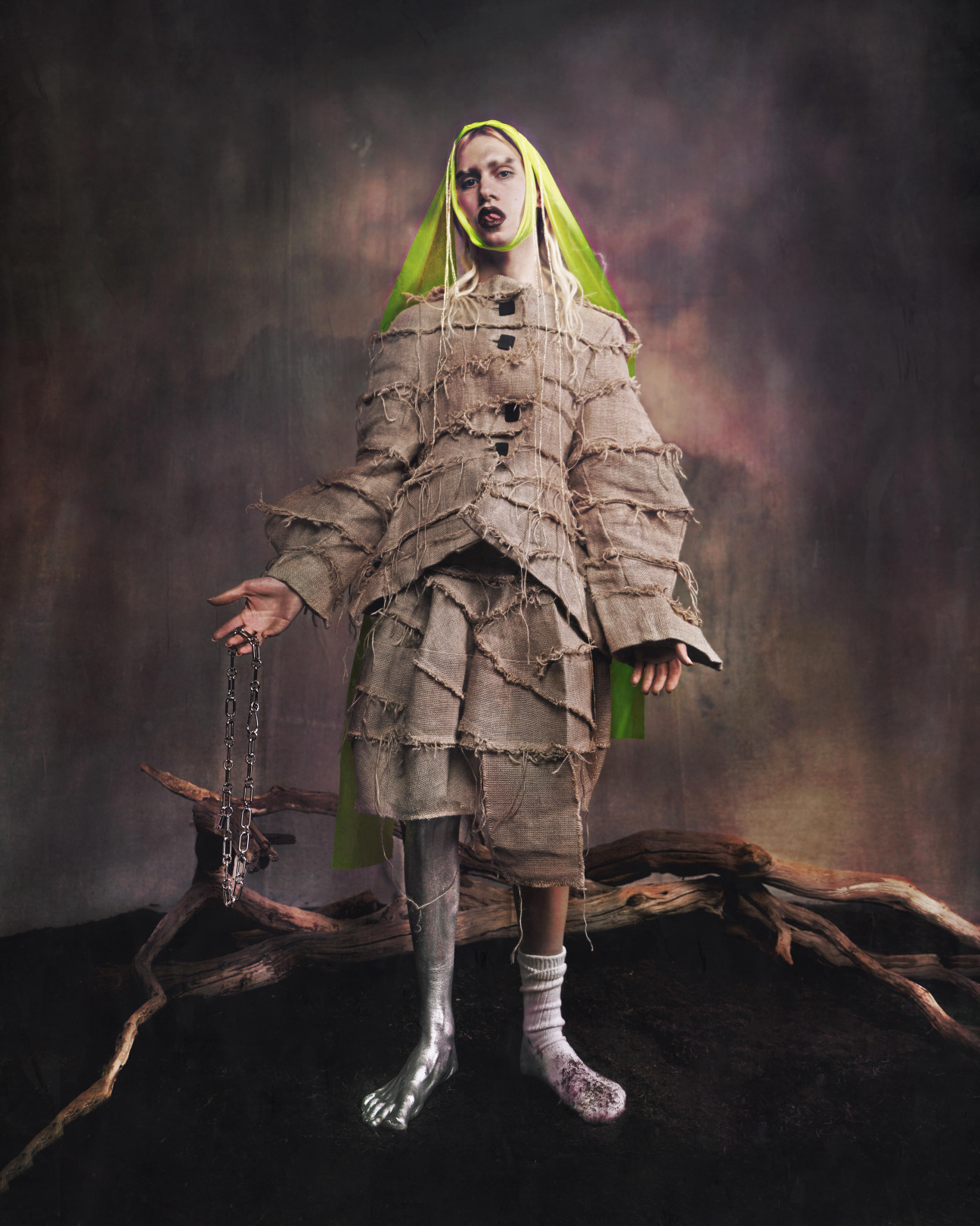 felicita: The reason why I brought it up is because I often make lists of notes like that to myself and also to collaborators. It's also a fear of sloppiness. If what you're doing is already unusual, it feels like it needs to be presented in the best possible way for it to be understood.
Polachek: That's really interesting coming from you because I really feel like you're working outside of any conventions of sonic tradition. Our group of friends gets associated with this idea of hyperpop all the time. Even hyperpop as an idea has a very specific set of audio tropes. There's the sped-up vocal, the "pots and pans," the metallic sounding drums, the Sophie samples…
felicita: Hard auto tune.
Polachek: You're not doing any of those things. I don't even feel as if you're working within the tradition of "experimental music." You've really invented your own approach to synthesizers that's very tingly and often very abrasive, but uses high frequencies in a way that has an insane clarity to it.
felicita: If I can detect a reference in something I'm making, it bugs me to the point that I'll delete the song or the idea. Maybe that comes from having been a really avid listener for such a long time. I'm only going to make things if they feel exciting to me. But we don't create totally without reference. The song "Spalarkle (Alys)" is a bit of an ode to a particular song by My Bloody Valentine. It's undeniable, but I've kind of hidden it well enough that it feels justified.
Polachek: It's funny you reference them because I remember Kevin Shields once saying that early My Bloody Valentine was essentially a cover act. He was defending covers and genre impressions as a really valid way for young artists to learn. Do you consider yourself to have any heroes?
felicita: Heroes is a big and slightly dangerous thing, but there are a few artists who make me feel better about the way I act. I went really deep into the life and work of [Martin] Margiela in the past year, really learning about the way his mind worked. Sometimes I'm like, Why does everything have to be so difficult? Why is everything so confusing to everyone? And then you find these figures who did it to that level and were stubborn about it. Do you have anyone like that?
Polachek: I think it was actually two artists who I worked for as a studio assistant. One was the painter Kathe Burkhart, who I lived with and assisted for three years. Watching her be extremely stubborn in the face of curators and buyers and the market and her own legacy-building was very inspiring for me. [The other is] the artist Carol Bove, who's a sculptor but whose work is ultimately very conceptual. Watching her be extremely rigorous and fastidiously organized as a form of her art practice… Even her file folders that I'd have to maintain were organized in a way that was aesthetically consistent with her work. She refused the difference between backstage and onstage essentially. I don't feel like I've arrived at that total integrity, but I would like to.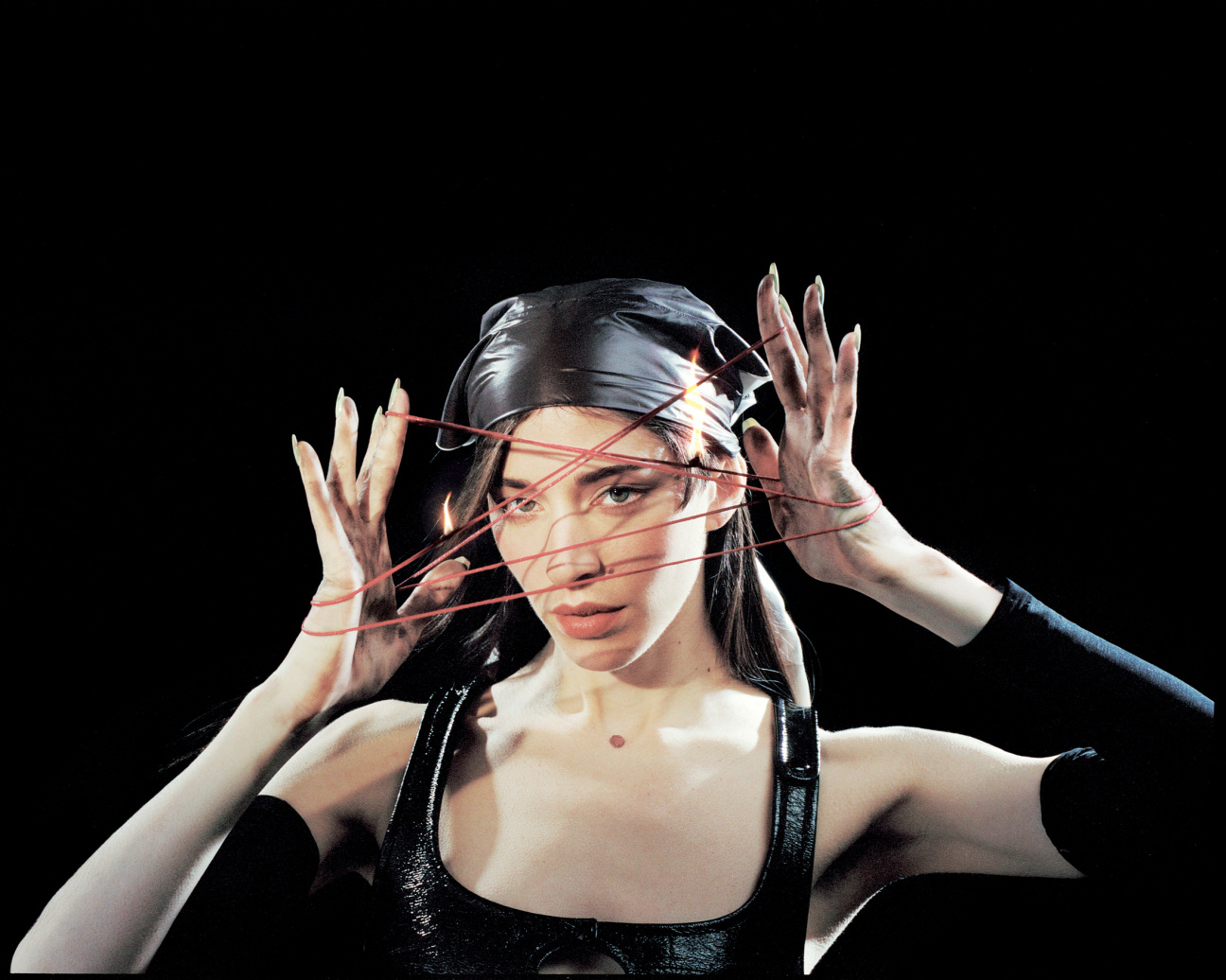 felicita: We shared a studio in London during the making of both of our records starting in February 2021. It was a funny situation. We didn't often share the space physically, but we had this game where we had a sweet jar and would pop sweets in it for each other. Sugary gifts!
Polachek: The studio became so filled with our own little talismans. I brought in my glass cornucopia filled with glass grapes that I had used, not knowing it was going to be the cover for the "Billions" single yet. I just knew that somehow it was very linked symbolically to the album—this idea of dilating, of opening, and of hyper abundance with the grapes. And this very toy-like feeling. You brought in a theremin. I got in the habit of watching volcano live streams on my computer while I was working on stuff. I had two windows open, one of Mount Etna and one of Fagradalsfjall erupting in Iceland in early 2021.
And we had these LED colored lights in the room. I would always keep them in red and amber tones, and I had the sense, when I'd turn them off for the day, that Felicita would come in and make it look different. The studio had two identities that were kept a bit secret from each other. I felt like mine was warm and earthy and spicy and red somehow, and yours was operating on this ultraviolet, high frequency alien mode.
felicita: I had basically arrived from living in Shanghai for two-plus years straight back into West London. We had this studio and I had gotten really besotted with this idea of bringing back psychedelia. There was a time when London was this psychedelic playground of pop music and experimentalism, and a lot of that was fueling what I was going in and doing every day. I was also microdosing fairly regularly then. Someone asked me recently how useful that is, and I would say the only thing it's good for is calming you down to the point that you can try something.
Polachek: You and I speak about Syd Barrett a lot. He wasn't microdosing—he was actually just completely mentally unstable towards the end—but do you feel any connection to his legacy?
felicita: He was a childhood hero of mine, to the point where my brother and I got hold of acid when we were 13 because we were so obsessed with Syd Barrett. It was confiscated from us, but it kind of went a bit out of control. One connection is to his guitar playing, which is a bit of a forgotten legacy of his. It's way more celebrated in Japan than it is here. Another thing is the fact that he didn't study music. He looked at music in the way that he was looking at painting or a fairy tale.
Polachek: You're playing guitar in the "Spalarkle (Alys)" music video, but the song doesn't actually include any guitar. You're taking these capital-V vibes from a certain kind of guitar style, interpolating them onto the synth, and then visually projecting them right back onto the screen.
felicita: We do perform it live with guitars. I kind of forgot about the guitar for a long time. It's really only in the past year or so that I've gotten back into it as a writing and recording tool.
I came to piano fairly late, so my muscle memory isn't great, but I also started to feel really frustrated by how rigid it is. So I think I drifted back to the guitar because I was like, 'I want more control.'
Polachek: You want to be the rockstar! The floral sun lamps on the cover of Spalarkle are either abducting or feeding the small green creatures. They have these very beautiful tits, and I just want you to weigh in on tits.
felicita: Tits are a big deal to me. That's all I'll say.
felicita will perform Spalarkle live at The Lower Third, London on June 16, 2023.