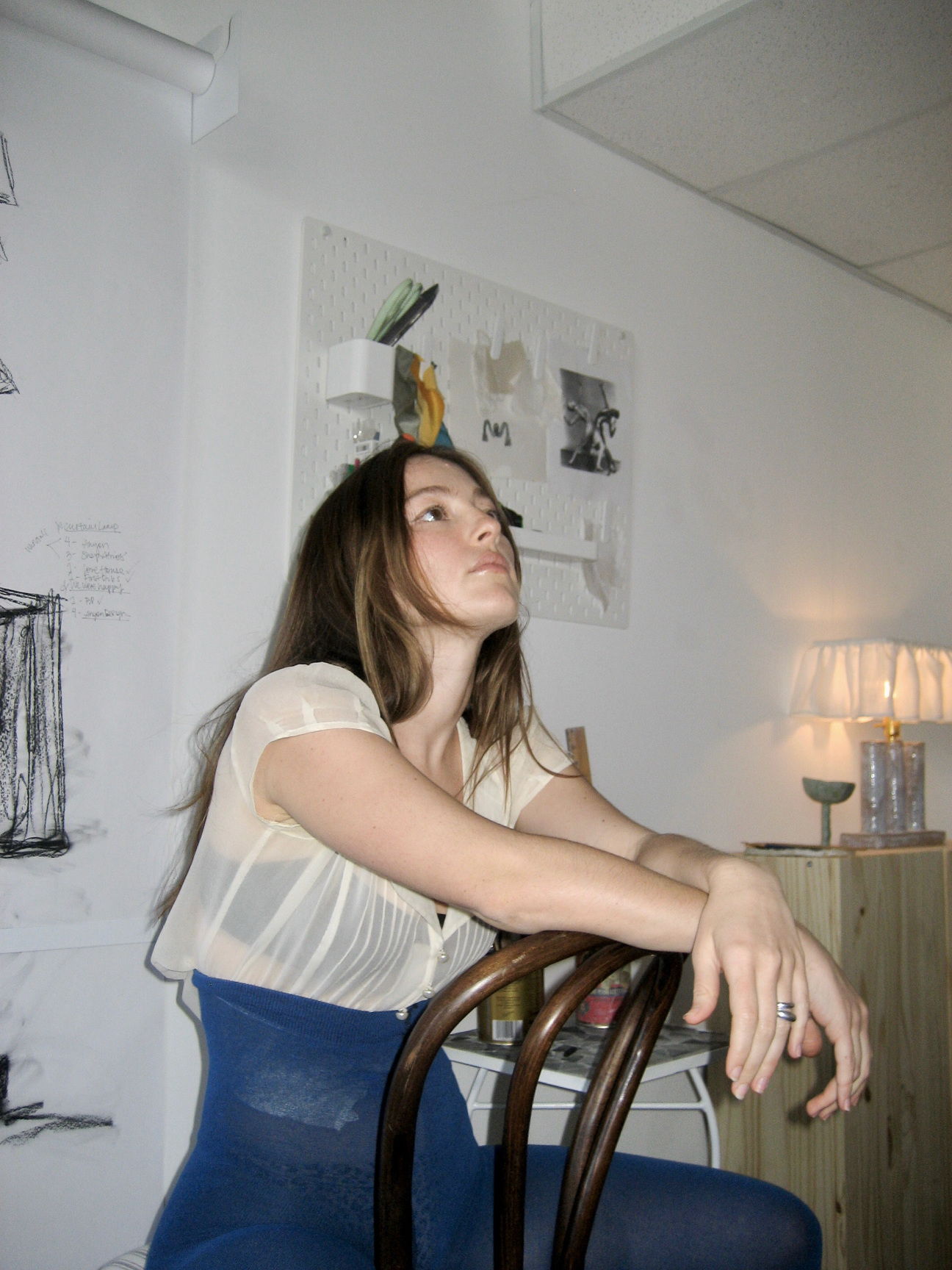 Most children grew up manning lemonade stands. As a child, Analuisa Corrigan operated an art stand, hawking her watercolors to passerby on the sidewalk. It was a fitting start for the multi-hyphenate designer, who now works across ceramics, spatial design, functional design, and more recently, lighting design. Following the inclusion of her work at the Studio Giancarlo Valle annex during Frieze New York, we spoke with Corrigan about what inspires her, how she uses Instagram and YouTube as tools, and why she is so drawn to taffeta.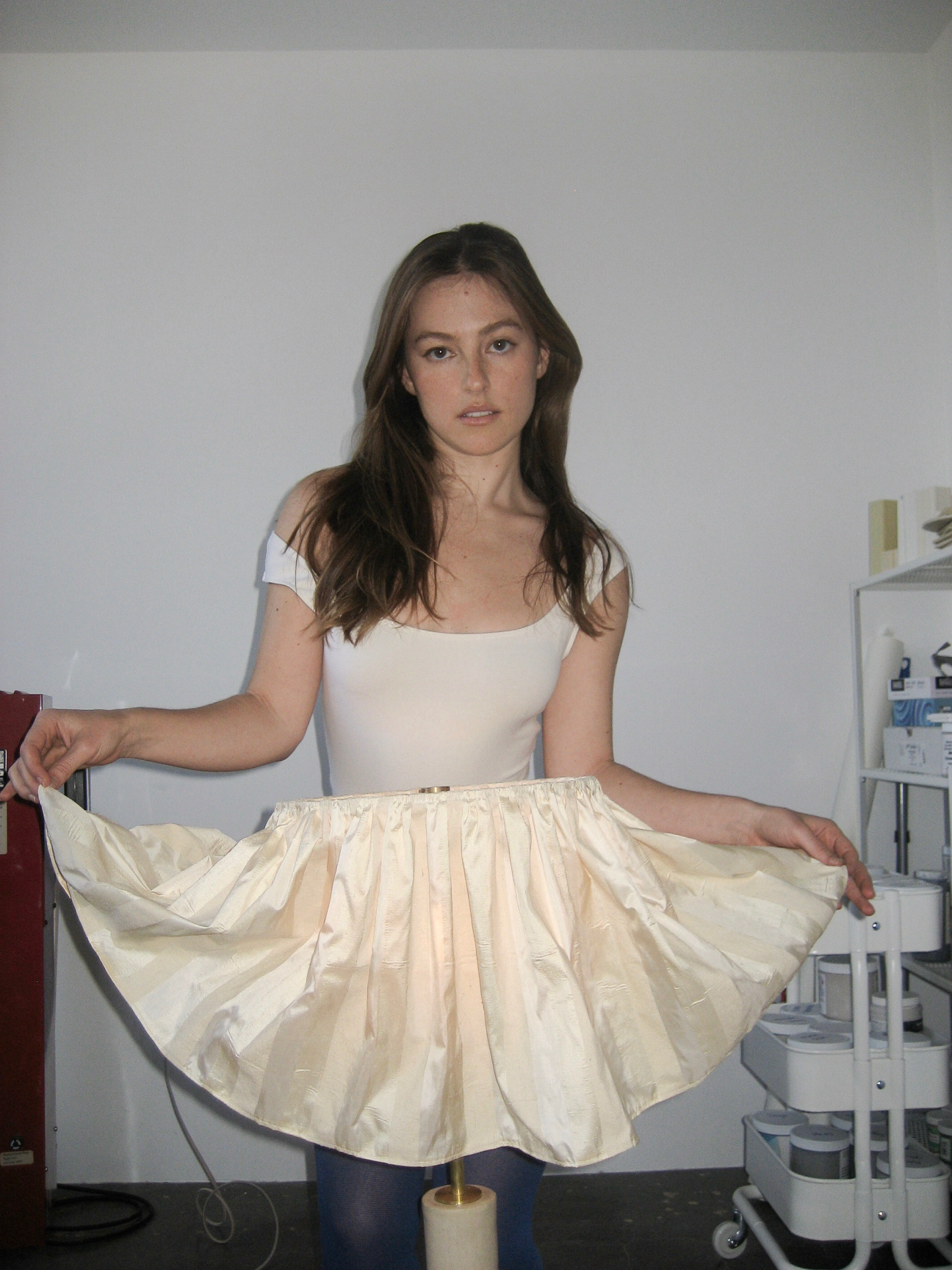 CULTURED: Where did your interest in the arts begin?
Analuisa Corrigan: This may sound cliche, but I've expressed myself artistically as long as I can remember. Most of my childhood, it was just my mom and me. She refused to have a TV in the house, so we were a very serious crafts and dress-up household. When I was 7, I made still life watercolors on small pieces of paper. I would frame them with popsicle sticks and sell them outside of my apartment—like a lemonade stand but without the lemonade. I only sold two, and I'm pretty sure one was only because the customer wanted to ask my mom out. I dedicated a lot of time to drawing, oil painting, and printmaking throughout high school and into college. I also grew up visiting my dad on tour with the Alvin Ailey American Dance Theater. He was their carpenter turned technical director, so I got to be part of their little world. Being surrounded by talented dancers, choreographers, stagehands, lighting and costume designers—I was able to view the arts as a tangible and worthwhile career path.
CULTURED: How did you decide to pursue ceramics after studying communication design?
Corrigan: I went through that classic college moment when you realize you actually hate what you've been studying for years. I was feeling unfulfilled staring at my laptop all day. I felt like I had a lot of limitations with digital design, and wanted to explore a new medium. I bought a bag of clay and started making pinch pots at home. I became obsessed with the material and process, and decided I was going to give my free time to it.
CULTURED: I read that you learned to work with clay off of YouTube? What was that like? Any video recommendations?
Corrigan: YouTube is too good. There are endless videos of sweet potters making the most detailed tutorials in their garages. You can really find anything you want to know about ceramics.
When I was first starting, I couldn't afford to take wheel throwing lessons. I would put in headphones and play videos at the studio, pausing and rewinding an obscene amount of times, learning to throw at my own pace. You really can learn so much. I'm still using YouTube for kiln tutorials, wiring help, glaze questions, etc.
CULTURED: Can you tell me about your new LA studio?
Corrigan: I'm now based in LA full-time. I even (reluctantly) drive now. My new studio turned out better than I could've imagined. It's on mid-Wilshire, has great natural light, and I hate that I'm saying this, but it's five minutes from an Erewhon… so basically I'm working a lot while simultaneously going broke because I'm addicted to their $20 chicken burritos. But seriously, after working in a communal studio for so long, I appreciate having my own space. My production has been steadily increasing. I love having clients and friends come by the studio without having to coordinate around other people. I'm able to fire at my own pace, which is always a game changer. I'm able to bring my dog. I can force my friends and family to FaceTime me without bothering anyone. Most importantly, I'm able to have full on conversations out loud with myself. Big audiobook girl now.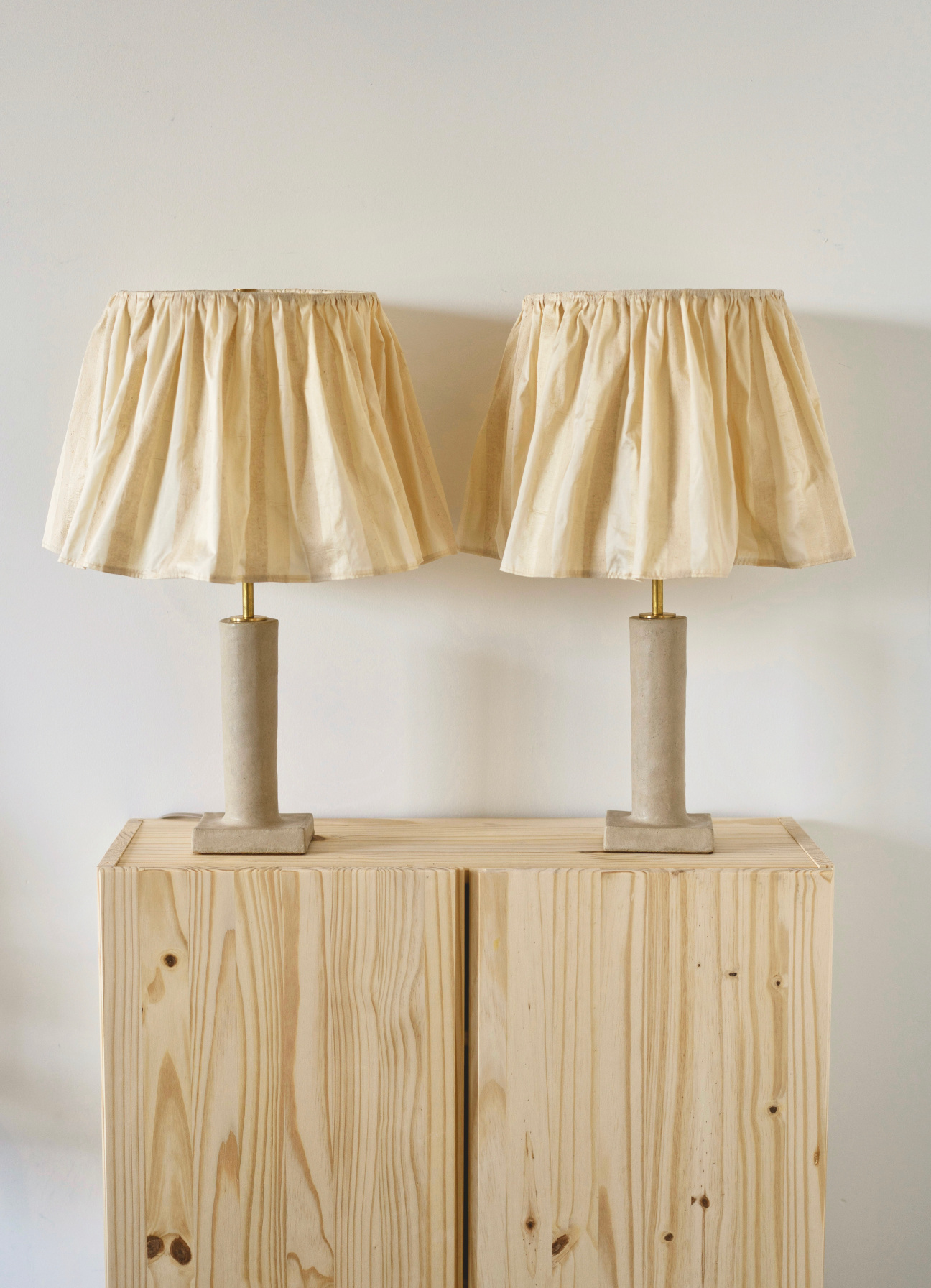 CULTURED: Every studio is a reflection of the artist and the kind of environment they need to work. What sort of space were you aiming to create?
Corrigan: It's definitely more of a functional workspace than a curated showroom, or something like that. It's basically 600 square feet of shelves, work tables, sculptural pedestals, and my kiln. Ceramic dust can be toxic to inhale, so it's really important that it's kept clean; I'm really disciplined about mopping and wiping down surfaces. Aside from that, it's a bright, relaxing space that very much feels like me.
CULTURED: What made you land on lamps?
Corrigan: During my freshman year in college, I interned for a theatrical lighting designer. It was the first time I recognized how essential lighting is to a performance. It's one of the first things an audience receives to set the tone and intention. I was very much inspired to create work that could influence different spaces.
During my senior year, I was taking design history electives that focused heavily on mid-century modernist furniture and sculpture, which really initiated my move toward functional design through a ceramic medium.
CULTURED: I read that you sometimes feel pressure to keep up with Instagram as a facet of your work. Is that true?
Corrigan: I think that's pretty common for everyone. There's that looming pressure and anxiety I put on myself because I'm constantly absorbing so much content. But as much as I'd like to complain about anxiety surrounding social media, it's an incredible platform to self-publish. I've been able to share my work without waiting for in-person opportunities.
CULTURED: People often come to your page for work, lifestyle, and relationship content. How do you feel about sharing that side of things?
Corrigan: I honestly don't think about it all that much. I mostly just post work and bits from my life here and there that I feel comfortable sharing.
CULTURED: It seems like joy is a constant throughout your pieces: joyful shapes, things people would enjoy using. Do you see that as a core part of your work?
Corrigan: That makes me so happy to hear because that is always my intention. I used to feel a lot of pressure within the interior design space to create sophisticated works—works that were more serious and took up less space. I've been trying to reject that and lean into designing pieces that bring me (and hopefully others) joy, that exude playfulness and celebrate simple things that inspire me. I've been really into drawing inspiration from flowers lately, especially larkspurs and carnations. There's a feminine and childlike side of me that gets excited by things like prevalent ribbons and opulent, ornamental accents. Damask silks and taffeta… I love it. When you start to play around with light and fabric, you can create special moments and change a space for the better.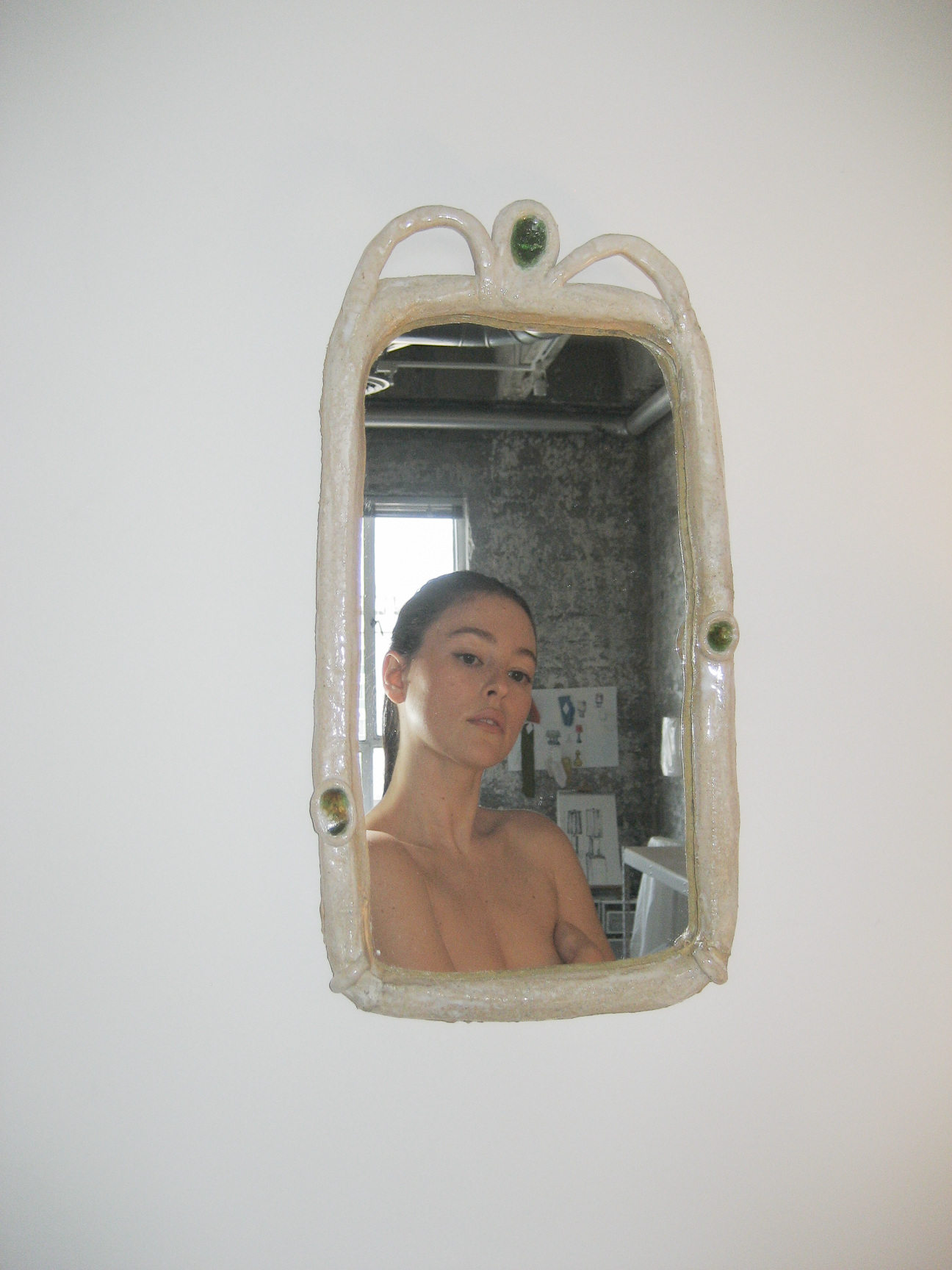 CULTURED: Can you tell me about the show at the Studio Giancarlo Valle annex during Frieze?
Corrigan: Giancarlo Valle is a designer I've been admiring from afar so I'm geeking out that I'm making pieces for his showroom. All of his interiors are so unique and dreamy. I made two Curtain Lamps with a creamy, beige glaze and sourced a detailed dead-stock silk for the shades, a bespoke mirror with melted glass accents, and a scallop-edged butter dish.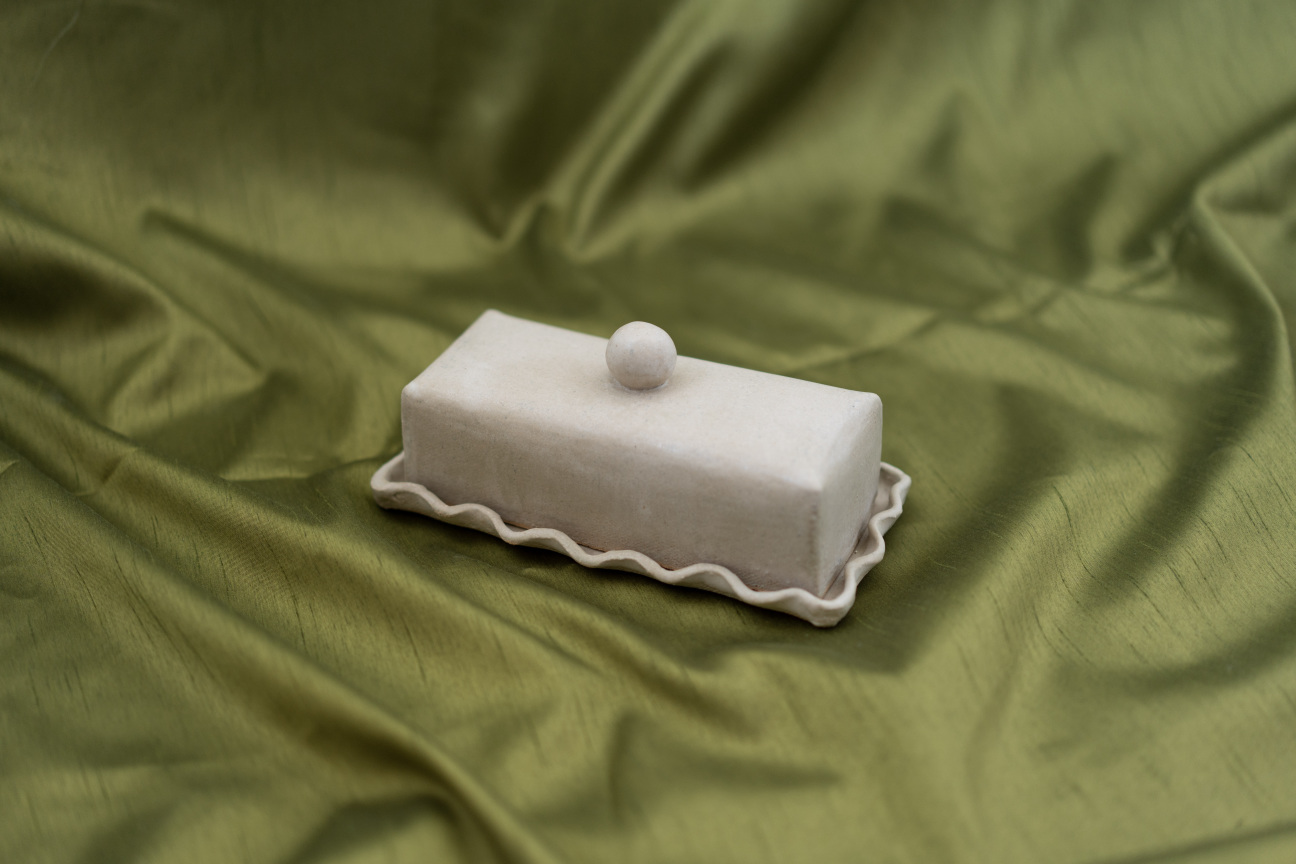 CULTURED: What else are you working on right now?
Corrigan: I've been lucky enough to create work for Jeremiah Brent's team, including residential installations and his new showroom Atrio. If you haven't been, I definitely recommend it.
Lately, I'm spending time designing mirrors, experimenting with glass, and shifting a lot of my focus to sourcing unique fabrics. I have something very exciting coming up with Wooj, a lighting design company based in Brooklyn. We will be producing a 3D-printed version of my mini Scoop Lamps as a collaboration. This will allow me to sell work at a price point available to a wider audience, which is something that I've always wanted to do. They should be coming out sometime this fall, so keep an eye out!