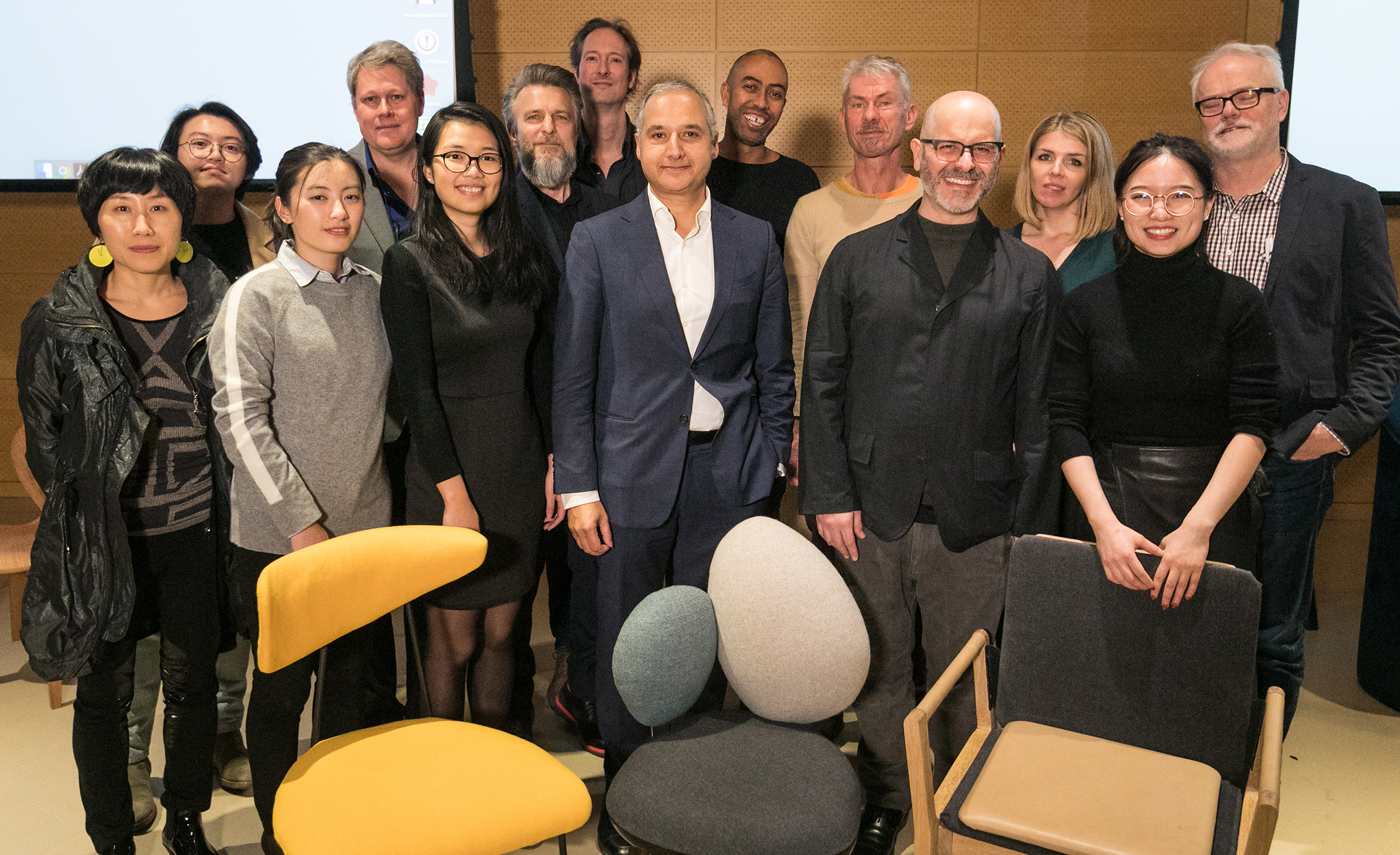 Last fall, Roche Bobois partnered with Parsons School of Design at The New School for the fifth edition of the international luxury furniture brand's Design Awards competition, in which students compete for the chance to have their prototypes manufactured and brought to market. This year's theme was Seating for Eating, and two teams tied for first place: Weiran Chen and George Plionis for their Cairn stone chair and Lorraine Chen and Po Yuan Wang for their Plus One extendable chair.
Your background in design really indicates a sensitivity to functionality. What aspects of human behavior did you consider when developing the Cairn chair?
Weiran Chen:
We considered the interaction between people and body movement during the dining experience. Peter Opsvik said, "Our muscles are designed for dynamic movement and not well adapted to static strain." The dining experience involves more than eating—it involves constant movement. From the start, we have been inspired by natural formations. We explored simpler organic forms, while figuring out how to balance body movement when the body is applied to the geometry, and how comfort is achieved by balancing the body with the natural formations of the chair.
The difference in the kind of interaction with jewelry and with furniture is significant. When designing the Cairn chair, how did this dichotomy play a role?
George Plionis:
Coming from a strong "making" background and actively exploring the intersection of craft and design, I found there are more parallels between jewelry and furniture than differences. Many of the ideas around aesthetics, proportions, materiality and human connectedness have parallel correlations between these seemingly disparate design disciplines. For example, considering the details of the undulating leg forms being in the same language as the pebble cushions is not dissimilar to how one might view the elements that need to come together for a piece of jewelry. The point of departure is scale, which, in the context of human interaction, helps to develop a language that allows effortless movement between the body and the environment.
After growing up in the Philippines and then moving back to Hong Kong, what practices of adapting to different cultures do you feel are present in the Plus One chair?
Lorraine Chen:
Objects, like people, have to adapt to different cultures. Resilience—the ability to adapt to different situations—is visible in the
Plus One
chair. Hong Kong is known as one of the most expensive cities in the world; most people can only afford small homes. Therefore, the
Plus One
chair is an expression of resilience: the ability to adapt to the new lifestyle without sacrificing functionality. Being simple and not trying too hard to fit in,
Plus One
is designed to be universal in aesthetic and function.
The instantaneity of the digital age is often marked by rapid change and ephemerality. In what way did this influence your design?
Po Yuan Wang:
In our fast pace world, we often rush from task to task. The extendable table affords space saving in modern environments. But problem solving shouldn't stop at the extendable table, because there are many other things that interact with it. To address the problems of the extendable table, Lorraine and I put that missing piece back in.
Given that the theme of the Design Awards competition was Seating for Eating, what kind of experience are you hoping to generate for someone engaging with your designs?
Chen and Plionis:
Dining is more than eating, it's also a place to connect and socialize. We wanted to encourage human interaction, deepening connections and enticing "play" at the dinner table. We wanted to create a dynamic tension between pebble combinations and freedom of movement. When we arrived on the pebble formations for our chair, we knew we had realized the unique and defining aspect of our product.
Chen and Wang: Plus One encourages human interaction as the chair turns into a bench. Eating is a communal activity and Plus One brings people together for a dining and social experience. By having an additional seat, people can entertain and invite another guest to the party.
Can you elaborate on how you each integrated aesthetic with function in your designs?
Chen and Plionis:
Our challenge was figuring out how to infuse the organic natural forms of pebbles into a chair. It was important to create an illusion that the pebbles were balancing on each other while providing comfort and support to the body. Poetic language was needed to carry this design through to the legs, as was careful consideration of details of where the legs and the base meet. In order to achieve the organic nature of pebbles, we looked into woolen upholstery and millinery techniques that would allow for volume and smoothness.
Chen and Wang: One of the main highlights of Plus One is its function and ability to transform one chair into two; as such, there were are a lot of things to consider. Since the back flips down to become a seat, it was ideal to make the two seats identical for both comfortability and appearance. Certain materials were also chosen to make it more durable. Combining those considerations with Roche Bobois' aesthetic, we delivered a piece that integrates aesthetic and function.