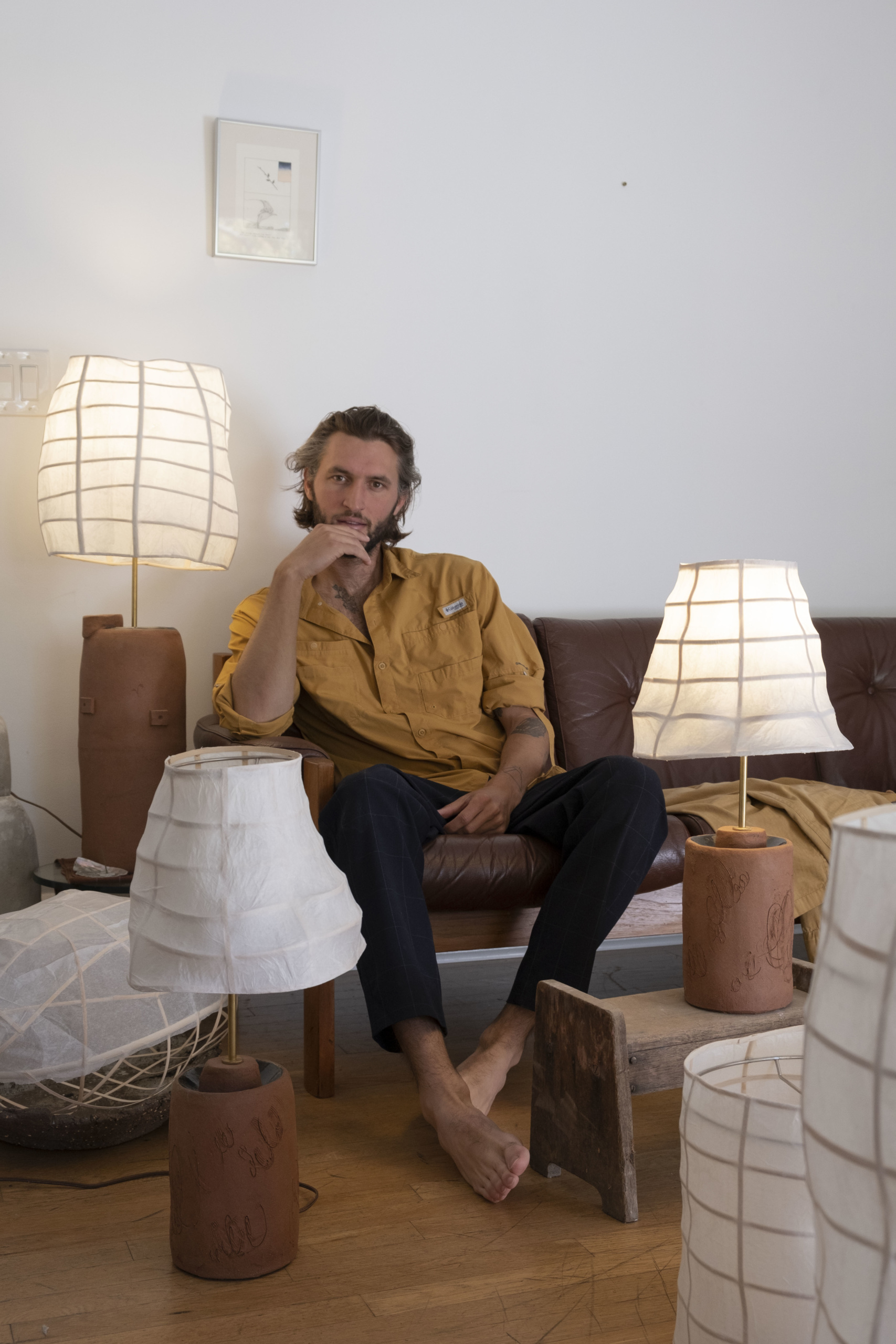 Bennet Schlesinger
"What I love about ceramics is that the most loud experience of working with clay is having your hands in the mud," explains Los Angeles-based artist Bennet Schlesinger of his practice, which toes the line between sculpture and industrial design. "It's earth, air and light and not pushing too hard on what's naturally taking place." After he got his start three years ago in artworks made of mixed media, metal and stone, the natural simplicity of ceramics and the ability to make a beautiful object that functions turned the art maker into a lighting designer. Now, using just bamboo, paper and ceramic, Schlesinger has released a new series of table lamps whose forms marry the old and new of his artistic experiments.
Emitting an expressively framed soft glow and grounded by an organic base, these light sculptures don't distinguish between the two object categories. For Schlesinger, the mix is his sweet spot. "I have a lot of years of experience making artwork so that's my voice and my love and it shows through in the production of these works," he explains. "They're very sculptural but the fact that they have an inherent use is the main drive for me to make them." Using a slab-building technique and a glazing method that emulates patina, the ceramic elements can take the artist three to four months to complete. The layered paper shades are often framed one way and end up another: embracing "mistakes or failures" is something the artist enjoys; it's all process, he says, and leads to new discoveries.
At the moment, he is focused on expanding his repertoire to pendants, chandeliers and floor lamps. As always, function is on his mind when experimenting, something that reinforces his joy in the craft of making. After all, he says, using clay is "a real childlike experience. It's just play." —Elizabeth Fazzare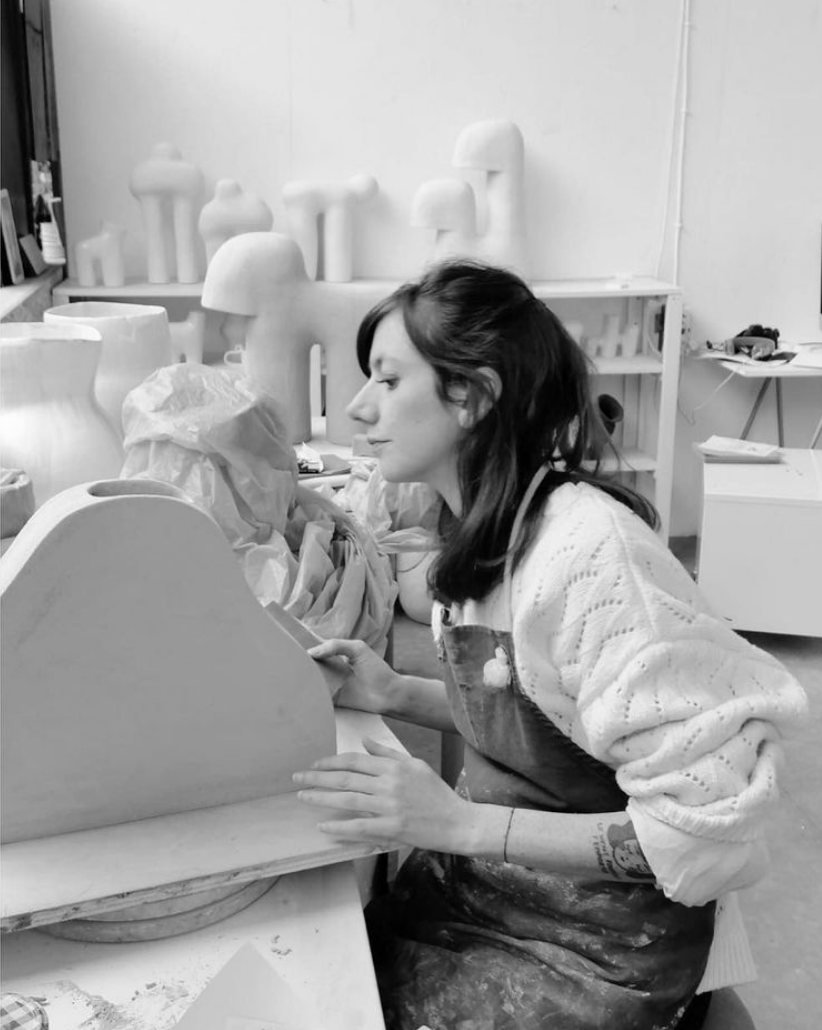 Elisa Uberti
Elisa Uberti is a French designer whose forte is mixing lights with ceramics. Her signature lamps are sculptures first and functional lighting pieces second. Uberti's practice focuses on the entire form of a piece, whether that be one of her ceramic lamps or one of the never-before-seen chairs she plans on firing soon. A cardinal inspiration for Uberti is 20th-century sculptor André Borderie and his designs of the fifties and sixties. She shapes her vision while keeping the organic architecture of the seventies in mind as well. These influences are on full display with her household lighting fixtures that are meant to feel like small illuminating dwellings in their own right. These "small protective houses" are made of white, red and black chamotte, cooked at different temperatures depending on Uberti's desired color. They not only intimately brighten rooms, but highlight the distinctly organic and soft nature of ceramic.
Uberti began sculpting when she was expecting her second child. Being on the brink of motherhood unmistakably informed the rounder and more "heartwarming" shapes reflected in her pieces. This was just the initial flame that ignited Uberti's passion for rounded edges in organic architecture, exploring the idea of comfort in a round universe, similar to the "womb of the mother." Currently, her lamps are exhibited at the Galerie Philia in Walker Tower in New York City and she has an exclusive lamp in preparation for Collectible in Brussels in May. She is also gearing up for a solo show at the end of the year in Antwerp in the am designs gallery. While Uberti has become renowned for her organic, contemporary lighting fixtures, designs with new shapes and new household furnishings are ready to bake. —Rebecca Aaron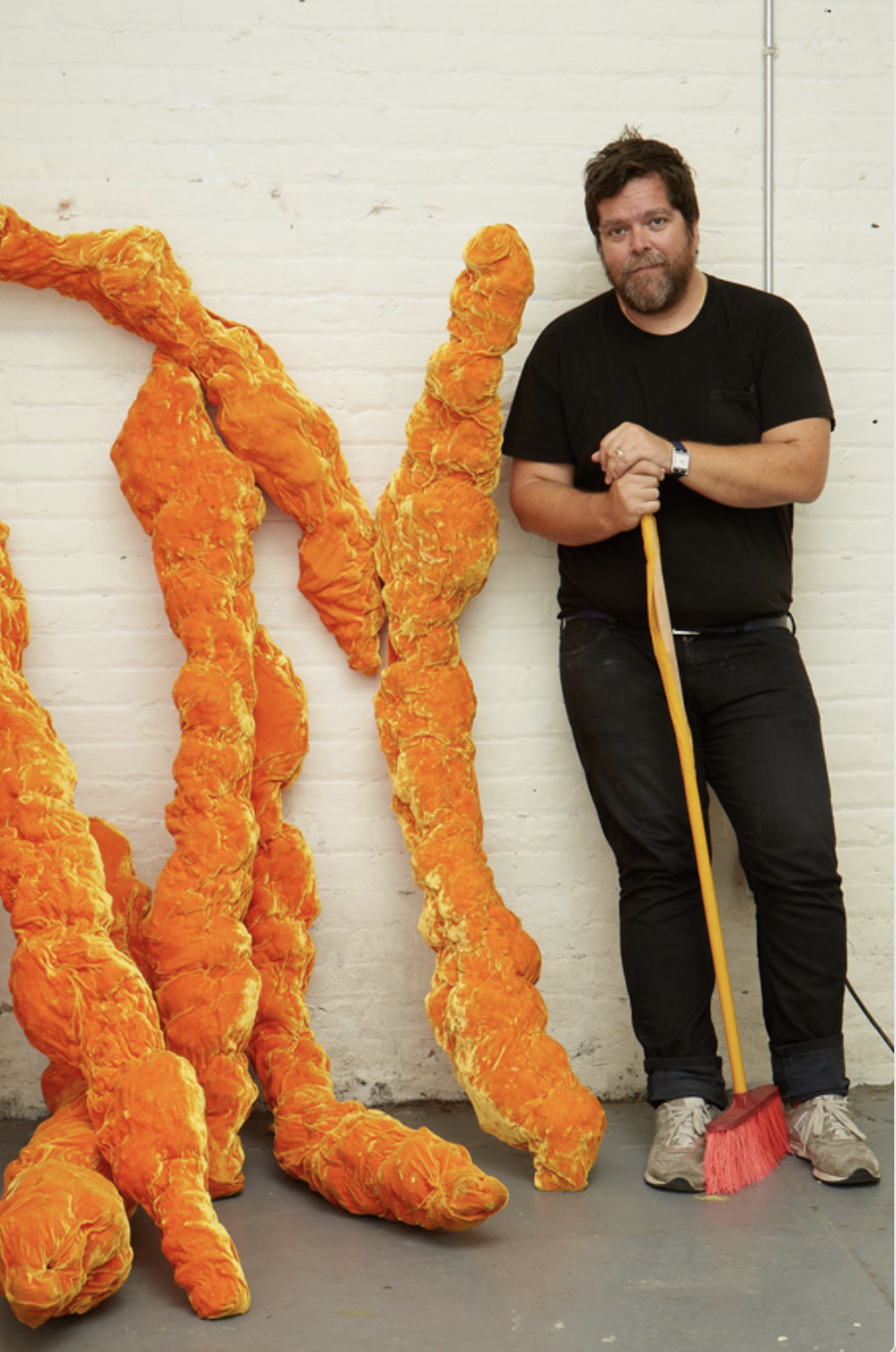 Andy Harman
Andy Harman is in fact not a lighting designer; he is a set designer and sculptor who happens to work with lights. Harman takes the role that lighting and lights play in conventional photography and flips it on its head. Lights are usually offset and used to set a photograph's environment; Harman, on the other hand, has them in frame, on set, as part of the photograph's environment.
Light fixtures of all shapes and sizes are found scattered on set when Harman is at the helm, but they are not the only objects Harman experiments with. He rediscovers everyday objects we take for granted such as rubber bands and 3M hooks. These banal objects, as he calls them, are the focus of some of his sculptures seen in galleries or in his studio. Harman told me he loves a cliché: when there is no light bulb going off for him, he will literally take one and add it to his project at hand to spark inspiration. His work was most recently displayed at Cultured x R & Company's pop-up gallery in Miami, where his Twist Tie lights blurred the barrier between art and home furnishings. Currently, Harman is experimenting with casting his own life-size rubber bands. He plans on incorporating LED lights into them and hopes to create an "ethereal, yet lumpy, and ugly sculptural" display. After having worked in the film and photograph industry for so long, Harman has mastered the art of trusting his own instincts, no matter how bizarre they may be. —Rebecca Aaron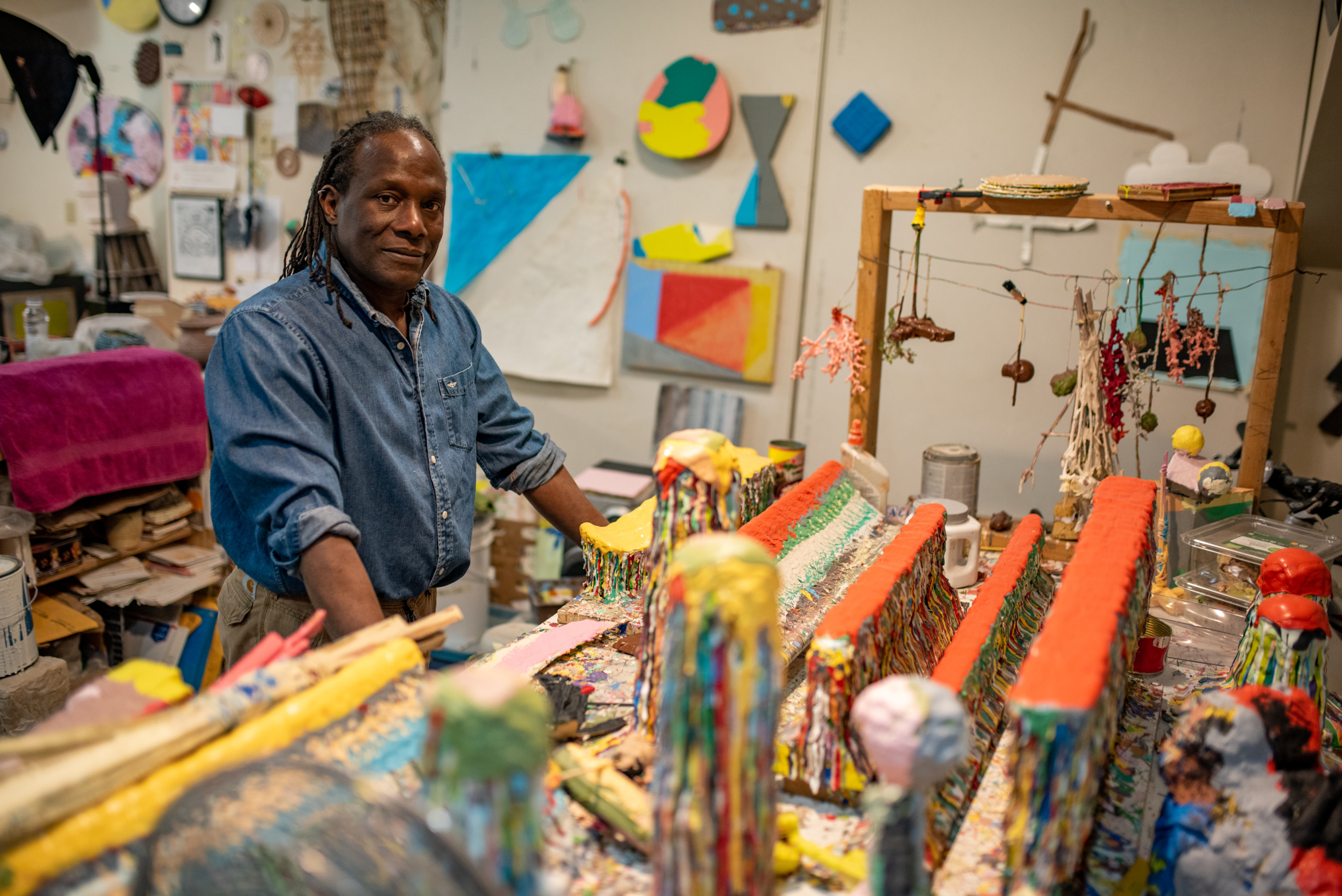 Sam Harvey
Last year, at his home and studio just a few miles into the countryside surrounding Aspen, Colorado, artist Sam Harvey first read the 1947 children's book Goodnight Moon. Its poetic words by Margaret Wise Brown prompted his entrance into the practice of making lights.
Harvey has worked with clay since he attended high school at the New Orleans Center for Creative Arts and found his passion for ceramics while in college, under the mentorship of a fellow ceramist, the late Betty Woodman. Now, in addition to being a practicing artist, he runs Harvey Preston Gallery in Aspen to support the work of like-minded friends in the ceramics world. Harvey's own work is considered and intimate; it displays the hand (and fingerprints, for that matter) of its maker, hewn from the artist's pinching and coiling method. Translated to lighting, this produces sculptural, textural volumes, not unlike the vases and dimensional objets d'art he's known for.
For the "Goodnight House" show on through May 27 at Fort Makers gallery in New York, Harvey has designed five ceramic lamps inspired by the gourd-like table light found in Goodnight Moon's illustrations by Clement Hurd. "I love the metaphor of light," says Harvey of his first venture into lighting design. "How do you structure something that contains what makes things visible? I'm just fascinated with making housing for light or a platform to illuminate."
Although the exhibition pieces were a highly specific commission, they prompted a new area of fascination in the artist; more lighting designs are in the works, he assures us. Experimentation is just in his nature. "The thing about being an artist that I really love is the flexibility," he explains. "The word 'artist' gives me room to do whatever the hell I want." —Elizabeth Fazzare
Trueing
"Like a goldfish, the work grew to fit the size of the studio we had," says Josh Metersky of Trueing, the lighting-design practice he started with his partner Aiden Bowman five years ago in the bedroom of their Bedford-Stuyvesant, Brooklyn apartment. Now based in a new Long Island City, Queens, workshop since September, their hip, slick chandeliers, floor and table lamps, sconces and pendants are imbued with a sense of fun, yet built from a highly engineered, scientific base. Above all, they reveal a celebration of the full possibilities of glass.
"There is an engineered, highly edited quality to the pieces that we make," explains Bowman, and it's certainly a byproduct of its makers' backgrounds. He is an architect alumnus of Bjarke Ingels Group, while mechanical engineer Metersky worked with New York lighting expert Bec Brittain. Glass appeals to the creative pair for its qualities that lend themselves to lighting, but, also, for its challenges and array of possibilities. Though "glass presents the largest, most complex engineering problems to solve," says Bowman, experimentation and precision is the space where they thrive, with an appreciation for tradition but a penchant for the modern: scientific glass, dichroic glass and the like. Their Cerine collection uses hand-bent tubes linked as a chain to levitate dome pendants while a recent collaboration with whimsical Japanese glass artist Baku Takahashi sees his hand-sculpted polychromatic glass bits extending from the borosilicate arms of one of Trueing's Elma chandeliers.
This year, with a few new collections in the works, the duo is currently exploring new materials other than glass, like plaster and stone, and extending its design language. "We're working on making the glass a bit more natural, to soften the curves so they feel more organic," says Metersky of the exciting expansion of their practice. "Glass is full of possibilities." —Elizabeth Fazzare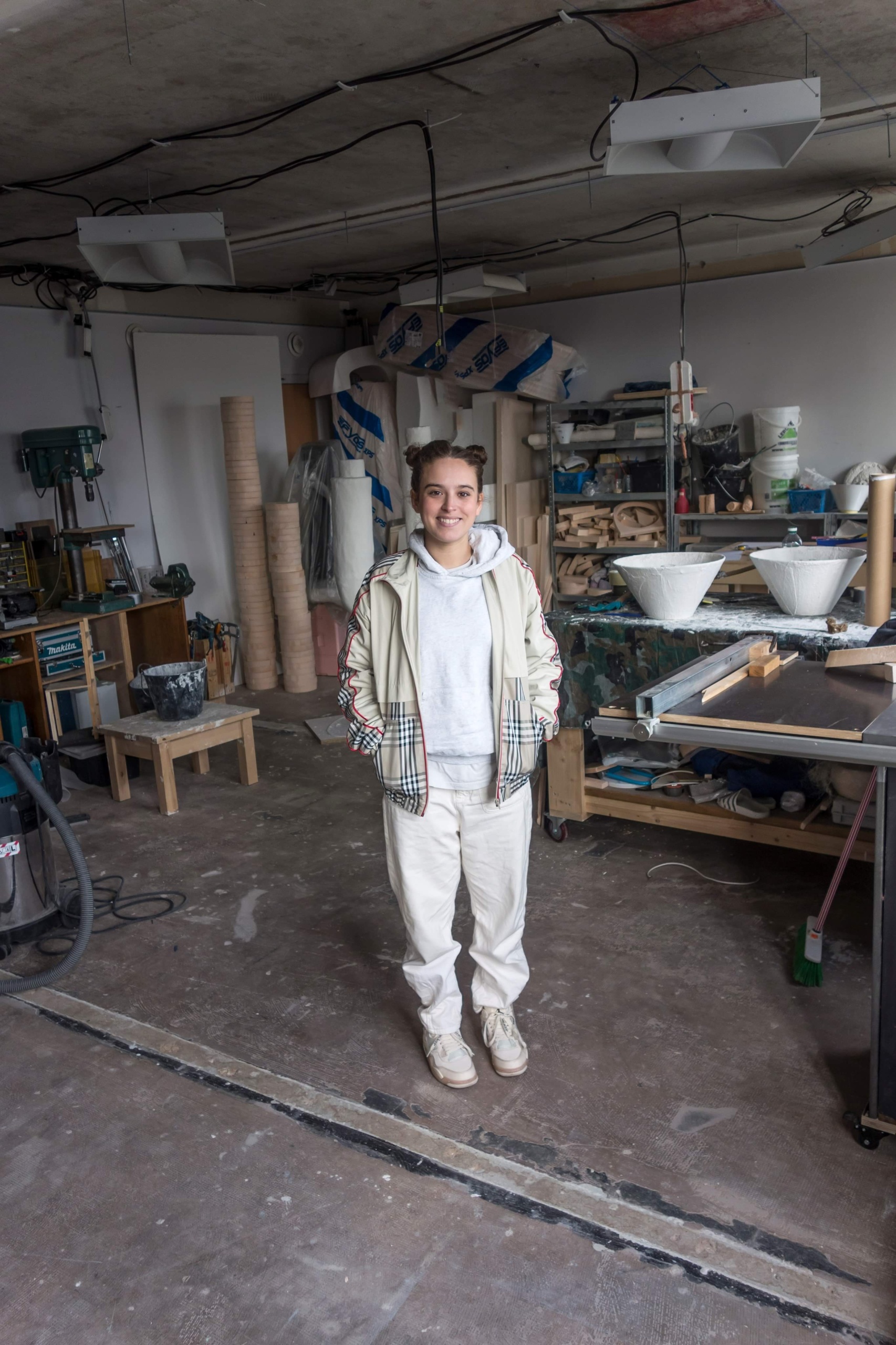 Léa Mestres
Léa Mestres's work began in lighting not because of a light's functionality but because she found herself obsessed with the various geometries lamps can have. Lighting and lamps are less the subject of Mestres's work and more so the canvas on which she works. Lamps are her ideal canvas as they are objects that integrate themselves really into any space. Her workflow flourishes in an environment full of distractions rather than one that is distraction-free. Movies are on and music is blasting when Mestres sits down to sketch. This rather unconventional approach ensures that her instincts take the wheel and that inhibitions are pushed to the wayside.
At the core of Mestres's signature Surrealist sculptures is foam, an easily shapable material to work freely with. For Mestres, foam is a liberating medium that perfectly parallels her workflow. The foam bases are covered in her trademark mixture that she is constantly asked about, but vows never to reveal; she did let me know this proprietary concrete-plaster blend contains fiber and sand to achieve her signature texture. Mestres's latest exhibition "I'm a living room" was on display at Galerie Scène Ouverte in Paris, and in May you'll be able to find her work at Collectible in Brussels. For fun, Mestres and four other artists founded the "The Pottery Yacht Club", which is set to have a freestyle ceramics exhibition this year as well. Right now Mestres is straying from the soft nature of foam and sculpting stools out of solid marble, which we hope to see on display very soon. —Rebecca Aaron
Craving more culture? Sign up to receive the Cultured newsletter, a biweekly guide to what's new and what's next in art, architecture, design and more.