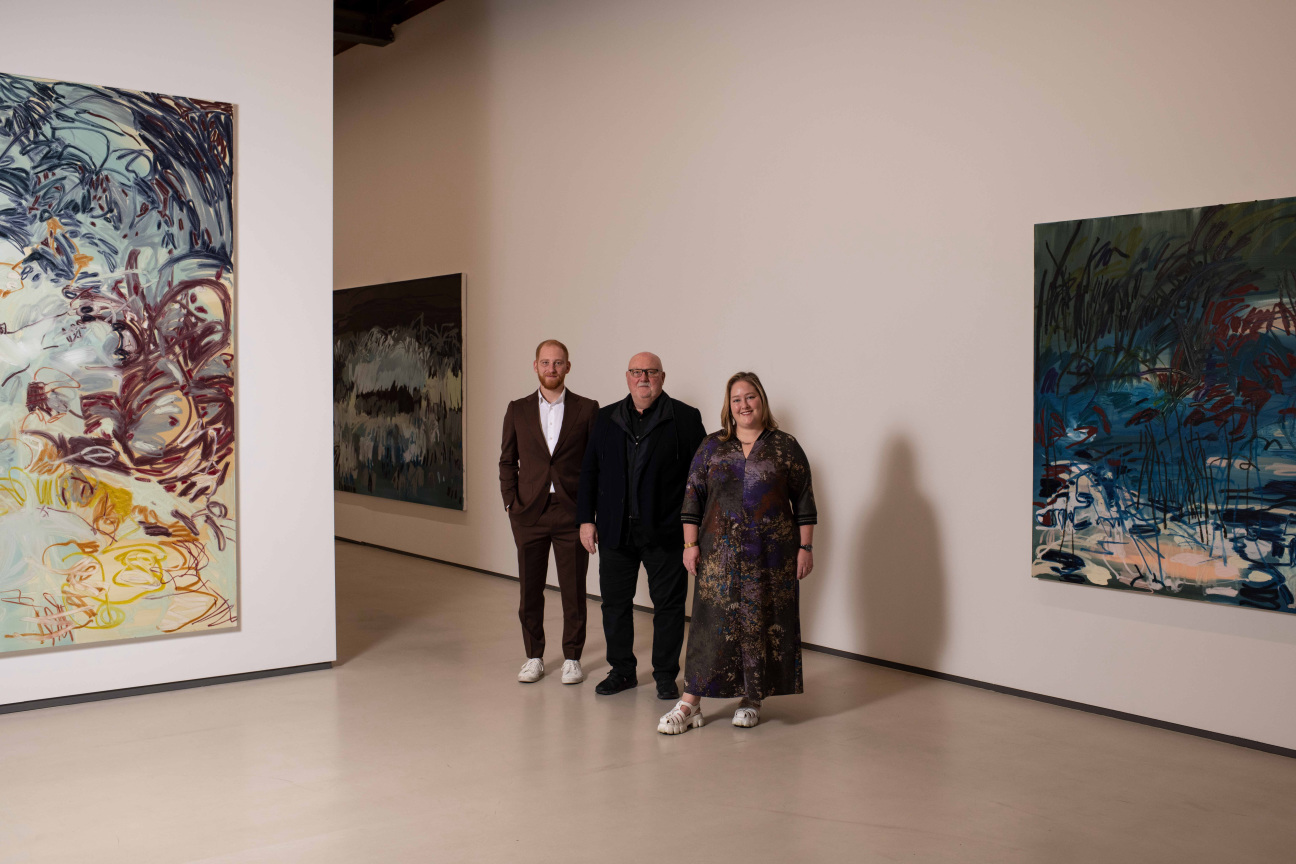 Family has been in the DNA of Sean Kelly Gallery ever since the dealer opened his namesake business in his family's SoHo home more than 30 years ago. Since then, Sean Kelly's artists, collectors, and staff have watched Sean's children, Lauren and Thomas Kelly, grow up—and eventually join the business. Sean claims to have used reverse psychology to get them involved. "I guess it worked," says Lauren. "I knew exactly what he was doing," adds Thomas.
When Sean opened his gallery, he and his wife, Mary, had just moved from England with their small children. The art community became a support system for the new arrivals, with the dealers, curators, and artists, who Sean knew from his career curating British museum shows for the likes of Richard Deacon and Antony Gormley, sharing tips on raising a family in their new city. "To us, it was just life," recalls Lauren. "There were artists everywhere and artwork all over the walls, but as kids we didn't know anything else. The art world was both magical and mundane. As we grew older, we became aware that seeing Auntie Marina Abramović whipping herself wasn't a part of normal life for our high school friends."
The younger Kelly's professional entrée into the industry was natural. Lauren joined her father's gallery after college in 2006. She worked in various capacities before her current role as partner. Thomas joined in 2012, leaving behind a career in real estate to help the gallery open its current West Chelsea location in New York. "His ability to oversee large projects and logistics proved crucial," Sean notes. Like his sister, Thomas is now also a partner of the family gallery.
While working as a family may have felt natural, it hasn't always been easy. "We have all the normal problems one might expect with a parent-child relationship," says Sean. "Bringing those into business requires patience and goodwill; we've spent so many years working together that we've reached an equilibrium. It was well worth it because it brings me great joy to spend so much time with my family. I get to see them grow and evolve professionally and personally. I get to spend time with my grandchildren. I'm very fortunate for this and I don't take it for granted."
His children echo the joy of working together. "He is the most loving and obsessed grandfather I've ever met," says Lauren. She and her brother add that their father's mentorship has been crucial on both professional and personal levels. The trust inherent to their family dynamic also serves the gallery professionally. In an industry notorious for high turnover, Sean Kelly is an outlier. Several staff members have been with the gallery for decades.
"The artists and collectors we work with appreciate the continuity as well. They see we are committed to growth," says Sean. Indeed, the family's investment in the future offers a sense of security and sustainability to artists searching for a dealer who can best shepherd their careers. "Being a family impacts the business at every level," says Lauren. "The artists saw us grow up into, hopefully, mature adults. They know our mother, Mary, who is deeply involved in the gallery, especially on a social level. They've seen us start our own families as well."
Now, these close bonds have led the gallery to expand to the West Coast. Its new Los Angeles outpost, a project that Thomas has led, marries the aesthetic of Sean Kelly's New York location, with its sleek wood front desk and glass offices, and breezy California design. The family hired Toshiko Mori, a close friend and the same architect who designed the gallery's New York location. "We've known Toshiko for over 30 years and trusted her to convey the visual language of Sean Kelly with an LA twist," says Thomas. Mori collaborated with Hye-Young Chung Architecture to renovate a former yoga studio into a gallery space that blends the indoor-outdoor sensibility of LA with the visual continuity of Sean Kelly New York.
"The decision to open in LA was purely artist-driven. It was to expand our roster and give current artists the chance to create work for a West Coast audience. It's been incredible to see how the LA community has embraced us, from museum professionals, to other dealers, to collectors," says Thomas, adding that he and his family also moved West for the project. "This isn't a small thing for any of us. My sister and I are very close, and I moved 3,000 miles away." The sacrifice is not lost on Lauren. "I do curse him a little," she jokes. "Our children are the same age and it's hard not being in the same city, but it does give me a great excuse to visit."
The LA expansion is a sign of the gallery's commitment to the West Coast metropolis—and to the future of the art world during a time of great change. "I've been going to LA for decades," says Sean. "I cannot tell you how many times I've been told that LA is the next big thing in art. I always had faith that it would mature into what it's become, and I'm proud our family is a part of that."