It's quiet when I arrive at David Kordansky Gallery in New York, but Lauren Halsey's works are loud with declarative insistence. Neon dominates the chromatic landscape, where monumental assemblages are crowded with cacophonous images, playful found objects and boldly lettered aphorisms. A whirl of textures and materials including gypsum, synthetic hair, fiberglass and cement collectively demand sensorial attention, challenging the viewer to keep up with the difficulty of overabundance.
The exhibition marks the occasion of the Los Angeles-based artist's first solo exhibition in New York, and the inaugural exhibition of the New York branch of the LA-originated gallery. Halsey's practice has always been grounded in and reflective of the neighborhood she grew up in: South Central Los Angeles. This is seen and experienced throughout her eponymous show, where visitors encounter the neighborhood's uniquely effulgent iconography, from street signage to posters for community festivals to advertisements for South Central braiding salons and bookstores. These site-specific references are threaded together by a Pan-Africanist, Afrofuturist, funkadelic aesthetic: red, black and green run throughout the works in the gallery while ankhs, pyramids and other icons of Black nationalist imaginaries pattern Halsey's compositions. These dense, profuse layers of signifying enliven the space with the wildly excessive, dissonant free play of Black culture.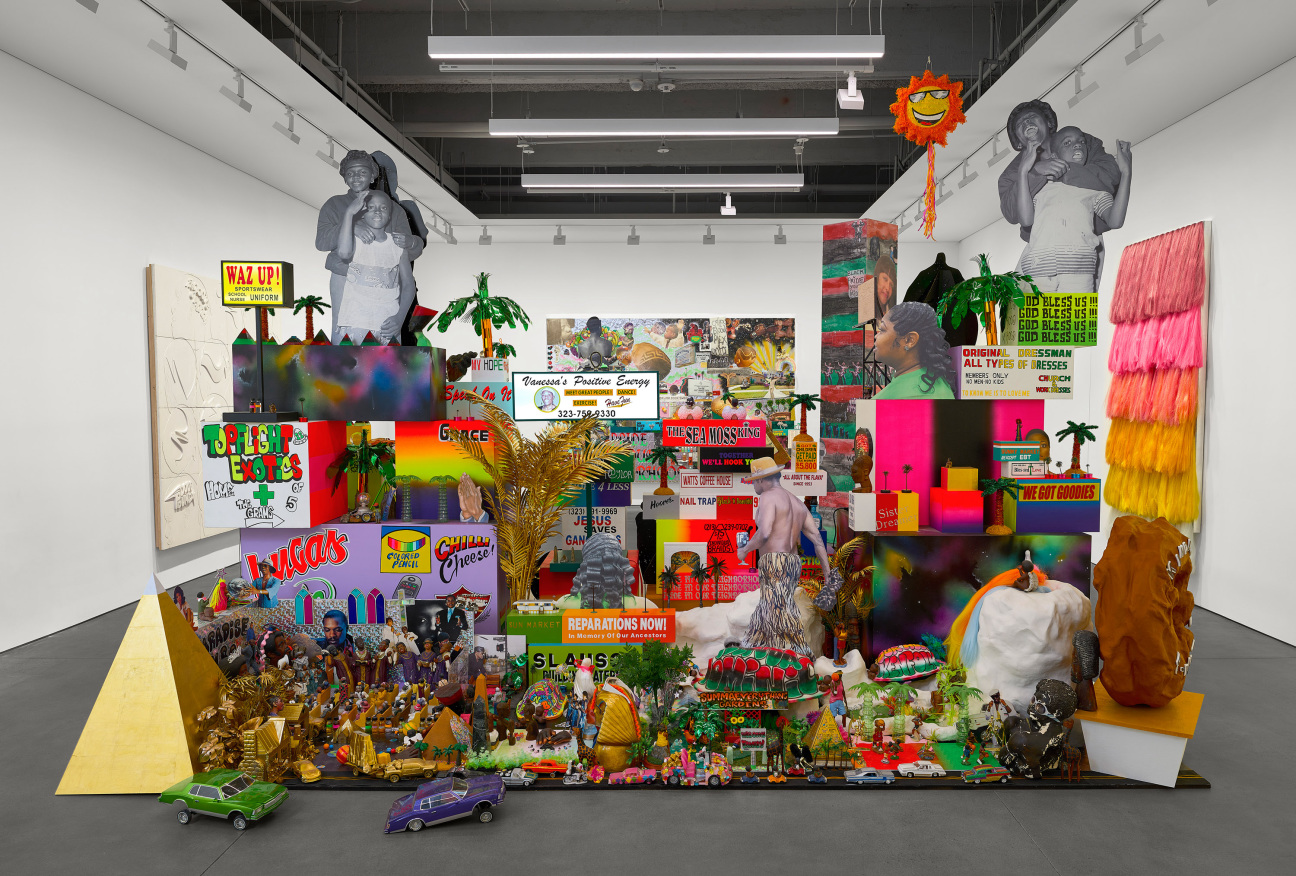 Simultaneously, ample references to the cosmic draw Halsey's works into something much larger. Psychedelic impressions of outer space detail the backdrop of several pieces: the occasional Black astronaut figure is hidden in collage layers.
Meanwhile, bulbous, cave-like sculptures that Halsey calls "funkmounds" are pregnant with universes of their own. They invite us to peer inside them and meet the eye with a hiding place for all things funky: quirky figurines, kitschy plastic palm trees and photographs of expressively adorned Black people threaten to spill out from their cement sculpture encasing. The funkmounds—like other works in the gallery—seem to suggest that from the microcosm of South Central, the whole universe is possible.
At the same time, there is a subdued sense of retrospection to the presentation. Towering, obelisk-like sculptures including WE IN HERE and MY HOOD MY HOOD MY HOOD MY HOOD (both 2022) recall the commemorative vocabulary of ancient Egypt. In the center of the gallery, My Hope (2022) unfolds like an altar. It is a scattered collection of ephemera of all types, each containing its own memories. Untitled (2022), a funkmound that beckons with the sound of its waterfall, is decorated, shrine-like, with a candle, and alludes to Diasporic rituals of mourning and rebirth. In stitching these motifs together with the celebratory liveliness of the gallery, Halsey weaves a portrait of together the messy reality of communal experience.
A sense of oneness spills out from everywhere and everything in this show. The phrases "Black Owned" and "Community Owned" flash throughout the artworks, signaling to me with the welcoming familiarity of Black neighborhoods. But at the same time, these pieces radically displace the concept of ownership at all: in their overwhelming abundance, Halsey's works suggest that there is enough of everything for everyone.