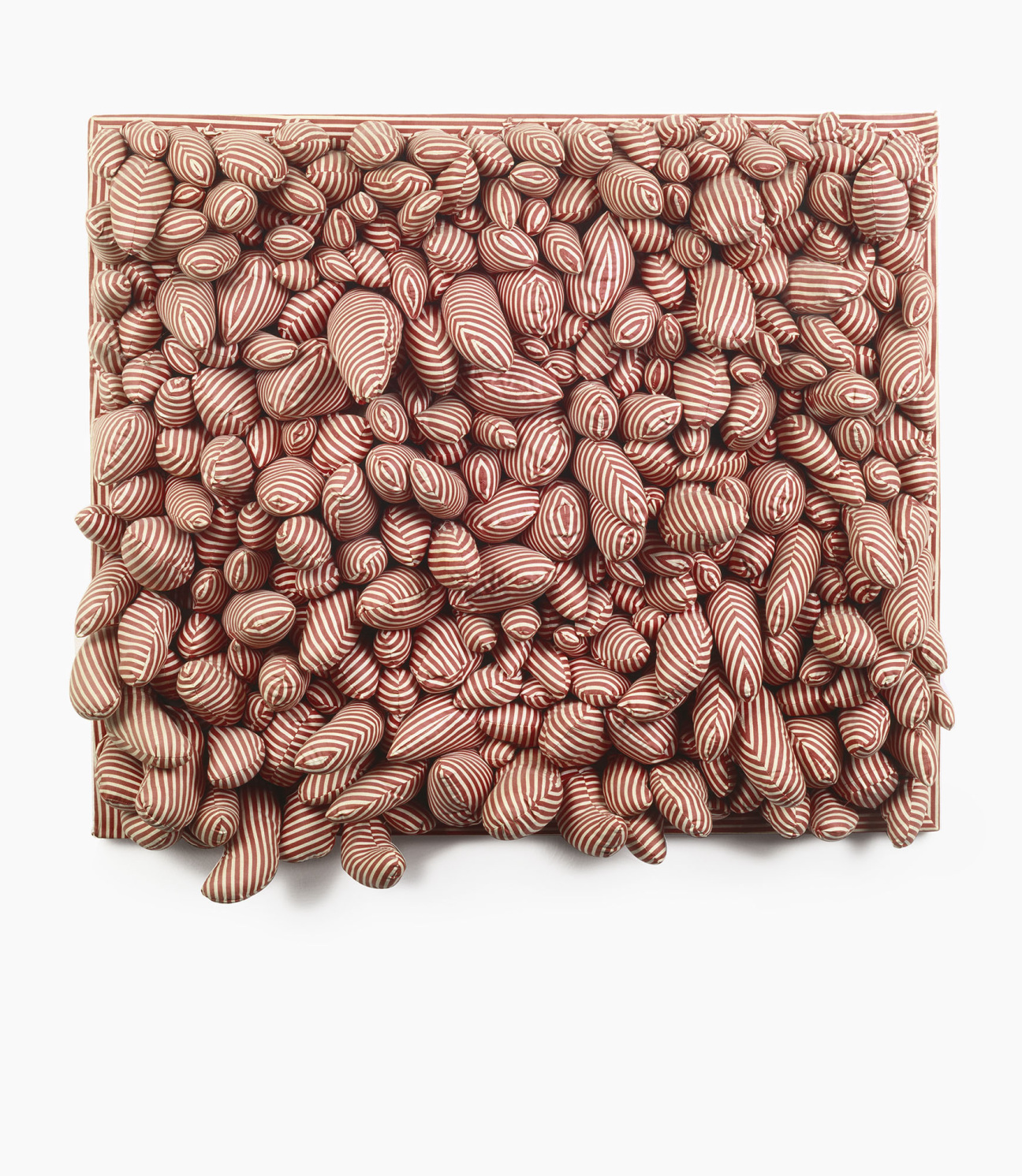 Auction season produces a lot of headlines, the ones that have all cross-sectors of people shouting, "They spent how much on that?" or "I could sell my kid's drawing for $2 million," blah blah blah. And it's usually the blockbuster New York sales that reach such a fever pitch. Guess what? May has arrived, and this marquee season is slated to hammer in at $1.5 to $2.3 billion. But you know what's also true? This season features incredible single-owner collections or singular works by artists who don't hit the market—let alone the auction block—almost ever.
Whether it's Warner Music's Mo Ostin's contemporary and postwar holdings at Sotheby's, or controversial Boston mogul Gerald Fineberg's in-depth, curatorial, century-spanning collection at Christie's, surely what's on the docket shall fetch the eye-popping prices we've come to expect. However, we find merit in looking at these offers beyond the final hammer price, as they reflect both artistic feats and committed collecting, the type where passion for and patronage of artists remains paramount. So, we've rounded up a preview of the artworks hitting the block this and next week from top auction houses that take a deep dive into provenance and the power of collecting.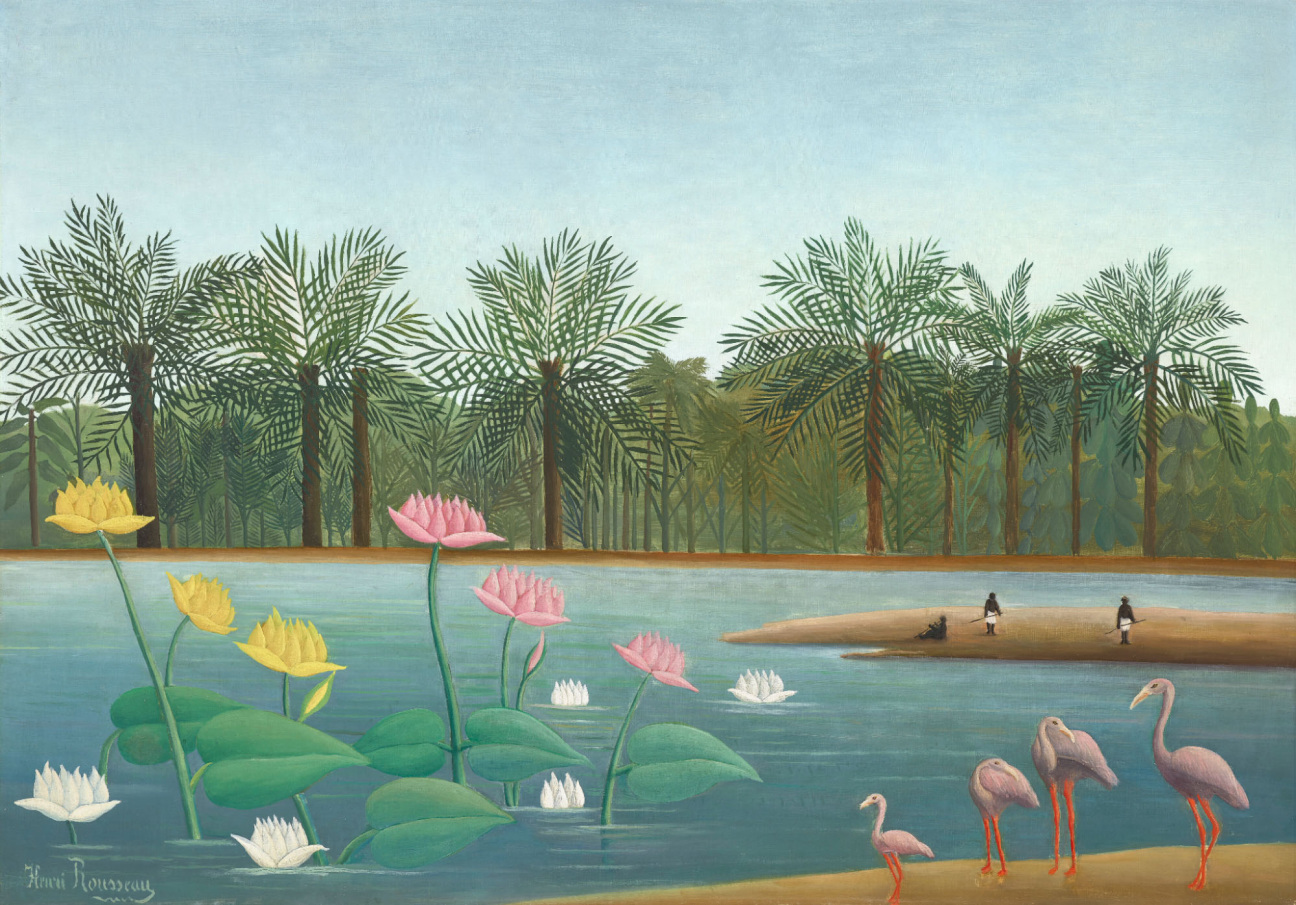 Henri Rousseau, Les Flamants, 1910
20th Century Evening Sale, Christie's, May 11
Estimate: $20-30 million
"Once in a lifetime canvas" gets tossed around a lot these days; in the case of Henri Rousseau's Les Flamants, this will (likely) be the sole example (ever) of the famed, self-taught, French post-Impressionist's "Jungle" series to come to market. It's estimated to ring in at $20 to 30 million. "Even if we create a market moment, we're not going to be able to follow this up because the [inventory] simply doesn't exist," explains Vanessa Fusco, co-head of the 20th Century Evening sale, offering this work on May 11.
In fact, only nine of the 61 official, authenticated Rousseau works are in private hands (the rest sit in major museums, like the Museum of Modern Art and the Musée d'Orsay). "He's a self-taught artist. People weren't focused on preserving and recording his works in the time that they were being made," explains Fusco. Les Flamants was originally acquired from Rousseau by German art critic Wilhelm Uhde, and now it's the first work to be offered from the estate of Payne Whitney Middleton (yes of that Whitney family). "Provenance informs how rare this really work is," adds Fusco.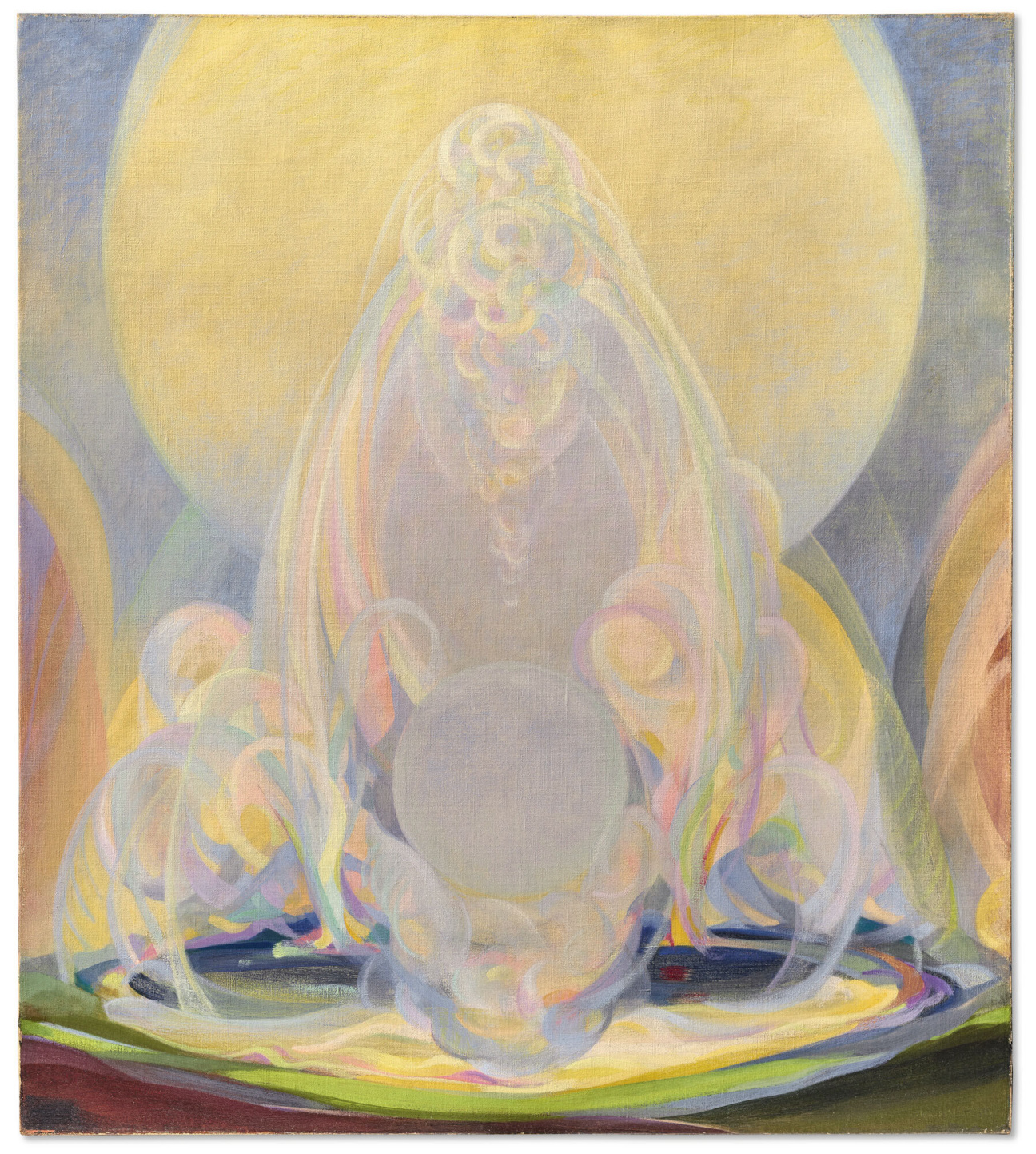 Agnes Pelton, The Fountains, 1926
20th Century Evening Sale, Christies, May 11
Estimate: $1.5-2.5 million
"If the pandemic had not happened," says Emily Kaplan, vice president and co-head of 20th Century Evening Sale at Christie's, "Agnes Pelton's Whitney exhibition could have maybe had a Hilma af Klint moment, where the market grew and grew and grew." Pelton's major survey, "Desert Transcendentalist," opened March 13, 2020. Enough said. The turn-of-century painter, who left Long Island for Palm Springs and became the face of the Transcendentalist Painting Group, has no market to speak of and a complicated catalog (since there is none). Fires in Space came to Stair Galleries in Hudson, New York, estimated at $400, but sold for $230,000 to dealer Michael Rosenfeld in 2018.
"I've been looking for one," says Kaplan. "The Fountain is the only one. They're not abundantly available." There are about 30 works currently in institutions; Pelton during her lifetime neither kept records nor had representation, so her official catalog is still being put together. Still, as Kaplan explains, there's a private Pelton market (of which Christie's has been involved), and they are hoping this sale "brings some out of the woodwork, and makes people realize what they have."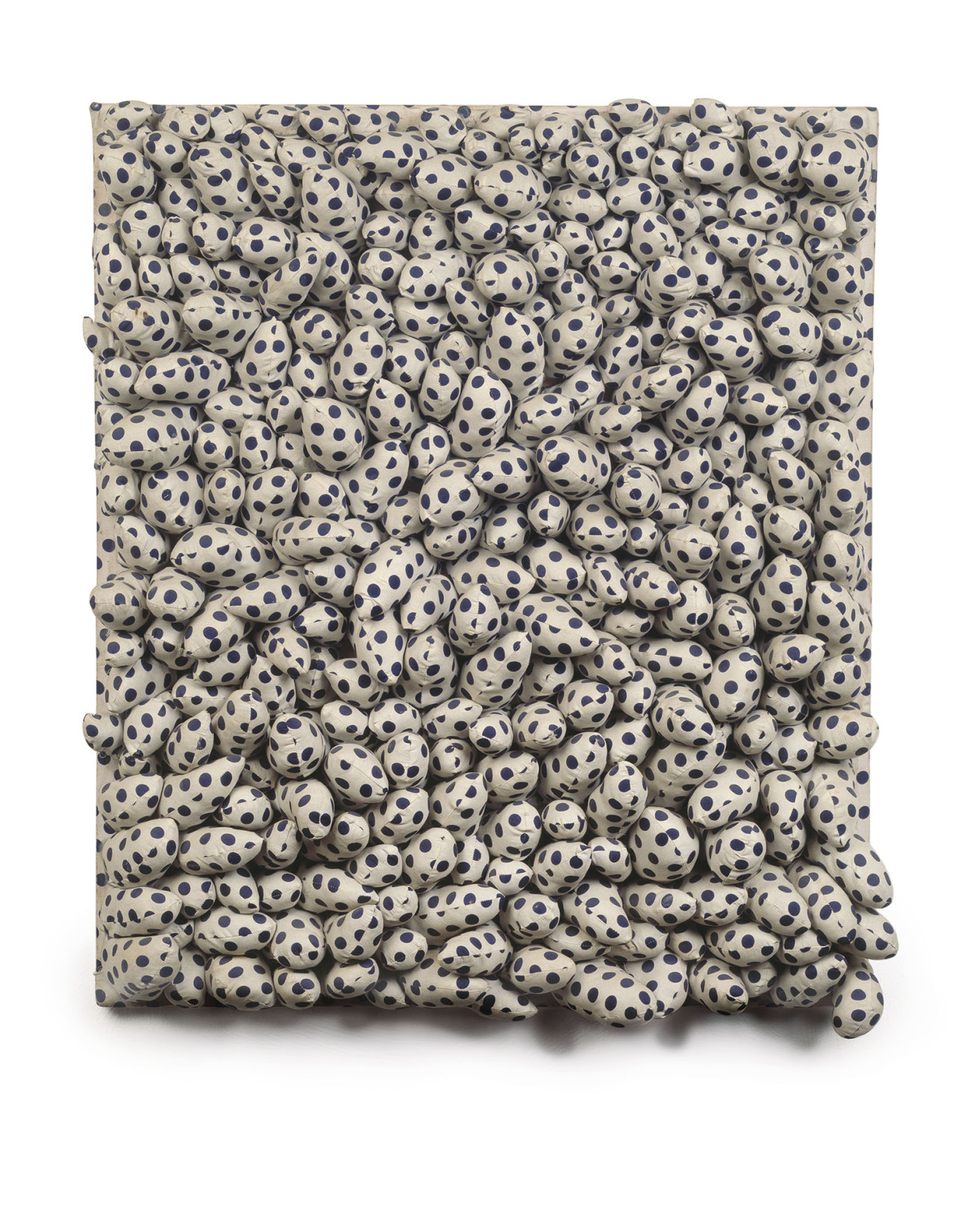 Yayoi Kusama, Red Stripes, 1965
Yayoi Kusama, Blue Spots, 1965
20th Century and Contemporary Evening Sale, Phillips, May 17
Estimates: $2,500,000 - 3,500,000
Yayoi Kusama only ever produced four examples of these seminal soft-sculpture works, of which two, both from the Dutch collectors Agnes and Frits Becht's collection, are now headlining Phillips's May marquee sale. Red Stripes and Blue Spots have not only been in the family since their acquisition from Kusama in 1965 (they were created in Amsterdam), these works were the basis of the artist's first "Infinity" room, Phalli's Field, 1965. They are veritable pieces of art history (and slated to be exhibited at the Stedelijk Museum later this year)!
"The rarity makes them all the more desirable," explains Carolyn Mayer, Head of Contemporary Art Evening Sale. It was in 2012 that the last example of a soft-sculpture came to the market, and Kusama's market has since exploded, particularly for her Pop-influenced polka dot "Infinity" works. Philips set her auction record last November with the white Untitled (Nets) painting for $10.2 million. "For real Kusama collectors, this is as cool as it gets," says Mayer.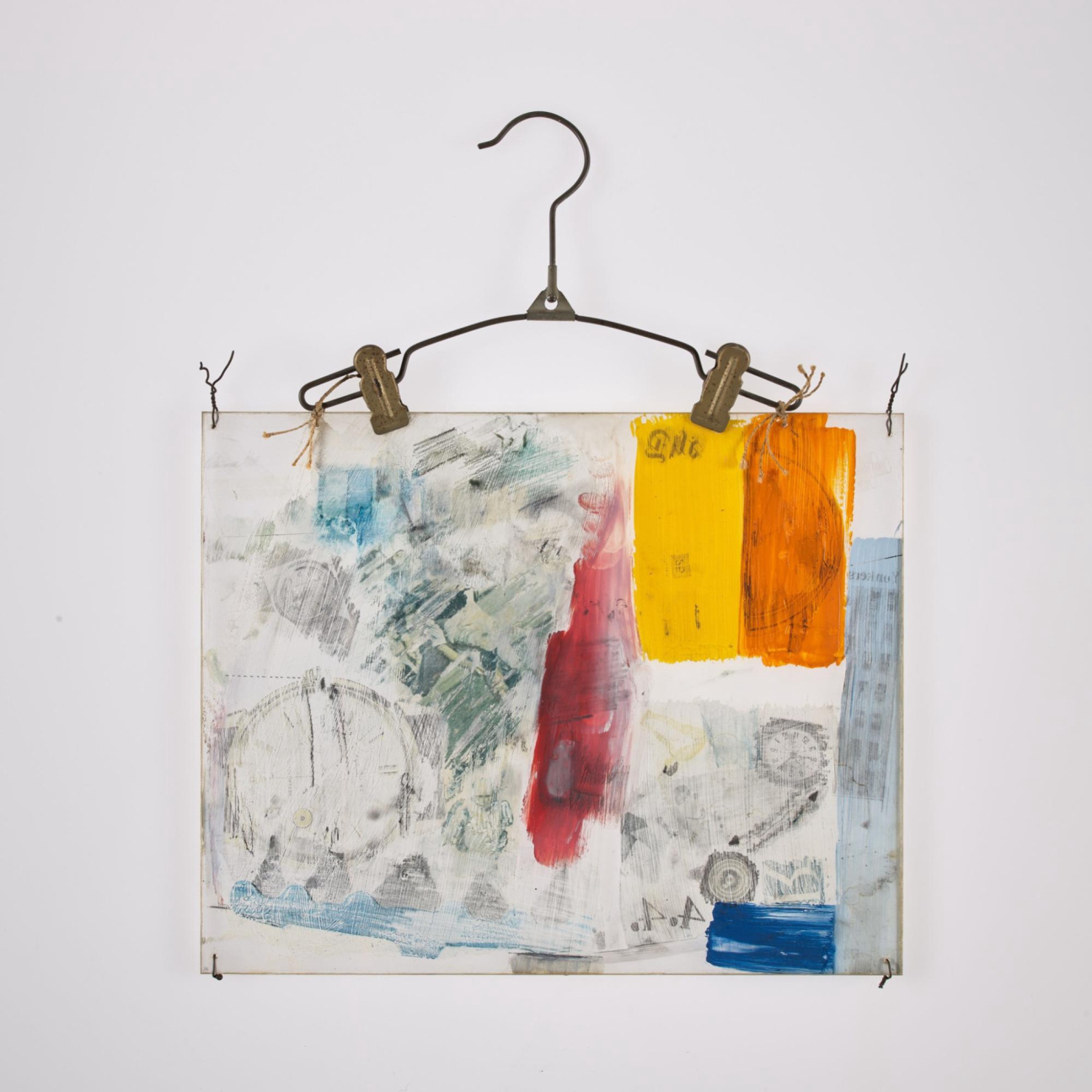 Robert Rauschenberg, Bath, 1964
20th Century and Contemporary Evening Sale, Phillips, May 17
Estimate: $400,000-600,000
Hailing from a similarly standout collection is Bath by Robert Rauschenberg—this time, a holding of the prolific patrons, Rosa and Aaron Esman, who were instrumental in post-war New York: Rosa as a gallerist who pioneered the market for editioned prints (along with Marian Goodman), and Aaron as a psychiatrist. Both were central characters in a scene that included Frank Stella, Sol LeWitt, and Rauschenberg, even calling these artists close friends. The Esmans acquired Bath the year it was made.
Bath "straddles a painting and an object," says Mayer. "It just lends itself so well to what collectors are looking for right now." In fact, with this 18 ¾ inch by 15 inch abstract painting affixed to a metal hanger, "we had a really hard time actually finding a market comps," says Mayer. "It actually kind of melds the 'Combines' and 'Transfer' drawings," perhaps Rasuchenberg's most well-known series. This hybrid practice "pushes all the boundaries" says Mayer, "but it's not so avant-garde that you can't live with it in your home."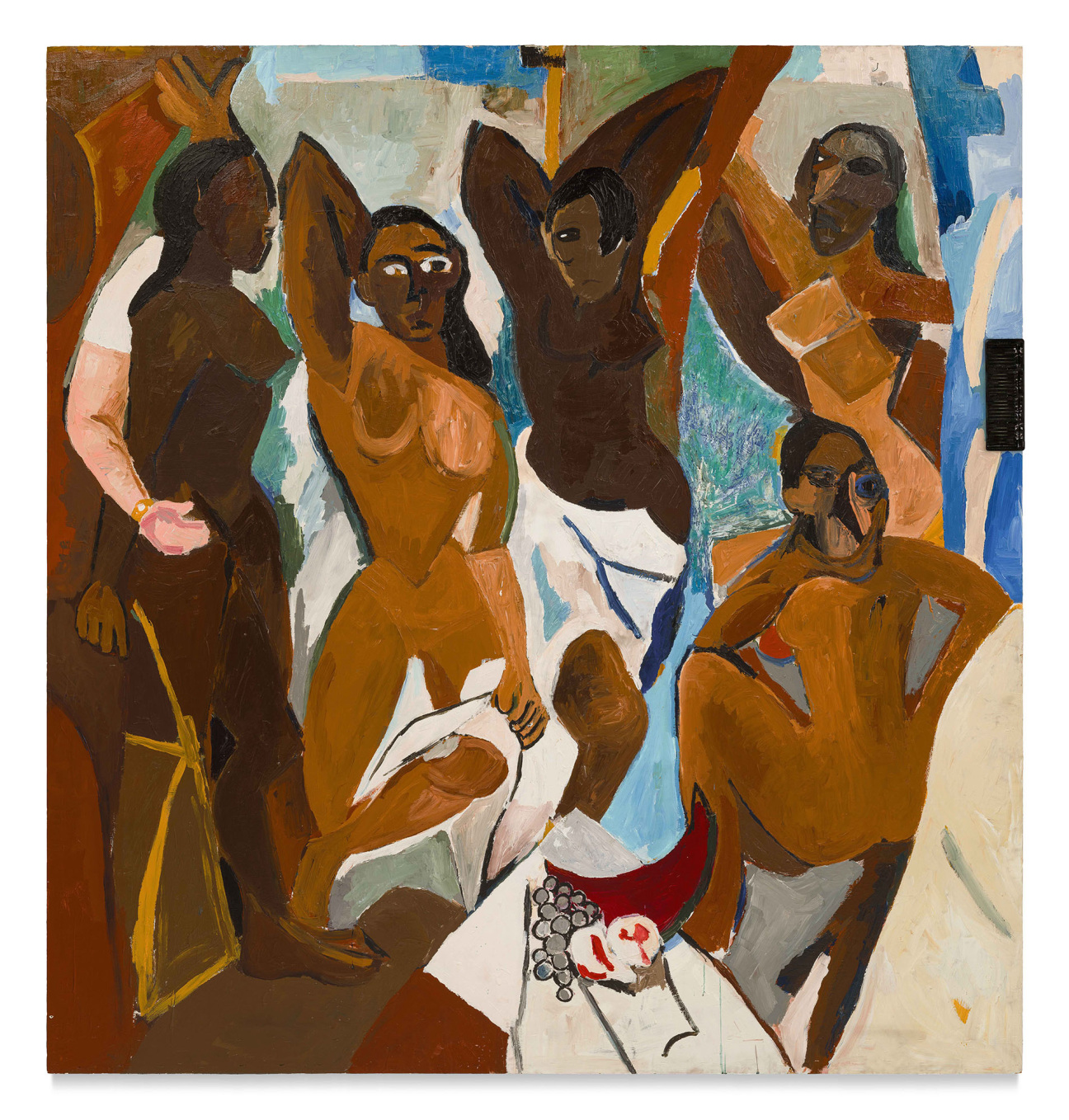 Henry Taylor, From Congo to the Capital, and black again, 2007
The Now Evening Auction, Sotheby's, May 18
Estimate: $1-1.5 million
Forget not that continuing the art historical dialogue is an important impetus for many artists. The king of Los Angeles, Henry Taylor, is no different. His work, From Congo to the Capital, and black again, was a spontaneous creation, made in Paris in 2007. It came a century after the original as a response to and appropriation of Pablo Picasso's Demoiselles d'Avignon. Lucius Elliott, head of the Now auction, says this work is "the reclaiming of the image and of the basis of the image itself."
It's such a singular work from the beloved Black figurationist that Sotheby's only unveiled the news late last week. After all, the work just came off the walls of MOCA in LA, where Taylor's sweeping retrospective, "B Side,'' was on view until February (but won't be included in the Whitney iteration when it opens in October.) "The show in LA was a clarifying moment for the artist. We put an estimate that really reflected the quality and reflected our expectation," says Elliott. "This would be a new benchmark price for the artist."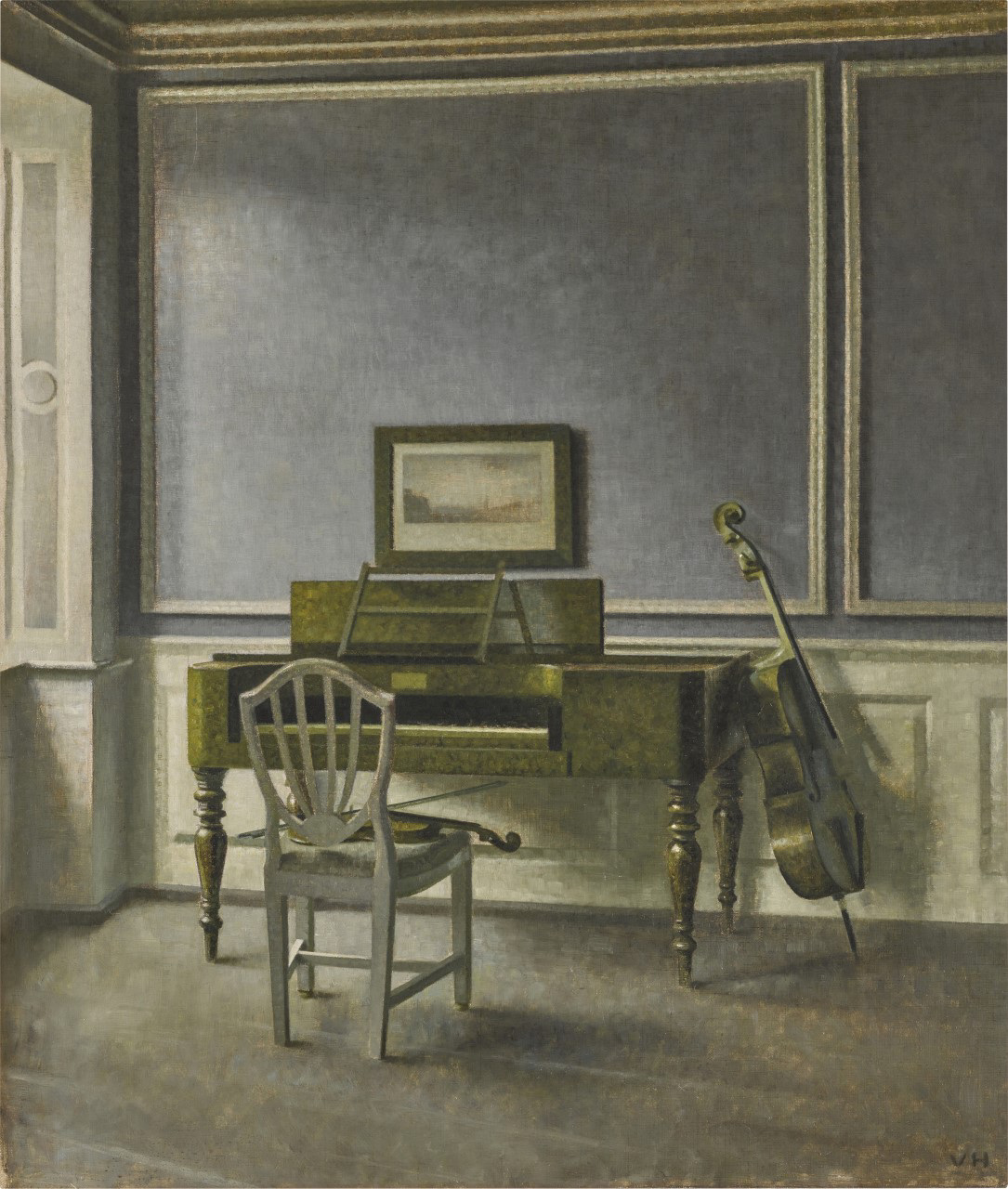 Vilhelm Hammershøi, Interior. The Music Room, Strandgade 30, 1907
Modern Evening Auction, Sotheby's, May 16
Estimate: $3-5 million
Good luck ever getting your hands on a Vermeer—and this is by no means a replacement, but for those seduced by light and silence, a most pristine example by Vilhelm Hammershøi is on offer during the Modern Evening auction that carries the highest estimate for the artist. Interior. The Music Room, Strandgade 30, made by Hammershøi with Vermeer in mind, last came to the block in 1944, and has only once left Denmark for an exhibition in Paris in 1998.
Unlike this painting, Hammershøi's market has decidedly leapt from its regional prowess to a more global one. "We have seen in recent years his aesthetic and popularity truly transcending his local market," says Nina Wedell-Wedellsborg, of Sotheby's Denmark. The secondary market has seen quite a few excellent examples in the last few seasons, but given Interiors's place within the Modern Evening sale, Hammershøi "now occupies a key position in the canon of classic modern artists," concludes Wedell-Wedellsborg.