Spray paint is notoriously difficult to restrain. Graffiti is intimately tied to gesture, a style of mark-making both ubiquitous and logistically elusive among the layered surfaces of a cityscape. For the Danish artist Mikael B, who grew up captivated by the inscriptions and soaring designs tagged across his native town of Holbæk, the artform proved irresistible. His paintings, colorful and brash, capture all the youthful exuberance of clandestine spray paint adventures, but are undergirded by a distinct evocation of an entirely different kind of landscape—that of early-aughts graphic design.
After relocating to Los Angeles eight years ago, the artist returned to Denmark last October for a sold-out solo show, "The Evolution of Everything," at the The Plant Copenhagen. The exhibition, part-gallery show and part-augmented reality immersion, featured hallmarks of Mikael B's fluid, expansive practice, and met with widespread acclaim from his home audience. At this year's Miami Art Week, he was everywhere. At his Context Art Fair solo booth with Taglialatella Gallery, the artist built upon the narrative established in "The Evolution of Everything"—he was also selected as a featured artist, and was invited to design an eye-catching entrance piece for its exhibition space at One Herald Plaza. At the Wynwood Walls, he painted a splashy mural in his signature style. To mark the occasion, he sat down with CULTURED to reflect on the week's events.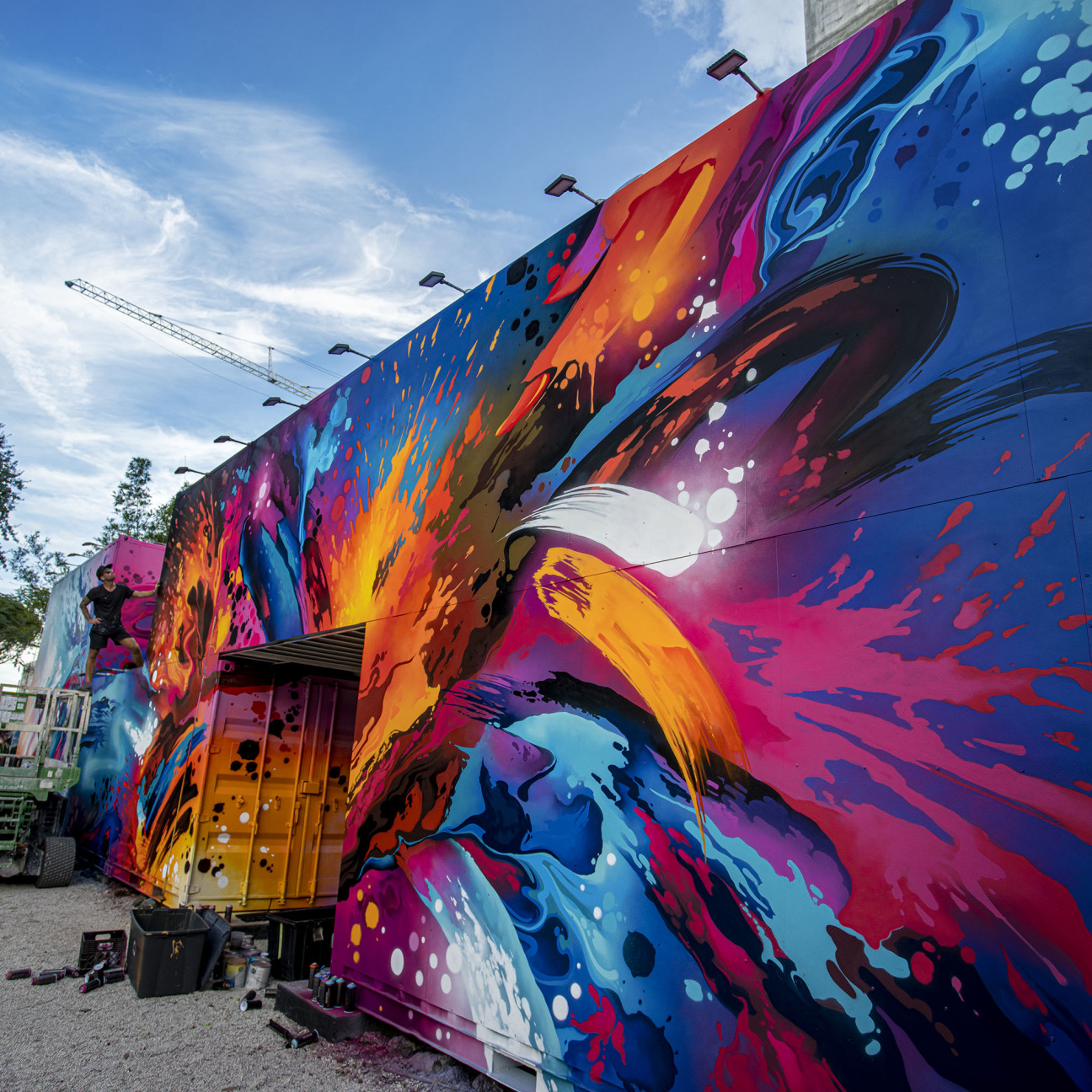 SOPHIE LEE: What inspired you to move from Denmark to the U.S.?
MIKAEL B: At the very beginning of my art career, I chose to move to LA. My brother and a friend of mine started a design agency—I did graphic design, web design, and visual identities for six years [in Denmark]. It was very successful, but I hit a wall, burnt out. I had this identity crisis. I didn't know what I wanted with my life, I just knew it did not feel right to continue with the design agency, and we were able to sell it to one of our competitors. I was doing graffiti as a hobby and had been painting since I was 15 years old. I decided to dedicate myself to my art and make that huge leap of faith. That's when I moved to LA.
SL: How did it feel at the start?
MB: The transition was over many years. I continued to work with agencies even though I was burnt out, but I was painting more and more on the side. One painting called Vibrant World, 2014, changed it all. That was an abstract interpretation of a classic world map. I did it with wild splashes and paint strokes and drips, very colorful. My brother said, "I think I can do a print." We built our website and did what we were doing at the design agency—but with myself as the client. We used our knowledge of building other brands to build one around me and my art. When I posted that first painting on Facebook, I was quite nervous because I didn't know how the world would react. It went completely viral, reached like a million people, and crashed the web shop. That was how I entered the art world.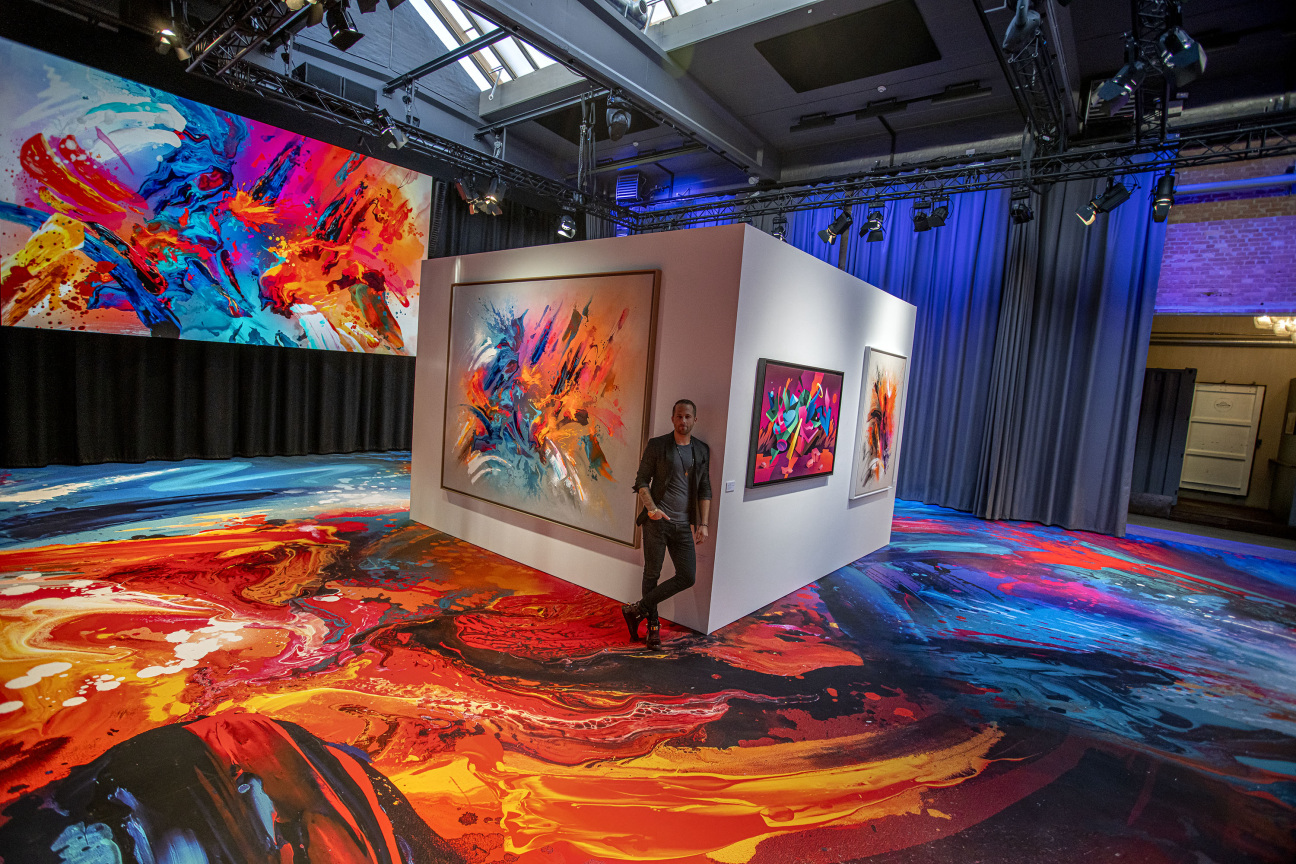 SL: People thought you were crazy to do this. What was it like to return to Denmark this year and have a very successful show there?
MB: Within my first couple years [in LA], I managed to get some great brand collaborations with Google, American Express, and LinkedIn, to mention a few. Denmark loved that—my brother was getting calls from the biggest talk show in Denmark. They wanted me to go on, so I traveled back for it, and the next day I was on the front page of all the newspapers. I had this great support from all the people in my home country. That meant a lot, and that's why I come back every now and then to do an exhibition. They always welcome me. I am so happy and proud to be Danish—it's a good icebreaker. When I was out here approaching galleries and knocking on doors with my accent—"Hello, I'm Mikael from Denmark"—[they would say,] "Who's that crazy Dane?" It's definitely a great part of my success.
SL: What made LA an attractive place to start your art career?
MB: I always had a special relationship to the U.S. Every time I was in LA, I had a feeling that everything was possible. The people are very open minded and welcoming, there is a whole arts scene, there's the weather, and the fact that LA is like 10 cities in one. I would sit in the plane on my way back to Denmark thinking, "How can I make this happen?" I wanted to be in an art scene that was more established and mature, especially when it comes to graffiti.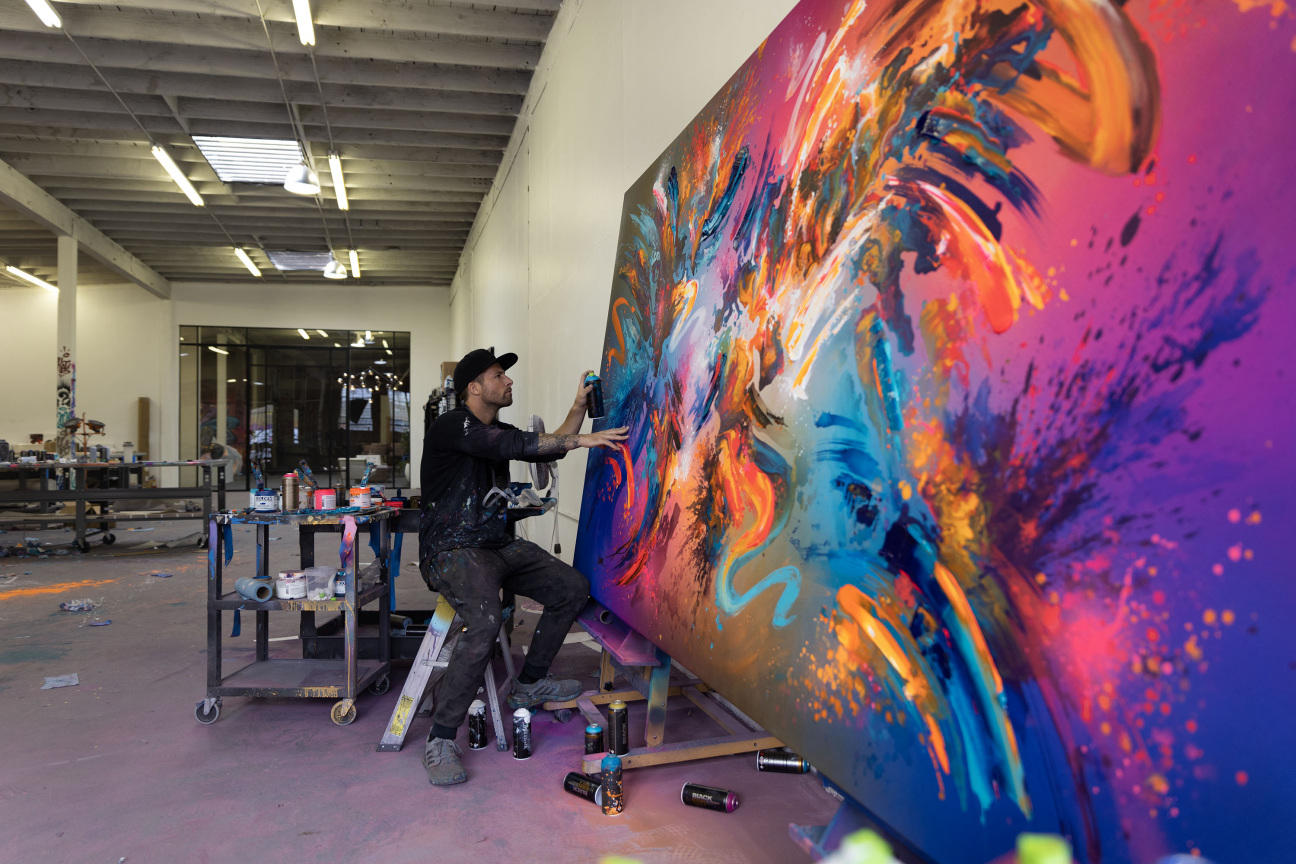 SL: What was it like to enter the art world with a background in graffiti?
MB: It has been quite a journey. I started painting simply because I have to express myself in a visual way, or else I get crazy. I don't have friends or family in the art world or anything. Slowly I got more and more obsessed with the art world—those are my people. We speak the same language. I started with nothing, and this is what my shows in Denmark and Miami are about: everything starts from nothing. When I'm old, I want to look back and see that I pursued everything. It just took me 30 years to realize that I was supposed to do this.
SL: Can you tell me a bit about the evolution of your art style?
MB: With my earlier pieces, I was trying to do it all. I was doing geometric and abstract and was mixing all these different techniques. Then, in 2017 I had a solo show with Greg Escalante, the founder of Juxtapoz, and for the first time I was trying to do only abstract. All the pieces I made up until then, I had a full color sketch so I knew the end result. I kind of wanted to experiment and challenge myself even more so I went to the blank canvas with no plan and no idea and did more gestural brush strokes and more action painting. I really loved the result, but I also loved the method. I think the reason why I chose to do that is because, again, I felt a little trapped. That was the start of a totally different style. Now, I have a bigger studio. I can paint maybe five to 10 pieces at the same time. Switching between the well-planned and creating these unexpected results makes me feel free and that makes me the happiest to be able to do that.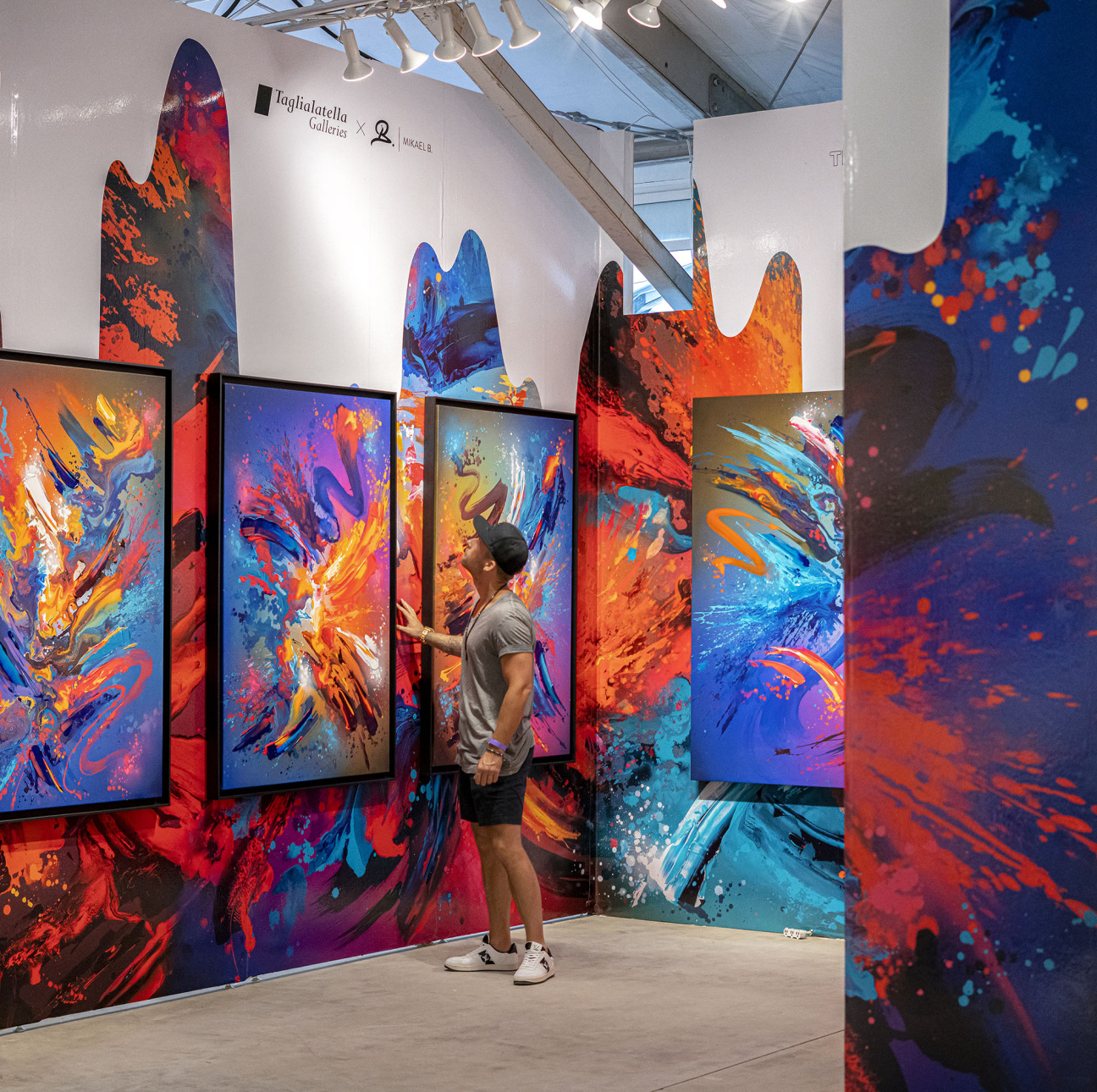 SL: It does seem like movement is a very big part of your work. Your pieces capture motion, even on a static canvas.
MB: Growing up, I was totally obsessed with wildstyle graffiti. I was already a huge fan of abstract, or non-figurative design language. I did wildstyle graffiti for many years. It was kind of like a puzzle in my head to get the perfect balance of the sharp, the soft, the dark, the light, the warm, the cold, the swing, the bend, the chaotic, and the empty space. [My larger practice has] its roots in my graffiti. I have this very tall ladder, and I sit four meters in the air and look down at my paintings. I can sit up there for hours deciding on the next move. It can look random, but it's not random—it's exactly what I'm feeling in that moment.
SL: Can you tell me a bit about your continuation of "The Evolution of Everything" at Miami Art Week?
MB: It all came from a thought I had in my studio—everything starts from nothing. It was mindblowing but simple. I reflected on everything I've been through—the first time I had a spray can in my hand, when I was super nervous and couldn't make a steady line. The first time I tried acrylic...all these 'firsts' when you really suck. You have to suck at first before you can get really good. I really loved that thought. I did this painting, The Evolution of Everything, that became one of the main pieces for the show in Copenhagen. The day after, I realized this was more than just the title for a piece. This is the title for a concept. I wanted to show my home country this new body of work first, and then take it international afterwards. I think of my abstract art as a snapshot of an ever-changing movement. In Miami, I wrapped the walls of a solo booth in my artwork. There is a new body of work on view as well, so you could say that "The Evolution of Everything" is evolving.