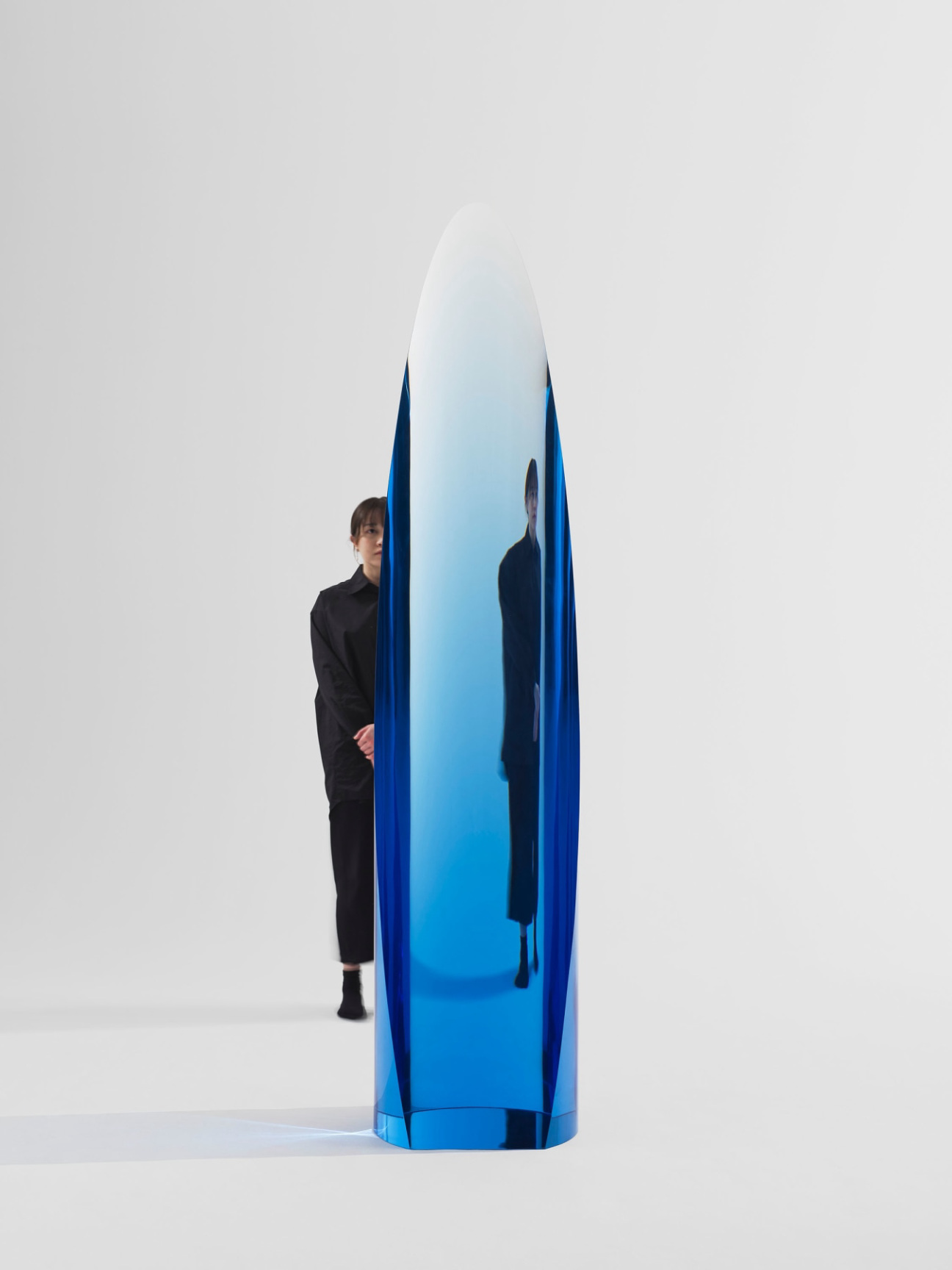 Welcome to This Week in Culture, a weekly agenda of show openings and events in major cities across the globe. From galleries to institutions and one-of-a-kind happenings, our ongoing survey highlights the best of contemporary culture, for those willing to make the journey.
"Cylindrical Lenses" by Fred Eversley
David Kordansky New York
Fred Eversley is staging his first solo gallery show in his native New York since 1976, and the exhibition marks a homecoming for the artist, who returned to the city full-time from Los Angeles in 2019. The six vividly colored structures on display vary between six and nine feet in height, and nod to his first solo show at the Whitney Museum of Fine Art in 1970, another collection of cylindrical sculptures. The noted Light and Space artist takes viewers on a transcendental journey, where their visual field is transformed depending on their position relative to the works. "Cylindrical Lenses" will be on view from May 6 through June 10, 2023 at David Kordansky in New York.
"Beauty In Paradox"
Bernd Goeckler New York
This unique showcase of ceramic works celebrates the duality of clay, at once both incredibly durable and deceptively fragile. Katja Hirche, the gallery's director, notes that "it is this admission of vulnerability that is inherent to clay, and to the artist, that give both a superpower." The opening commences on the eve of the 10th Street Neighborhood Gallery Walk, which also includes locations like Eerdmans and Hostler Burrows. "Beauty In Paradox" will be on view from May 3-31, 2023 at Bernd Goeckler in New York.
"All Systems Fail" by Sarah Morris
Deichtorhallen Hamburg
This latest exhibition presents the most extensive collection of Sarah Morris's 30 years of work to date. Over 180 paintings, films, drawings, sculptures, and posters will be on view, through which Morris explores the impact of urban institutions and power structures on modern society. Her use of geometric patterns and vibrant colors invites viewers to see themselves as part of a larger societal system, for better or for worse. "All Systems Fail" will be on view from May 4 through August 20, 2023 at Deichtorhallen in Hamburg, Germany.
"The Goose, the Soldier, and the Baby" by Zuzanna Bartoszek
Gaylord Apartments Los Angeles
Polish artist Zuzanna Bartoszek's expansive practice spans poetry, drawing, and painting. Her loosely rendered pieces often use dark colors to construct warped images of hell, death, and sorrow. In one, a spiraling staircase descends into blazing red. In another, a baby bathed in emerald light wanders into a coal mine. Now, U.S. admirers will get their chance to visit Bartoszek's first in-person show hosted stateside. "The Goose, the Soldier, and the Baby" will be on view from April 29 through May 28, 2023 at Gaylord Apartments in Los Angeles.
"Natural Order" by Richard Mayhew
Venus Over Manhattan New York
Venus Over Manhattan's new location will be inaugurated with a debut showing of works by Richard Mayhew. The collection, which features over 20 works from the African American and Native American artist, is a fitting tribute to the painter, who continues to paint at 99 years old. The display will draw on his exploration of nature, culture, memory, and identity, and the way these facets interact in his abstract landscapes. "Natural Order" will be on view from May 6 through June 17, 2023 at Venus Over Manhattan's 39 Great Jones Street location in New York.
"Au Bois d'Amour" by Claire Tabouret
Institute of Contemporary Art Miami
French artist Claire Tabouret dissects identity, sexuality, and intimacy in her latest series of works. Taking inspiration from renowned French painter Édouard Vuillard and the Les Nabis post-impressionist group, this new collection leans towards abstraction, filtered through a 21st century perspective. Tabouret will be exhibiting several of her "fluff" paintings, monoprints, and a tapestry. "Au Bois d'Amour" will be on display from May 5 through October 29, 2023 at the Institute of Contemporary Art in Miami.
"I Want Everything Now" by Uman
Nicola Vassell New York
Uman was born in Somalia, raised in Kenya and Denmark, and then moved to New York in adulthood. This varied upbringing continues to inform her vivid, multi-disciplinary practice. The artist's paintings, drawings, sculptures, and glass works are direct reflections of her psyche, pulled from her nightly dreamscape. When Uman wakes, she goes immediately to the canvas and paints from within her subconscious. "I Want Everything Now" will be on view from May 4 through June 17, 2023 at Nicola Vassell in New York.