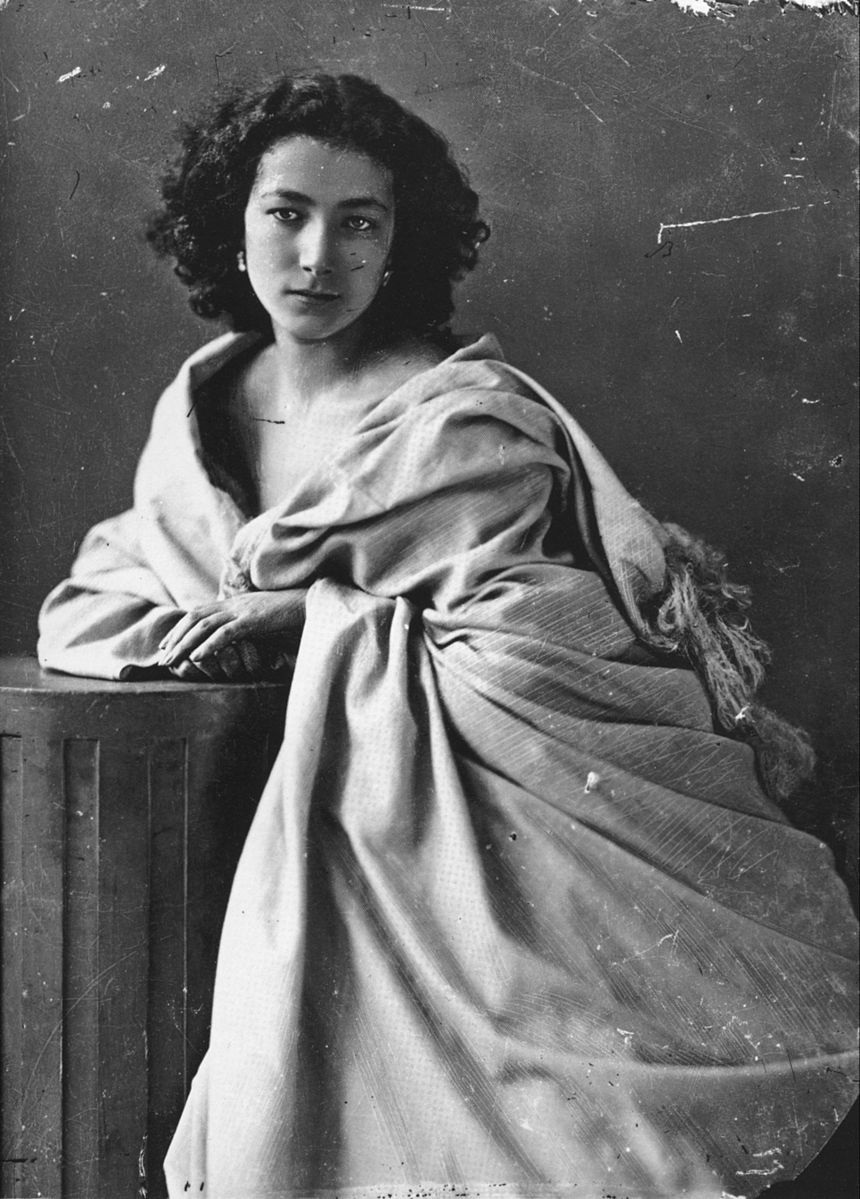 In the art world, time spent making a name for yourself is nearly as vital as time spent making your actual art. Before Vincent van Gogh sliced off his ear, Frida Kahlo kept her unibrow, Marilyn Monroe let her dress fly up, Prince began wearing purple, or Kim Kardashian hit E! Network, turn-of-the-century French actress Sarah Bernhardt adopted a cheetah, courted princes, rehearsed her scripts inside a coffin, and helped invent the celebrity.
In the program for her 1912-1913 stage tour, Mark Twain wrote, "There are five kinds of actresses: bad actresses, fair actresses, good actresses, great actresses, and Sarah Bernhardt." Victor Hugo, now considered one of the great French writers, reportedly dropped to his knees and kissed the actress's hand after her performance in his play Ruy Blas. While in Russia, Czar Alexander III broke court protocol to bow before Bernhardt.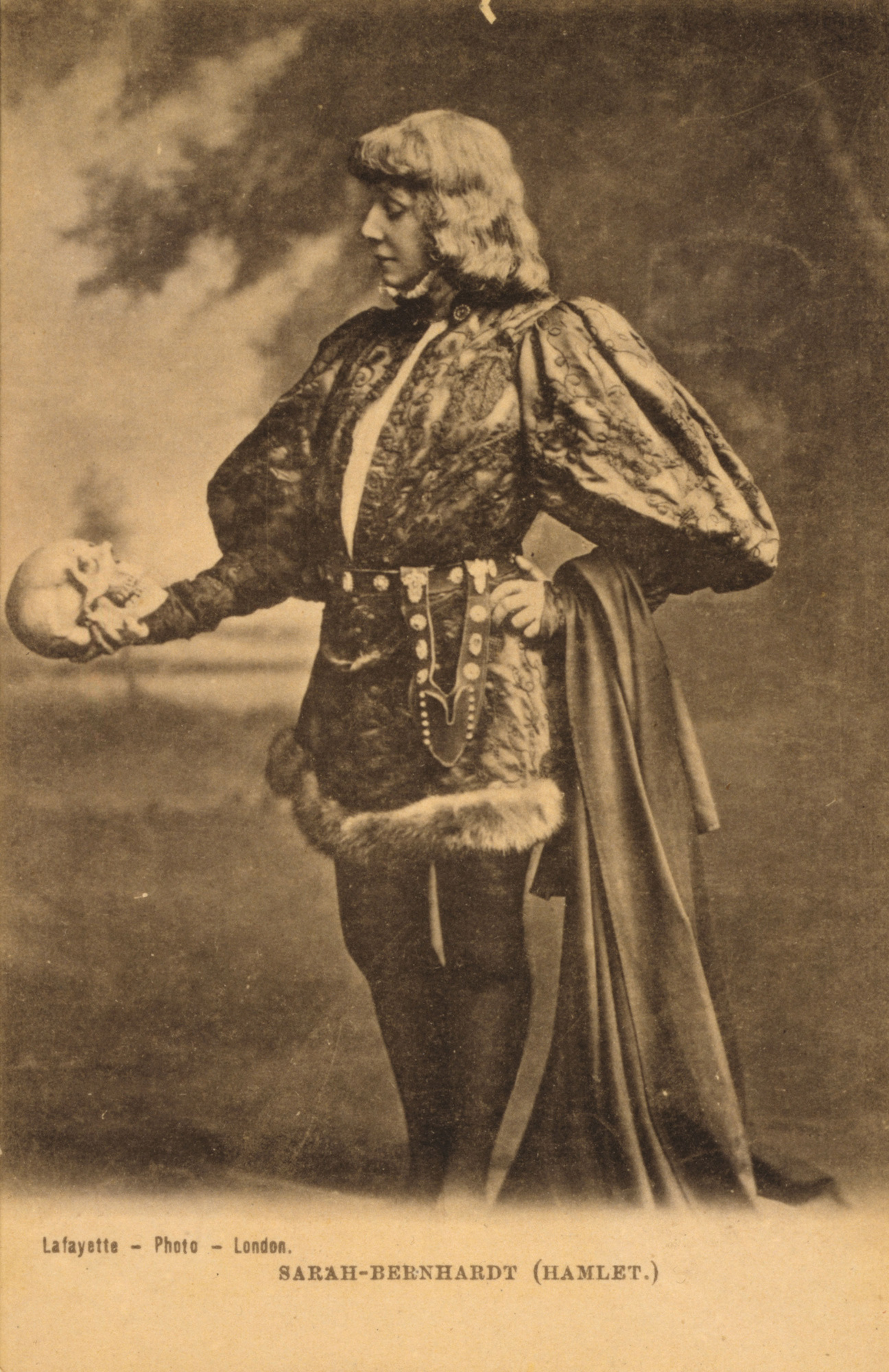 100 years after her death, Bernhardt's cult following continues, and she is the subject of an exhibition in her native Paris at the Petit Palais, which boasts over 400 works and mementos from her mythical life. The daughter of a courtesan to the wealthy elite, she was encouraged to join the theater by one of her mother's many clients.
Over the course of her time on the stage, she played at least 70 roles in over 100 plays. Bernhardt was famous for her turn as Hamlet, and later as Cleopatra. But for all her acting talent, what truly set her apart was her understanding that her wild personality would be her most lucrative selling point.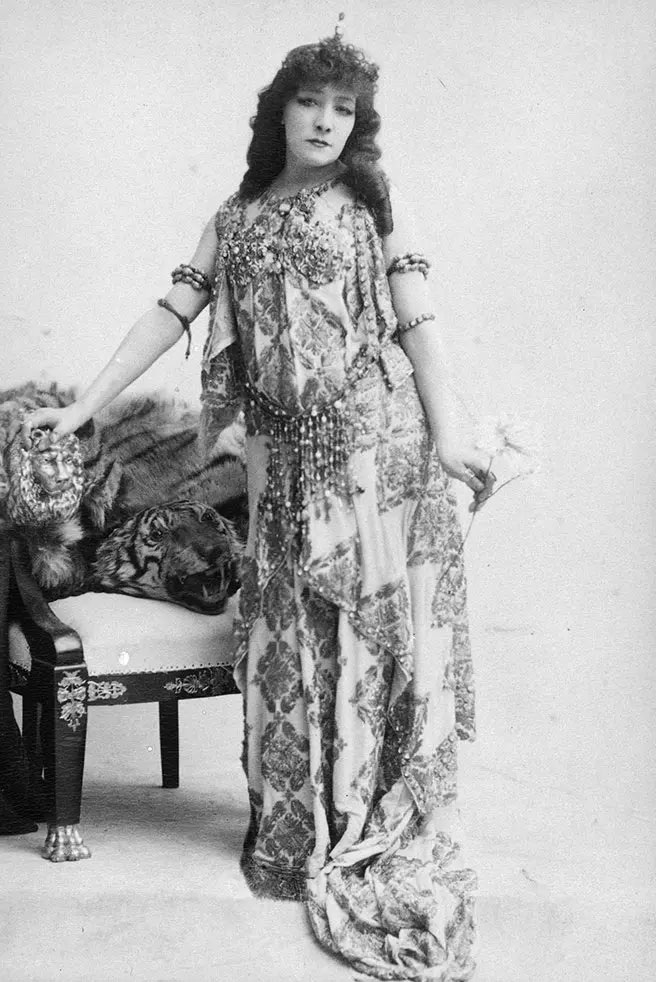 Only a few years into her career, Bernhardt briefly left Paris for Brussels after being fired for slapping the lead actress at the Comédie-Française. There, she met Belgian aristocrat Henri, Hereditary Prince de Ligne, and struck up an affair with him.
The romance ended abruptly when, at age 20, she returned to Paris to attend to her ill mother and realized she was pregnant with the prince's son, Maurice, reinforcing Bernhardt's already scandalous reputation. It wasn't until Bernhardt later became famous that he offered to formally recognize Maurice as his own, though the boy declined, saying that being the son of Bernhardt was an even greater honor.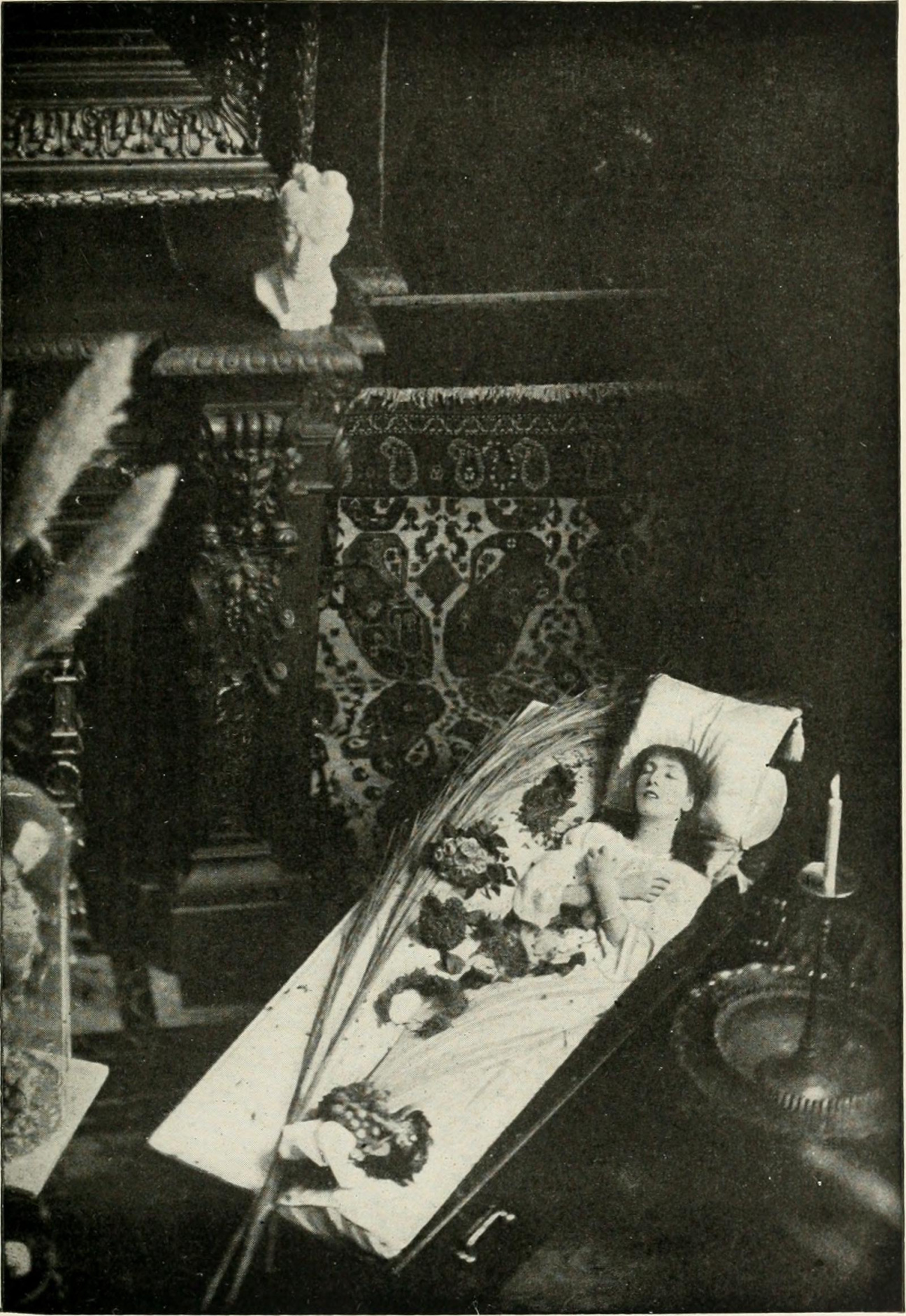 Off the stage, she purposefully curated an aura of eccentricity, frequently posing for photos, sometimes in the coffin where she slept and once on the back of a dead whale, ensuring the proliferation of her image. She kept a host of pets, including a cheetah, a parrot, a wolfhound, an alligator, and six chameleons.
Bernhardt took up romances with King Edward VII (prior to his reign), the expressionist painter Louise Abbéma, and several of her co-stars. Later in life, after having one of her legs amputated due to an untreated knee injury, she refused a prosthetic and was instead carried around in a palanquin that she designed.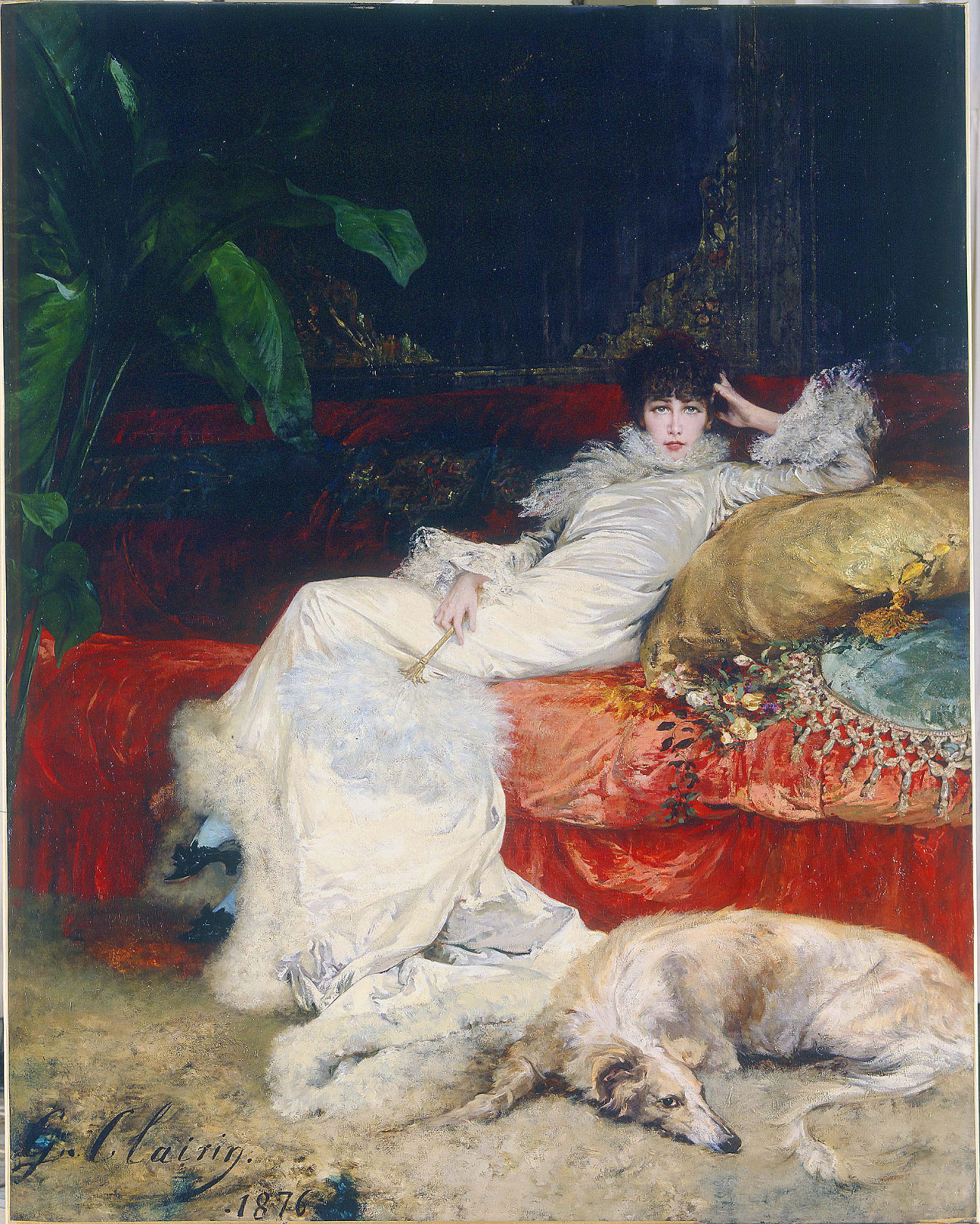 Prior to the invention of "personal branding" or "merch," Bernhardt was an early adopter of such ideas. She marketed a range of products, including feather fans, corsets, boots, biscuits, and cigarettes, some of which were emblazoned with her self-prescribed personal motto: Quand Même, or "despite everything."
She also branched into other mediums, taking up writing, sculpture, painting, and film acting. Her 1912 picture, The Loves of Queen Elizabeth, was so successful that the release helped its distributor, Adolph Zukor, go on to co-found Paramount.
When Bernhardt died in 1923, 30,000 people attended her funeral, and a million followed her casket ​​from the Church of Saint-François-de-Sales to Père Lachaise Cemetery. Stéphanie Cantarutti, co-curator of the Petit Palais exhibition, told Vogue, "We kept trying to come up with today's equivalent, but there are none. You'd have to fuse the beauty of Catherine Deneuve, plus Madonna and Lady Gaga for their provocative sides—maybe a little Kim Kardashian, for her social media flair—but even then it's not quite to scale."
"Sarah Bernhardt" is on view through August 27, 2023 at the Petit Palais in Paris.