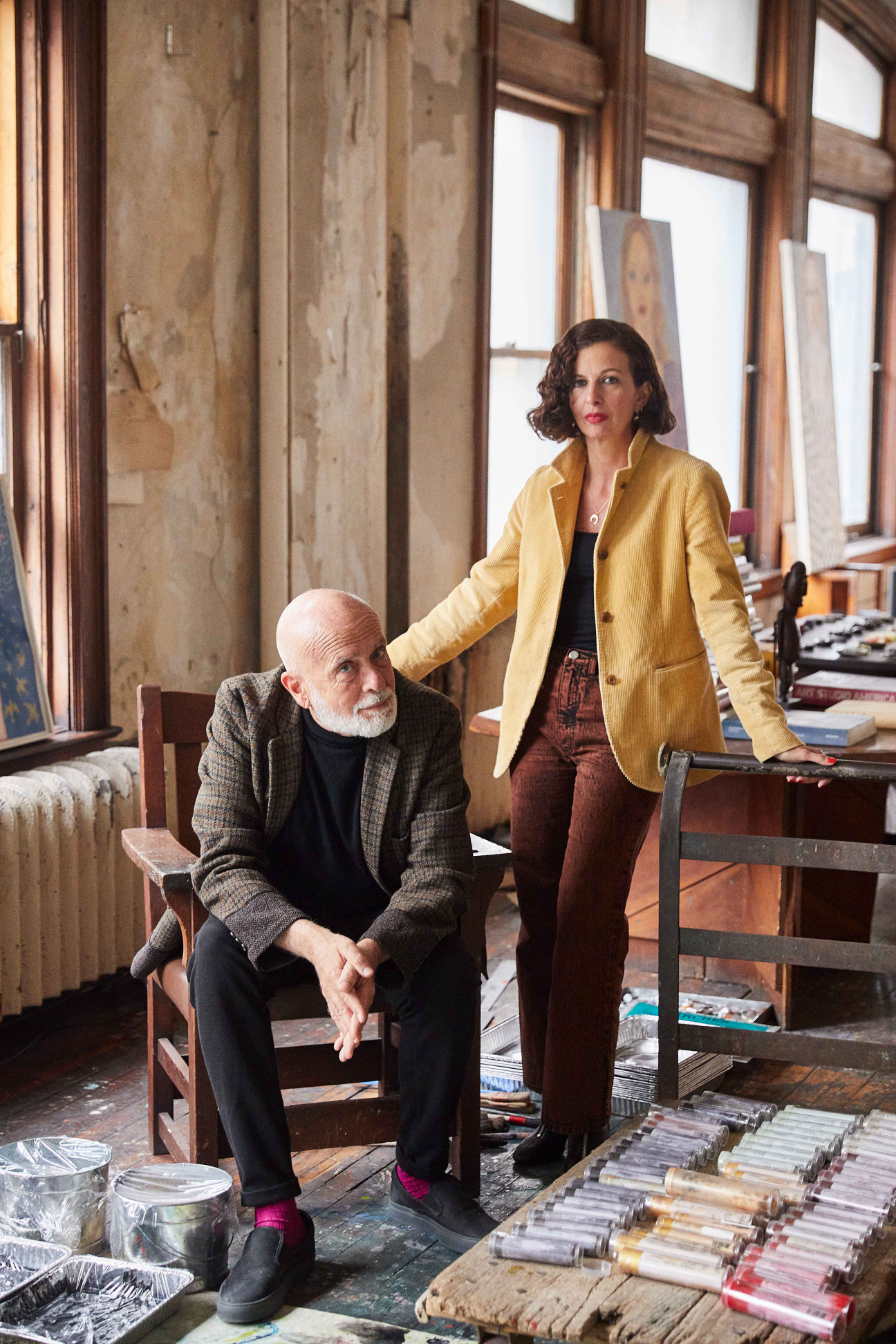 For painter Francesco Clemente and his daughter, documentary filmmaker Chiara Clemente, intimate portraits have always been a central part of art-making. But how has the pair's relationship influenced their identities and individual practices? Francesco's nearly surrealist watercolors and oils present strange characters and dream-like scenes laden with symbolism. He is also known for his stylized portraits of fellow artists, a theme that is the central focus of Chiara's practice. Her films, which she likewise refers to as "portraits," are poetic narratives grounded in an equally strong aesthetic sensibility. The father and daughter's close bond has resulted in a shared ethos—a kindred approach to looking at people and the worlds that they inhabit.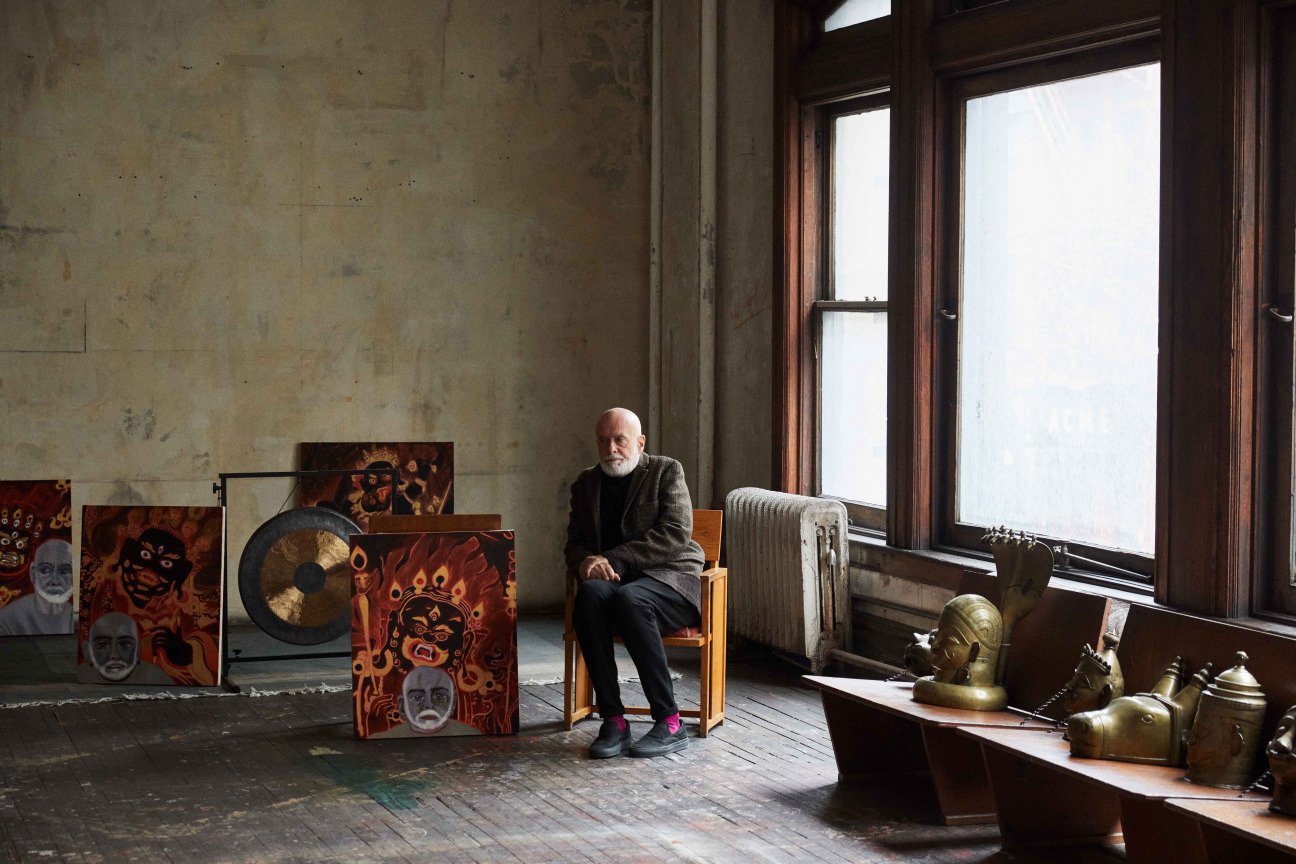 A native Italian, Francesco spent his 20s traveling extensively in East Asia before settling in New York in the early 1980s, where he raised four children. He rose to prominence in that decade as a member of Transavanguardia, a movement defined by the rejection of Conceptualism in favor of a return to Figurative art and Symbolism, blending a Neo-Expressionist style with the influence of Indian religious and folk traditions.
As a result of her father's work, art has been a central character in Chiara's life story. The filmmaker, Francesco's eldest child, was five years old when the family moved from Rome to New York, where her father set up his painting studio in their downtown loft on Broadway. "We grew up in the middle of everything," Chiara says of her Greenwich Village upbringing, "which was a great inspiration for my own work."
Dinners at the Clemente house involved a rotating cast of artists and intellectuals from Francesco's close-knit community. Rather than being sent to bed, Chiara recalls, she and her siblings were invited to participate in the festivities—and these nightly salons proved as influential for her as they did for her father. It's no surprise, then, that Chiara's films often revolve around the stories of fellow artists: In her short film series, "Beginnings," creative visionaries from Christian Louboutin to Yoko Ono reflect on their early years, and her 2008 feature film, Our City Dreams, offers portraits of five luminaries living and working in New York, including Marina Abramović and Kiki Smith.
When filming her subjects, Chiara often asks about their upbringing. "There's a very natural reaction to the experiences from your youth that influences who you become," she says. "When Chiara was a child, a friend of mine used to call her the 'Daughter of the War,'" Francesco laughs, recalling Chiara's unorthodox childhood. "She was next to a funeral pyre in Varanasi [in India] when she was still in her mother's womb. She climbed the Himalayas on the back of a donkey when she was eight months old. When we hired a babysitter for Chiara in New York, the woman who came saw our dilapidated loft, devoid of any furniture, and said, 'Oh, okay! I've been camping before!'"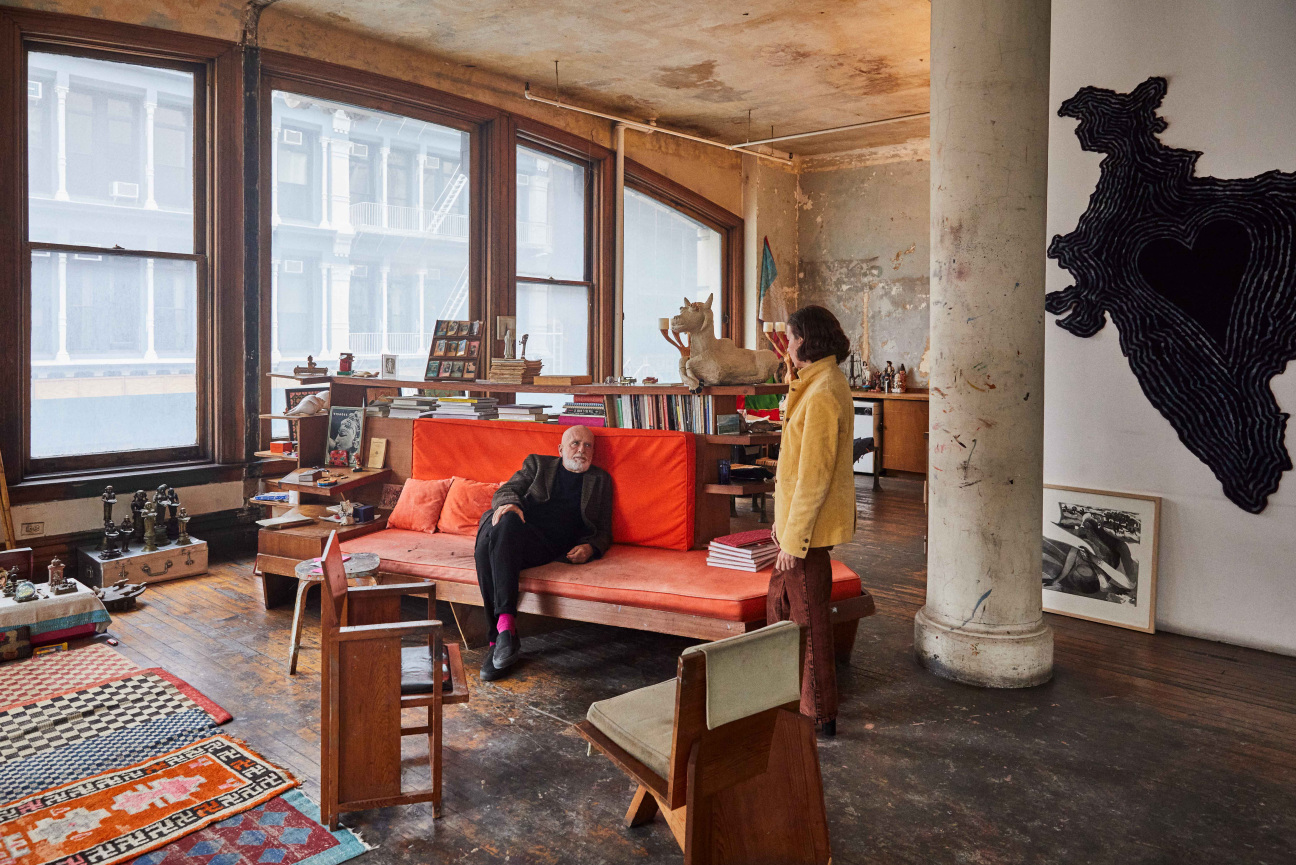 This nomadic sensibility proved useful in Chiara's young adulthood. Much of her early artistic development was defined by a need to cut her own path, first by gravitating toward filmmaking as a teenager, then by traveling extensively—a journey that mirrors her father's. After graduating from high school, she left Manhattan to study filmmaking at Los Angeles's Art Center College of Design beforere returning to her birth country, where she landed her first documentary job interviewing the American Pop artist Jim Dine for the Roman television channel RaiSat Art. "I had to travel a great distance in order to find connection and inspiration," says Chiara.
Francesco sees parallels between the experience of parenting and his own artistic practice. "Waiting is the key," he says. "Waiting for a painting to appear, for a feeling to unfold and surprise, to learn the many truths that make a person. It has been said that children are born with a loaf of bread in their hands. I take this to mean that each child has their own particular destiny, their own inclinations—all we need to do is let them be what they become."
The concept of waiting for a subject to reveal themselves is one that both Clementes bring to bear on their portraiture. Francesco maps spiritual and symbolic systems in his work, while his portraits serve as an atlas of his personal influences and peers, including Jean-Michel Basquiat, Fran Lebowitz, and Toni Morrison. "You see something intimate about the person," says Chiara of her father's portraits. "That's something I do with my work, too: I try to really get into the character I'm portraying, not just their external story."
While this constellation of characters has shaped the work of both father and daughter, it is New York—the metropolis that welcomed the pair during pivotal moments—that most captivates their imaginations. "New York has the singular quality of being a large city that feels small," Francesco muses. "The skyline of New York can be drawn from memory, even by a child. It's a city where you can meet your heroes in the street."
Today, Chiara resides with her own family in Lower Manhattan—near her childhood loft, where her father still produces much of his work. Chiara chose not to give her daughters, eight and four years old, the Clemente name, hoping that this might afford them a chance to forge their own identities in or out of the arts. But the connection might run too deep to resist: her eldest daughter's initials spell "art" (a coincidence that her mother swears was accidental) and she often spends Sunday afternoons drawing in her grandfather's studio.
Chiara and Francesco have collaborated, too. Her 2005 short film, Three Worlds, was about her father. This spring, Francesco is exhibiting his paintings in India for the first time as part of "Sangam/Confluence," a group show at the Nita Mukesh Ambani Cultural Centre in Mumbai. The show will also feature a series of newly-commissioned video portraits by Chiara of several of the exhibition's participating artists (including her father).
But while the themes of both Clementes's oeuvres overlap significantly, it is their philosophy about humanity that binds their work together. Whether through painting or film, Francesco and Chiara reveal people in their complex entirety, making each subject feel familiar and, ultimately, like family.