The hallowed crayères of Reims, France—sprawling underground tunnels that date to 1st century A.D. Ancient Romans—are portals into the distant past. Once means of connection throughout Gaul (the original name of the region), the labyrinths of deep quarries still somehow exist in their original form, but now they belong to the Champagne-makers of the region, whose lush fields of grape vines draw life from the miles of soil that dissect the two worlds. Their product, the glorious sparkling juice, whose mere mention denotes the extraordinary, has defined the area in luxurious artisanship. Walking through the cavernous underbelly of the land today, enfolded by chalk and earth, a certain dissonance occurs. One can't help but reflect inward while moving through the void, in which the surroundings are impossible to not survey.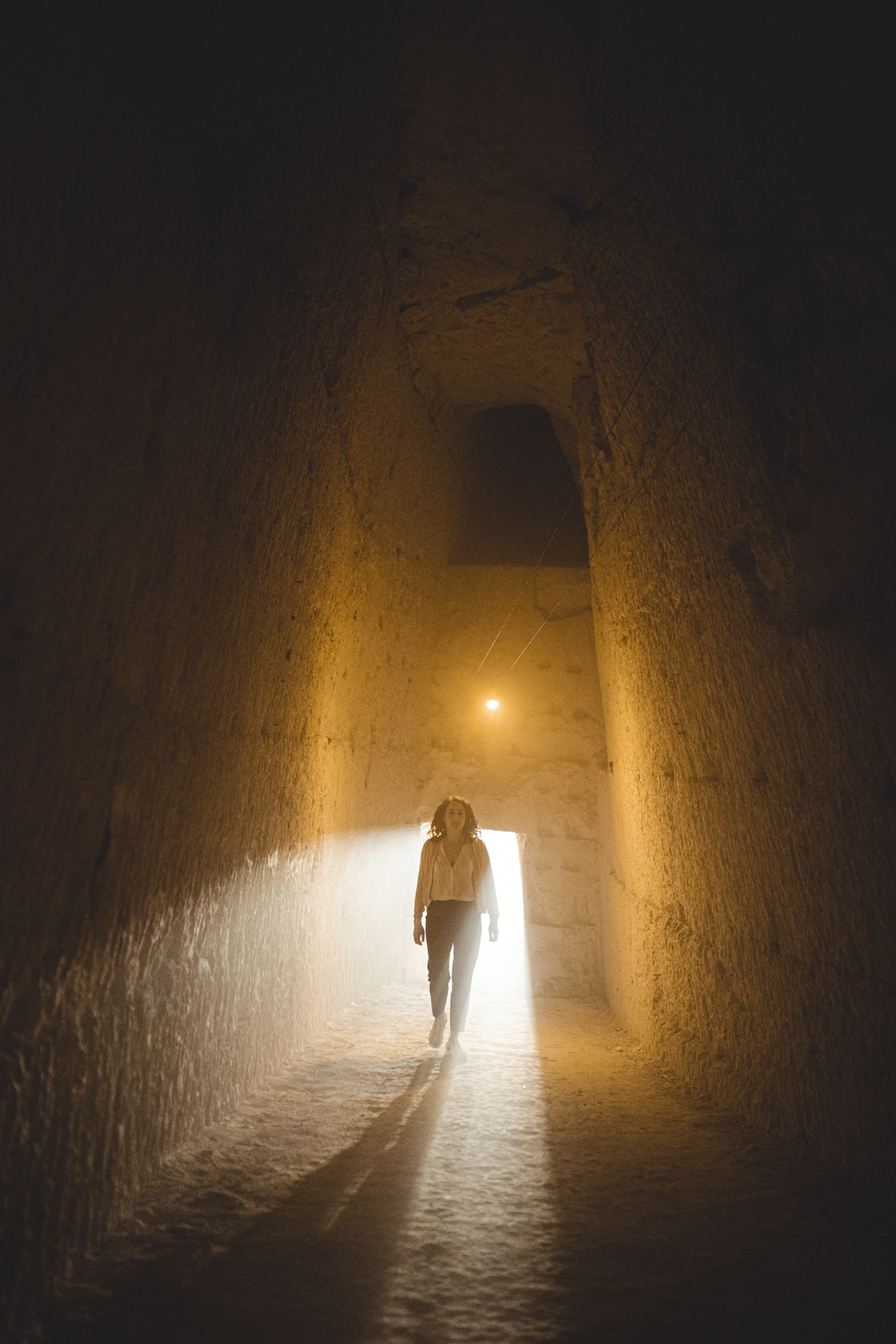 Eva Jospin has walked this route often. Selected for Ruinart's 2023 Carte Blanche program, an artist-in-residence-type series in which the collaborator is essentially given total free rein to create, she cites the Champagne house's history and its region's topographic landscape as the incitement behind "Promenade(s)," which just opened at Le Carreau du Temple in Paris. The works in the ephemeral exhibition build off Jospin's ongoing fascination with forestry and a new abstraction of a mineral and plant landscape that seems both familiar and indefinite. She describes it as "an entirely new universe," one that is created from ideas and symbols we know—likely due to Jospin's one-year stint studying architecture—as well as images she conceived "out of nothing."
Much of this is apparent in "Promenade(s)," in works like Jospin's "petits chefs-d'oeuvre" ("small masterpieces") series, floating mounds that reference Italian Renaissance architecture, crumbled terrain, and the Cathédrale Notre-Dame de Reims, where 35 kings of France have been crowned. By anyone else's hands, these works would be translated into digital environments for videogaming, but by Jospin they are tiny gateways into the elsewhere.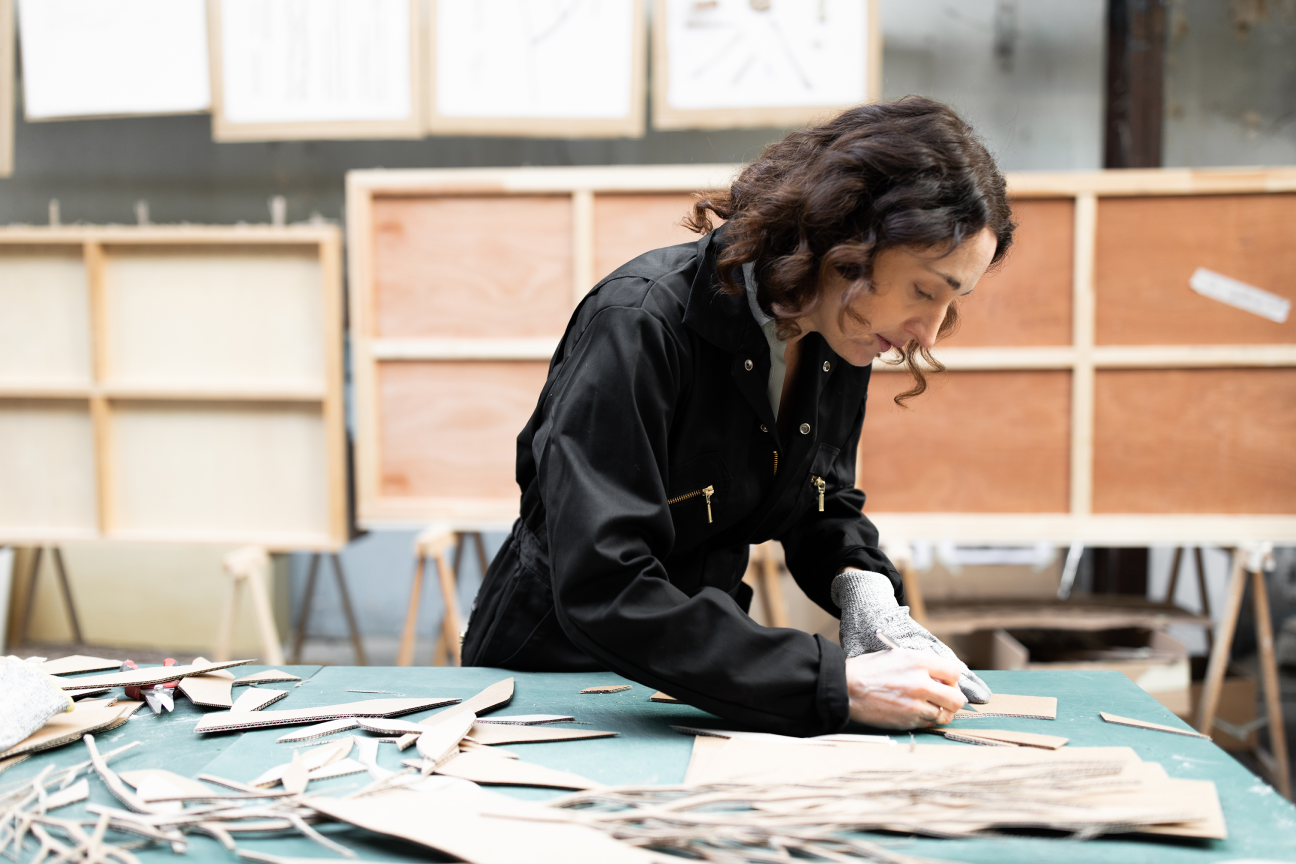 Like her main practice, most of the works Jospin created for Ruinart's Carte Blanche employ cardboard for their central form. "It's a lowly material," explains Jospin, who has been using the corrugated fiberboard as a precious material to envision ornate grottos and enchanting forests for the past decade and a half. In her Parisian studio, the artist—who graduated from the École Nationale Supérieure des Beaux-Arts de Paris and has previously exhibited at Palais de Tokyo, completed the Villa Medici residency, and collaborted with Dior—layers hundreds of flats together before carving the stacks by hand. Through intricate stages of shaving, sanding, and etching, Jospin sculpts her own terrain, forming fantastical structures with Renaissance-level detailing from something otherwise discarded. The effect is a metamorphosis between the old and the new, waste and extravagance. "My work is figurative, but it's not an illustration," the artist insists. "It's a composite, which is a little bit of everything." Bas-relief panels, like 4 Forets, support this assertion, recalling previous works by the artist at the Louvre's Cour Carrée and Musée de la Chasse.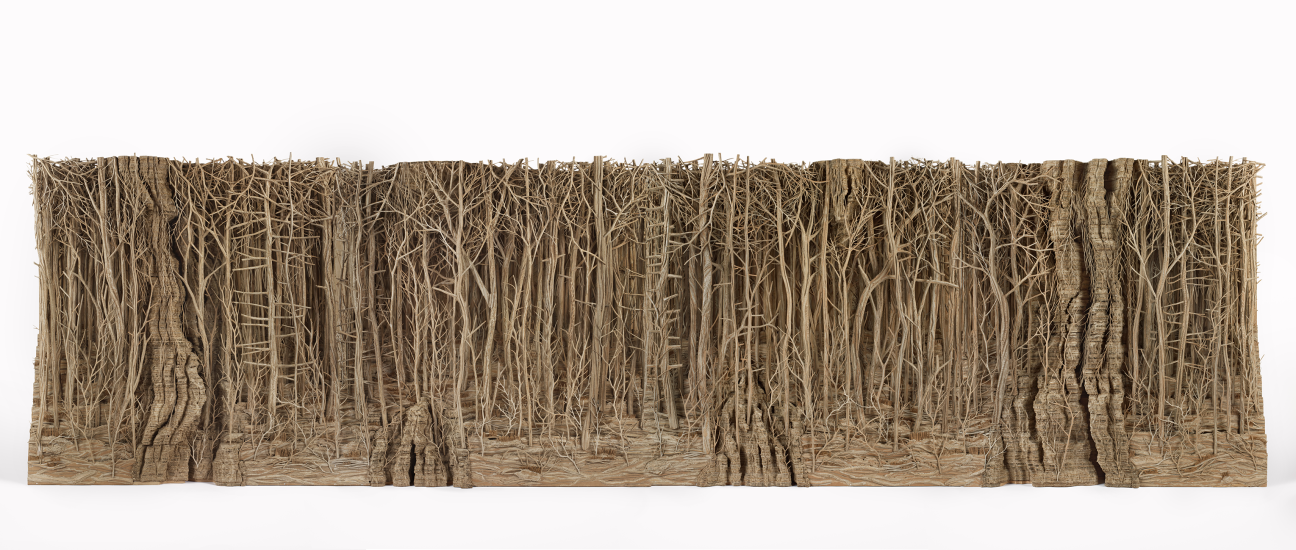 Jospin marks the second woman in the Champagne house's annual program, which has previously included Vik Muniz, Jeppe Hein, and David Shrigley. Following the conclusion of "Promenade(s)," works from the curation will leave one another to travel the world and be exhibited at various art fairs. For the rest of the year, one might encounter her at New York's TEFAF or London's Frieze, either through exhibited work or via the case she designed for Ruinart around a Jeroboam of Blanc de Blancs. Like "Promenade(s)," the limited-edition piece welcomes viewers into a crayère scene sculpted out of layers of cardboard, this time only on a smaller scale. Those elements of continuation of the project were important for Jospin. "You're still in the cave," she says, "You're still in the forrest."