Though he only lived to 27 years old, the legacy and work of Jean-Michel Basquiat feels timeless. In the past, his story has often been told through the lens of his connection to Andy Warhol and the who's who of 1980s celebrity, his origin as a graffiti writer, or the influence his wry, colorful, character-filled paintings, drawings and assemblages have had on contemporary creatives, young and mature. However, on April 9, a new exhibition, "Jean-Michel Basquiat: King Pleasure" and its accompanying catalogue are finally telling his true story—through the words and vision of his living sisters, Lisane Basquiat and Jeanine Heriveaux.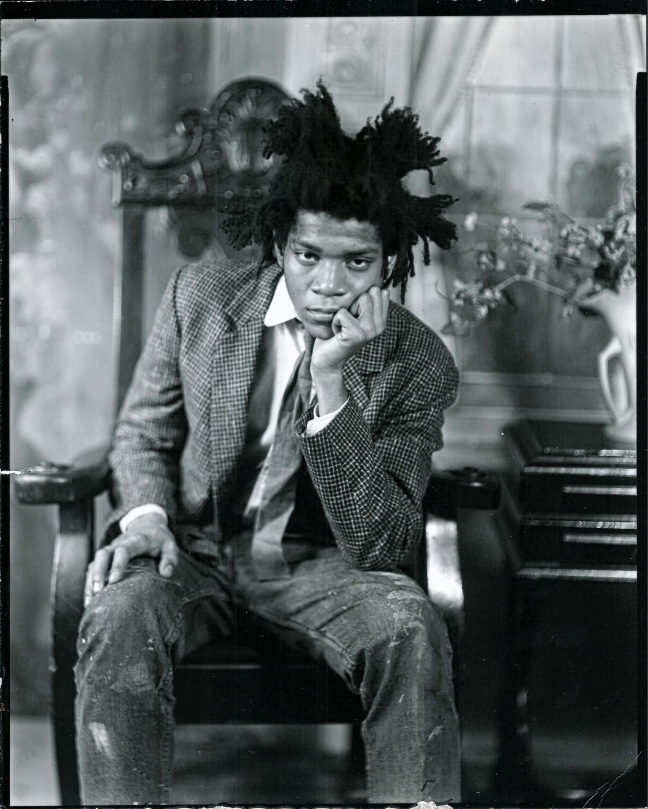 Designed by architect Sir David Adjaye on the ground floor of the iconic Starrett-Lehigh Building in New York, this intimate presentation provides familial context to the beloved artist's origins, his rise to fame and his legendary spot in the art historical canon. Set to a dedicated soundtrack of the music that inspired him, the show will feature over 200 never-before-seen works as well as reproductions of Basquiat's Great Jones Street studio and the since-demolished Palladium nightclub's VIP section for which he made two paintings. But what it truly reveals is a different side of his humanity, seen through the loving eyes of his two younger sisters and their stories of his relationships with his Haitian father Gerard, his Brooklyn-born, Puerto Rican mother Matilde, his stepmother Nora Fitzpatrick, his friends, his acquaintances and his admirers. "Jean-Michel is and has always been fire," writes Lisane in the catalogue, and her pride in her older brother is nearly tangible. Here, she, Heriveaux and Adjaye speak about why this story finally needed to be told.
Elizabeth Fazzare: How long have you been working on this show and why is now the right moment to unveil it?
Jeanine Heriveaux: The idea of creating an exhibition from the family's perspective came about in 2017 but it wasn't until the summer of 2020 that we actually went ahead with working on it fulltime. Now is the right moment because his art is always the right moment.
Lisane Basquiat: His work is always timely and we want to invite his audience to join us in celebrating his incredible creativity, perspective and contribution to art and culture.
EF: Why was imbuing a sense of personality important to the design of "Jean-Michel Basquiat: King Pleasure"?
JH: It was important that the exhibition design captured the essence of Jean-Michel and how he lived. The Adjaye team supported that from the first conversation and created a design that will walk the visitor through his journey.
David Adjaye: Working with the Basquiat family has been incredible because their ambition is to present another face to the image and incredible legacy of Jean-Michel that's no longer from an outside perspective. I jumped onto the project immediately after meeting with the family because I understood the curatorial lens was really from the inside—from the family sharing who this trailblazing 20th-century icon was. "King Pleasure" is about revealing the humanity of Jean-Michel to shed new light on an artist that is widely known but only partially understood.
EF: How does this show honor Jean-Michel's legacy, as an artist and a cultural figure, and correct the narrative about him?
JH: The best way that we can honor Jean-Michel's legacy is to focus on what was most important to him, which was the art and the messages that were conveyed by them.
LB: This show honors Jean-Michel's legacy by introducing his audience to a broader and more intimate perspective of his life.
DA: The show is also about dismissing some of the mythmaking around Jean-Michel to really illuminate the lesser-known facets of his life and his work. Designed as a narrative experience, "King Pleasure" guides you through the key periods of his life as identified and articulated by his family. Instead of creating a white box-type experience, the exhibition unfolds as a series of contextual frames using materiality and tonality as thematic indicators that guides visitors through the distinct stages of his life.
EF: What is one thing about Jean-Michel that the history books have got wrong? What's the real story?
LB: The most precise understanding of who Jean-Michel is and what he thought is accessible through the sharing of his voice through his work. His body of work provides so much insight into who he was, what he observed about our culture and history, and what he had to say about it. The goal of our show is to provide broader context and a more personal lens.
EF: Lisane and Jeanine, if you could describe your brother in one phrase, what would it be?
JH: FAMOUS.
LB: Creative Genius.