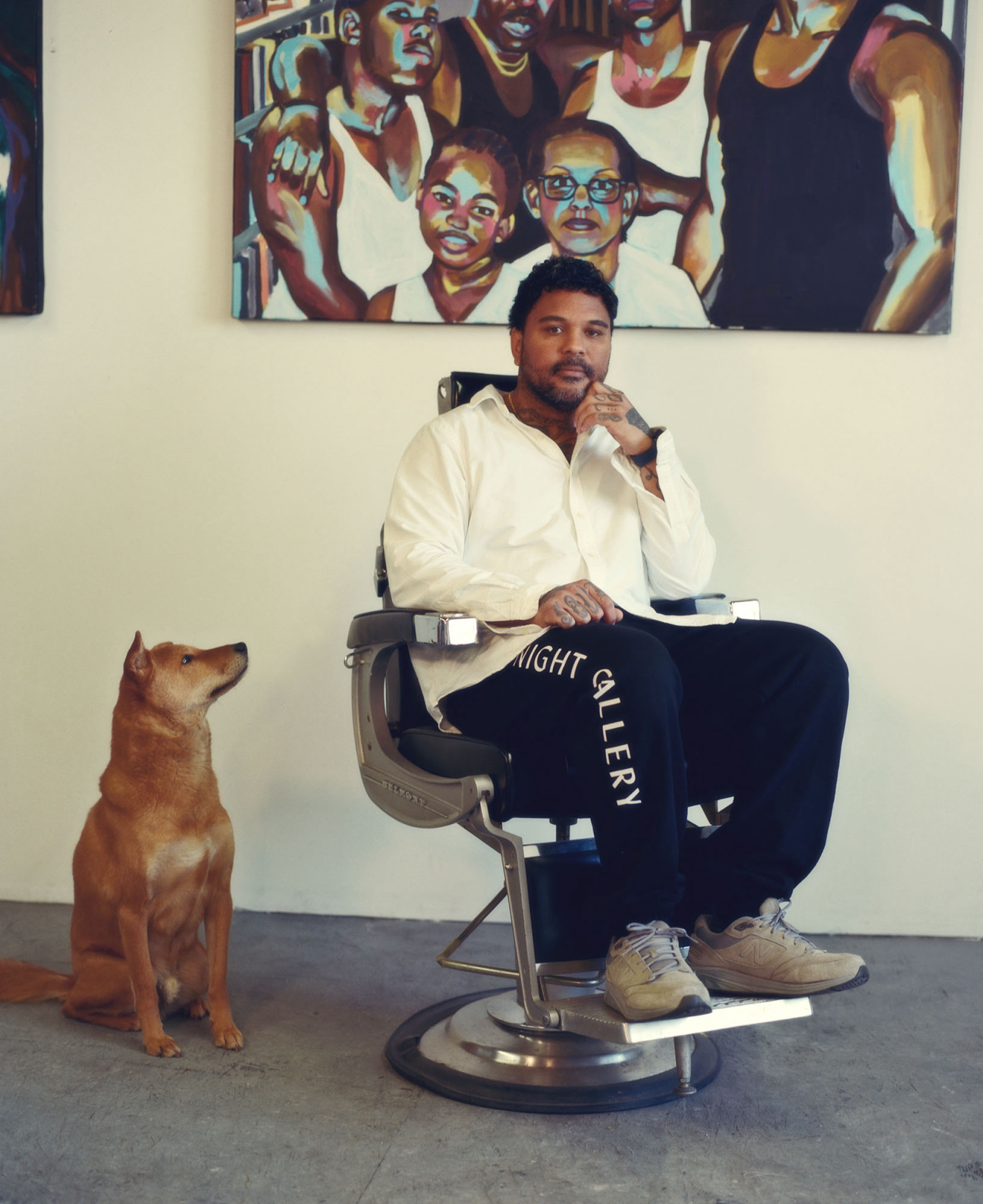 I first met Reginald Armstrong in 2018, when he unknowingly photobombed a picture I snapped of a friend at a UTA Artist Space opening in Los Angeles. Years later, when I visited his DTLA studio for this story, I saw that the photo had become the reference for a series of paintings that filled the space.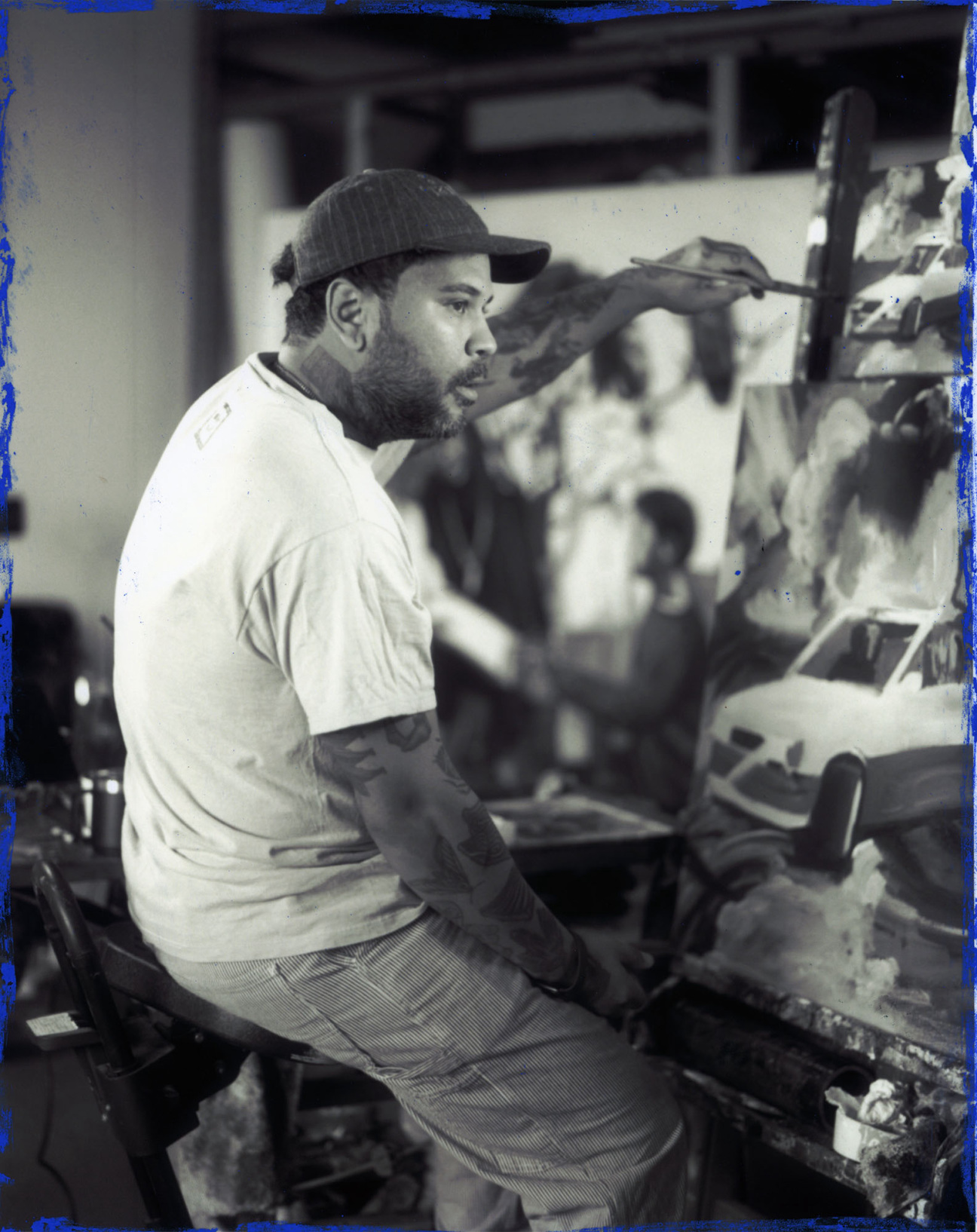 The last few years have been quite busy for the painter. Despite the pandemic slowdown, Armstrong made a significant amount of work in the last few years, much of which has been shown in online and in-person exhibitions in LA and South Korea. In recent months, Armstrong moved to a new studio, a shift which allowed him to embark on his largest works to date. All of Armstrong's paintings have a story—each is an extension or representation of his life's chapters. Some of these narratives weave their way through multiple works, and his diptychs and triptychs remind me of artists like Henry Taylor and Eric Fischl who memorialize moments of daily life—work and leisure—through portraiture. "My process isn't too linear," he muses, noting that some of his bold, figurative paintings evolve from sketches, while others use photographs as references. "I'm more focused on eras in my work. Whether it's working on found objects, painting on styrofoam, or my figurative paintings, for me it's about creating these different bodies of work that can speak for themselves. Right now, I'm leaning more toward the surreal."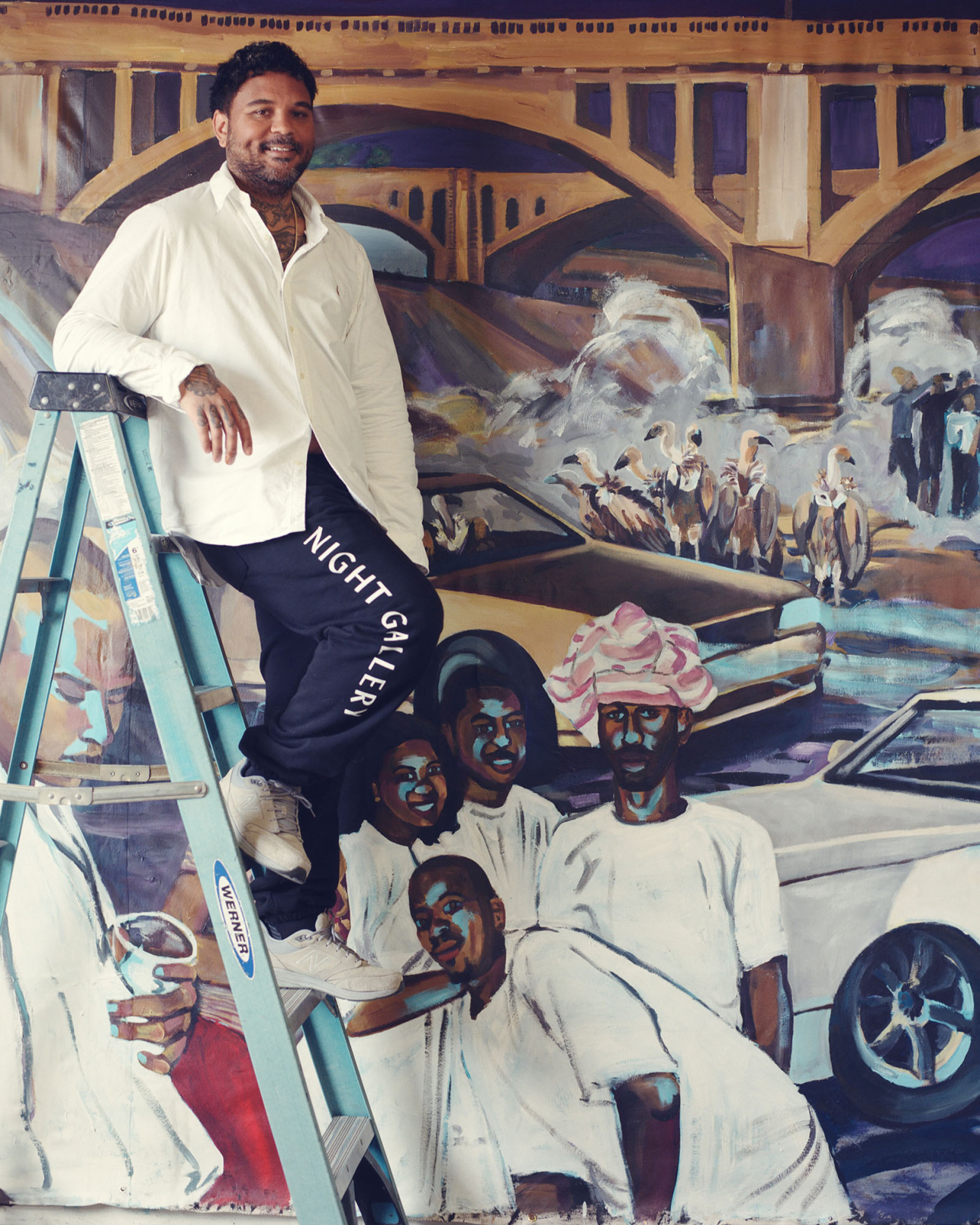 An army brat originally born in West Berlin, Germany, Armstrong moved a lot as a kid before eventually landing in El Paso for high school. But despite his world travels and varied references, Armstrong's deepest link to art is through his own father, who left the military to pursue a career in nursing, and whose anatomical drawings sparked Armstrong's first encounter with his own creative potential. "He told me that if I couldn't pay attention in class, I should just draw and listen," Armstrong reflects. "That was something that I've carried through my later years." Later on, a chance encounter with some paintings in a local coffee shop led the artist to tumble headfirst into El Paso's art community. "I looked at the work and thought, 'This guy paints so good, like Dalí,'" he recalls, "So I left him a note. He messaged me and told me to come meet him and his friends—this older group of painters and artists." For Armstrong, gaining access to a creative community illuminated the path to becoming an artist. "Just being around these kinds of people opens doors, and that enabled me to even see myself as one of them later on."
After relocating to LA, Armstrong made a home for himself in a similar community by visiting with other artists and attending their openings and talks. The painter's exuberance has made him a regular fixture in the city's art scene—as a result, his work has found its way into the collections of numerous budding and established collectors. Armstrong has a big Spring ahead: next month, he will travel to New York to make his art fair debut with a selection of works featured in an exhibition titled "Hot Glue," organized by Night Gallery at NADA's exhibition space on the Lower East Side.