This is Art History, your weekly primer on the art world's salacious past. From heists to heartbreaks, CULTURED brings you the most scandalous stories from the history books, guaranteed to dazzle your dinner companions.
U.K. soccer fans, or "football" as they call it, possess a fury and enthusiasm that rivals even stateside Philly Eagles devotees, who regularly flip cars and go buck wild across the city of brotherly love. In 2015, Glasgow's Partick Thistle football club wanted to capture that spirit, enlisting David Shrigley, a Scottish artist known for his absurdist and cartoon-inspired works, to design their new mascot.
What emerged from the depths of Shrigley's mind was described by Telegraph writer JJ Bull as "Lisa Simpson if she had been tortured and then melted. And then addicted to crystal meth." In truth, the mascot, named Kingsley, was nothing more than a large yellow star, complete with a jagged-toothed smile; faraway, unseeing eyes; and a sloped unibrow. Kingley's ginormous, pointy head only reached to the waist of whoever was wearing his costume, leaving his bottom half mysteriously transfigured into the legs and arms of a grown man, dressed in a simple, yellow longsleeve, pants, and gloves.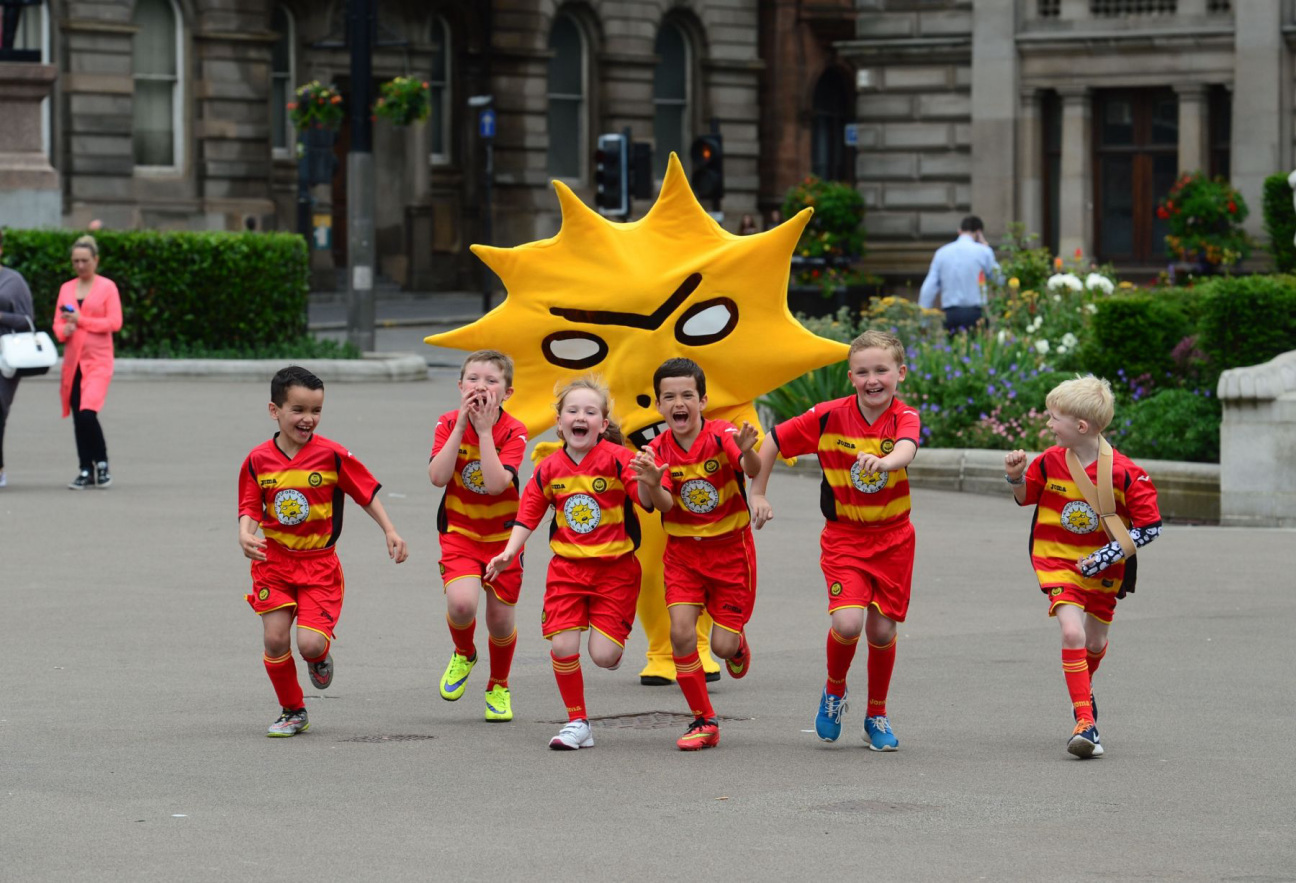 Reviews of the new mascot tended towards the negative, with calls to "burn him with fire," or fear that he would scare the children in attendance at games. The most glowing review, from the Guardian's Jonathan Jones, delighted in the fact that "Kingsley resembles a grotesque and funny carnival costume." The writer assured fans that the mascot only served to reflect their own ravenous and at times unsettling energy. What did they expect from an artist like Shrigley: some boring, corporate offering devoid of a soul?
"He represents the angst of being a football fan," Shrigley told the Guardian in an interview. "People are saying: 'He's terrible, he's a disgrace to the good name of mascots.' Do mascots have a good name? Do they have a union? If you look on the Internet, as I did yesterday, you can find a far scarier mascot."
Amidst the chaos of the unveiling, the mascot from Edinburgh's Hibernian Football Club took to Twitter to post a photo of himself cowering before a picture of Kingsley, pulled up on his desktop Apple computer. "That's a second-tier mascot and a rodent to boot. If we're going to take criticism, we'll take criticism from Premiership mascots," responded Shringley.
For his part, Kingsley himself wrote on Partick Thistle's official site, saying "There were a lot of mean things said about me when I first appeared, but I'm not too concerned because I know it's what's on the inside that counts. I'm a nice guy really–just a bit misunderstood. I might look a bit angry but I'm really very approachable and I love Partick Thistle."
In the years since, locals have come to appreciate their fearsome friend. On his first anniversary, Kingsley rejoiced, "​​I remember when I first arrived and everyone was talking about me and pointing and it was a bit daunting but now I've made so many friends, I love when people run up to say hi." Just last year, Partick Thistle released a special edition jersey prominently featuring Kingsley, which proved to be a hit among fans both near and far. Sometimes, you have to trust an artist's intuition.