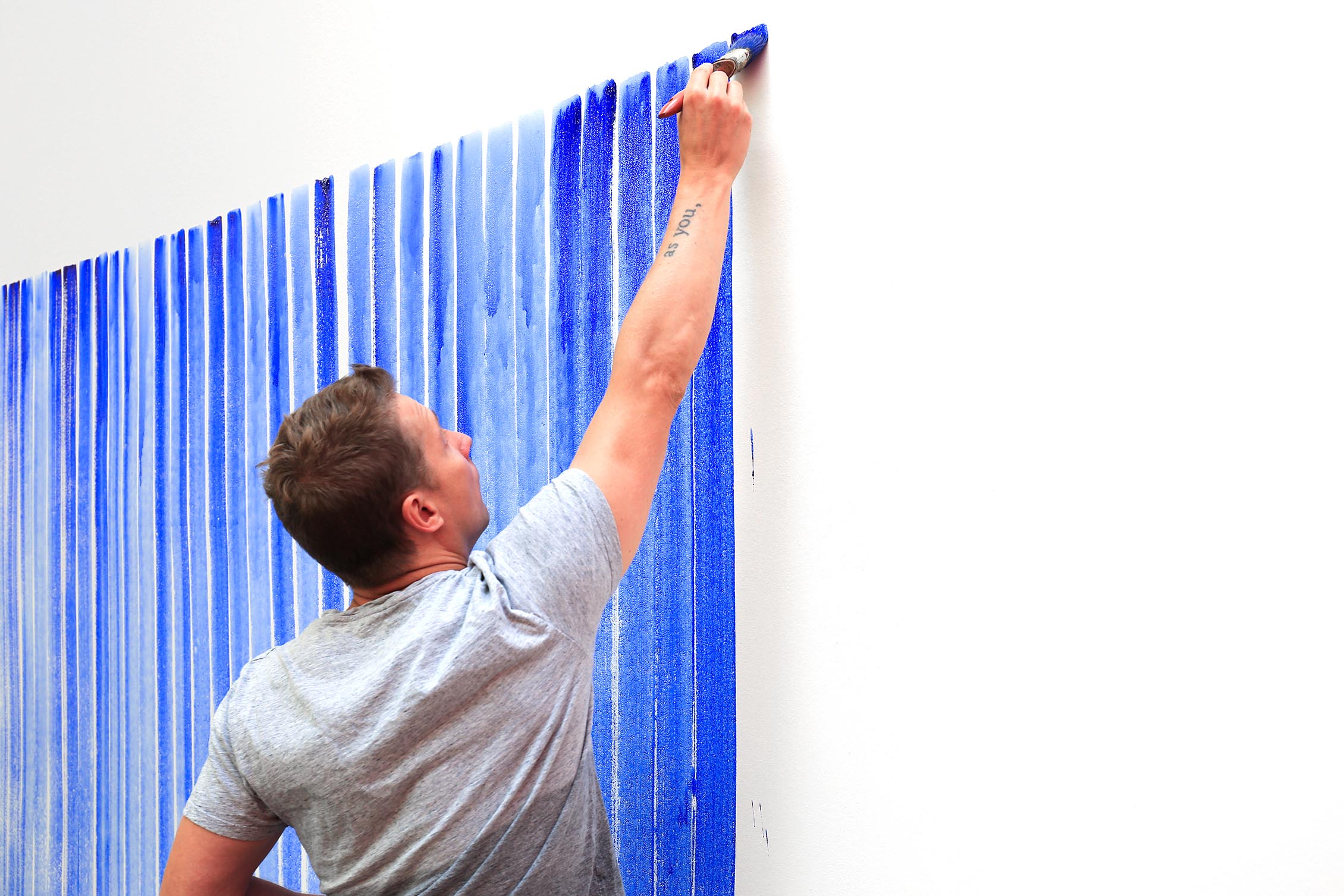 Tell me about your work at Frieze LA. My gallery, König Galerie, will present a selection of new and old works in a solo show at Frieze LA. A new series of two-and three-colored Mirror Balloons will be launched. The balloons hang from the ceiling above people's heads, subtly moving with the circulation of air. Due to their shape and reflective surface, the balloons produce a distorted perspective of the surrounding space, similar to a fish-eye view. Only the roof seems to prevent the balloons from soaring into the air and expanding the reflection to the infinite.
The balloons shall evoke an impulse in people to look around, to connect, to be conscious of their surroundings. Ideally, they will get a glint in their eyes, smile at each other, and maybe start to dream about how nice it could be to fly away.
Two of my Modified Social Benches will offer visitors an unconventional seat. The bench designs borrow their basic form from the ubiquitous park or garden bench seen everywhere, but are altered to various degrees. This makes the act of sitting on them a conscious physical endeavor. With their modifications, the benches transform their surroundings into places of activity rather than rest and solitude; they foster exchange between the users and passersby, thus lending the work a social quality. My neon box, I AM RIGHT HERE RIGHT NOW, will awaken viewers to the present moment and allow them to question their sense of self.
Moreover, my mirror works, Twisted Geometric Mirror I and Vertical Cut, will also be on view. In my mirror installations, the surroundings are reflected in multiple ways, making space appear invisible, to a certain degree. Mirrors have the ability to directly subvert and displace our experience and perception of our surroundings and ourselves. Mirrors make us reflect on our own presence by addressing our physical and psychological experience of the space and our position within it. We become aware of the limitations, as well as the possibilities, inherent in the act of looking.
Your work both emotionally moves and physically disrupts a space; it's transformative. In your experience, what is the effect of a work like this in an art fair? Naturally, visitors experience artworks presented at an art fair differently than in a museum or outside in public space. Still, I believe that my installations offer the viewer the possibility of participation in the action of a piece, or of being confronted with the surprise of the unexpected.
Accessibility, and the possibility of play, is so significant to your work. I was reading about your book with Finn Janning, When life blooms – Breathe. How can art help us learn about ourselves? Can visual art be spiritually transformative? I like to fascinate viewers and make them smile, but although I am pleased when my works amuse the audience, my main aim is not to merely entertain people. My concepts are always based on serious principles. However, playfulness and participation make it easier for people— especially those who normally are not in touch with art—to approach artworks. Art can be very appealing for people, creating joyful situations, relaxing moments, and opportunities for interaction with other people or to question one's own situation. Art makes people laugh and life is easier with a smile on your face—or as Charlie Chaplin said: "a day without laughter is a day wasted." I believe if an artwork puts a smile on your face and gets you in high spirits, it even makes your life better—at least momentarily.
Can you describe the experience of watching viewers communicate with your work—is there joy in the interaction for you, as well? The creative energy of being an artist brings so much joy and happiness. To see how people react to and interact with my work, to be able to fascinate them and sometimes even make them happy, makes me very happy too.
You once said the philosophy of Robert Smith (of The Cure) informs your practice. Is that still true today? I am inspired by a lot of very different philosophies and philosopher—including several musicians, writers and artists.