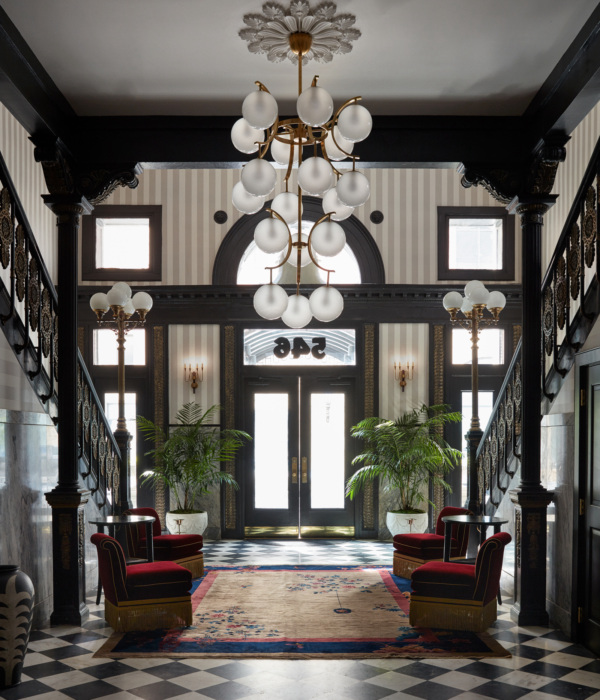 The Introvert's Escape
The cacophony of Bourbon Street is no farther than 10 minutes by foot from the handsome doors of Maison de la Luz. And yet, beyond its threshold is a world so pervaded by calm that it takes one's breath upon entrance, not unlike the hushed tone that falls when stepping into a temple or a contemporary art gallery. The foyer of the Maison de la Luz has a soaring volume that makes visible a grand staircase running up its spine, supplemented by a pair of elevators. A pitless bowl of pistachios sits on the entry table, reminding one that the setting isn't meant to intimidate, but rather envelope its visitors with extraordinary hospitality. The night concierge, Sean, remembers one's name after giving it once like the most charming guy at the party.
The hallways feature plush carpeting that feels like an extension of one's own immaculate home. This hotel knows that the perfect counterpoint to all the bustle and excitement of New Orleans is a retreat with high ceilings illuminating the sacred nature of airy, personal space. In the guest rooms, the design doesn't seek attention, but rather emphasizes the generosity and grandeur of each suite within the former Art Deco-era office building. There are dark navy, hand-sewn linens on the bed, light purple walls, and mosaic bathrooms. There are distinct Eloise at the Plaza vibes, but with royal colors instead of Hilary Knight's pink and black. In New Orleans, Maison de la Luz is a way to have one's cake and eat it too (appropriately French). Live on the streets; relax in the sheets.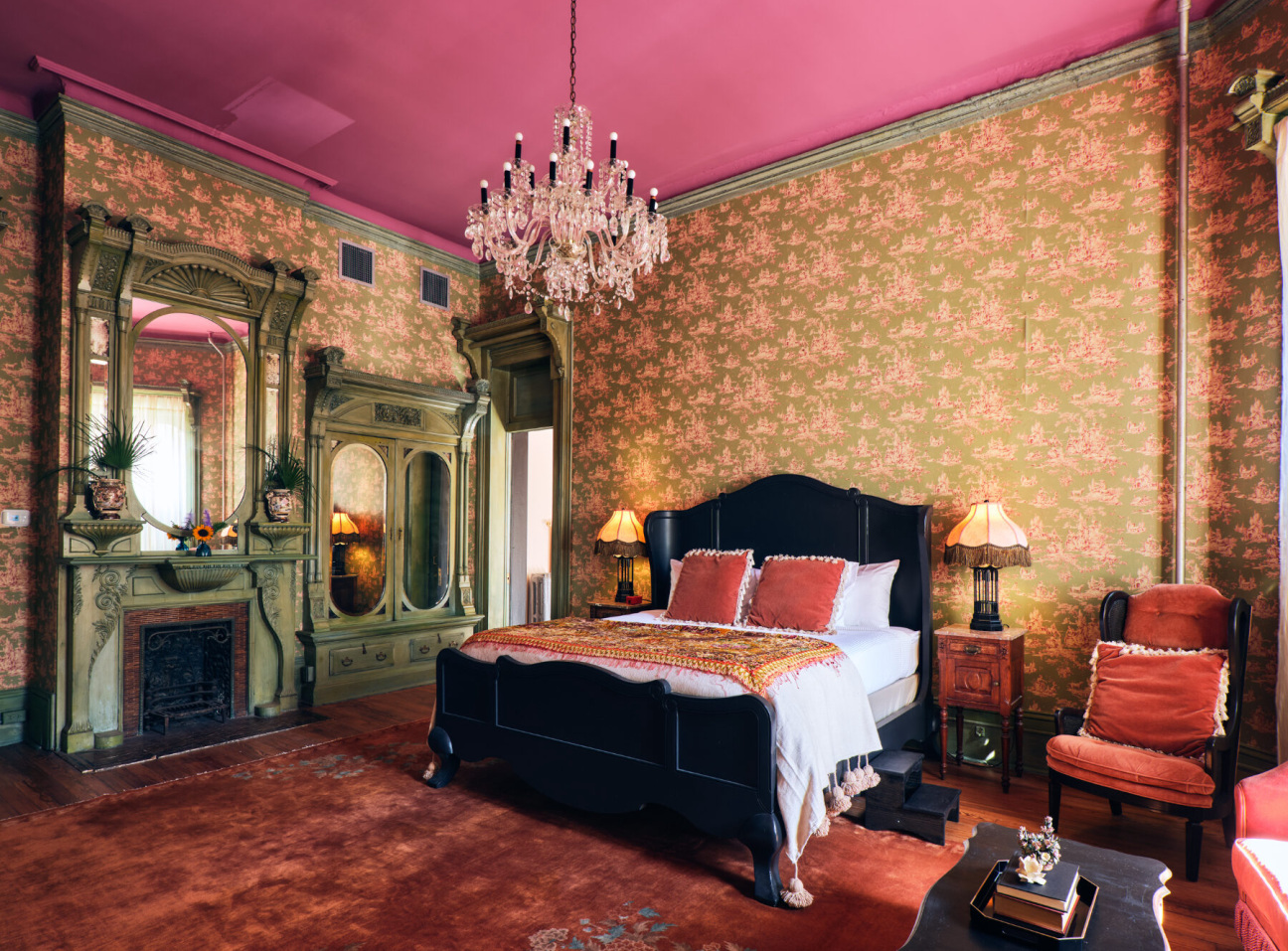 The House With the Big Personality
The absorbing staff of The Columns hotel will tell visitors that the 1880s-era mansion it's located in is the most beloved and cheeky member of their team. A private residence until World War I, the grand mansion, which sits on New Orleans's parade route, is a dazzling example of local architecture and the way the city has continued to reinvent itself. The Columns has a particularly refined character that starts at its generous front porch looking out to the street, forming a sort of piazza where guests, locals, and day trippers alike intermingle over classically inspired drinks. These, of course, are delivered quickly to the cocktail-sippers. The first floor is communal by design: a series of interlocking parlors with different hosting functions keep one fueled from breakfast to nightcap.
Upstairs, the guest rooms begin. Each is unique, but all are accented with a certain ease that supports the "second home" feeling that vibrates throughout The Columns. The total effect is that of a stay at a friend's wealthy, ancestral estate where one has been told to make themself comfortable. There are fragrant soaps in the shower, red wine, and old fashion fixings in the room when one arrives, and robes that feel perfectly antique though they are brand spanking new. The food is unexpectedly divine, but not fussed over to the extent it makes one feel underdressed. The building itself is so capacious that this experience can be shared by all at once. This reporter watched a memorial service and a St Patrick's themed bar crawl both find space successfully, even with the aberrant punctuations of well-heeled tourists like herself. The Columns, therefore, is best for those looking to call the city a home away from home, even if it's just for a weekend.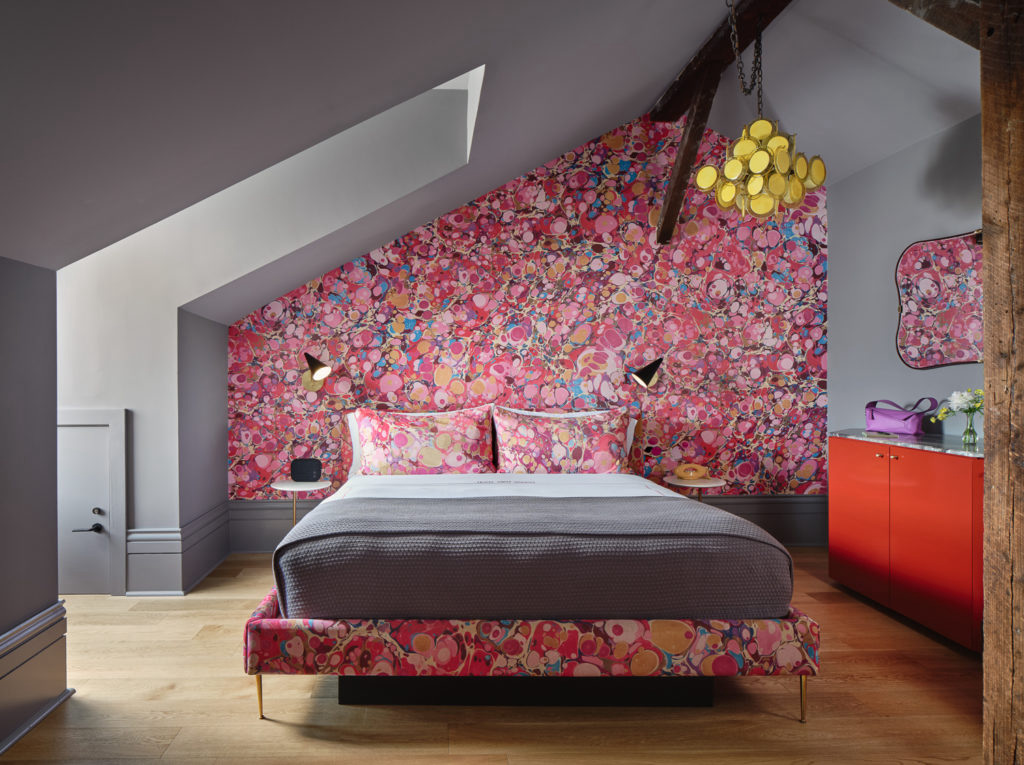 The Jewel Box
Hotel Saint Vincent's imposing façade sets a dramatic tone that its interiors seek to uphold. The world is one of eclectic wallpapering, refined light fixtures, selective coffee table books, and expensive cosmetics. The latter few are available in a well-outfitted gift shop where they are stocked next to namecheck-worthy items from Augustine Bader and Elder Statesman, not to mention vintage Rolexes and Mason Pearson brushes. Designed for those looking to keep their elaborate morning coffee orders consistent, and their cocktails craft made, Hotel Saint Vincent buzzes with a fashionable set who sprawl out like rare birds across its lavishly decorated lounges and pillowed corners. The kind of individual who thrives here adores photo-ready interiors that delight in bygone excess and saturated color palettes, shifting one's mood as they pass between them. There are hints of Italy, Vietnam, France and New Orleans to be tasted.
The beguiling building, originally designed in the 1880s as an asylum for orphans, has through careful restoration and leaps of imagination been transformed into a Gatsby-like playground set up to manage the cinematic appetites of a social media-hungry generation. The pool is the ectopic expression of this design, with its tile-lined deck and decorative ends. The hotel is in totality an oasis that brings together international design trends, letting them mingle with the historical vocabulary of New Orleans.