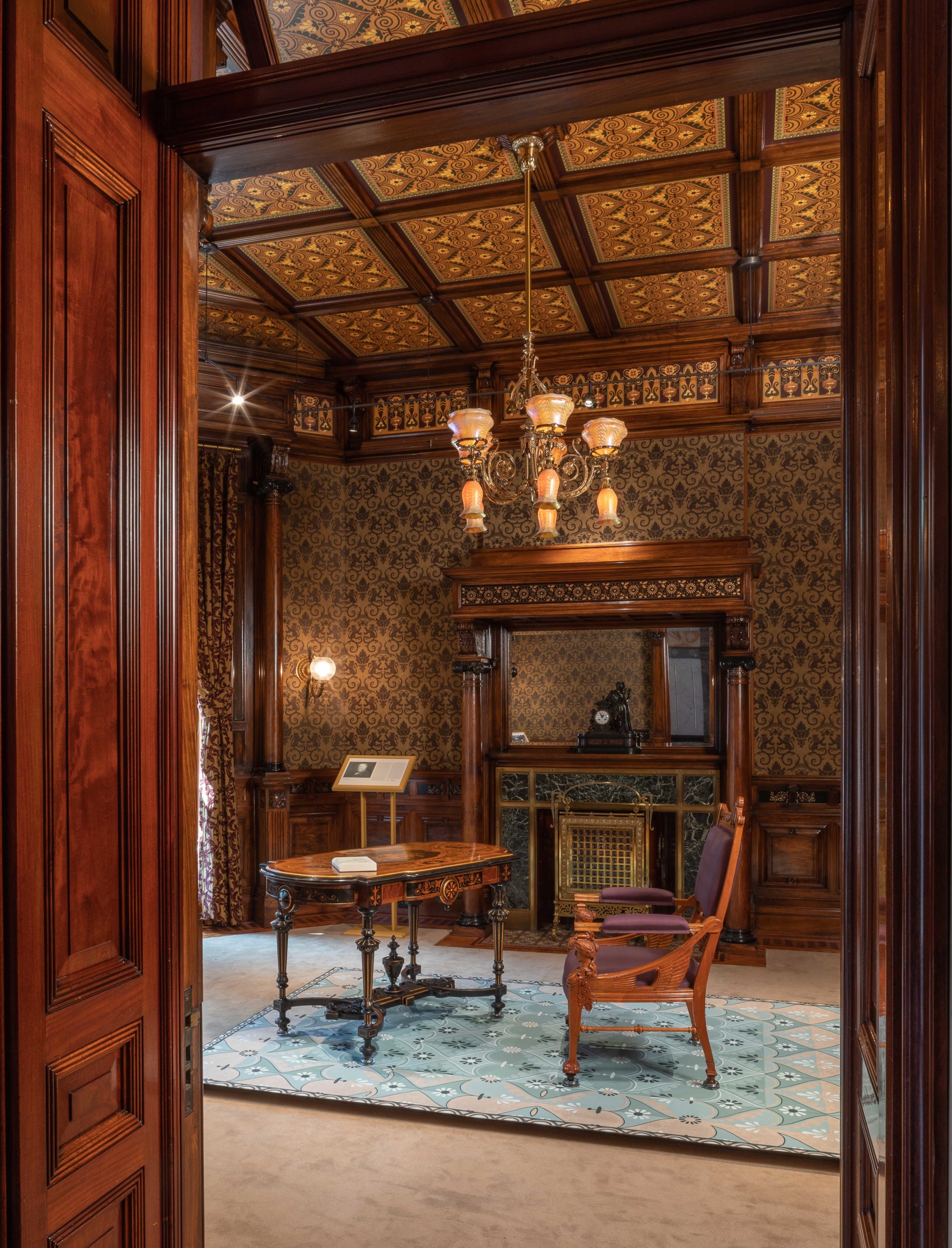 A grandfather clock-like piece stands in a bay window niche at the 1883 Nickerson Mansion in Chicago. Meticulously constructed, it seems a relic of the home itself, but is it? Looking more closely and one sees that the work contains a hologram. Step away and you might never have noticed it at all. At the Driehaus Museum in Chicago, local artists Nate Young and Mika Horibuchi have created contemporary site-specific installations just barely visible in their historic host. Curated by the museum's 2020 fellow Kekeli Sumah, "A Tale of Today," on now through January 17, explores the concept of time through the seamless relationship between the home's Gilded Age architecture, Young's skillful woodworking and Horibuchi's trompe-l'oeil artworks. In this opulent domestic setting, the artists explore familial relationships and authorship, blurring the lines between past and present and questioning narratives long undisputed.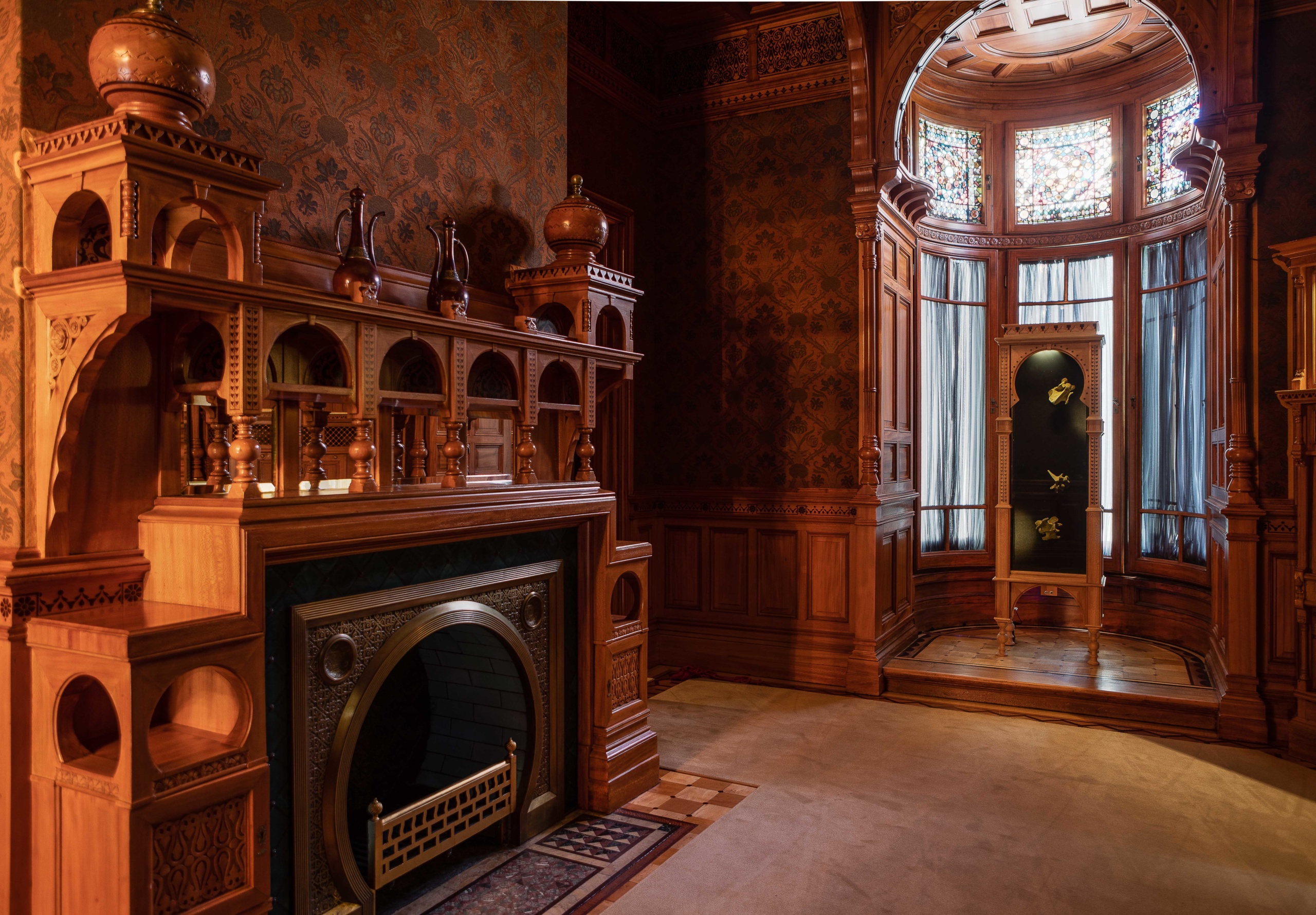 The two artists have taken over upstairs rooms in the three-story, 24,000-square-foot mansion, which is known for its millwork detailing and Asian art collection. Built by Chicago architecture firm Burling and Whitehouse with interiors by R.W. Bates & Co., William August Fielder and George A. Schastey & Co., it is one of the best-preserved examples of Gilded Age architecture. "When I visited the Driehaus Museum, I immediately wanted to approach it by thinking about it physically and historically, working with those two dynamics," explains Horibuchi. Unlike Young's borrowing of its architectural detailing, her installation speaks to the museology of the home. In a series of paintings presented as museum display signs, the artist presents viewers with images of the former owners' art collection but includes no historical text. The objects, artifacts from China and Japan, were donated to the Art Institute of Chicago in 1900. Horibuchi's work argues that they lost and added new meanings when they were decontextualized. Further exploring the history of the home and its owner, Samuel M. Nickerson, Horibuchi has made oil paintings of objects in his former bedroom. Their precision calls viewers to question what is authentic and what has been faked.
Inspired by both the interior architecture and the domestic context of the museum-mansion, Young's installation explores his own family narratives. The work is a continuation of a current project in which he has been "making objects that disappear even though they are right in front of you," he says. Here, he matches millwork details but also introduces holograms to speak to the sense of a history just out of reach, a reference to his ongoing exploration of his great-grandfather's Great Migration journey to Chicago from the South. For a meticulous-crafted mahogany clock artwork, for example, the hands spin backwards, questioning the notion of linear time. "These works coincide with the idea of having a built in distance," he explains. "The more you attempt to understand, you never arrive." Young has also transcribed some of his great-grandfather's letters as text paintings, a further visual of lost history.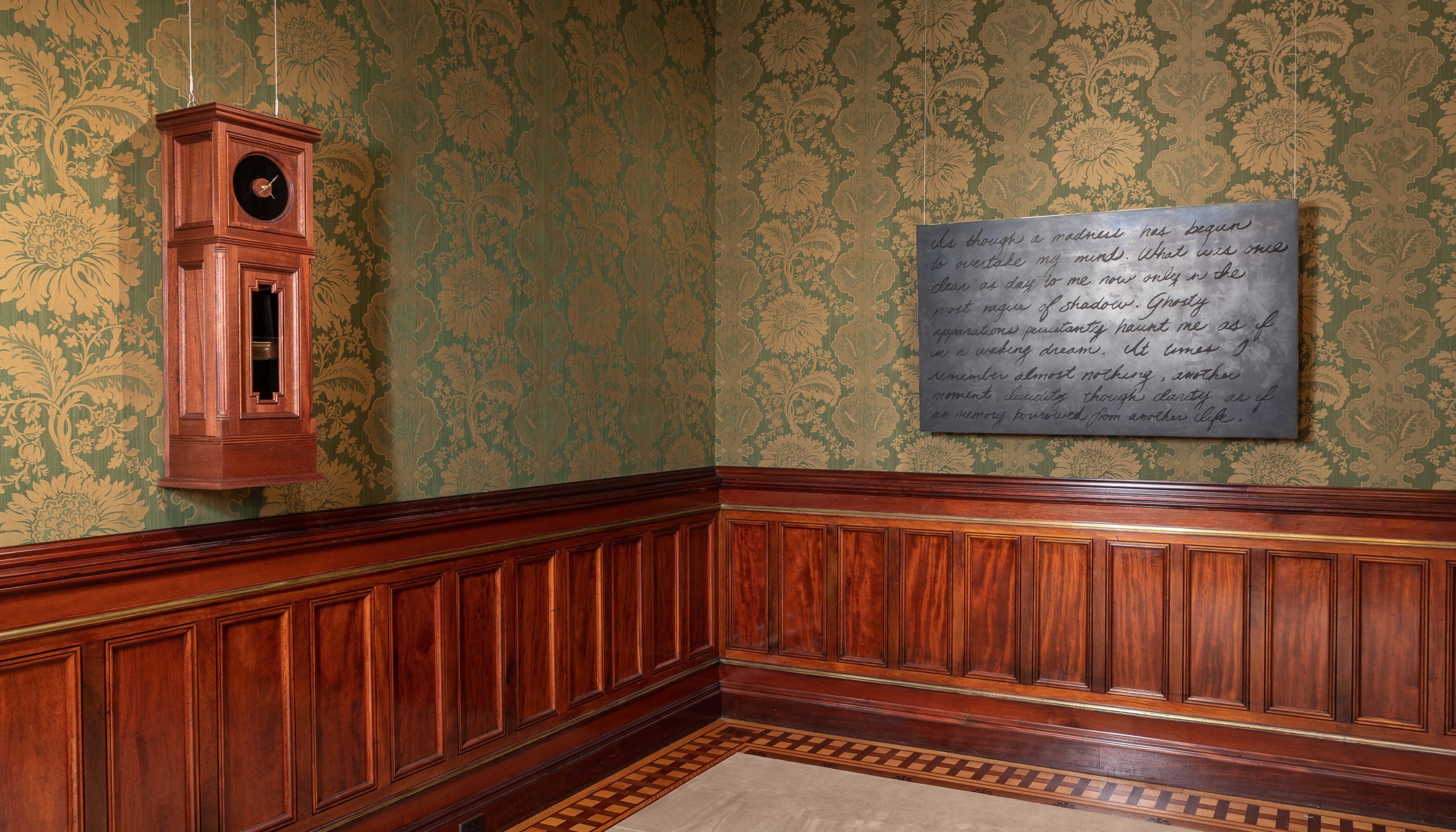 "Both Nate Young and Mika Horibuchi's installations invite audiences to reconsider and expand their perspectives on history while creating the opportunity to discover new narratives," says Sumah. "The domesticity of the Driehaus Museum was something that I was particularly interested in because it is a museum, historic space and home." In each of these contextual frameworks, there are stories to explore.