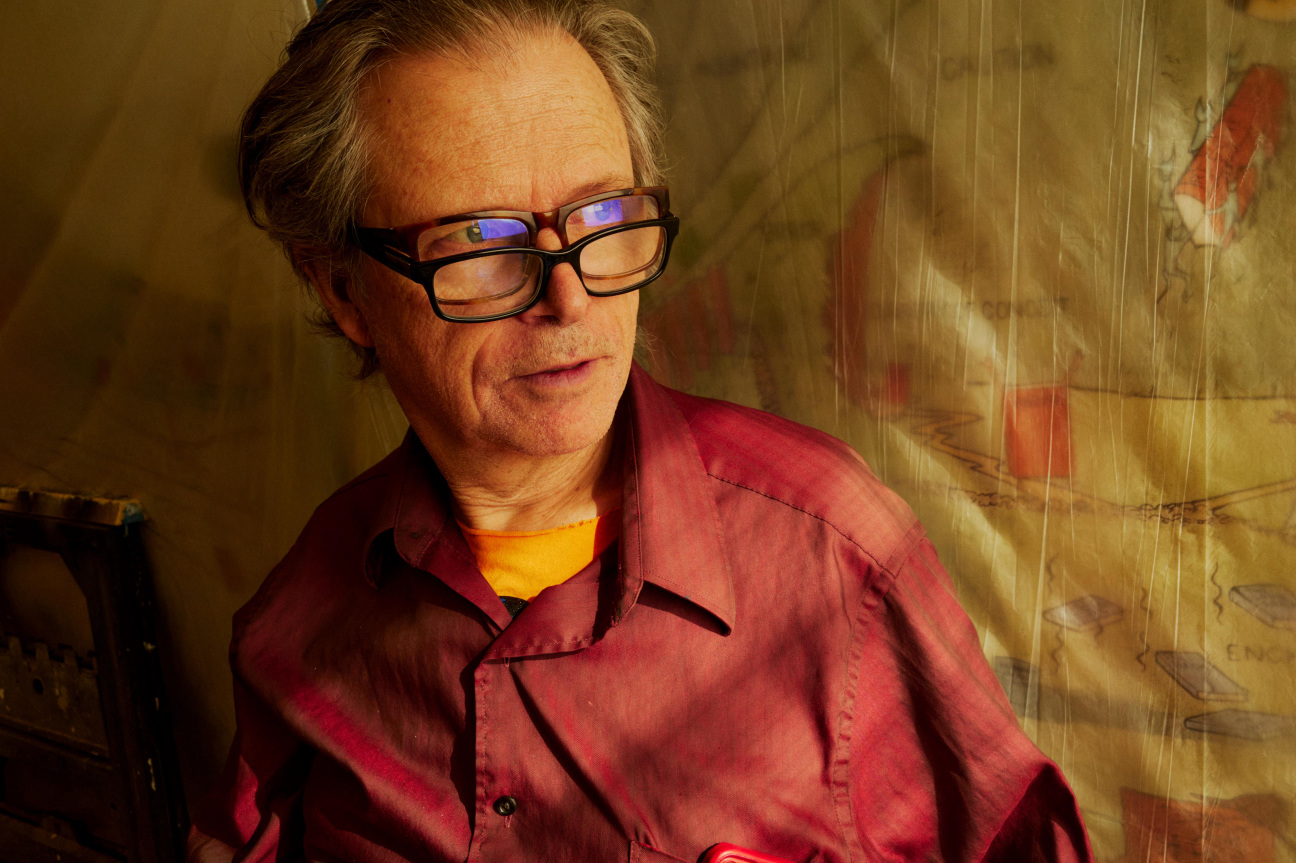 The artist Jim Shaw's studio sits in a white stucco building on North Figueroa Street in the Los Angeles neighborhood of Highland Park, sandwiched between a jiu-jitsu academy and a small art gallery, across from a cluster of bungalows. I wonder if I'm in the right place when I arrive there this past winter, just as a red Kia slows to a stop and parks in front. Out climbs Shaw. Wearing a pronounced stoop, paint-stained khakis, and a teal Members Only jacket, he ushers me inside the three-room studio and clears a seat for me on a beige vinyl-upholstered bench that reminds me of a 1970s Ford pickup truck my father used to drive. Soon, his studio manager appears, followed a few minutes later by Sarah Watson, director of Gagosian Beverly Hills, where Shaw's exhibition "Thinking the Unthinkable" is currently on display. She's brought pastries, and as she unboxes them, she tells me she often drives right past Shaw's studio and has to double back.
Such disorientation is similar to the not unpleasant feeling of talking with the artist himself. Like his adopted city of LA, Shaw's mind is sprawling: regardless of what he's talking about, his voice maintains a consistent, almost reportorial register, like a stripmall advertising diverse businesses with identical signage. (At one point, he manages to invoke chicken houses, magic mushrooms, and the Iran-Contra affair in scarcely more than a minute.) Upon greeting me, Shaw confesses that he's discombobulated, having just traveled from Connecticut, where he and his wife, fellow artist Marnie Weber, recently bought a second home to be closer to their daughter in Brooklyn. They've owned their LA home, not far from Shaw's studio, for 30 years.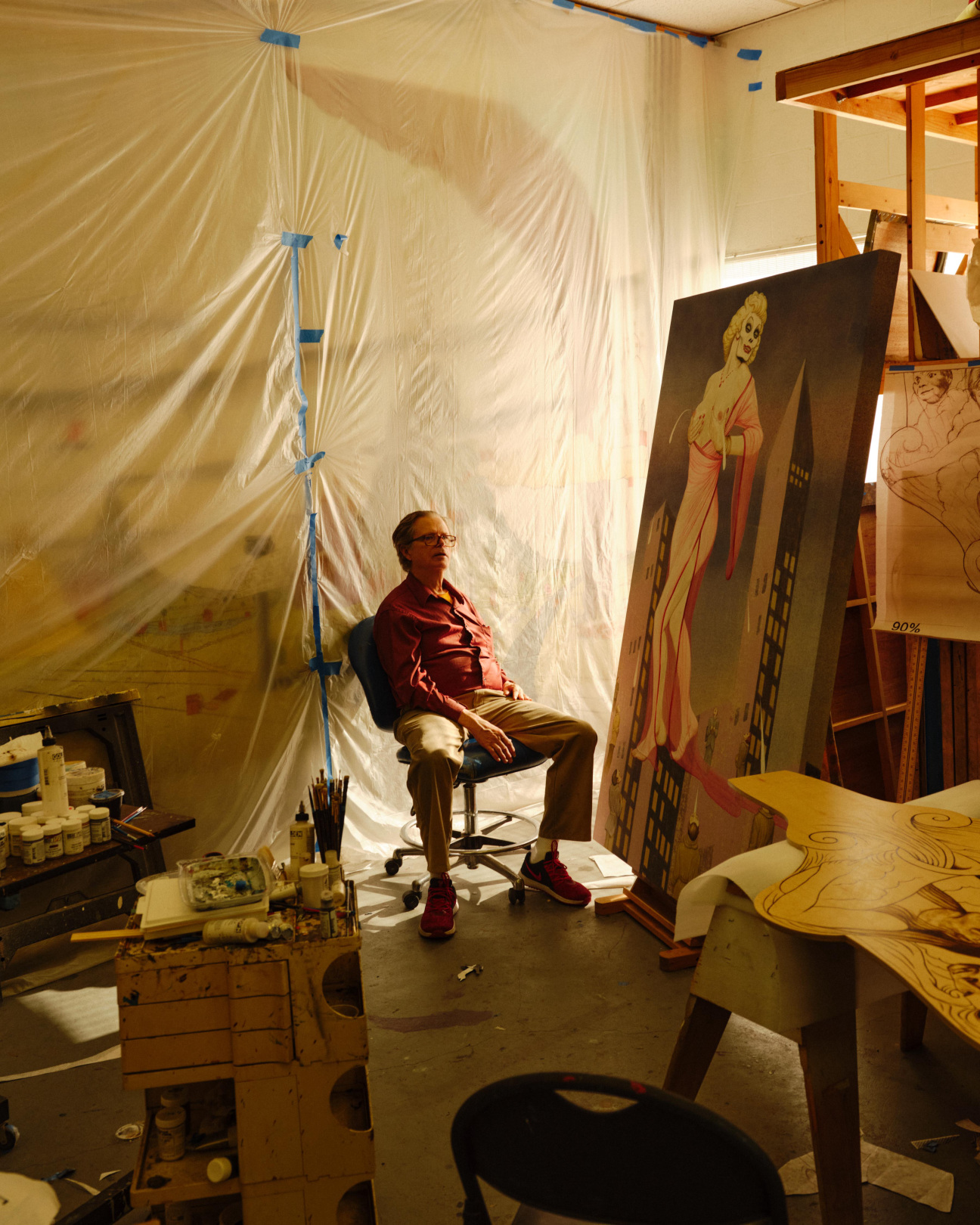 Though he's lived here most of his life, Shaw seems ambivalent about the city. He observes that, like New York, LA has grown almost prohibitively expensive for artists. "You have to have a fairly high income to not put most of it into the cost of living and taxes," he says, noting that his middle-class childhood in the 1950s involved far more "privation compared to today." After graduating with an MFA from the California Institute of the Arts in the 1970s, Shaw discovered that "the art world basically didn't function economically" for him and his fellow graduates (including his friend the late Mike Kelley, with whom he co-founded the experimental noise band Destroy All Monsters). At that time, Shaw assumed he couldn't cut it as a professional artist. "I thought I was too weird for the art world," he remembers. For several years, he worked in the visual effects industry, lending his skills to such diverse culturaloutputs as Barbra Streisand music videos ("She was the most picky perfectionist ever," Shaw says of the singer, "more so than myself"), The Abyss, A Nightmare on Elm Street 4, and the musical science fiction-cum-romantic comedy Earth Girls Are Easy.
He didn't quit his day job until the success of his epic series "My Mirage," 1986-91, comprised of nearly 170 paintings, drawings, silk screens, photographs, films, and sculptures that follow Billy, a fictional middle-class white man, through adolescent angst, psychedelic hallucinations, pagan occultism, and evangelical conversion during the 1960s and '70s. Formally channeling comic strips, posters, and religious propaganda, the series functions both as a Boomer bildungsroman and an associative chronicle of the eras' anxieties and visual influences. It also draws upon Shaw's own feelings of alienation, if only obliquely. Growing up in a small town in Michigan with "three sisters and a mother, and a father [who] was a workaholic," Shaw felt he was "not male enough to fit into boy society," he recalls. "I found going to school disturbing and sad." He uses similar language to imagine how his mother, a medical transcriber, must have experienced midcentury America. "I'm sure it was a very weird and depressing time to be a woman."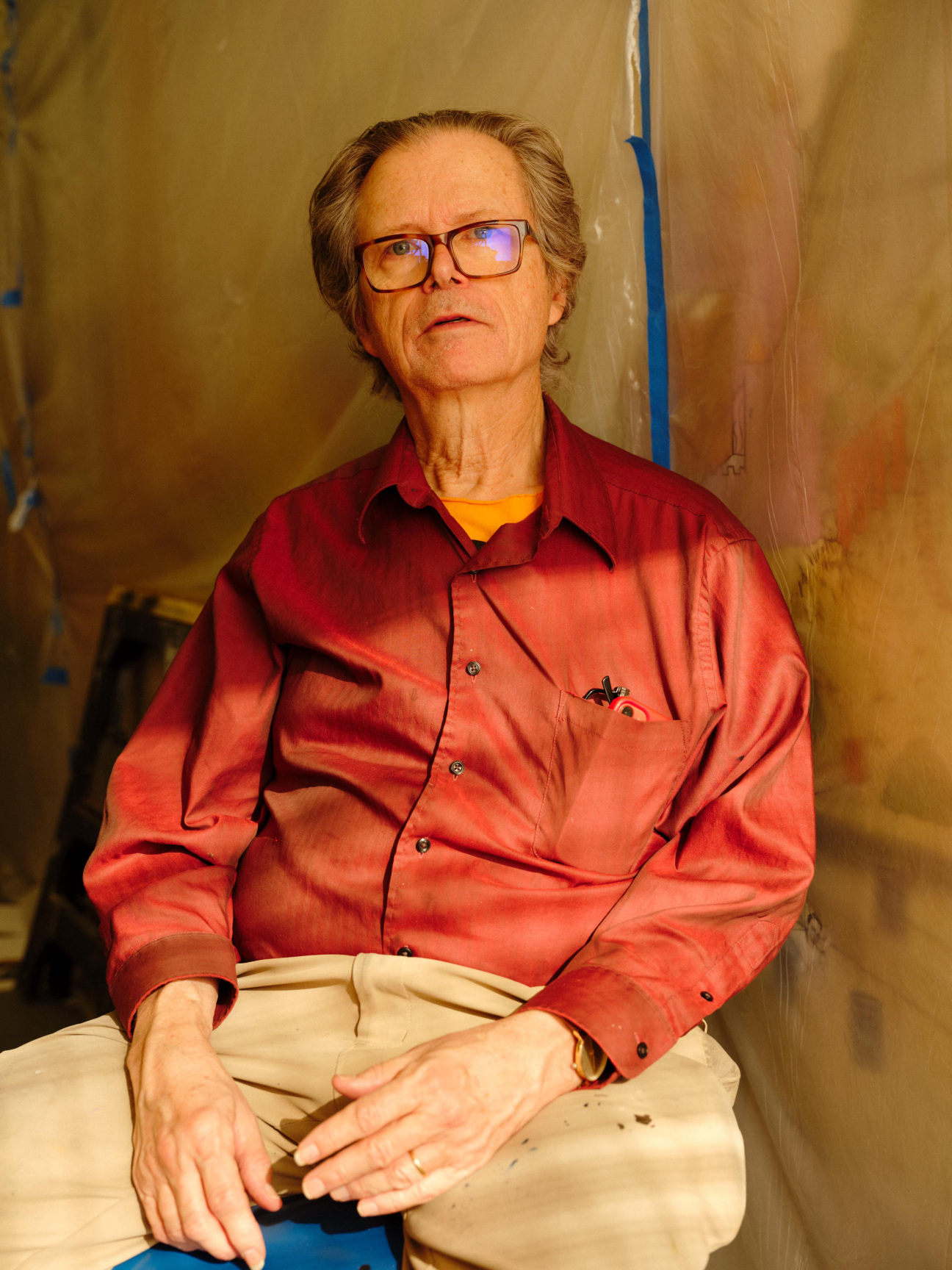 Shaw's practicality—and his propensity for charting the vicissitudes of the art economy—might seem surprising given the surrealist nature of his art, but it is part of what makes his prolific output so varied and interesting. "Shaw shows us that art is work," wrote the artist and critic Matthew Weinstein in a review of "The End is Here," Shaw's 2015 massive retrospective at the New Museum in New York. "He does not apply cooling filters over his sweaty industriousness... While many artists are saying, 'Here is the thing,' Shaw is saying, 'Here are a lot of things.' This attitude towards art produces a generously heterogenous realm of conceptual play that is both hilarious and melancholy. It accesses a rich range of experience; it utilizes and exercises our potential to think on many levels simultaneously."
"Thinking the Unthinkable" further demonstrates the truth of this observation. It's the artist's first show with Gagosian since leaving Metro Pictures gallery, which represented him from the 1990s until it shuttered in 2021, and it's a reminder that although he eschews seriality, he embraces his fixations. Chief among those fixations is Hollywood, which he depicts with anthropological trippiness. In Going for the One, 2022, a Myra Breckinridge–era Raquel Welch, clad in an American flag monokini, extends four arms in the manner of Kali, the Hindu goddess of creation and destruction, while standing atop the headquarters of 20th Century Fox. A naked young man faces her, his back to the viewer, while Elizabeth Taylor's Cleopatra, flanked by Mark Antony and Julius Caesar, slinks in the background among vertiginous skyscrapers that look like pyramids. Keep looking, and you might realize that Caesar is also the evil emperor from Star Wars—who in turn bears an uncanny resemblance to today's Rupert Murdoch—while the naked man echoes the album cover of Yes's best-selling 1977 record from which the work takes its title. Made using silk screen, acrylic, and airbrush (to an "almost too perfect" effect, says Shaw), the artwork feels both ironic in its iconography and earnest in its meditation on gender and power. What myths continue to stir us? What personal relationship do we have with the desires of a collectivec onsciousness?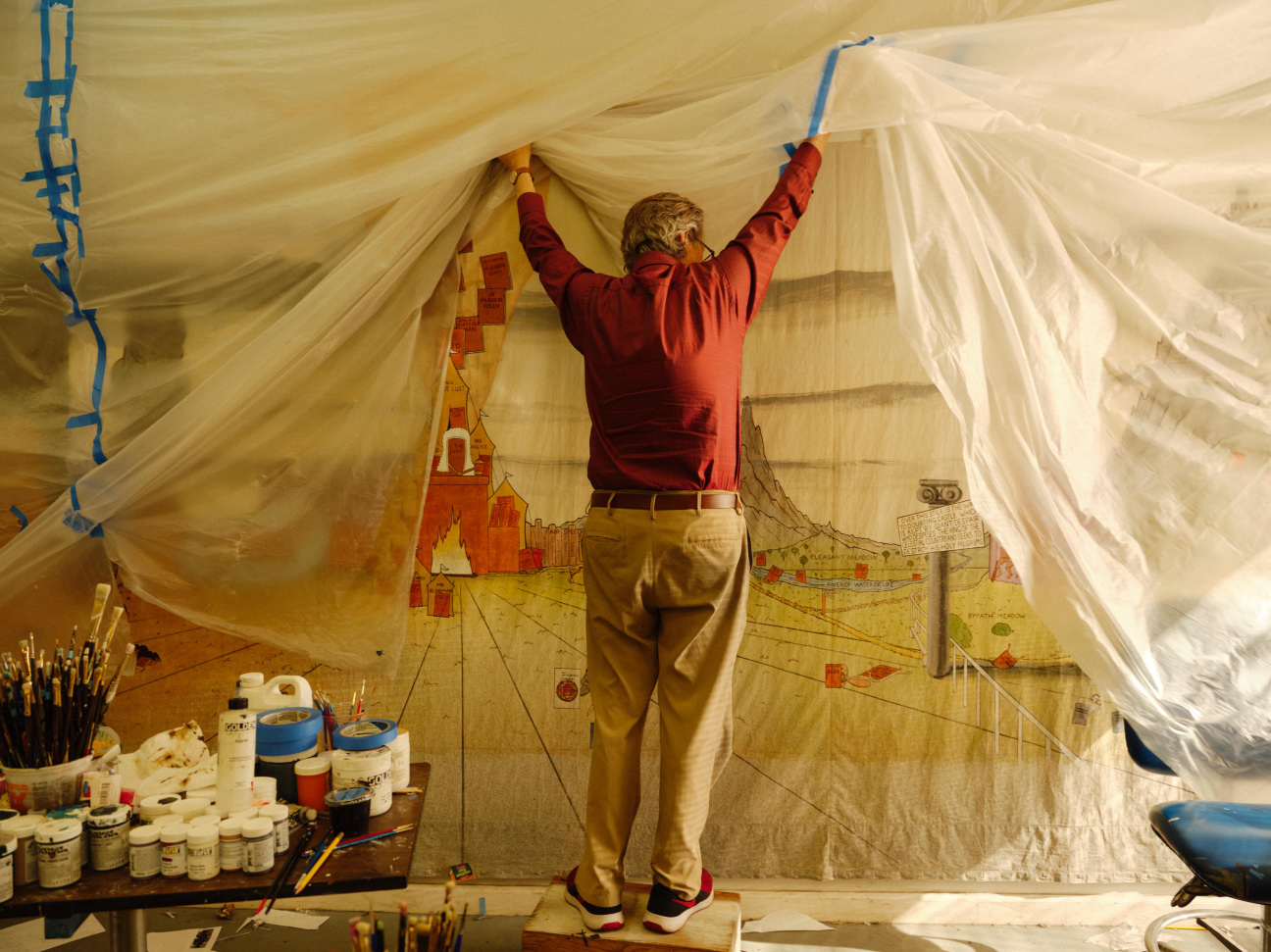 That painting, along with the others on display—including four titled The Four Horsemen of the Apocalypse, 2022, inspired by the strange history of LSD in America and featuring a hallucinating Cary Grant—bristle with detail. "Sometimes I might include too much," says Shaw. (He counts the 15th century Dutch painter Hieronymus Bosch and the satirical '50s comic book series MAD Magazine among his maximalist influences.) But the referential intricacy of his own creations reveal a Marie Kondo-level of discipline in comparison to his penchant for collecting—as documented by "Thrift Store Paintings," an early-'90s accumulated series of approximately 100 amateur paintings that Shaw gathered from secondhand sources, and "The Hidden World," his cache of nearly 1,000 ephemera from American-made religions and societies like the Church of Scientology, Jehovah's Witnesses, and the Church of Latter-day Saints. Eventually, such collections require offloading. "I don't want to leave my wife and daughter to sift through all my stuff," says Shaw. In the last few years, he sold "Thrift Store Paintings" to a collector in Belgium and "The Hidden World" to the University of Michigan's Broad Museum—though Oism, an elaborate fictional cult he invented in the 1990s, continues to inspire his work and arguably serves as the most synthesizing outlet for his fascination with religion and nostalgia.
Because of his obsessiveness, Shaw suspects that he has Asperger Syndrome. He cites clinical psychologist Louis Sass's book Madness and Modernism, which identified the sensibilities of schizophrenia in many great works of modern art. He thinks a similar analysis could be made of someone like himself; one's most creatively generative qualities can feel unwieldy. "Look at me," he says. "Look at the art I do. It's pretty clear that there's something wrong with me."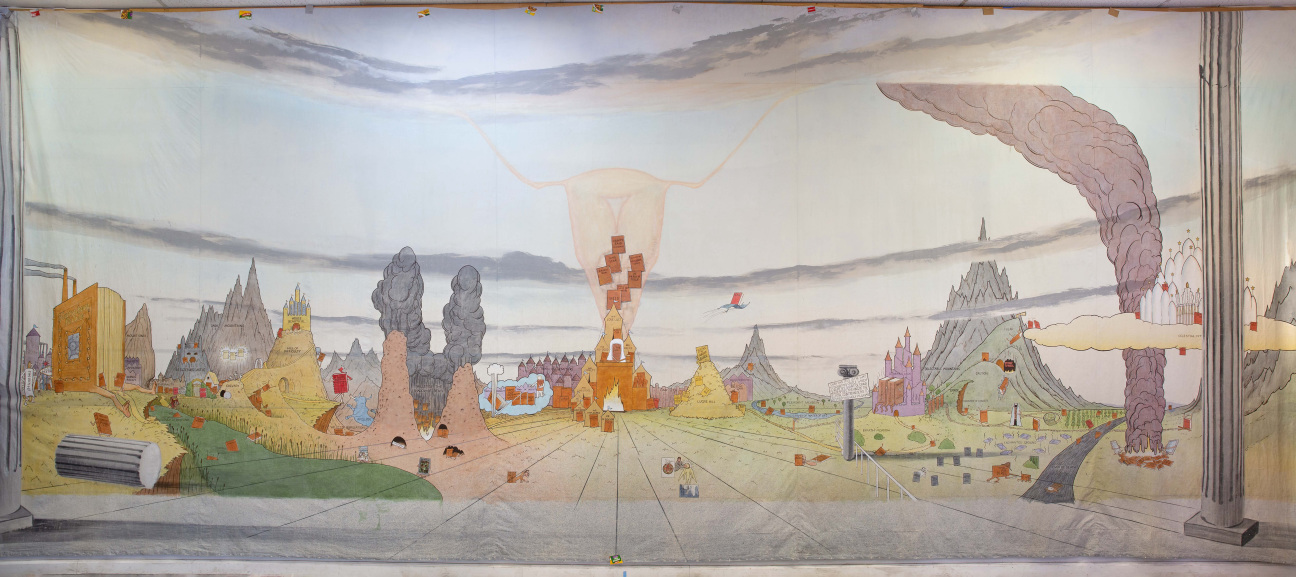 Alongside "Thinking the Unthinkable," Shaw has been developing an even larger project that also takes Hollywood as its subject. In 2020, German-American investor and philanthropist Nicolas Berggruen asked for the artist's help in decorating a Georgian-Revival mansion near Beverly Hills. Designed by Gordon Kaufmann in the 1930s, it was occupied for decades by socialite and art collector Edith Mayer Goetz and her husband William, the prominent movie producer. Berggruen "wanted to restore the house with a twist," he tells me, and commissioned Shaw, along with a number of other artists, "to give it some magic."
Shaw's answer to Berggruen's prompt sits in his studio, awaiting installation in the house's library—formerly a dining room. For inspiration, he looked to the room's history as a den of Hollywood power and to its original architecture, including its baffle—a demi-wall once used to conceal a set of servants' passages to the kitchen that reminds Shaw of a uterus. Other touchstones include old Warner Bros. cartoons, vintage book covers, philosopher Marshall McLuhan's thoughts on the evolution of literacy, and a poster Shaw cherished as a child that portrayed a land of make-believe. Against a large theater backdrop made of muslin, Shaw incorporates his many references in a mural landscape that takes as its conceit The Pilgrim's Progress, John Bunyan's 1678 Puritan allegory that follows a man through a dreamlike journey from his hometown to the "Celestial City" of redemption. The result is a literary metaverse where books are characters, their covers tentacled with little arms and legs, and their titles fodder for wordplay: Raymond Chandler's The Lady in the Lake and James Joyce's Finnegans Wake struggle across a bog of sin (per Bunyan's parable), while Sigmund Freud's Civilization and Its Discontents lies in the Valley of Humiliation, and Norman Vincent Peale's The Power of Positive Thinking scrambles up Lucre Hill. A pair of e-readers roast marshmallows over a flame tindered by copies of Vladimir Nabokov's Pale Fire, Tom Wolfe's The Bonfire of the Vanities, and James Baldwin's The Fire Next Time, sending a column of smoke into the sky that morphs into a fallopian-like antler that floats above the scene. The panorama will eventually wrap around the baffle as the room's centerpiece.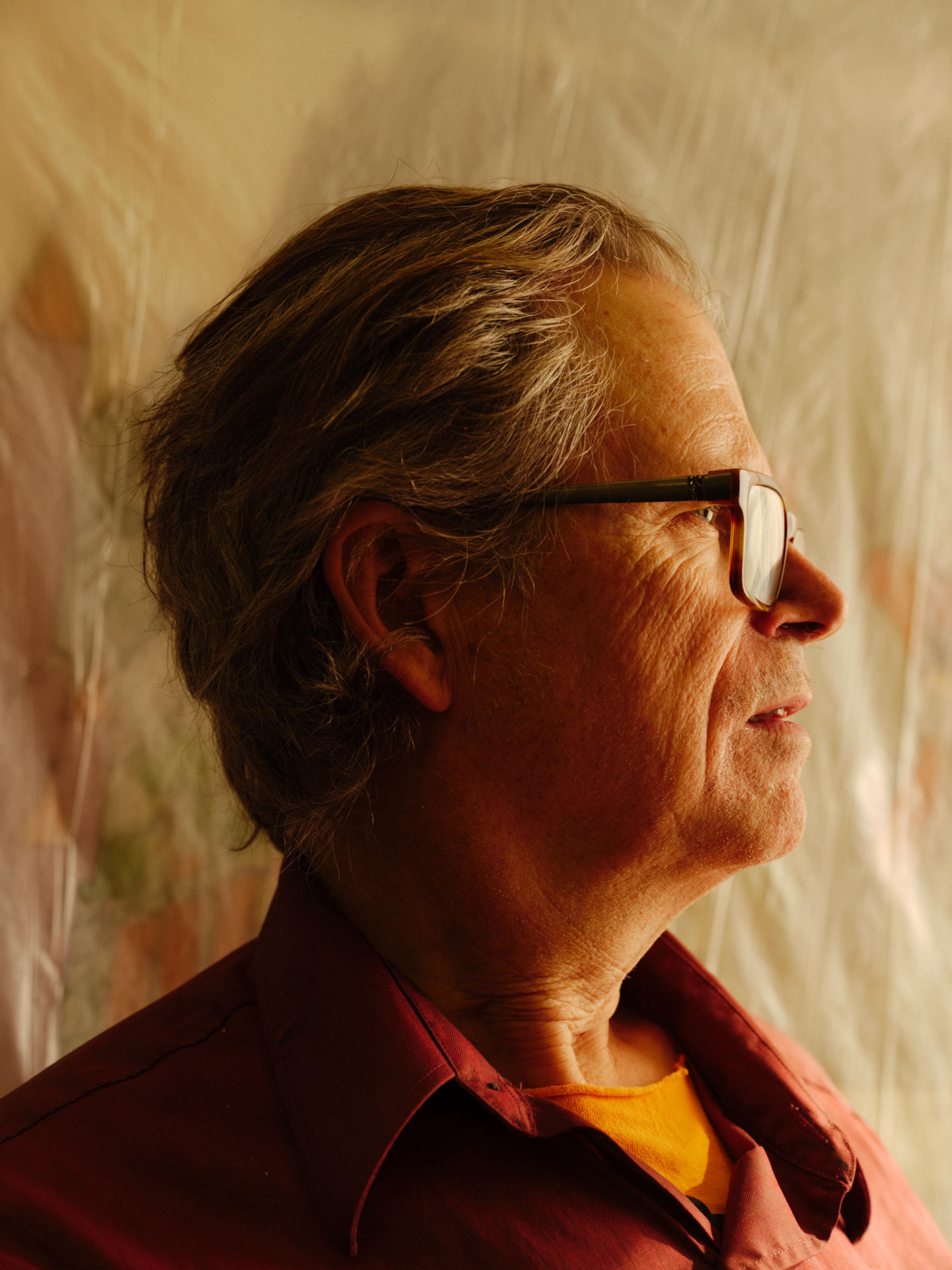 I ask Shaw if he's ever undergone psychoanalysis, given the associative nature of such pieces. He hasn't, though his book Dreams, 1995, which collected years' worth of pencil renditions of his dreams, remains one of his best-known works. It also cemented Shaw's interest in puns, which extend beyond the mural in the Berggruen library installation in the form of wooden book figurines. Ayn Rand's The Fountainhead, for example, spouts a plywood cutout of a sobbing Johnnie Ray, a closeted singer famous in the 1950s for songs with tearful themes, while Dorothy Kilgallen, the television actress and newspaper columnist rumored to be Ray's girlfriend, emerges from her book Murder One, a collection of true crime stories published after her mysterious death in 1965. (Shaw, admitting to an interest in what some would call conspiracy theories, tells me that Kilgallen died right before she could "break the JFK assassination wide open.") A pair of coffee tables look like sunny-side up eggs, a nod to the room's fertility motif and to the Goetzs's friend Frank Sinatra, the model for a character in Swooner Crooner, a 1944 Porky Pig wartime propaganda cartoon in which a heartthrob rooster sings to hens and affects their egg production.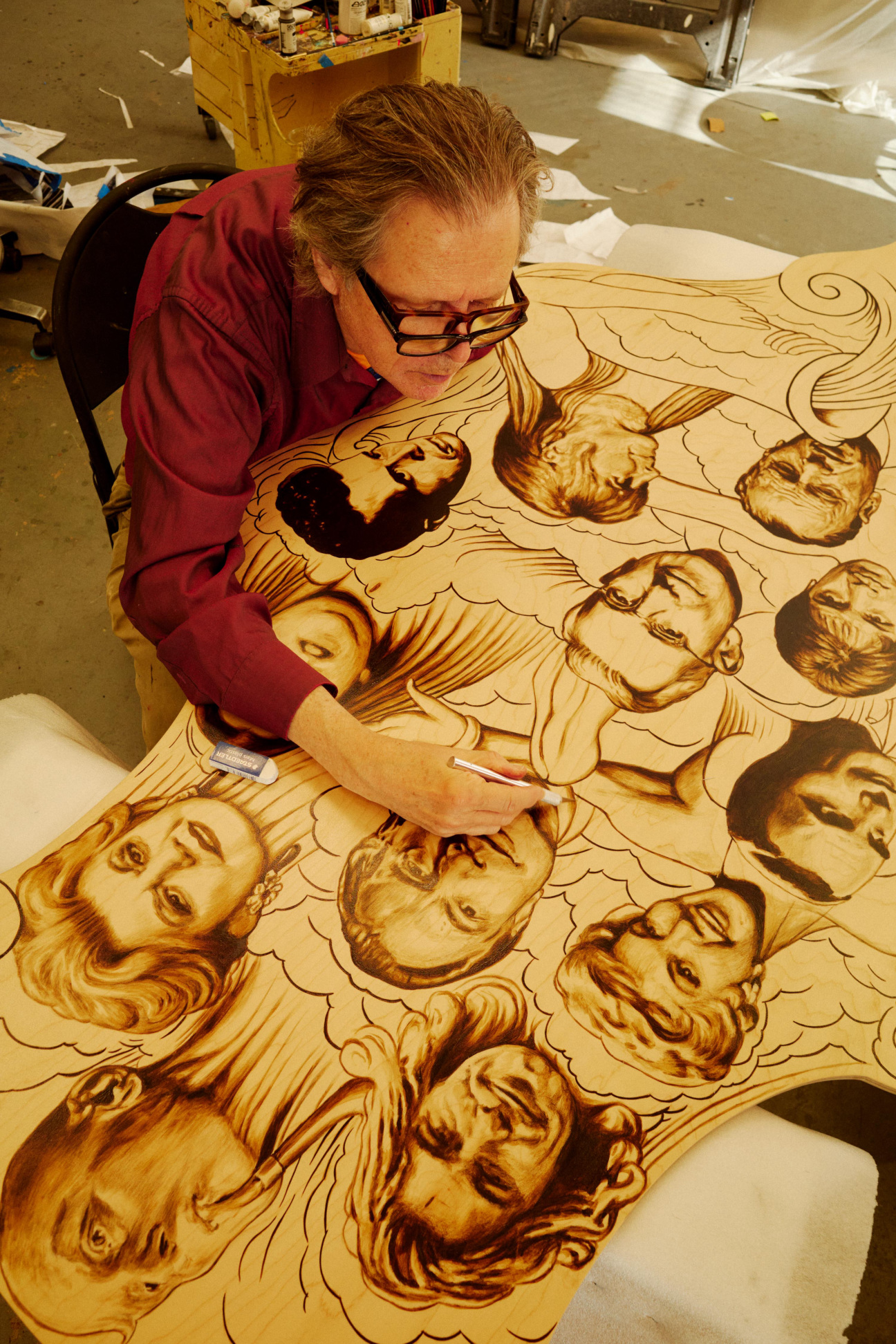 Taken together, the room's assembled works contain "a lot of occluded negativity," says Shaw, and inevitably influenced "Thinking the Unthinkable." One of the exhibition's sculptures, a throne that maps Charles Manson's peers and influences in the style of a Kabbalistic tree of life, was originally made for the library, but ultimately deemed too sinister for the space. "I'm always interested in narrative. I'm not necessarily interested in all things being apparent. I want there to be things to be uncovered."
If the Berggruen collection had a name, what might it be? Maybe "Pilgrim's Progress," Shaw supposes—though "Gutenberg Galaxy," taken from McLuhan's 1962 book of the same name, or "Book Revue," the title of a 1946 Daffy Duck cartoon, would also do.
He admits that the entire commission from Berggruen—whose concurrent plans to build a "secular monastery" in the Santa Monica Mountains are currently awaiting approval by local authorities—is itself rather surreal. But so is Hollywood. So is growing up and growing old, something Shaw is bracing for. He doesn't know if he'll ever fully extract himself from LA. "I never planned for the future," he says. "I always just worked to earn enough money to get through the present."