CULTURED: What are you most looking forward to this year at FOG?
Komal Shah: FOG has always been a very special fair for me. It is the perfect confluence of extraordinary art and design in an intimate and welcoming setting that is true to San Francisco's spirit. It is testament to the strength of the fair and the collecting community that art dealers are always clamoring to exhibit at FOG. I also love that the San Francisco Museum of Modern Art (SFMOMA) is an important beneficiary of the fair.
This year I am excited to see the downstream impact of the highly-acclaimed 2022 Venice Biennale at the fair, and I hope that there will be many great women artists highlighted. In particular I am looking forward to seeing works by Helen Pashgian, one of the foremost California Light and Space artists, and Acaye Kerunen, who recently represented Uganda in Venice. I am also intrigued by the conversations on Generative AI, as well the conversation amongst the local museum directors on making museums more relevant.
C: What has the fair meant to the city, and how has it shaped or changed the art scene?
KS: FOG has come into its own as a substantive and important fair for San Francisco and the rest of the country. What began as a small fair in a social setting has evolved to an important milestone on the world art calendar. The Bay Area is home to discerning collectors, tech fortunes, and incredible museums like SFMOMA, Fine Arts Museums of San Francisco, Cantor at Stanford, and BAMPFA. FOG galvanizes the local art community and the larger art dealing ecosystem. The fair's success is a testament to the power of the art community in the Bay Area.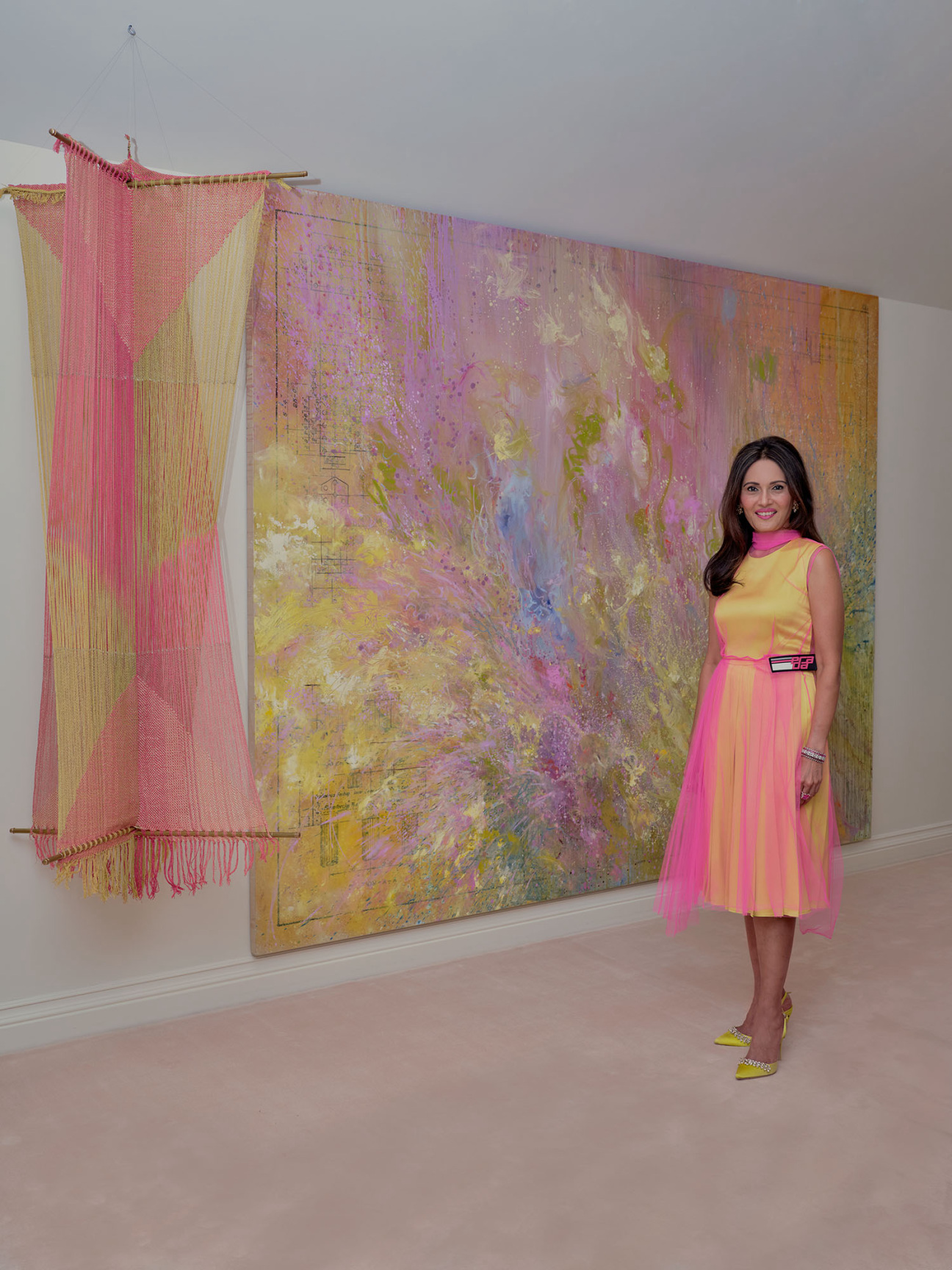 C: Do you remember your first art purchase?
KS: It was a work on paper by Rina Banerjee at auction. I was at Christie's in New York with some friends to see the South Asian Modern and Contemporary Art sales, and I became enamored with the work. I was new to collecting at the time, and too nervous about bidding myself, so a friend bid on my behalf. It now proudly hangs in my house.
C: Do you sit on any museum boards? How has this informed any of your collecting habits?
KS: I'm a trustee at SFMOMA, where I sit on many committees, from acquisitions to finance. I sit on the Haas School Board at the University of California, Berkeley, and the Board of Advisors at the Hammer in Los Angeles. I am a member of the David Rockefeller Council at the Museum of Modern Art and the Art Advisory Council at Stanford. Sitting on boards leads to a natural exchange of information, but I find that working with curators and learning from them is one of the most rewarding aspects of trusteeship. One conversation in particular I had with Harry Elam, the former head of Arts at Stanford, inspired me to establish a quarterly conversation series called Artists on the Future that pairs world-renowned artists with cultural thought leaders to discuss issues vital to society. Past talks can be seen on Stanford's YouTube channel, and we're looking forward to continuing the series.
C: How would you describe the Shah Garg Collection today?
KS: Visually, our collection is vibrant in palette, bold in scale, and muscular in concept and execution. I started my collection by focusing on abstract painting, and that is still my first love. I love that you can look at an abstract work and come away with your own meaning from it. Many of the pieces I've collected expand the concept of abstraction and feature expressive representation and figuration, like the imagined subjects Lynette Yiadom-Boakye paints.
As I've continued to grow as a collector, the breadth of the collection has expanded thematically and conceptually beyond painting to sculpture, ceramics, and textiles. One area of interest that I continue to develop is work that formerly was derisively described as "women's work" or "craft." Within the last couple of years, I've begun exploring this idea with textiles, especially the intersection of weaving and quilting with abstraction.
C: Which work in your collection provokes the most conversation?
KS: We have an untitled abstract painting by Janet Sobel circa 1946. It's an all-over composition of dripped black enamel paint but beneath the tangled lines a face emerges. She was a self-taught painter whose early supporters were part of the Surrealist movement in New York. Clement Greenberg claimed that [Jackson] Pollock saw her work in the early 1940s and was influenced by her technique. Although some may disagree, I think her drips rival Pollock's.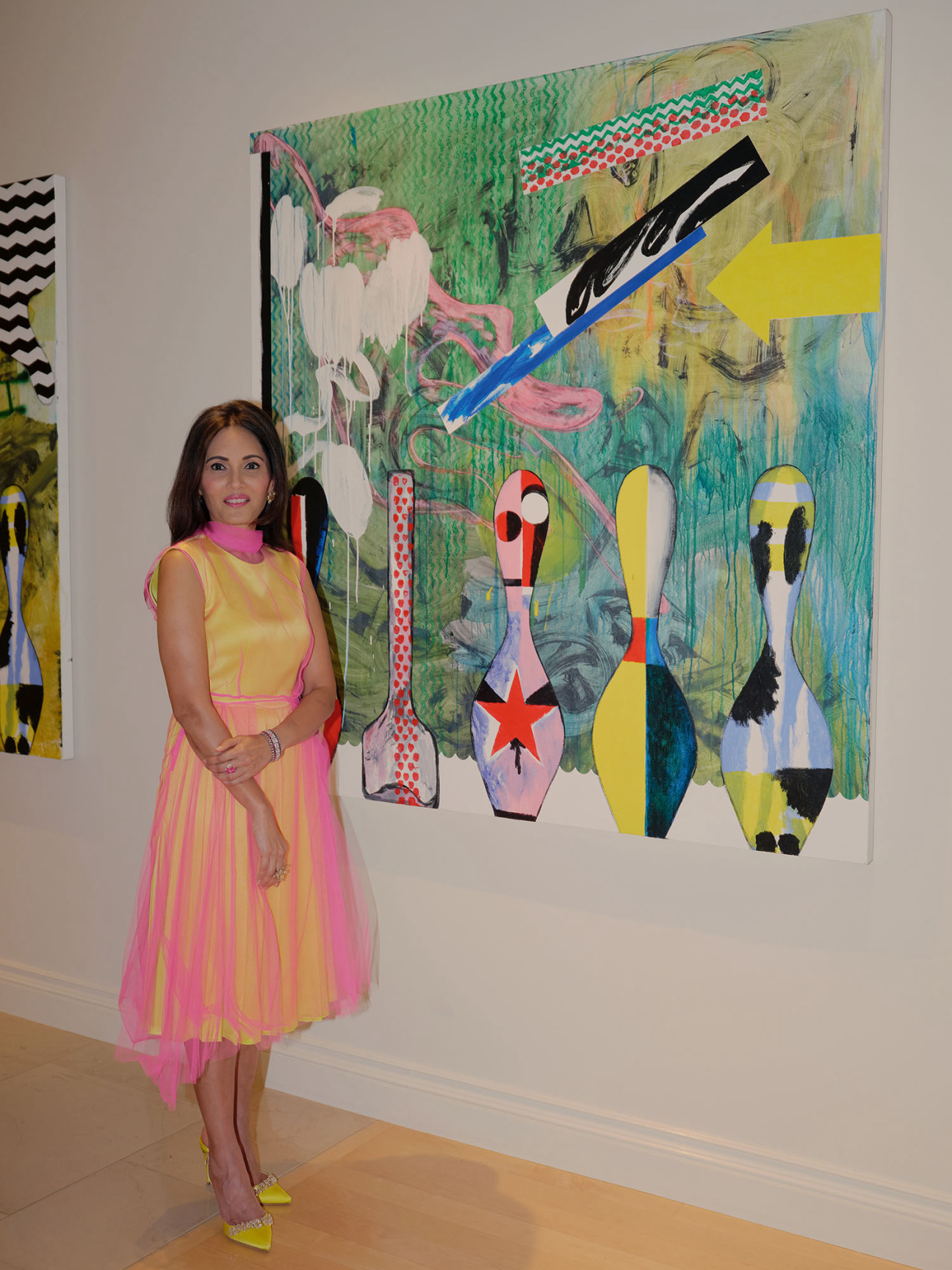 C: Is there a piece that sparks the most joy for you?
KS: One of my favorite painters, Charline von Heyl, is also a dear friend. I have several paintings by her, and I love all of them. However, I have two of her paintings installed together in our hallway—Dunesday, 2016, and Plato's Pharmacy, 2015—that perfectly encapsulate everything that makes her one of the best painters of her generation. They both feature a painted row of five figures in the foreground, four bowling pins, and a long-necked bottle. The paintings relate, and, as Katy Siegel wrote in the catalog for von Heyl's exhibition "Snake Eyes" that went to the Deichtorhallen Hamburg and the Hirshhorn Museum, they are in dialogue like philosophers. She has a sophisticated painting language that deftly references the peaks of modernist painting and familiar patterns and visual tropes lifted from design and other mass-produced visual media. It's a true reflection of her curiosity, love of allegory, and sense of humor.
C: Do you have a collecting strategy? Or specific parameters you adhere to when acquiring new works?
KS: Our collection is mission-driven. We focus on acquiring works by women-identifying artists and men of color. For far too long, many women have been sidelined by their male peers and excluded from the canon by restrictive gatekeepers. These are fantastic artists, full stop. Gender identity shouldn't have any effect, but we know it does affect how these artists are received, contextualized, and appreciated. The statistics are astounding. The most recent Burns Halperin Report in Artnet is damning: "Only 11 percent of acquisitions and 14.9 percent of exhibitions at 31 U.S. museums between 2008 and 2020 were of work by female-identifying artists." If we look further, acquisitions of work by Black American women artists during that same period at these 31 museums, amounted to half of one percent. That's a fraction of a percent. It's unjust, and I hope that by continuing to champion our collection's mission, we will mobilize other collectors, curators, and museum directors to rectify and reach parity.
C: Who do you have your eye on for 2023?
KS: I am hoping to take advantage of my new empty-nester status to travel internationally and learn more about local art scenes and art histories less familiar to me. I am not sure what the fallout of that journey will be in terms of acquisitions. Let's check-in with each other next year for a report!