Brooklyn-born artist Ryan Cosbert grew up with a pile of sketchbooks. The School of Visual Arts (SVA) alumnus, who, in 2021, graduated from the same alma mater as her mother had, spent her youth traveling between New York and Virginia Beach, Virginia, honing her craft throughout. Ask her about her work before attending SVA, and she'll explain it was "semi-developed." In school, she experimented with silkscreen and block printing, photography and drawing, only committing to the pursuit of abstract painting her sophomore year. She began to research Sam Gilliam and Jack Whitten, Norman Lewis and Alma Thomas, Pat Steir and Anne Truitt and Ed Clark—scouring art books, playing and replaying every video she could find on YouTube. In the few months that have passed since graduation, Cosbert has developed a ritual: spending the bulk of her time in the studio, finding her voice, and developing her now-signature style. The artist relies on a grid or "tiled" format designed to evenly distribute the texture of her canvases, providing crucial organization and infusing each piece with a geometric complexity that not only adds dimension to the work in question, but pays homage to her childhood home: Cosbert's mother laid tiles on their kitchen floor, in the bathrooms and on walls, inspiring the artist to use them materially in every piece.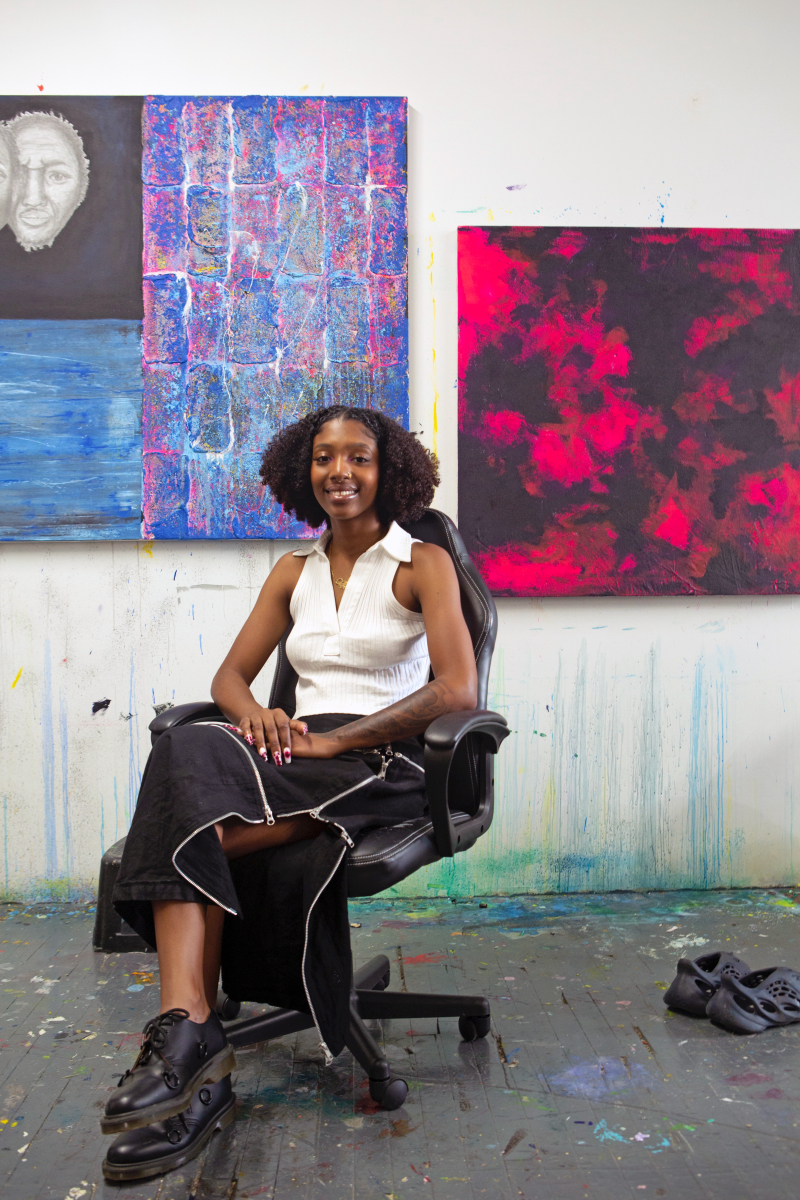 This same materiality is paramount to Cosbert's approach. Today, she mainly uses acrylic paint, though in the past she has experimented with enamel and oil. While researching her works, she'll make careful, calculated material decisions—weaving her choices into the subject of the painting. Chronic Soul (2020), for instance, features watermelon seeds, representative of the seeds slaves carried in their hair and clothing en route to America from Africa in the 15th through the 19th centuries. Newspaper, tile grout and large-scale fabrics—the latter inspired by her father's work as a designer, and the artist's own early experiences custom-dyeing fabrics and making garments—are also present in her practice. Then, there are the bullet casings—specifically in Cosbert's "Mayhem" series (2020–21), which she started the week of George Floyd's killing in late May 2020. "Originally, my idea was to open the conversation, or just present the issues we're having in the Black community," the artist explains, citing topics ranging from mayhem and chaos to police brutality and inner-city crime.
Viewers will note the emerging painter's work offers an exceptional blend of current issues and historical nuance—including footnotes from the past that have slipped through the cracks of our sociopolitical dialogue. Consider Ode to Matthew Henson (2021), one of the artist's most ambitious works, currently on display in Washington, D.C., at the Mehari Sequar Gallery. The piece portrays Matthew Henson, the first African-American explorer to travel to the North Pole, who embarked on his first Arctic exhibition in 1891 and is largely in the shadows today. Vibrant color—blue and white acrylic paint reminiscent of the Arctic chill—sits in contrast to photo-transferred depictions of Henson, offering a figurative representation of the subject. By giving voice to underdogs like Henson, Cosbert—at just 22 years old—has carved out a remarkable niche as a painter of history, the present and abstraction.